Martinborough Vineyard - Pinot Pioneers
Buy your favourite Martinborough Vineyard wines before May 9 and every bottle earns you an entry in the draw to Win a $5,000 luxury long weekend in Martinborough. There are three spots for two to be won! Enjoy an exclusive tour and tasting at Martinborough Vineyards with Paul Mason including Lunch plus three other wineries on tour with Jeff & Virginia!
A scientific report published in 1978 referenced similarities in Martinborough to that other famed cool climate Pinot Noir and Chardonnay growing region … Burgundy. And there's good reason for that. Martinborough sits at 42 degrees south, a similar distance to Burgundy from the equator.
There's also no mistaking who was responsible for this fantastic revelation, as it was the Founders of Martinborough Vineyards who published the DSIR survey that resulted in the birthplace of Pinot Noir in New Zealand. With the oldest vines in the region, they have established a world-class reputation over forty years for producing some of New Zealand's finest wines. Enjoy these super sharp prices on NZ's best!
Hand-picked from the 25 year old Jackson Block Vineyard in the heart of Martinborough township using 100% Jackson Clone Riesling. It was fermented in stainless steel to retain its freshness but given four months on its lees to add incredible texture. This is an elegant off-dry style with a seamless combination of vibrancy and sophistication. A Riesling so good it will sway any non Riesling converts. Sublime drinking at just $24.99
2019 was a stunning vintage, and has certainly made its mark on this youthful but complex Pinot. Made from Martinborough Vineyards younger vines circa 8-20 years old, they impart a much spicier and more approachable fruit forward style. Hand-picked, and fermented with natural yeast and aged in oak for ten months prior to bottling. With a lengthy list of Gold Medals and Five-Star ratings already, this is undeniably the finest Te Tera yet and is crazy value at our super sharp promo price of $24.99
Home Block Chardonnay 2019
With a long history of awards for Chardonnay off their Home Block, the long hot 2019 vintage will not disappoint! Hand-picked fruit from vines up to forty years old, whole bunch pressed and fermented in French oak with twelve months elevage and battonage. With three 95/100 ratings this Chardonnay is a triumph, and offers superb value compared to its Burgundy counterparts and just $35.99 a bottle
Home Block Pinot Noir 2018
With a long rich history of being one of NZ's most awarded and sought after Pinots, this 2018 vintage will help you see why! Hand-picked from Martinborough's oldest and most awarded vines. Savoury, textural and complex, this wine will see you through to 2038 with careful cellaring and only then will you be able to enjoy it at its best! Where in the world could you buy benchmark Pinot like this for just $61.99!
Sort By Rank
Product Name
Price (Lowest)
Price (Highest)
Popularity
Newest
Rank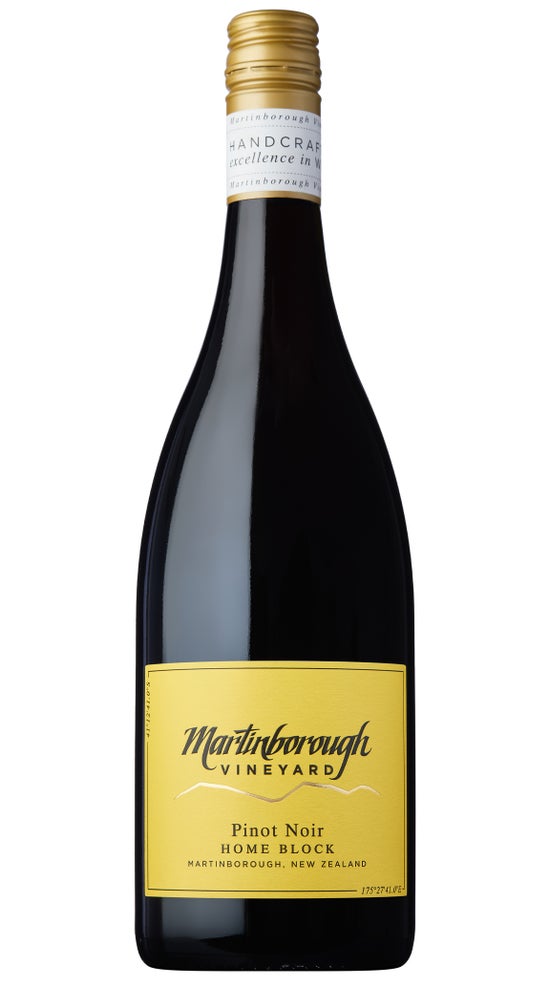 The original NZ Pinot Champion continues to lead from the front!