Continuum ratings 2014-2018 vintages...
2014 – 99/100 JS / 97/100 RP
2015 – 100/100 JS – 97/100 RP – 97/100 Decanter
2016 – 100/100 JS – 100/100 AG – 99/100 RP
2017 – 98/100 JS – 97/100 RP

And now this spectacular 2018 vintage – 100/100 JS – 100/100 RP – these incredibly consistently high ratings averages are utterly remarkable and not emulated by any of Bordeaux's five 1st Growths.

Fine Wine Delivery have absorbed significant international freight increases and kept pricing the same as last year at $399/bottle.
Fine Wine Delivery visited this remarkable estate & purpose-built winery in 2016 and as a direct result were very lucky to have secured a restricted annual allocation of this amazing Cabernet over the last 5-years. Family owners Tim & Marcia Mondavi love NZ and are committed to ensuring NZ receives an annual allocation, albeit small.

About Continuum.
The 28-acre estate is located high on East facing Pritchard Hill with elevations of 1325-1600 feet overlooking Oakville and the Napa Valley floor. The estate has two distinct soil types, Rock-Hambright loam and Sobrante loam, both a mix of clay loam, fractured volcanic material and immense quantities on andesite rock. The shallow soils have moderate fertility and drain well, perfect for growing outstanding Cabernets. The 41-acres of plantings are set up in 1-2 acre blocks yielding just 1.8 tonnes of fruit per acre. They are harvested and fermented separately in small batches the final blend made shortly before final bottling.

The purpose-built gravity fed winery is fitted out with the latest and most expensive conical concrete and wooden cuve fermenters, and the oak regime is as good as it gets anywhere in the world - all dedicated to the production of CONTINUUM! Their second wine "Novicium" is crafted from the declassified barrels of Continuum.

Cabernet Sauvignon dominates the blend creating a rich and powerful base Cabernet Franc brings a silkiness and adds to its unerring length... Petit Verdot adds colour and strength and Merlot harmonises the blend. Continuum is always balanced and integrated. It's rich and powerful but with a silkiness, suppleness and elegance that makes it extraordinarily irresistible as a young Cabernet, despite its propensity to age for 2-3 decades with ease in quality storage.
Critics reviews.
100/100, James Suckling
54% Cabernet Sauvignon, 31% Cabernet Franc, 9% Petit Verdot & 6% Merlot
"This has incredible nuances and delicacy with power. It's full-bodied with lots of gentle tannins that spread across the palate. The character is full of blackberry, blackcurrant and lead pencil. Some conifer and pine needles. Sage at the end, too. Savory. So long-lasting and layered. Such purity. It's so complex and changes all the time in the glass. Goes on for minutes. 54% cabernet sauvignon, 31% cabernet franc, 9% petit verdot and 6% merlot. Organically grown grapes. So drinkable now, but will age beautifully."
100/100, Lisa Perrotti-Brown, Robert Parker's Wine Advocate
"Composed of 54% Cabernet Sauvignon, 31% Cabernet Franc, 9% Petit Verdot and 6% Merlot, the deep garnet-purple 2018 Proprietary Red has a fantastically fragrant nose of candied violets, red roses, Morello cherries and blackcurrant pastilles with hints of wild blueberries, red currant jelly, iron ore and forest floor, plus a waft of cinnamon stick. Medium to full-bodied, the palate is completely packed with tightly wound black and red berry layers, framed by firm, ripe, finely grained tannins and seamless freshness, finishing with incredibly persistent and evocative floral and mineral layers. An absolute head-turner, this 2018 is all that and then some."
Continuum is in the class of Opus One selling for $750, and Napa's other elite Cabernets costing up to $3,000/bottle. It should also be compared to Bordeaux's five 1st Growths... though its production is considerably less and more focused, its price circa 30% of those, and its ratings consistency ahead of them all. Continuum is not only one of the world's finest Cabernets... it's one of the most outstanding buys globally at our NZ exclusive price of $399/bottle... and $825/magnum. It has also become my favourite all time Cabernet.
IMPORTANT – Ongoing annual releases are offered to previous vintage buyers first, stay active on our previous buyers list to ensure continued supply. Cheers, Jeff

VARIETY
Cab Sauv Cab Franc Petit Verdo

1
Sort By Rank
Product Name
Price (Lowest)
Price (Highest)
Popularity
Newest
Rank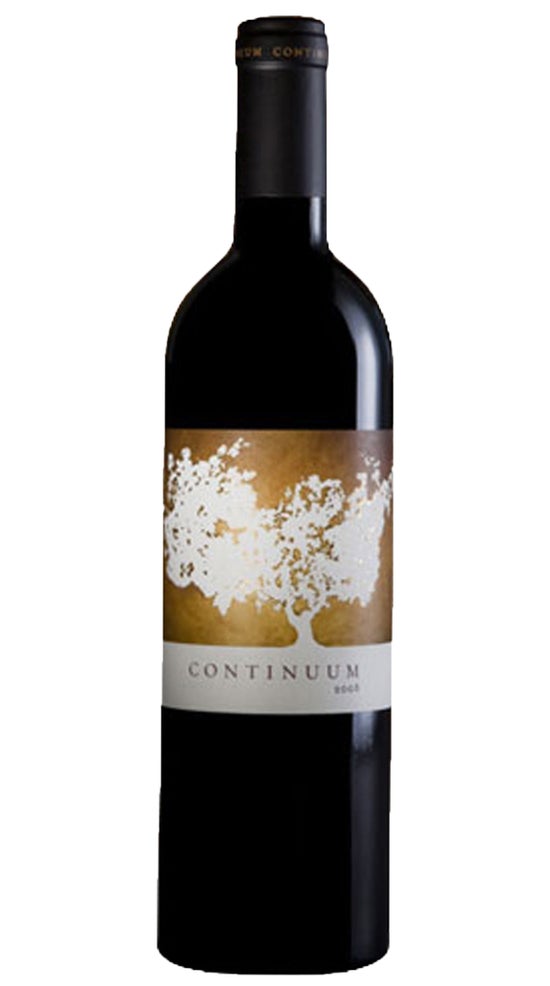 With only 90 bottles allocated to all of NZ, this triple 100 point masterpiece w
$399.00
1
1
2
3
4
5
6
7
8
9
10
11
12
13
14
15
16
17
18
19
20
21
22
23
24
25
26
27
28
29
30
31
32
33
34
35
36
37
38
39
40