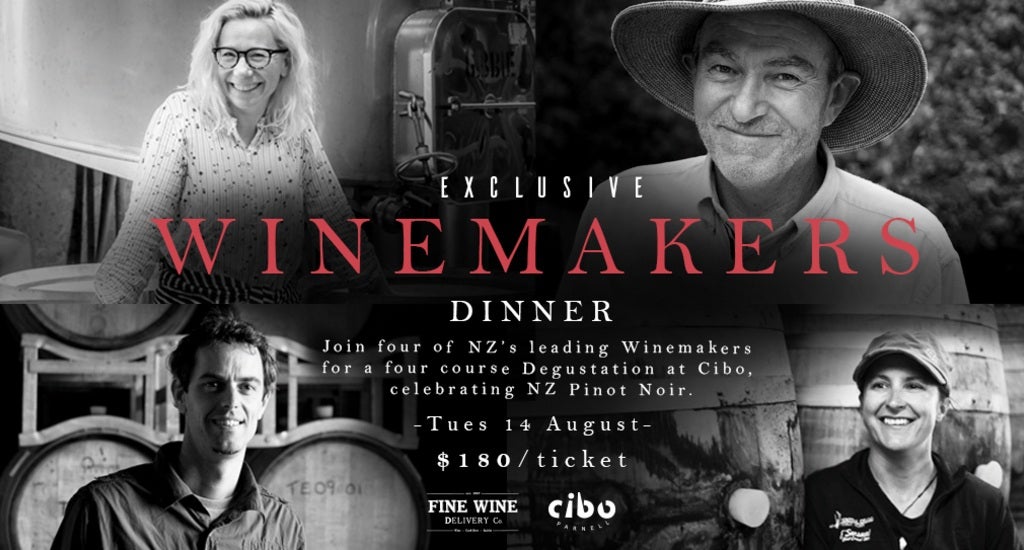 when
Tuesday, 14 August 2018
6.45pm - 10.30pm
where
91 St Georges Bay RD, Parnell, Auckland 1052
Passion For Pinot Winemakers Dinner
Tuesday, 14 August 2018|Passion For Pinot Winemakers Dinner
Have you got a Passion for Pinot?
Join us for a veritable who's who of NZ Pinot Noir Winemaking, presenting their wines alongside a Gastronomic experience from the talented team at Cibo in Parnell.
Our 'Passion for Pinot' showcase kicks off in August and what better way to launch our winemaker-hosted events than with the ultimate Pinot Noir Degustation dinner at Cibo. Dine with four of NZ's leading Pinot Noir winemakers as they take you on a journey throughout four of NZ's key Pinot Noir regions.
Each Winemaker will present two of their Pinots with each course & take us through the nuances of how their regions differ & the characteristics typically found in their wines. All have been expertly matched in a magnificent four course Degustation menu created by Kate Fay and her talented team at Cibo in Parnell.
An unforgettable gastronomic experience:
Champagne Gardet Brut Tradition NV & Canapés
on arrival
First Course
Venison / beetroot / deer milk yoghurt / berries
Served with
Greywacke Pinot Noir 2015
Greywacke Pinot Noir 2010
& presented by
Kevin Judd - Greywacke, Marlborough
Second Course
Duck / parfait / shiitake / walnut
Served with
Ata Rangi Pinot Noir 2015
Ata Rangi McCrone Vineyard Pinot Noir 2014
& presented by
Helen Masters - Ata Rangi, Martinborough
Third Course
Lamb / aubergine / garlic / burnt onion
Served with
Valli Waitaki Pinot Noir 2016
Valli Bendigo Pinot Noir 2016
& presented by
Jen Parr - Valli Wines, Central Otago & Waitaki
Fourth Course
Valrhona taco / ganache / cherry / sorbet
Served with
Greystone Pinot Noir 2016
Greystone Thomas Brothers Pinot Noir 2016
& presented by
Dom Maxwell - Greystone, North Canterbury
We look forward to sharing this experience with you!
2018-08-14 18:45:00
2018-08-14 22:30:00
Pacific/Auckland
Passion For Pinot Winemakers Dinner
Fine Wine Delivery Co
info@finewinedelivery.co.nz