Artisanal, Bespoke, Sensational, Limited... It's our very Own Craft Gin!
Michael Black our spirits ambassador and I, have been the backbone of our fine spirit category, since the opening of our Lunn Ave superstore 5 years ago. Over the years we have extended our premium selection of craft spirits from all corners of the world. We have grown customers knowledge of boutique rum, whiskey, vodka and of course Gin.
Michael and I have tasted oodles of gin from around the world (yes it was an enjoyable job), and became enchanted by the vast growth of different flavors and the consumer interest we saw in this market. Which led to our next evolution... designing and creating our very own Gin.

Michael and I had ideas, however the next step was finding the right distiller. Michael had established a relationship with the legendary boutique distiller Alex Kirichuk of Puhoi Organic Distillery. After months of planning, and lengthy discussions over a beautifully prepared lunch with Alex at his charming distillery in Puhoi, we created our Gin. We designed a unique tasting, beautifully presented Gin with only quality ingredients. We believe this product will complement the global gin category and will contribute to New Zealand's high standards on the world stage of gin.

Gin 133 is proudly crafted with the purest & softest ancient artesian NZ water. It includes three types of rare lemon myrtle, exotic poor man's orange, and delicate feijoa flower all sourced from Alex's property. Combined with the finest Sri Lankan Cinnamon & the best Juniper money can buy, this is an ultra-smooth and complex gin with an enchanting copper hue. I enjoy it best in a short glass with ice, a slice of lemon and Fever Tree premium indian tonic. This will be the favorite summer drink over my Christmas holidays.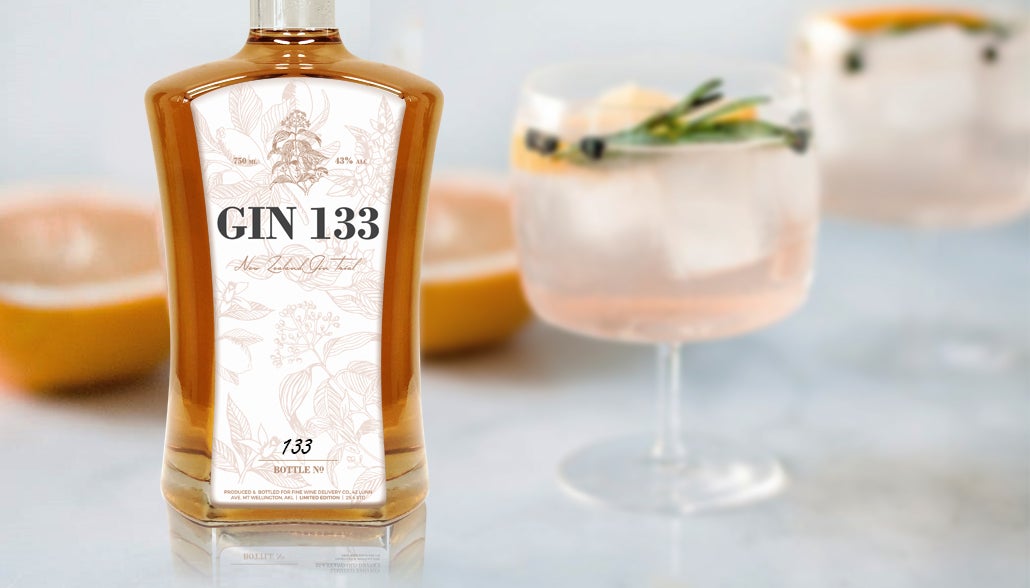 Limited Edition (133 bottles only!), it's hand numbered and presented in an elegant French bottle with glass stopper, providing a quality gift or personal statement for any liquor cabinet. Plus you get the chance to have your say on the future of this gin brand by completing our online survey & suggesting a permanent brand name. You can win one of four $250 prezzy cards, and be sure to like our Facebook page for spot prizes throughout January. Please Note this competition has now closed!

Cheers, Richard