Day 12 - Bergström Vineyard
Our host Vanessa ushered the group directly to a part of the winery where a tasting table had been set up with 8 wines, we were being treated to a serious tasting review of their single estates. Before we got to work tasting (fun work of course) Vanessa shared with us a brief history of how Bergström Vineyard came to be.
The owners are Dr. John and Karen Bergström, son Josh and wife Caroline… John met Caroline in Dijon whilst competing his postgraduate program in Viticulture and Enology in the Burgundy region of France. Thiers is a great family story based on a shared passion fueled by lots of energy with an uncompromising commitment to making wine naturally. It takes some telling, but is aptly portrayed in their 'About Us' page on their website www.bergstromwines.com go there for a good read.
They own 80% of their vineyards, which are all bio-dynamically managed and dry farmed (no irrigation) and produce around 10,000 cases annually. Josh's time spent in Burgundy exposed him to the traditional and more natural winemaking practices, which are at the core of his wine growing and making at Bergström. Now for the true test, 8 wines, a deep representation of Bergström winemaking that I was looking forward to.
2014 Old Stones Chardonnay
Multi vineyard blend (6 vineyards) spending 12-months in oak majority older seasoned barrels. Finer style with citrus and white peach fruit, nutty oak, finely creamed, bright acidity and an oyster shell freshness like good Chablis.
2014 Sigrid Chardonnay
Best barrels across the five estate owned vineyards, a rounder, richer style with much greater complexity and depth finishing crisply and poised. Impressive mix of weight and elegance, it will drink at its best circa 2016-2020.
2014 Cumberland Reserve Pinot Noir
Josh calls this wine his business card… a true representation of the qualities of Bergströms five estates, his take on a vintage, a philosophical and olfactory example of what great Oregon Pinot Noir from the Willamette Valley should taste like. "Oregon Pinot Noir should always showcase the triumvirate of fresh fruit, sweet baking spice characters from the soil, and a fresh forest floor, loamy, earthiness."
Salty, floral, dark fruit and forest floor aromas, manifested in the palate with excellent balance, breadth and savoury complexity.
2015 Gregory Ranch Pinot Noir
Greater depth of forest floor savoury notes underpinning the rich red fruits, a more intensely flavoured Pinot with a warm and charming finish. A favourite of the men in the group.
2015 Shea Vineyard Pinot Noir
Brighter, sweeter, intense red fruit with prominent spice and earthy complexities, precise tannin acid balance, plus lovely freshness on the finish.
2015 Les Pré dul Col Pinot Noir
Strawberry, raspberry, floral and truffle aromas. Broad, strong palate with firmer tannin and bright acid. It tastes like it will age well past a decade should you be seeking a Pinot to cellar long term.
2015 Silice Pinot Noir
More floral with dark plum and cherry fruits, rounder style with seductive earthy notes on the smooth finish.
2015 Bergström Vineyard Pinot Noir
A powerful wine with dense dark fruits and brooding savoury notes. It has the requisite tannin and acidity to platform and finesse its largesse. Looks set to be a great cellar prospect and match with slightly more gamey/tasty meats.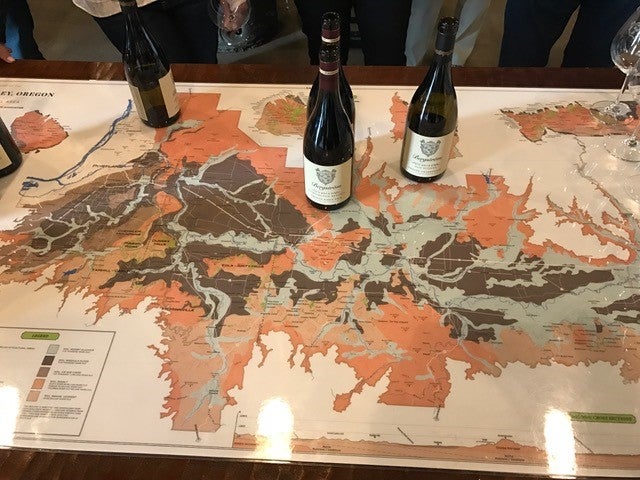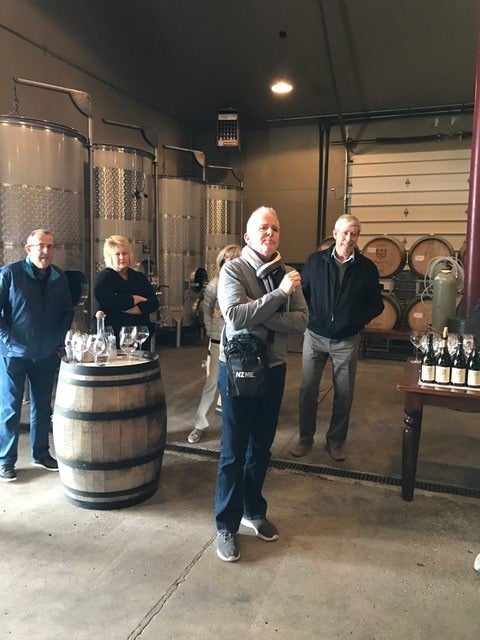 Post the tasting proper and in typically friendly and relaxed KIWI style, our group stood in a circle in the winery chatting with Vanessa and sharing some of our unique humour alongside our individual thoughts and preferences of the wines. It had been a most enjoyable visit, tapping into Vanessa's knowledge and passion for the Bergström and tasting their great wines that showcased the diversity of their estates and the purity of their winemaking in every sip.
I'm so glad Paul Pujol recommended we come for a visit. After saying farewell, we boarded our party bus and returned for a relaxed afternoon in readiness for our planned degustation dinner at the 5-star rated Painted Lady restaurant later tonight.