Day 12 - Lemelson Vineyards
Two visits today, the first to Lemelson Vineyards, a recommendation and introduction by friend and Prophets Rock winemaker Paul Pujol, who worked there in the early 2,000's. We were warmly welcomed by winemaker Matt Wengel, assistant winemaker Ashley and front of house manager Lesley.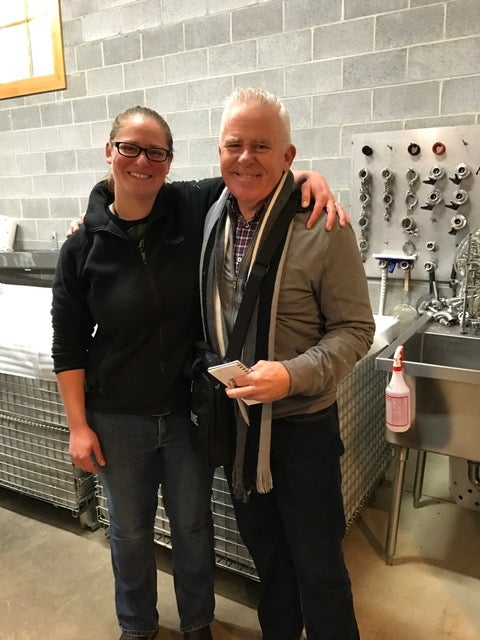 Matt gave us a brief history of Lemelson Vineyards… owner Eric Lemelson (patent attorney, among many successful patents was "The Walkman") had a love of the environment generally, which led him to get into wine growing. But from day one the focus was on making natural wines and respecting the land, which naturally steered him towards to organic farming. The first 5 acres were planted in 1995, eventually expanding to 100-acres across seven individual sites, each planted with a mix of 7 clones.
Fruit arrives at the winery in small containers and is forklifted to an elevated receiving platform that moves up and down the length of the fermentation tank room on rails. There it is fastidiously hand sorted, then the platform (looks like Battle Star Gallactica – patented design of Lemelson) can move up and down the rails with 360 degrees of rotation so it can maneuver over any tank and deposit the fruit directly into the tanks below.
Post fermentation juice is gravity fed to holding tanks on the next floor down (via stainless steel pipes), then gravity fed to the barrels on the 3rd floor below. The winery was built into the side of the hill to enable a complete gravity process. When barrel aging is completed it is pushed back up the pipes using inert nitrogen gas to ensure no pumps are used at any stage. They also have their own bottling facilities on site. Only French oak is used (understandable with more elegant Chardonnay and Pinot Noir wines) and all wines are fermented using natural yeasts. They are encouraged to ferment out to absolute dryness, then given the longer time to settle in tank so they can be bottled unfined and unfiltered, it doesn't get more natural and gentle than this.
We adjourned to the tasting room to review 7 wines as follows…
2014 Dry Riesling from the Dundee Hills
Bone dry with a firm backbone of acidity that will ensure its food friendliness and long term age ability. Fragrant with Meyer lemon, lime spice and mineral notes, it is uncompromising it its youth and needs 5+ years of ageing to gain roundness.
2014 Reserve Chardonnay
Fruit from three sites, a small 500 case make. Very elegant with subtle toast, marshmallow and crème brulee elements underpinning melon, citrus, honeysuckle and fresh apple. Definitive mineral notes add freshness to the lengthy finish.
2014 Theas Selection Pinot Noir
House blend using fruit from all 7 single sites, soft and engaging with good fruit complexity from red to dark plus subtle forest floor complexity, lovely drinking wine that will age.
2014 Chestnut Hill Pinot Noir
Lovely floral notes, sweet red fruits and prominent forest floor savouriness, it's a concentrated wine with a lovely rich/fresh contrasting finish. Great Pinot, a favourite with the group too.
2014 Meyer Vineyard Pinot Noir
Juicy, riper sweet red and black fruits with a subtle savoury contrast. Medium bodied with fine tannins, the acid is bright with a fresh saline like edge.
2014 Stermer Vineyard Pinot Noir
Richer and more tannic (lovely ripe tannins) the fruits are redder, sweet and succulent. The palate is denser with additional liquorice, vanilla and spice notes adding to its character.
2014 Jerome Reserve Pinot Noir
Crafted to be the pinnacle of vintage, it's a blend of the best barrels of Stermer and Meyer vineyards. It has superb richness and structure and the contrasting fruit flavours and savoury notes of both vineyards add depth and complexity to this powerful, spicy, deeper savoury Pinot, superb wine.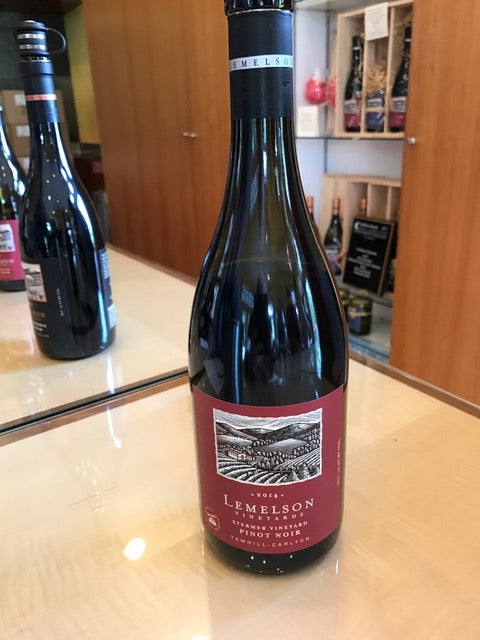 Fantastic to try across so many single site wines and see the definitive effect of the microclimates and soils (all sites are planted in a similar mix of fruit clones) on the flavours of each wine. Afterwards we returned to the winery where a table had been set up for us to enjoy our picnic lunch, which was accompanied by a delicious dry Rosé made by assistant winemaker Ashley. The wine was elegantly structured with a tasty body of red fruits, texturally fine and deliciously fresh, perfect for the occasion.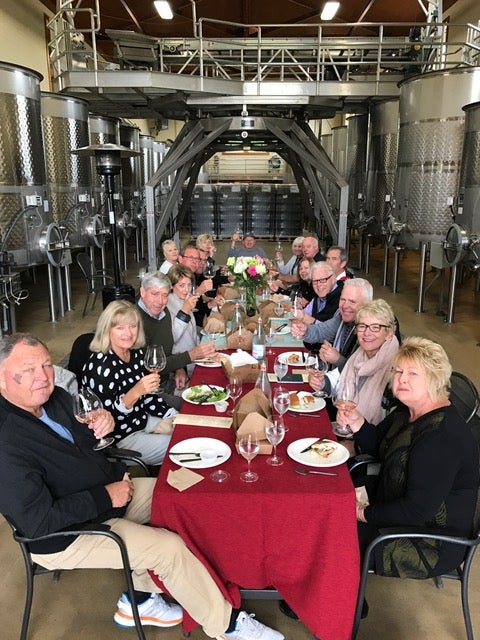 After lunch Lesley accompanied us back to our coach (she was most intrigued with our party bus) where Virginia appropriately thanked her on the groups behalf, a great visit. We headed into Newburg for a cup of coffee before going onto our second visit of the day.