One special visit today, to Domaine Drouhin, established in the Willamette Valley in 1987 by the Drouhin family under the guidance of Veronique Boss-Drouhin and Phillipe Drouhin. Having made Pinot Noir in Burgundy since 1880, the came to Oregon apropos a blind tasting in Paris in 1979, where a wine made in Oregon finished second in a strong line up of red Burgundies. To prove it was no fluke, the Drouhin family secured additional samples and tasted them blind against their own impressive lineup of Burgundies, where it again finished second.
This outcome motivated them to come to Oregon where Veronique spent time working for local producers, prior to the family purchasing 180 acres of steeply sloping land in the Dundee Hills. In recent years, they purchased a second property of similar size located within the Valley called Roserock.
They built a gravity fed winery on the Dundee Hill estate with 40,000 case capacity, both estates are planted in 90% Pinot Noir (Dijon clones close planted to 7,000 per hectare) and 10% Chardonnay. Both have free draining, iron rich volcanic soils on similar elevations, but the Dundee Hills Estate is very steeply sloping.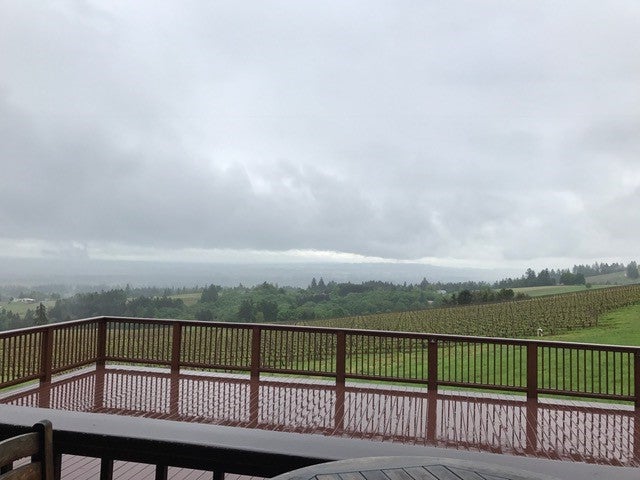 Organic practices are largely used throughout the estates (no chemical sprays used), however they have not sought organic certification.
Fruit is picked to small bins by a permanent vineyard staff of 12, then bought to the winery for processing in small batches (45 separate lots). A mix of hand plunging and pump over processes are applied. Pinot Noirs are exposed to 20-22% new French oak, the Chardonnays 30%.
Our charming and ebullient host was Tasting Room Manager and Concierge, Kelly Campbell. Her knowledge of the family, the estate, their philosophies and the wines was comprehensive and passionately delivered to our group.
Whilst in the winery Kelly poured off a sample of the 2016 estate Chardonnay (tank fermented component with lovely weight and texture) for the group to try. After which, Kelly took a group picture in the barrel hall then led us back up to the tasting room to try 8 wines, a mix of Dundee Hills estate and Roserock wines compared against Joseph Drouhin wines from their Burgundy estates as follows…
2014 Drouhin Oregon Roserock Pinot Noir Eola-Amity Hills
Much darker and spicier fruits, nice weight, softer acidity and a long finish.
2014 Drouhin Vaudon Chablis Mont de Milieu Premier Cru
Very mineral, lemon pith, citrus, saline with classic oyster shell notes, steely acidity, it sprung to life with the cheeses.
2015 Domaine Drouhin Oregon Chardonnay Arthur, Dundee Hills
White flowers, peach and citrus, nicely textured, rounded palate with bright, caressing acidity.
2014 Joseph Drouhin Cóte de Nuits Villages
Red fruits, liquorice, spices, evolving to forest floor savoury notes, good acid/tannin balance.
2014 Domaine Drouhin Oregon Pinot Noir Dundee Hills
More perfumed, spicy and floral. Black cherry and red plum tinged with pepper, firmer tannin and bright acidity.
2014 Drouhin Oregon Roserock Pinot Noir Zéphirine, Eola-Amity Hills
The flagship Pinot Noir of the Roserock estate. Pronounced floral, dark fruit and underbrush aromas. Wealth of blue and black fruit with balancing tannin and acidity. Complex, refined and very long.
2013 Domaine Drouhin Oregon Pinot Noir Lauréne Dundee Hills
The flagship Pinot Noir of the Dundee Hills estate. Complex, fine aromas of sweet cherry, baking spices, herbs, florals and blackberries. The palate is engaging, generous, but elegant with plenty of brightness and energy, composed tannin/acid.
Given the obvious interest of the group and our enthusiasm for the Lauréne Dundee Hills Pinot Noir, Kelly opened a 2102 (outstanding Oregon vintage) and a 2011 (cooler vintage) of Lauréne. Both wines were stunning, showing the difference of vintage, but each with their own personality and it came down to a preference of style. Clearly this is a truly age-worthy Pinot Noir.
I preferred the brighter, more energetic Pinot Noirs off the Dundee Hills estate, although others favoured the richer, darker flavoured Roserock estate wines. Whichever, they are all wonderfully grown and made wines, reflecting the hundreds of years of Burgundy winemaking of the Drouhin family in their style, elegance, purity, feel and balance.
It had been a special visit, Kelly was an outstanding host able to communicate the Drouhin history and winemaking philosophy with precision and ease. Needless to say, a few of the group bought some wines, including myself, I purchased two of the Arthur Chardonnay and two of the Lauréne Dundee Hills Pinot (for us to enjoy during a post tour wind down in Bend). After which we boarded our coach and went to Dundee Hills Bistro for lunch. We had our own private room and to be frank I was mightily surprised and impressed with the quality, depth and selection of their wine list. The food and service were exemplary, well worth a casual lunch visit.
The group had the afternoon evening to themselves. Rex Howe, Graham MacKinlay and I headed to a local golf course – we had not had a game for a week now and a small break in the otherwise wet, Oregon weather, was to be taken advantage of. Tomorrow we were heading into Portland for the last 3-nights of our tour, it was rushing by!