t felt strange to be bringing food into a winery, however liquor licensing regulations in Oregon prevent wineries from having a restaurant on site. Accordingly, Rex Hill welcome groups (by pre-arrangement) to bring food onsite to dedicated dining areas to enjoy with wines served from the cellar door. We were ushered to a long table situated in an internal tunnel within the original building, which was previously a fruit and nut drying plant, prior to purchase by A-Z wine group, owners of Rex Hill. We enjoyed a choice of Chardonnay or Pinot Noir by the glass, to enjoy with our pizzas and salads.
After our enjoyable casual lunch, we were greeted by founding owner Deb Hatcher (who along with ex-husband Bill Hatcher, Sherly Fraser and Sam Tannahill founded A-Z wines from a kitchen at home in 1982), our first stop was to gather around an aroma table covered in many wine glasses, each filled with dried fruit/vegetable/herb nut (et al) components compiled as an aroma circle. All the sales/marketing and winery teams gather regularly to hone their aromatic senses and agree on the precise relevance of particular aromas to each of their wines, a great initiative that has all their people consistently and accurately communicating to customers, the precise aromas within each of the groups wines.
Deb explained the full history, ever evolving philosophies and remarkable growth from start up to the annual 3,000,000-bottle producer it is today. When A-Z wines purchased Rex Hill from its original owners they were producing 40,000 cases per year (had been buying in a lot of bulk wine to achieve those production levels), over 3-vintages they had cut Rex Hill wine production back to 1/5th (8,000 cases) of that. A financially courageous program, reflecting their long-term commitment to making the Rex Hill wines the finest estate wines possible, comparable to the crème de la crème of Willamette Valley wines.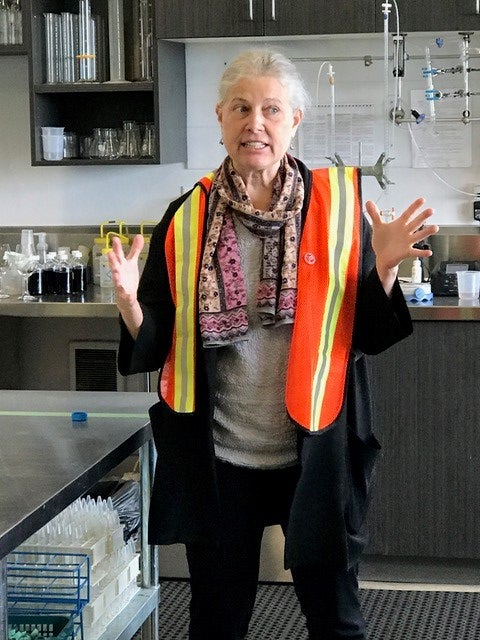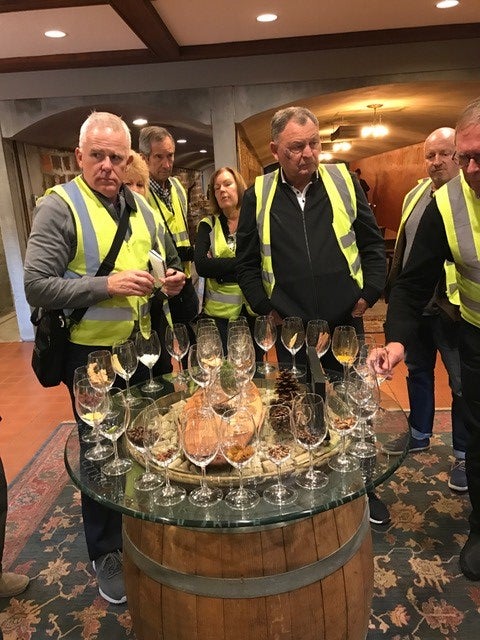 Alongside this they developed 7 wines under the A-Z wine brand, all selling under $20/bottle. Their philosophy being to give a quality wine experience to the large community of regular wine lovers, who are not able to afford to regularly purchase higher priced premium single estate wines like Rex Hill. Despite their amazing growth, Rex Hill single estate wines have only increased to circa 14,000 cases of groups total 250,000 case annual make, reflecting their singular focus on wine quality.
Deb mentioned the founders had brought on a new shareholder in recent years to assist with funding growth, investment in new plant and buildings, in the form of San Antonio Spurs coach Gregg Popovich. Gregg is considered one of the greatest coaches of all time in the NBA (google him and read the Wikipedia history of the man… fascinating person), his humane and inclusive approach to management has proven a valuable and sympathetic addition to the qualities of the founding shareholders of A-Z wines, all very much active within the business today. A-Z are a certified B Corp company. B Corp certified companies embrace quality social, economic and environmental practices throughout their organization from the ground to the end consumer. Amazingly they pay health insurance for all 100-employees (at $10,00pp that adds up to a sizable $600,000 financial commitment annually), compelling evidence of their care for their employees. The ethos of a B Corp company is "leave the place better than when you found it".
The group have reinvested US $29million over the years, always evolving the quality of their wines, efficiency and effectiveness of their plant and buildings, plus the safety and work environment for their employees.
The introduction of concrete egg fermentation/maturation vessels, unique stainless steel tanks designed to gently, automatically pour (instead of the bruising pump over process) the juice over the cap during ferment, large temperature controlled tanks enabling genuine consistency of quality with the larger blends of the commercially priced A-Z wines are all part of their many initiatives. They were first to adopt a remarkable new type of fining filter that Deb describes as moving the wine around with much the same gentleness as the human body circulates fluid.
They also recently built and installed a state of the art bottling hall/plant to ensure the highest quality environment and practices are employed during bottling. Such are their levels of efficiency, they can get grapes from the vineyard and into tank within 30-minutes. There are many other fascinating bits of history and achievements Deb shared with us, but it would take several thousand words if I were to share those in detail, if you want to know more about this wonderful Oregon producer, then I suggest you log onto www.rexhill.com.
Back at the tasting room I thanked Deb on behalf of the group. She is a remarkable woman, extremely proud and passionate about her company (she took us to every corner of the winery and cellars to share the groups innovative practices and operational plant with us). Her mind is impressive, energy levels like those of an energizer bunny and her caring for all the companies practices and employees is foremost in her thinking and actions.
Winemaker Michael Davies then joined us for a tasting of one Rex Hill Chardonnay and three Pinot Noirs. The group instantly gelled with Michael and he with us, after all, he was Kiwi born and bred in Te Aroha before embarking on his impressive winemaking career that led him to spend the last 17-years as winemaker for A-Z group. As we tasted our way through the wines Michael and our group swapped stories of NZ and our wine tour, he might just have been a touch homesick afterwards, although clearly, he loves the Willamette Valley and considers it home these days. I was filled with expectation of the wines given the quality of all we had witnessed in the winery, my expectations were well and truly justified.
2014 Rex Hill Seven Soils Chardonnay
A blend of fruit from seven sites (25% new French oak), the palate is very layered, nicely textured, rich and medium bodied, yet quite elegant and fresh.
2014 Rex Hill Willamette Valley Pinot Noir
Signature blend encompassing fruit from all AVA's that Rex Hill source fruit from. Complex herb, spice, floral and red berry aromas, creamy mid palate with soothing tannins and bright acidity, bringing freshness to the deep finish.
2015 Rex Hill Chehalem Mountains Pinot Noir
Use of whole bunch in the ferment has added more obvious herb and spice notes to the dark cherry and plum fruits, bright acid and slightly firmer tannin delivers more noticeable structure.
2013 Francis Tannahill "The Hermit" Pinot Noir
Bio-dynamically farmed from Sam and Cheryl's Pearl vineyard in the Dundee Hills. The red volcanic soils are strewn with large pebbles (much like the soils of Chateauneuf du Pape), these soils produce a more tannic and firmly structured Pinot Noir. 100% whole bunch ferment (stems, seeds and berries all go in the ferment) adds herb, spice, tea leaf, underbrush and richer savoury notes to the concentrated dark fruits - the tannin/acid structure leans towards a more masculine style.
The tasting proved a great insight into the quality and winemaking philosophies that Michael employs in the making of these impressive Rex Hill wines. I thanked Michael on behalf of the group, he was quite sad to say goodbye to us fellow Kiwi's I thought. He is coming to Auckland for a family catch up closer to Christmas and I left him with my card and an invitation to visit us at FWD Co. which I'm sure he will take up.Tonight, was a free night for the group and after an impromptu coming together in the hotel bar for a few predinner drinks, everyone headed off in different directions for dinner. Royce and Jenny Everett, Andrew and Robbie Bagnall and Virginia and I dined in at Jacks Grill. We had discovered a few hidden Bordeaux wine treasures in their cellar during our group dinner the night before (very reasonably priced) so wanted to experience them. Firstly 2010 Petit Figeac (2nd label of 1er Grand Cru Classé de Saint-Emilion Chateau Figeac), followed by 2009 Chateau Pavie Macquin (2nd label of Premier grand cru classé B producer, Chateau Pavie), both outstanding Chateau and outstanding vintages, selling off the wine list at prices well under normal retail. The final wine, 1996 Chateau L'Eglise-Clinet, beautifully evolved, yet clearly with 10-20 years of drinkability ahead. Remarkable wines, all remarkably inexpensively priced, a memorable dinner it was.
One more obligation of the tour
(a beautiful obligation it will be),
our group end of tour dinner at Portland's No.1 rated restaurant Andina. It is a time to recap on the tour, have one final special dinner accompanied by special wines and say goodbye in style, I will briefly write about the dinner in the next day or so.