A 15-minute coach ride had us at the doors of the wholly impressive estate of Domaine Caneros.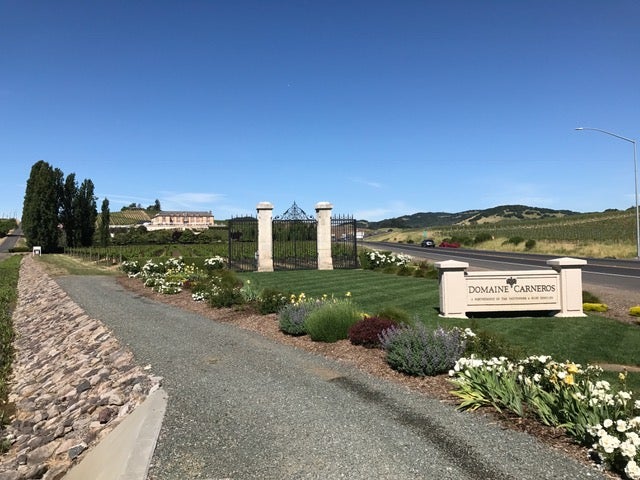 The French like buildings (reception-dining-tasting-winery) were reminiscent of Taittinger's Château de la Marquetterie and the Méthode Traditionnelle (made like Champagne) almost indistinguishable from fine French Champagne! That should be unsurprising really, as the Taittinger family were founding owners of Domaine Caneros (remain so today along with the Krupp family) in 1987 and the Château was completed in 1989, but like the Château de la Marquetterie, just outside Ay, in Champagne… it looks like it has stood there for centuries. Fundamental to the evolution and preservation of the Domaine Caneros house style is winemaker Eileen Crane, who has headed up winemaking at the property from day one.
Immediately on arrival we were shown to a tasting room (window view into the winery) and a glass of the delicious Estate Brut was placed in our hands, one sniff and I could have sworn it was Champagne (3-years aging in bottle on lees) with its mix of toast/nut/bread/fruit and floral notes leaping from the glass, then transitioning onto the palate in a very fine mousse infused with white fruits, complex Champagne like tastes and culminating in a crisp, seductive finish. 60% Pinot Noir and 40% Chardonnay, it was not too dissimilar from the famous Taittinger Brut Champagne in flavour and style. Our early host, Michelle (been there 19-years) showed us the vines alongside the winery and explained the various assortment of clones of Pinot Noir and Chardonnay planted there (no Pinot Meunier here).
We returned to the tasting room where we tried 3 more Sparkling's (seems wrong to refer to such magnificent Champagne like bubbles as simply Sparkling) - a crisply dry Blanc de Noir (Pinot Noir inspired bubbles) tasting of white fruits, red apple and fresh baked bread. Just 2-years on lees it is very fresh and lively and would be a great match for richer seafoods. This was followed with a delicious 2013 Rosé Methode Traditionnelle, 60/40% Pinot Noir and Chardonnay (Pinot Noir enjoys full skin contact to develop greater flavours and structure), showing fresh doughnut and nutty complexities from 3-years of lees ageing, in harmony with wild berry, and white fruits… again typically very crisp and at the lower end of Brut dosage.
The Coup des Gras… La Reve 2009 Blanc de Blanc, here's where the influence of Taittinger is even more noticeable (very reminiscent in style, power, finesse and presentation to the legendary Taittinger Prestige Cuvee, Comtes de Champagne Blanc de Blanc). Almost exclusively sold to estate visitors, otherwise only found on a handful of top Californian Restaurants, including The French Laundry. Like Comtes… it's broader and richer in style but exhibits an incredibly deep and fine mousse laden with many fine fruit and Champagne complexities (derived from 6-years aging on lees). Definitely meditational bubbles, best slowly and selfishly savoured by just two people in combination with a high-quality platter of charcuterie or even the rich, chocolate inspired dessert that we enjoyed it with over lunch.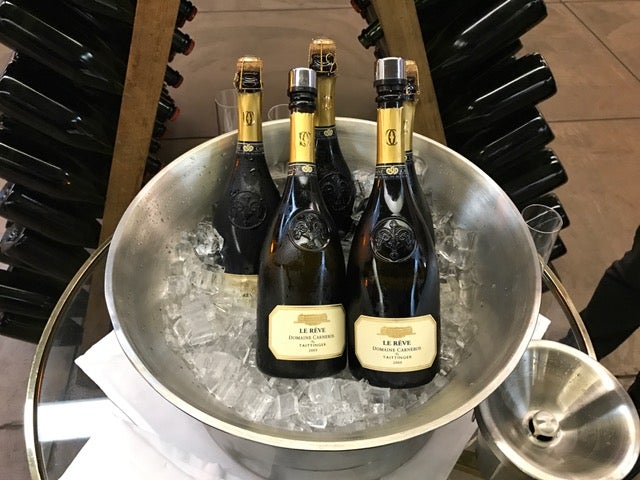 Domaine Caneros still wine maker T. J. Evans, hosted our luncheon at the estate. TJ (as he is affectionately known) has been at Domaine Caneros making their estate Pinot Noirs (more recently a gorgeous Hyde Vineyard Chardonnay) for 10-years and we enjoyed the Estate and Famous Gate Pinot Noirs with our lunch (along with the 2013 vintage Brut Rosé, the 2013 Traditional Brut and the 2009 La Reve). We immediately had something in common… in 1997 I began our family FWD Co. wine business from a spare bedroom at home – at the same time TJ began a yearlong internship at Villa Maria wines in NZ.
TJ's two Pinot Noirs were like very good Marlborough styles, the estate being readier to drink as a young wine, less complex but typical and nicely oaked. The Famous Gate was quite a step up, with the fruit paired back, the complexity, oak and structure all considerably heightened. TJ was so enjoying our group he poured us an additional treat… the Hyde Vineyard Chardonnay 2015, of which he had made just 3 barrels. Very Burgundian in style, generosity like a top Puligny Montrachet, in concert with very Chablis like structure and minerality.
It had been a wonderful/memorable visit, I thanked TJ and the team on behalf of our group and post some eager purchasing, we adjourned to the steps of the Château for a group photo before returning to our hotel and a free afternoon/evening… someone's got to do this you know!