Day 9 - Chalk Hill Estate
Our visit today was to the flagship Foley Family owned Chalk Hill Estate. Having previously enjoyed and been impressed with a couple of their estate wines in NZ, and knowing this was owner Bill Foley's favourite estate and place of residence, we were looking forward to this appointment for sure.
Immediately you drive through the gates you are surrounded by a patchwork quilt of vineyards stretched across many differing hillside sites and aspects, as all winemakers say… the work is done in the vineyard and this was one very impressive estate that filled you with anticipation of the wines we were scheduled to taste and consume with our tasting menu luncheon.
First stop was the very impressive reception and cellar door building that overlooks the main valley of the estate. We were greeted by our hostess Kelly and presented with a glass of their estate Sauvignon Blanc. Ah the wine business… the only business of its type where you need not feel guilty about enjoying your first glass of wine at 10.45am. Clearly Sauvignon Blanc with its mix of tropical and herbal nuances, though it was more restrained than our own Marlborough Sauvignon.
Kelly shared much of the estate history with us as follows…
Chalk Hill was founded in 1970, with vines first planted in 1971 and progressively planted over the ensuing years, these days around 400-acres under vine. It was the vision of Fred Furth, ironic in that his initials "FF' are imprinted on parts of the property, purely coincidentally they match with the "Foley Family" badge, "FF Wines". Fred Furth was an enormously successful class action lawyer and among his many iconic and successful cases were the Exxon Valdez oil spill in Alaska (US$507m in punitive damages and circa $3b in reparation costs) and the famous Walmart workers' vs Walmart case (reparation and punitive damages of US$172m). It is said that with each successful case, Fred Furth increased the estate plantings.
In 2010 Bill Foley purchased Chalk Hill estate plus additional acreage and the Furth family home for circa US$120m. Bill also has an extensive portfolio of wine properties in California, estates in Washington State, Oregon, and FFW holdings in NZ, along with many other investments within the financial and property industries.
Chalk Hill has its own unique mix of chalk and volcanic ash soils, which later led to it being declared a special appellation. Chalk Hill own a sizable chunk of the appellation, but other important wine producers like Kendall Jackson also have holdings there.
After sharing the estates history, we boarded the coach with our hostess Kelly and enroute to the impressive equestrian pavilion, we stopped at the estates organic vegetable and herb gardens that supply natural foods for the family, the restaurant and other functions held on the estate. It seemed to be planted with every vegetable and herb imaginable, a stunning set up.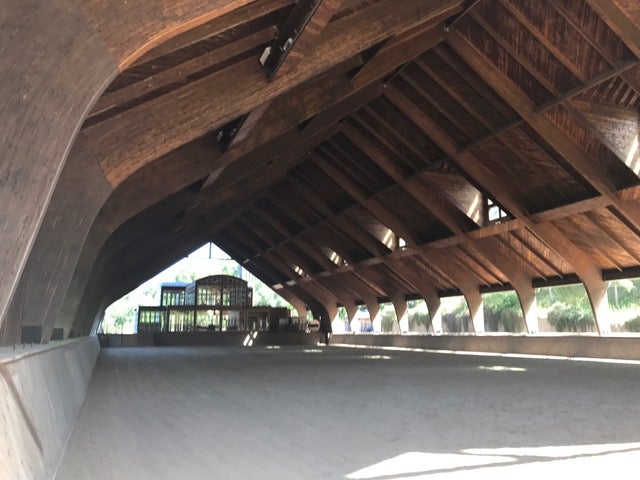 We arrived at the equestrian pavilion, so named as that's what it was built for. It's apparently the finest example in the USA of an Olympic sized indoor equestrian facility. Made from Alaskan Golden Cedar shipped down by the Alaskan government to Fred Furth in recognition of his services in securing a successful action against Exxon Valdez over the 11,000,000-gallon oil spill in the Prince William Sound... it is impressive to stand inside and look up to the massive laminated beams that span a circa 50-metres from side to side and arch up to a significant height.
Kelly then ushered our group around the other side of the complex, up the stairs and into a beautiful room where two large tables were set for our group to experience a 4-course wine and food tasting menu, including fresh ingredients off the estates gardens we had visited just prior.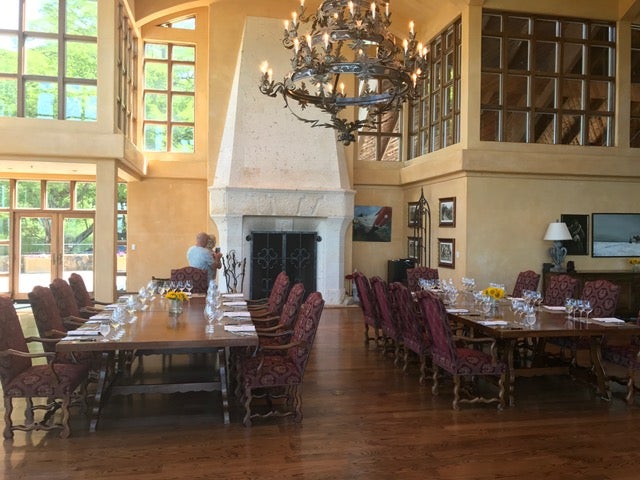 The food menu was matched with 4 wines, the first being an Estate Barrel fermented/aged 2015 Sauvignon Blanc Musqué. Lovely rich palate of guava, mango and citrus flavours with underlying baking spices, nutty oak notes and a finely creamed texture… the rich finish had the freshness of a ripe apple.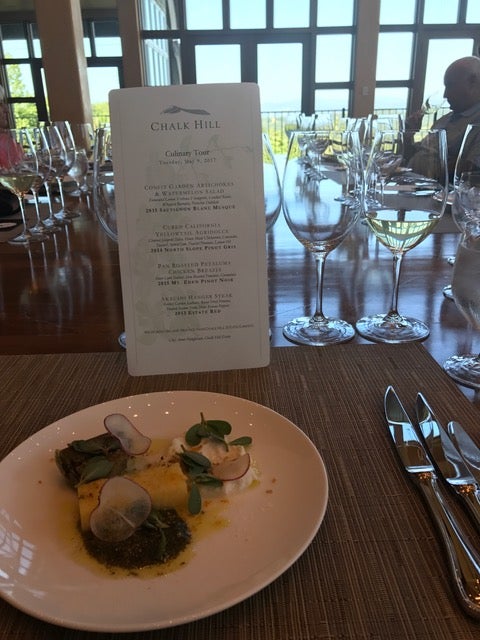 The wine with the second course was the Estates 2014 North Slope Pinot Gris. It had lovely pear/peach and spice flavours in a richly textured palate with similar viscosity to a dry Alsace Pinot Gris.
The third wine… 2015 Mt. Eden Pinot Noir, dark fruits, spices and rich savoury notes, it was eerily like high quality Waipara Pinot Noir (Pegasus Bay comes to mind) – a delicious, concentrated and complex Pinot Noir.
The fourth wine (96/100 Robert Parker) was the 2013 Estate Red (lovely vintage), which seemed such an underwhelming name for what was a very complex, opulent, but beautifully composed Cabernet led red wine (stunning, a blend of 45% Cabernet Sauvignon, 30% Malbec, 12% Petit Verdot, 5% Carmenere, 4% Syrah and 4% Merlot from the estates best sites). Frankly, wines like these showcase that California is making some of the very finest Cabernet blends in the world (including top Bordeaux Growth) and even with the currently high US$, they still make good buying for those with a taste for top end Bordeaux styled blends.
Well into the luncheon we were privileged to receive a 30-minute visit by owner Bill Foley. I was very keen to meet Bill personally, I knew a lot about him and we have been a large buyer of wines over several years from the Foley Family Estates in NZ and California. Virginia and I spent circa 20-minutes engrossed in a private chat with Bill before introducing him to our tour group. He is confident, unassuming and charming. His amazing history of successes across numerous aspects of business reflect a man with a formidable brain and business acumen… yet he has a quiet and welcoming demeanor.
After saying goodbye to Bill, Kelly and other Chalk Hill team members, we boarded our coach and headed back to our accommodation at Les Mars Hotel for a free evening. A small number of our group had secured reservations at the legendary "French Laundry" restaurant, so I'll be keen to hear about their experience tomorrow. Virginia, I and Royce & Jenny Everett are headed for a recently opened degustation restaurant called "Single Thread", I'm looking forward to that and will also report on our experience.