Day Nine: Chanson, wires crossed and the Hotel Le Montrachet
By Anto Coates

The Giesen family's maison in Puligny Montrachet was so comfortable, we really wished we'd come for a week. As it was we had places to be so we headed off after breakfast in their Peugeot station wagon. Jeff had volunteered to be the driver (which freed me up for lunchtime) and the going was predictably cautious as he tried to get used to driving on the right hand side of the road. This process was complicated by a manual transmission, the whole thing being like trying to pat your head and rub your stomach at the same time (while trying not to get hit by a truck).
We made it into Chanson without incident and were welcomed by Catherine Goutourbe, a charming and knowledgable lady who has been with the company for over 20 years. I must confess I didn't know what to expect, presuming perhaps that Chanson would be a fairly modern and large scale operation. Wrong on both counts. Their cellars are inside a Bastion, a fortification from the 15th century with 8-metre-thick stone walls at the base. The winemaking spreads across all 4 levels, the top 2 levels of which were added in 1826. We weren't able to spend too long in the cellars taking photos since the CO2 levels were still at borderline levels, but the memory of that building will stay with me for a long while.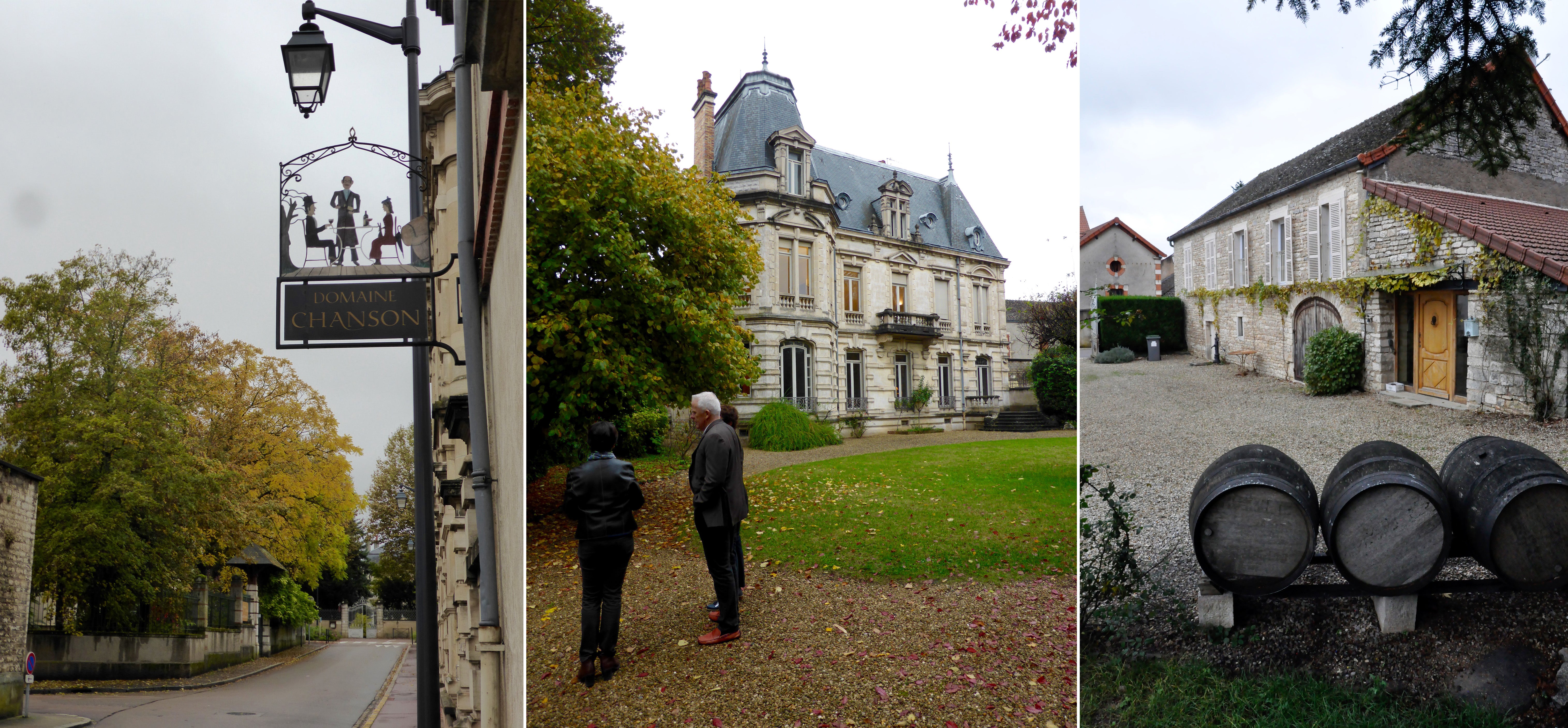 Like many internationally known Burgundy producers, Chanson have extensive holdings, with 45ha in the Premier and Grand Cru vineyards. This includes one Monopole, Clos des Feves, a Beaune Premier Cru planted entirely in Pinot Noir. Not coincidentally, this was also easily my favourite of their red wines, a perfectly harmonious wine even in its youth (2013). Where some of their other wines like Savigny Dominode showed a little too firm a structure for their fruit weights, Clos des Feves was stylish, spicy and perfectly balanced.
For the first time I can ever remember, Domaine Chanson choose to serve you their red wines before their whites. I forgot to ask why that is, but it must be to do with acidity. Or perhaps they just like to finish strong, since the white wines were the highlight for me. Their Chablis was by their own admission atypical, 2015 being a low acid year in a region that lives and dies by its acidity. The wine was very pleasant, but lacking the stamp of its terroir. Viré Clessé was an easy drinking wine executed brilliantly but without any great aspirations, while Meursault was textbook - big, rich and full with buttered toast and caramel notes. The Chassagne Montrachet Les Chenevottes 1er Cru 2014 was the pick of the whites, almost perfect and very complete given its youth. Definitely one to enjoy at any time over the next 8-10 years. The Corton Vergenees Grand Cru was also excellent, with a little more mineral grip on the palate.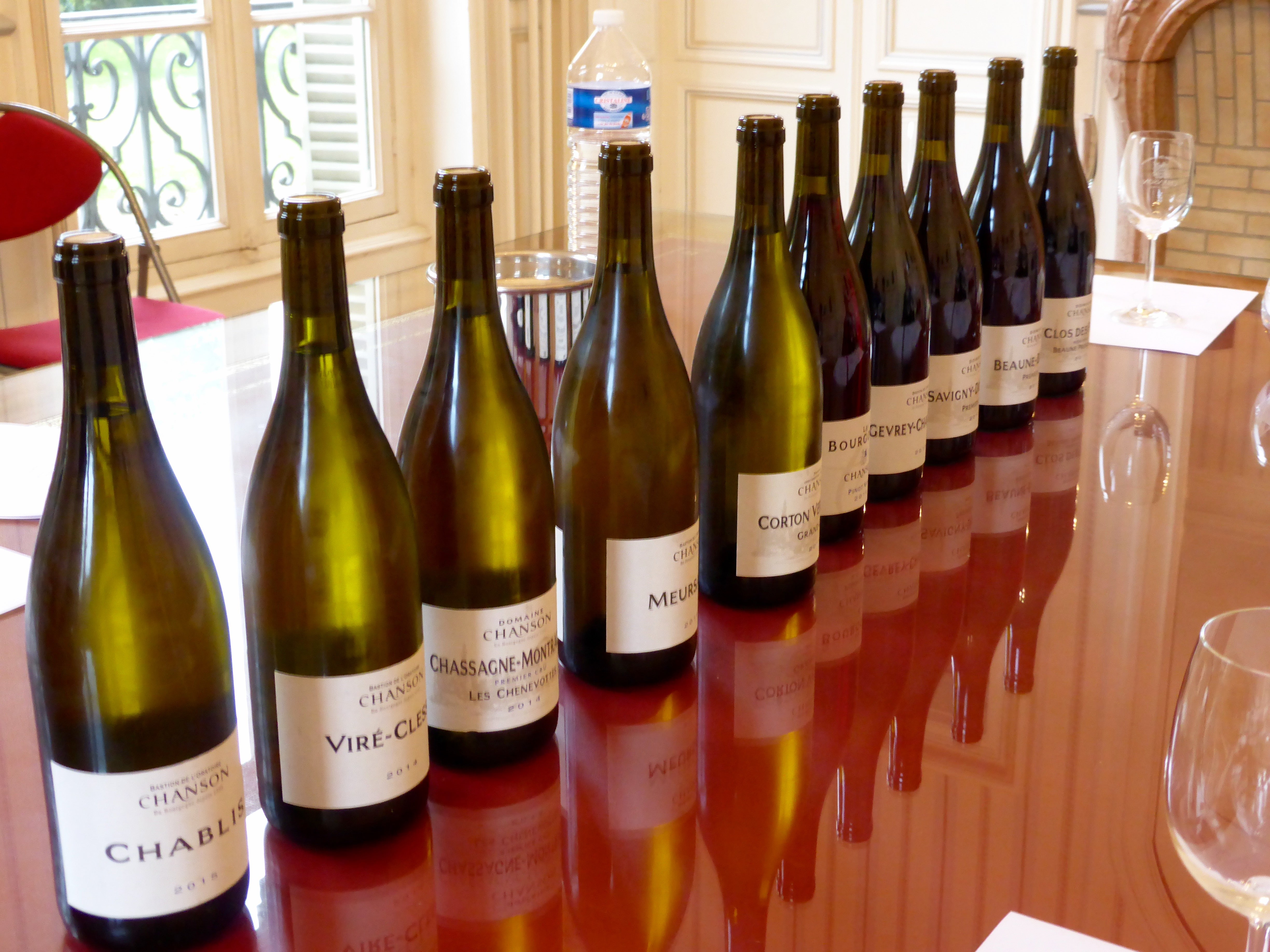 Given the central location of Domain Chanson in the very centre of Beaune we were able to walk to lunch. Catherine's recommendation of Caveau de l'Arches provided outstanding food (if glacially slow service including hand writing of the bill). As a result, we were running quite late when we left for Faiveley. It was here that things went awry, as we headed north to Nuits-Saint-George. Through some untimely assumptions and relying on Google rather than the itinerary I had been given, the car ended up pointed in exactly the opposite direction (which Jeff happily did since he had visited Faiveley in NSG before). By the time I got a phone call confirming our mistake, we were going to be an hour late, so reluctantly had to cancel the appointment. A real shame for me personally, but the silver lining was we were able to spend some more time in the beautiful city of Beaune.
I spent a while in the Domaine des Vins (opposite the iconic Hospice), chatting to a very knowledgeable retailer and negociant about what I might buy that evening, while sipping on a glass of their house Charmes Chambertin 2006. While the Charmes was a little charmless, I decided on a bottle of Domaine de L'Arlot Clos de L'Arlot 2011. We decided to have dinner locally that evening, selecting the opulent 1-Michelin-starred Hotel Le Montrachet. With an entire page dedicated to the famous vineyard on the hill (the cheapest bottle 660 Euros on the list), we went for something a little more reasonable. I again tried the Pigeon, smoked with hay this time, and this confused bird again came up trumps alongside Jerusalem artichokes and chestnuts. The food was utterly superb and the service exemplary (two of the staff are coming out to NZ next year so we left them our cards. It appears the NZ love affair with Montrachet and the wines of Burgundy is not completely unrequited.) I can highly recommend dining at Le Montrachet when you're next in this part of the world.