Jeff & Virgina's Preview Tasting of the Penfolds Releases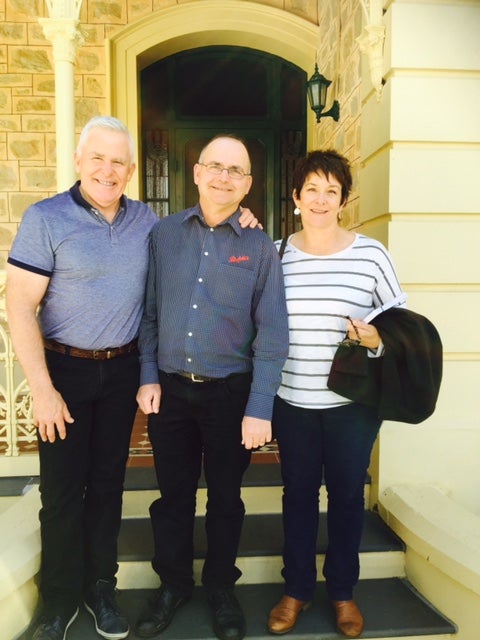 Monday September 14, Virginia and I were privileged to be invited to an exclusive preview tasting to try the much anticipated annual Penfolds red wine releases. Hosted by Senior Red Winemaker Steve Lienert we were received at Penfolds Kalimna Cottage situated on the legendary Kalimna vineyard in the Barossa region of South Australia. It was a treat to catch up with Steve as we had not been able to synchronise our timing over the last 3-years. Also it was a serious privilege to preview these magnificent wines pre-release, with the man who had presided over the crafting of them. With the exception of the 2012 St. Henri and 2011 Grange the remaining seven wines were from the stunning 2013 vintage, which was why this annual release had been even more anticipated than normal.
Virginia and I were in South Australia enjoying 10-days of much needed R&R so had largely avoided any winery visits. However when the special invitation to preview the new releases with Steve came, we accepted the opportunity with great excitement. Friends John & Lynda Grant were with us on holiday and have also regularly collected and indulged in Penfolds wines over many years, so they jumped at the opportunity to tag along.
After spending 10-minutes on the front steps of Kalimna cottage with Steve as he pointed out key vineyards and landmarks visible across the Barossa Valley we then adjourned inside to a room where the tasting had been prepared. Steve shared with us his thoughts on the 2013 vintage at large then we began the tasting proper working through the release in the order below of my individual wine reviews. I have also noted alongside each wine review my assessment out of 100, which is my view on the day and not the final FWD Co. ratings that are as always the collective view of our Tasting panel, although I suspect they will not be too dissimilar.
Wines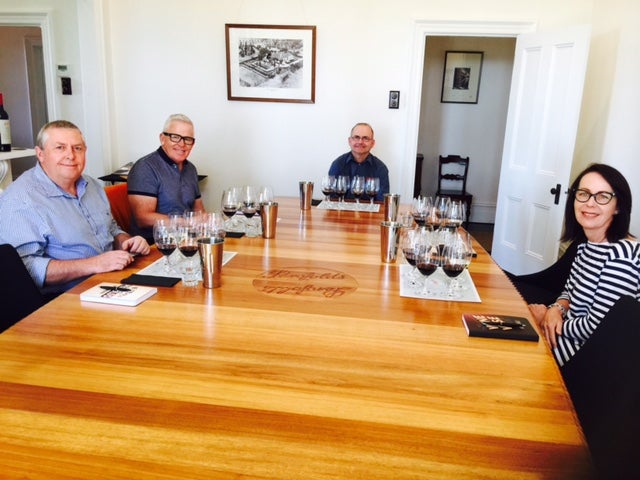 Penfolds Yattarna Chardonnay 2013 – 97/10
In recent years the fruit for Yattarna has largely come from cooler climate regions/vineyard sites with a sizable portion generally from Tasmania. The fruit for this 2013 release is 90% Tasmanian and 10% Adelaide Hills. This has resulted in Yattarna ever increasingly becoming finer in style, tasting of the fullness of a Corton Charlemagne coupled with the minerally edge of Grand Cru Chablis. Judiciously fermented and aged in French barriques (60% new) for 8-months, the oak is fully subsumed into the wine.
SMELLS: Stone/citrus fruits with nougat, roasted nuts and a subtle aroma of struck match.
TASTES: A delicious edginess to the palate is provided by the mineral and acid backbone. Subtly rich stone fruit is threaded with nougat/nut complexities in a finely creamed texture and a fine, steely citrus injection to the finish personifies the wine's structure and obvious ability to age. Sealed by screw cap, you can reasonably expect this Grand Cru quality Yattarna to cellar through the 20-year mark if stored in quality cellar conditions.
Penfolds Bin 28 Shiraz 2013 – 93/100
Originally named after the Kalimna vineyard where its fruit was then largely sourced. Bin 28 is these days a regionally blended wine consistent with Penfolds winemaking philosophy, which helps to achieve stylistic integrity and maintain quality across vintage variation. It was aged in all-American 300-litre oak hogsheads (no new oak) and in conjunction with its ripe fruit exhibits that warm, tasty, creamy palate Bin 28 is renowned for. This 2013 personifies the superb nature of the vintage with its fruit ripeness and tannin/acid balance.
SMELLS: Seductive floral notes combine with typical plum, liquorice, chocolate and spice aromas.
TASTES: The palate is richly fruited with a creamy texture and warmly flavoured in typical Bin 28 style. All the usual liquorice/chocolate/plum/spice characters are present in volume. However there is greater juiciness and finer tannin than usual in this 2013 that enables the flavours to persist on the palate and positively lift on the extended finish. Seriously enjoyable as a young Shiraz it should easily age beyond the 1992, of which the last bottle I enjoyed from my cellar in fine condition in 2010.
Penfolds Bin 407 Cabernet Sauvignon 2013 – 94/100
First released from the classic 1990 vintage to fill a much needed public demand for a Penfolds crafted Cabernet much more accessibly priced than its illustrious, elite status, big brother Bin 707. And what a legacy vintage to launch a new Bin Cabernet that is still drinking well 25-years on. The fruit for this striking 2013 Bin 407 is predominantly sourced from the cooler Southern vineyard regions of Robe, Padthaway, Coonawarra and Wrattonbully then aged in a mix of French and American barriques (40% new).
SMELLS: Subtle floral notes combine with blackcurrant, sweet/spicy oak and leafy/brambly Cabernet aromas.
TASTES: Rich cassis and berry flavours permeate the finely textured palate embraced by firm but very fine Cabernet tannin. Classic leafy, dried herb Cabernet tastes emerge mid palate and remain present throughout the cassis laden finish that is both creamy and juicy. It persists on the taste buds for a very long time and with its serious structure should easily age beyond the 1990 (still drinking) given its screw cap closure.
Penfolds Bin 150 Marananga Shiraz 2013 – 94/100
Crafted with 100% fruit from vineyards in the Marananga sub-region located in the Western reaches of the Barossa Valley. Marananga exhibits the individuality of its terroir through a much spicier fruit expression than other Barossa Shiraz. The fruit is aged in a mix of new and 1-year old 450 litre barrels, including French and American. They appear to have the oak regime spot on as it is beautifully melded with the fruit while enabling the flavours to still be fully expressed in this pretty impressive and complex Shiraz.
SMELLS: An array of black and red fruit aromas infused with hints of fresh mint, spice and chocolate.
TASTES: Stronger palate than Bin 28 with more composed tannin/acid structure embracing superb concentration of black and red fruits. Hints of fruit cake, baking spices, chocolate and fine herbal notes add further layers to this complex, finely textured and subtly powerful Shiraz that finishes with a cool freshness. Likely to age beyond 20-years and be drinking at its best from 10 years.
Penfolds Bin 389 Cabernet Shiraz 2013 – 95/100
Baby Grange as it has been affectionately referred to over several generations is always a Cabernet led red. Although this 2013 Bin 389 has almost equal proportions with 51% Cabernet and 49% Shiraz. True to Penfolds winemaking philosophy the fruit is sourced across several regions including the Barossa, McLaren Vale plus a smaller South Eastern component. It's aged in 100% American oak barrels, of which just over 30% are new and its pseudonym 'Baby Grange', refers to the inclusion of second use Grange barrels within the overall oak regime. This is without doubt a very special Bin 389, possibly the most impressive I've encountered in my 35-years of exposure to this legendary red.
SMELLS: Powerful medley of cassis, black plum, vanilla/nutmeg spice, liquorice, bramble and fruit cake aromas.
TASTES: Beautiful conjoining of Cabernet tannin and superbly plush Shiraz fruit. A brooding combination of cassis, plum, baking spice, fruit cake, bramble and dried herb complexities pervade the powerhouse palate that is tempered towards the end by cooler refreshing elements. Its generosity and fine structure ensure it can be enjoyed as a young red; however given it is sealed under screwcap and providing it is stored in quality cellar conditions, it could age up to 50-years.
Penfolds St Henri Shiraz 2012 – 98/100
The legendary alter ego to Grange… St. Henri is aged in 40-50 year old 1,460 litre wooden vats as opposed to Grange's 100% use of new oak barrels. It was always intended by its founding Penfolds winemaker John Davoren, to be a more elegant expression of the Shiraz grape through adopting more traditional winemaking methods. A veritable multi-district basket of fruit is sourced across South Australia from the Barossa Valley, Eden Valley, Clare Valley, McLaren Vale, Langhorne Creek, Robe and Bordertown with increasing components coming from Adelaide Hills in recent vintages. Some vines are up to 90-years old.
SMELLS: Enticing floral (Rose) notes hover over dark fruit, spices and tarry aromas.
TASTES: Very warmly fruited spice-laden entry onto the palate delivered within very engaging, almost caressing tannin. Its creamy, juicy contrast is divine and further imbued with anise, baking spice, soy, chocolate and tarry complexities. Although very refined it does not lack power and finishes with a juicy, refreshing coolness. Stunning St. Henri likely to age 40-50 years in professional storage.
Penfolds RWT Shiraz 2013 – 97/100
First released from the 1997 vintage, RWT (stands for Red Wine Trial) was made as a counterpoint to Grange in and is crafted from Barossa fruit and aged in 100% French oak (as opposed to 100% American oak for Grange). The free run juice and skins also finish fermentation in barrel. Often underestimated and lost in the shadow of Grange and St. Henri this 2013 is the best RWT I've tasted since the inaugural 1997 release. Don't be surprised to see numerous high 90's ratings emerge for this exceptional Shiraz.
SMELLS: Complex array of floral, plum, liquorice and spice aromas combining with cedary, brambly oak notes.
TASTES: Very creamy and elegant palate replete with dense layers of dark fruits infused with nutmeg, anise, chocolate and spicy oak. Firm tannin and a cocoa powder like texture embrace the rich and powerful flavours that finish with cool freshness. RWT has truly come of age as a style and will mature and keep for 30-50 years if professionally stored.
Penfolds Bin 169 Coonawarra Cabernet Sauvignon 2013 – 96/100
Bin 169 was first made in 1973 then not again until the 2008 vintage and is the alter ego to Bin 707, in that it is matured in 100% French oak as opposed to 707's 100% American oak regime. Crafted exclusively from Coonawarra fruit off the legendary red terra rossa soils the final selection comes from three separate sites adding to the wine's fruit complexity. A portion of the blend is processed in static fermenters with wooden header boards at Nurioopta with the remainder vinified in open fermenters with wax-lined header boards at Magill Estate. All components complete fermentation in barrel. Bin 169 is only made in select vintages with 2013 being only the 3rd release in 6-vintages (1973 excluded). Given the exclusive use of Coonawarra fruit and French oak it is very much Australia meets Bordeaux in style.
SMELLS: Lifted florals with classic cassis, spice, brambly, graphite and dried herb Cabernet aromas.
TASTES: A very compact palate with finely gripping Cabernet tannin wrapped around a medley of classic blackberry, cassis, herb, mixed spice and sage flavour complexities. Quite Bordeaux-like without compromising its New World fruit richness. Powerfully structured and very youthful, best aged for a minimum 10-years before opening, but able to keep well beyond the 30-year mark if stored correctly.
Penfolds Grange 2011 – 97/100
The vision of legendary Penfolds Chief Winemaker Max Schubert, the inaugural experimental production of Grange was first made off the 1951 vintage. Having returned from some time studying the great reds of Bordeaux, Max desired to create an Australian red wine that would rival them for age ability. Cabernet Sauvignon was his first preference however there were not sufficient plantings in those days so he opted to use Shiraz and thank goodness he did. An intriguing book titled "Max Schubert Winemaker" written by noted Australian critic and author Huon Hook is great reading and provides a wonderful background to the story of Grange. It includes history surrounding the 'hidden Granges' along with a comprehensive account of Max's life and time at Penfolds. Crafting Grange with the finest parcels of fruit adopting a multi-regional vineyard strategy, ensures that any variation in vintage quality can be constrained. Such is the case with this 2011 release that surprised with its ripeness, structure, purity and quality having come from a challenging vintage. Less of it has been made, which will enhance its investment value in the coming years. Only the 6th vintage in the history of Grange to be made from 100% Shiraz fruit, normally a small portion of Cabernet Sauvignon - less than 10%, goes into the final Grange blend. This 2011 contains 78% Barossa, 20% McLaren Vale and 2% Magill Estate fruit, which is aged in 100% new American oak barriques.
SMELLS: Very dense and complex array of aromas including black plum, rose, liquorice, spice and tarry notes.
TASTES: The 100% new oak is superbly subsumed into the concentrated palate, laden with ripe black plum, baking spices, liquorice, mocha and various savoury elements. Grainy tannin and cocoa powder-like texture underpin the weight of pure flavours giving it a mellow mouthfeel that finishes with a cool, juicy lift. No signs of a challenging vintage here and it can be expected to age for many decades in typical Grange fashion.