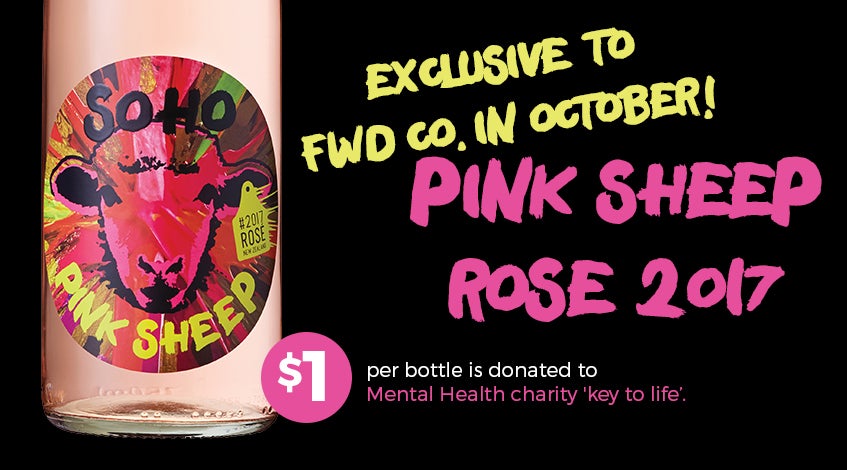 SOHO Pink Sheep Rosé... A remarkable wine giving back! Crafted by Dave Clouston, winner of Cuisine's #1 Rosé three of the last four years! FWD Co. are exclusive retail launch partners – its delivering remarkable quality at… $24.99/bottle - Click here to buy now!
Winemaker Dave Clouston is Rosé Royalty, or if you prefer, the Prince of Pink. Either way he's the undisputed master of the style in New Zealand, winning Cuisine's #1 Rosé an astonishing three of the last four years! He's pulled out all the stops here to produce a sensational summer Rosé – and the icing on the cake is that $1 from every bottle goes to the very worthy cause of Mental Health!

Just fractionally off-dry in style to give it the perfect mouth-watering generosity for summer drinking, the Pink Sheep is made from 100% Pinot Noir. The wine takes its name from the late fashion designer Alexander McQueen, who sadly took his own life due to mental illness. McQueen used to jokingly refer to himself as "the pink sheep of the family", and the wine is a tribute to his inimitable style.

SOHO pledged to donate 50 cents from each bottle to Mental Health, and FWD Co. have chosen to get alongside this tremendous initiative by donating an additional 50 cents per bottle from our sales. Now each bottle you buy contributes $1 towards a very important and worthy cause! And the wine… 5 Stars Raymond Chan, it's as good as Rosé gets, watch for the awards to keep rolling in!

Exclusive release by Fine Wine Delivery Co. Pink Sheep is peerless quality Rosé that is also giving back and superb buying at just $24.99…
SMELLS: An instantly seductive nose of strawberries and cream, with shortbread, raspberry and wildflowers.

TASTES: Dry, focused and fresh with a generous, fleshy mid-palate leading to an irresistibly creamy finish, the Pink Sheep has all the charm of top Pinot Noir mixed with the carefree attitude of a long Kiwi summer. Find a shady spot and some good company and enjoy Pink Sheep between now and 2020.