Spanish Wine Tour 2015 - Day 2, Friday 29 May
Friday May 29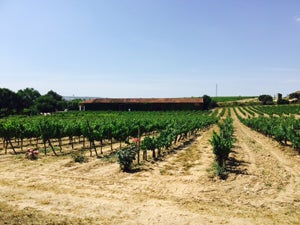 Our first visit was to Torres Winery at Mas La Plana a little over an hour south of Barcelona. Around midday we were entering the winery cellar door reception to be introduced to the host for our visit, Joseph (pronounced Josef), a charming young Spaniard who had previously spent some time in the Hawkes Bay working with Crossroads Winery. The tour began with a beautifully constructed 15-minute documentary. Begun in 1870 the most influential period of growth and international business development in the company's history has been under the stewardship of Miguel A Torres who is widely considered to be one of the most significant wine visionaries alive today. In the early 1970's Miguel persuaded his father to steer Torres away from the common practices of high-yielding grape varieties and volume sales, introducing and planting foreign grapes on terroir chosen for compatibility. So emphatic has been Miguel's influence since joining the family business in 1962 he has presided over growth from 20,000 cases per year to current annual production of an incredible 5 million cases. Torres have vineyard holdings and wineries in the Spanish appellations of… Penedes, Catalunya, Priorat, Rioja, Ribera Del Duero and Rías Baixas. These days they also have family owned properties in… California's Russian River and in Chile's Curico Valley.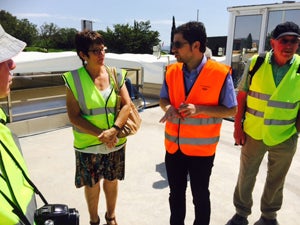 First stop is the amazing temperature controlled barrel hall (capacity 5,000 barrels), and when inside the train temporarily halts in darkness and a rather surreal unfolding of holograms appears on the right wall with accompanying audio, very unique and informative. Exit the other side and we climbed the steps entering into an internal viewing platform overlooking the impressive main barrel hall. From there to the vast wine reception and fermentation area on a scale of size and automation I have not previously witnessed. Next the massive bottling hall with 5 lines, each with a capability of 10,000 bottles per hour. Parallel is another large building, which houses finished wines in tank awaiting bottling on demand. The size of the operation is striking and the property itself circa 4,500 acres.
What is even more impressive is the personal aspirations and commitment by Miguel Torres to sustainable winegrowing and making on a very high level. The Mas La Plana property conserves circa 25% of power usage via solar power initiatives alongside innovative insulation techniques and Miguel Torres and his executive team lead by example, all driving hybrid vehicles. Miguel is totally focused on working with Barcelona University researching ways of becoming even more sustainable. He is an absolute disciple to the belief that our planet is warming, which is reflected in his absolute commitment to doing his bit as a responsible wine grower and to working externally and globally to arrest or at least slow down the alarming global warming trends as he believes it to be.
Our group were hosted first for a tasting of the commercial range of Torres wines before enjoying a superb luncheon accompanied by a selection of the various single estate wines from Rioja, Ribera Del Duero, Priorat and Penedes.
The commercial wines wearing the Sangre de Toro, Vina Esmeralda, Coronas and Gran Coronas labels were immaculate in terms of flavour, balance, style and the enjoyment they offered at such modest prices, which unanimously impressed our tour group. You can expect to see some of these wines on shelf and promotion at FWD Co. in the coming months. The single vineyard wines were a fairly serious step up as you'd expect…
Gran Vina Sol Chardonnay – ripe fruit with 6-months barrel contact and no malo, rich and fruity.
Celeste Tempranillo – from Ribera Del Duero, 12 months in a 50/50 mix of French and American oak, medium bodied with sweet oak and tannins embracing generous ripe fruit with good acid.
Salmos Cariñena/Garnacha/Syrah – from Priorat, 15-months in French oak, highly aromatic red, bright, rich, dense flavours with a long mineral finish.
Mas La Plana – the company's flagship wine… 100% Cabernet Sauvignon aged for 18-months in new French oak and 36-months in bottle prior to release. Beautifully ripe, rich, deeply layered, texturally seductive with refined tannin. The quality is outstanding and would easily be a match for top level Class Growth Bordeaux.
The food was superb in particular a delicious entrée plate of BBQ'd vegetables with a local sauce that was tasty enough to make a carnivore turn vegetarian. The main course steak was cooked to perfection (medium/rare) and the desert that I was not going to have, proved irresistible.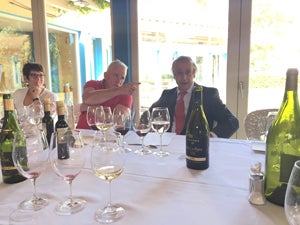 Finally as we were relaxing with our host Joseph we were treated to a surprise that floored us all; we were joined by Miguel A Torres who sat with us and enjoyed a 20-year old Torres Brandy. After sharing our thoughts on how impressed we were with him, his family and their incredible achievements in wine, Miguel spoke with us at length about his concerns for the planet with global warming. Not just from a wine growing point of view but from a totally global concern for the planet and all of its peoples. What a gracious, intelligent and charming man; after meeting him it was almost as if his personality and all things good about him were expressed in the purity and balance of all the Torres wines we had tasted whatever their price.
This wonderful day had to end and we eventually and reluctantly bade our host Joseph farewell and dragged ourselves from our seats to the coach.
Continue on to day 3 here.