The first launch of a 40 year old Glenfiddich
In 1887, William Grant set out to make the best single malt whisky in the Scottish valleys. Stone by stone, he and his nine children spent a year building the distillery he named Glenfiddich – Valley of the Deer. More than 130 years later, William's legacy is the most awarded single malt whisky in the world. His pioneer's spirit has helped redefine single malt as the world knows it today and is continued by his family right where it all began, in Dufftown, the whisky producing capital of the world.
When William and his children laid the foundations of the Glenfiddich distillery, they were really laying the foundations of whisky history.
And today we are exceptionally excited to share the extremely limited release of Glenfiddich 40 Year Old launch, with a total of three bottles for the whole of New Zealand. Not only does this build upon the 2017 releases of Glenfiddich 21 and 26 plus the Experimentals range, but it continues to add to William Grant and Sons' commitment and recognition of New Zealand as having some of the best food, drink and hospitality offerings on the planet.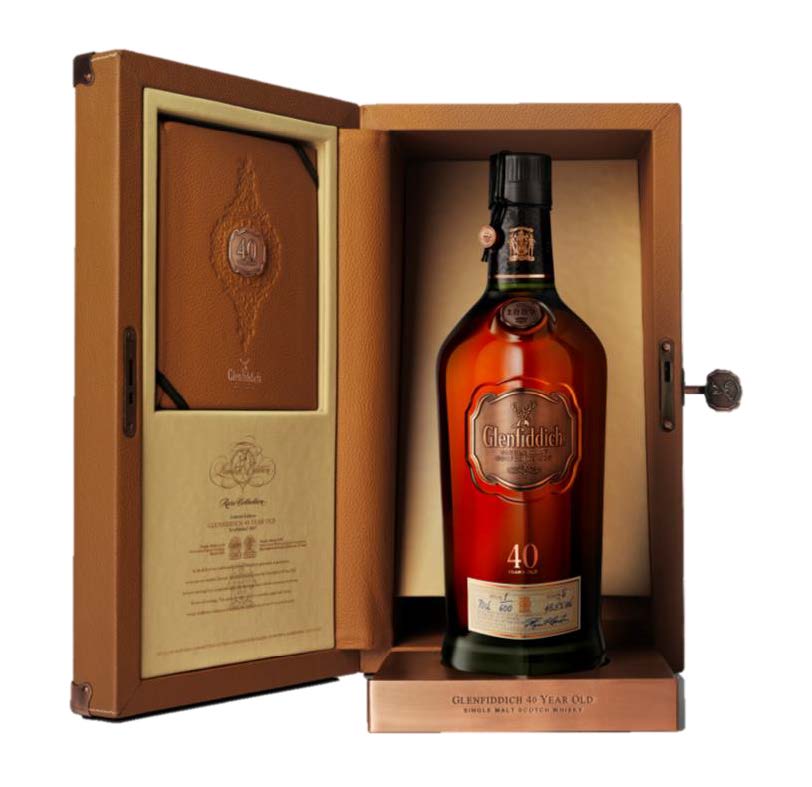 DESCRIPTION: An exemplary single malt. Our Malt Master handpicks some of the oldest casks in the world, marrying 40 year old vattings to craft a peerless whisky. Infinite depth and layer upon layer of aroma and flavour create a 40 year old unrivalled by other rare whiskies of this age.
SMELL: The nose is beautifully rich and aromatic with layer upon layer of dried fruits, dark chocolate, roasted coffee and ripe black cherries. Occasional wafts of gentle wood smoke, polished leather and cloves.
TASTE: The taste is silky smooth and luxuriously mouth coating. The initial flavours are intense dried fruits, Christmas cake, dates, raisins and stewed apples. Over time slightly dryish oak notes appear with some bitter chocolate and just the merest hint of peat.
FINISH: The finish is incredibly long lasting and complex -a truly memorable experience.
Pioneering, time-honoured techniques, embody in the Glenfiddich 40 Year Old. A true reflection of the distillery's focus on outstanding quality.
Check the Glenfiddich range on our website.
---
Tom Fastier
New Zealand's Whisky Specialist