Top 12 Wineries to visit this Summer
We've compiled a list of the best wineries to visit this summer from the North down to the deep South. If you're heading on a classic kiwi road trip then schedule a few of these wineries on your journey... even better, visit them all!

There are many other fantastic cellar door experiences in New Zealand but the selection below exemplifies the best in their regions. Wineries committed to excellence – many growing Organically, Bio Dynamically, or both.

They all produce world class wines that proudly compete with any of their international counterparts. We're proud to stock these fabulous kiwi wines at Fine Wine Delivery and unreservedly recommend them to our customers. Have a great NZ winery road trip!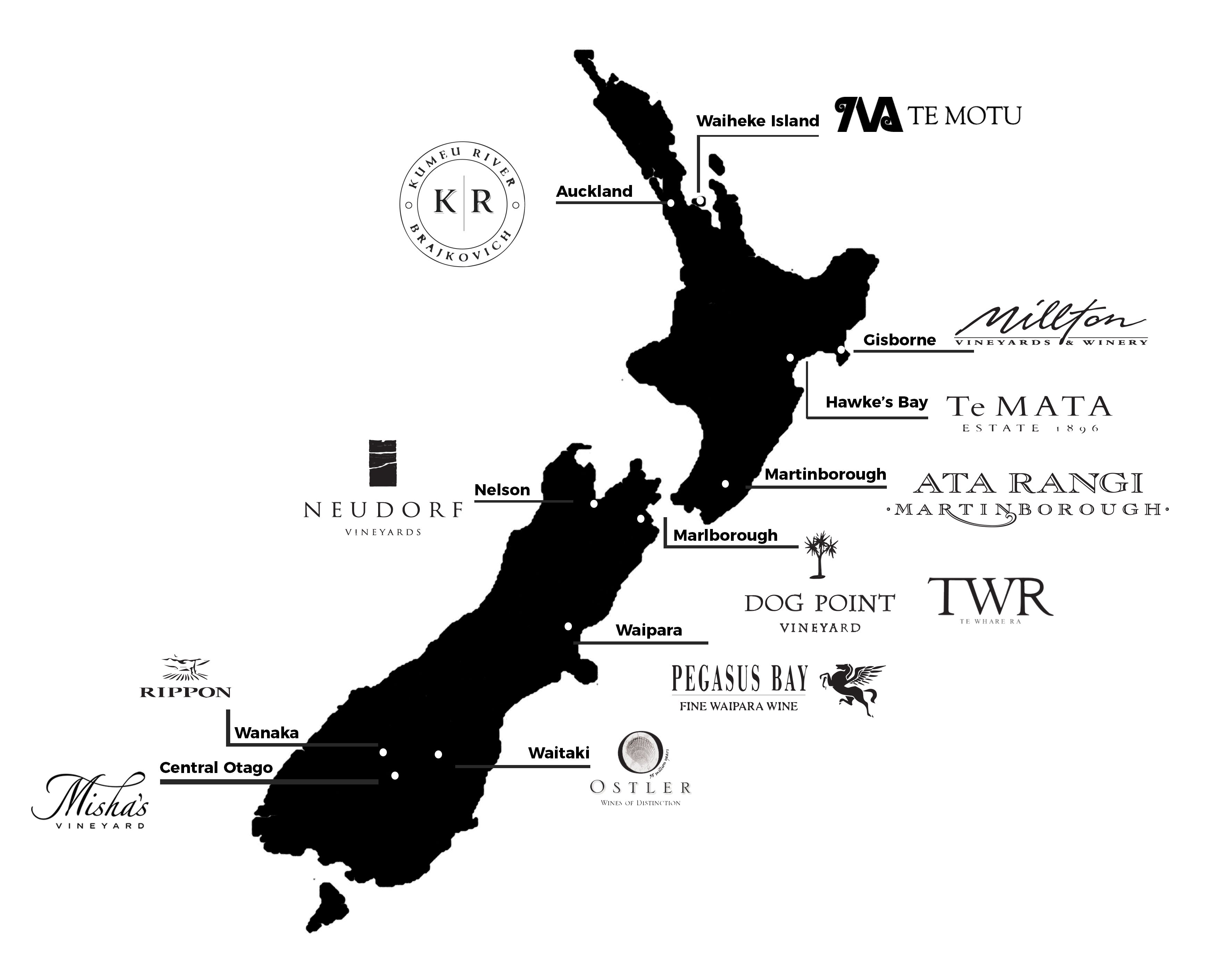 Stop 1. Kumeu River Wines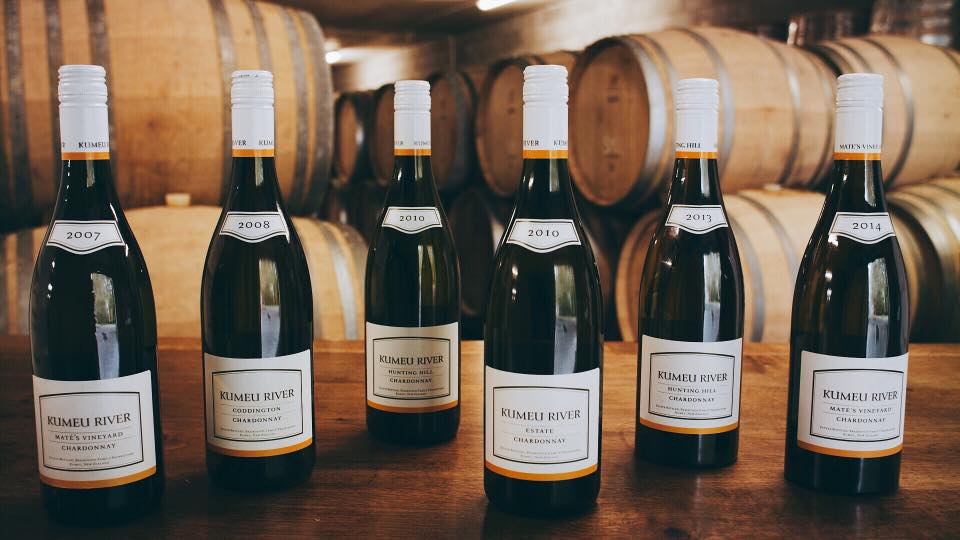 Located in West Auckland is one of NZ's finest wineries, Kumeu River. Founded by Melba and the late Mate Brajkovich, this fabulous generational kiwi family winery is internationally recognised as producing some of the greatest Chardonnay in the world. Their Chardonnay have previously beaten French white Burgundy many times their respective price in formal blind tastings with the world's best critics.
Their Cellar Door experience is welcoming and the wines are truly world class. We recommend tasting the 2019 Kumeu River Mate's Chardonnay (pronounced matty) and the 2019 Kumeu Village Chardonnay, an outstanding example of a high end white Burgundy Village Chardonnay you can buy sub $20. Both wines are divine and some of our favourites at Fine Wine Delivery.
Address: 550 State Highway 16, Kumeu 0892
Cellar Door Hours: Mon – Friday 9.30am – 4.30pm / Saturday 11am – 4.30pm / Sunday Closed
Stop 2. Te Motu Vineyard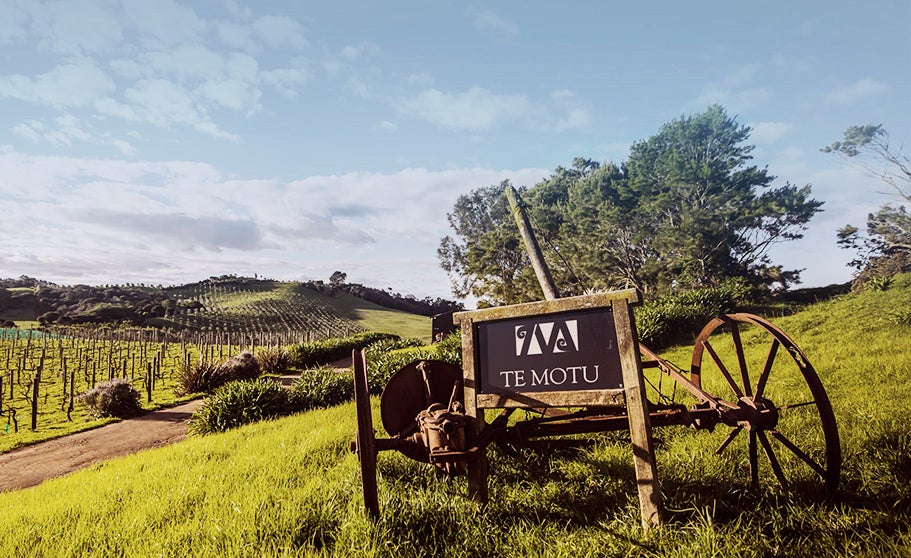 Te Motu is another fabulous family generational winery located in the heart of Waiheke Island's Onetangi Valley, a quick 40 minute ferry from Auckland City.

Te Motu, is the original Māori name for Waiheke and their story began in 1988 when the Dunleavy family procured land, becoming one of the island's pioneers. Planted in 1989, the Onetangi Valley features Jurrasic-age Waipapa Group soil and a unique micro-climate, making it one of the best places in the world to grow Cabernet and Merlot grape varieties – both of which Te Motu are renowned for.
A must try at the Cellar Door is the 2014 Te Motu Cabernet Merlot. This is a Cabernet dominant blend, which spends around 2 years in French oak and 3 years resting in bottle in cellars. You can also taste Aged Te Motu wines and dine at their fabulous restaurant 'The Shed'
Address: 76 Onetangi Road, Onetangi 1971, Waiheke island, Auckland
Cellar Door Hours: Thursday – Monday 12-5pm
Stop 3. Millton Vineyard & Winery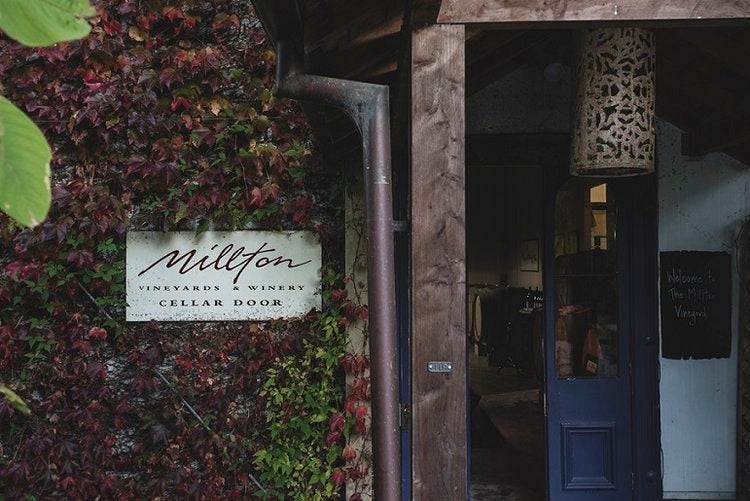 Located on the sunny East Cost in Gisborne, Millton Winery was established in 1984. It's New Zealand's first Organic and Biodynamic certified wine estate, and owners James & Annie Millton are both world authorities on Bio Dynamic wine making. Their wines are as naturally made as you can get, and they have a wide variety to sample!
Millton's Chenin Blanc is NZ's finest and reminiscent of the great Chenin Blanc of Loire Valley in France (the home of Chenin Blanc).
At the cozy, intimate Cellar Door we recommend tasting the Chenin Blanc and Clos de Ste. Anne and 2017 Crazy By Nature Cosmo Red. These are some of NZ's greatest individual wines only released in the very finest vintages.
Cin-Cin!
Address: 119 Papatu Road, Manutuke, Gisborne

Cellar Door Hours: Monday - Friday 11am-5pm
Stop 4. Te Mata Estate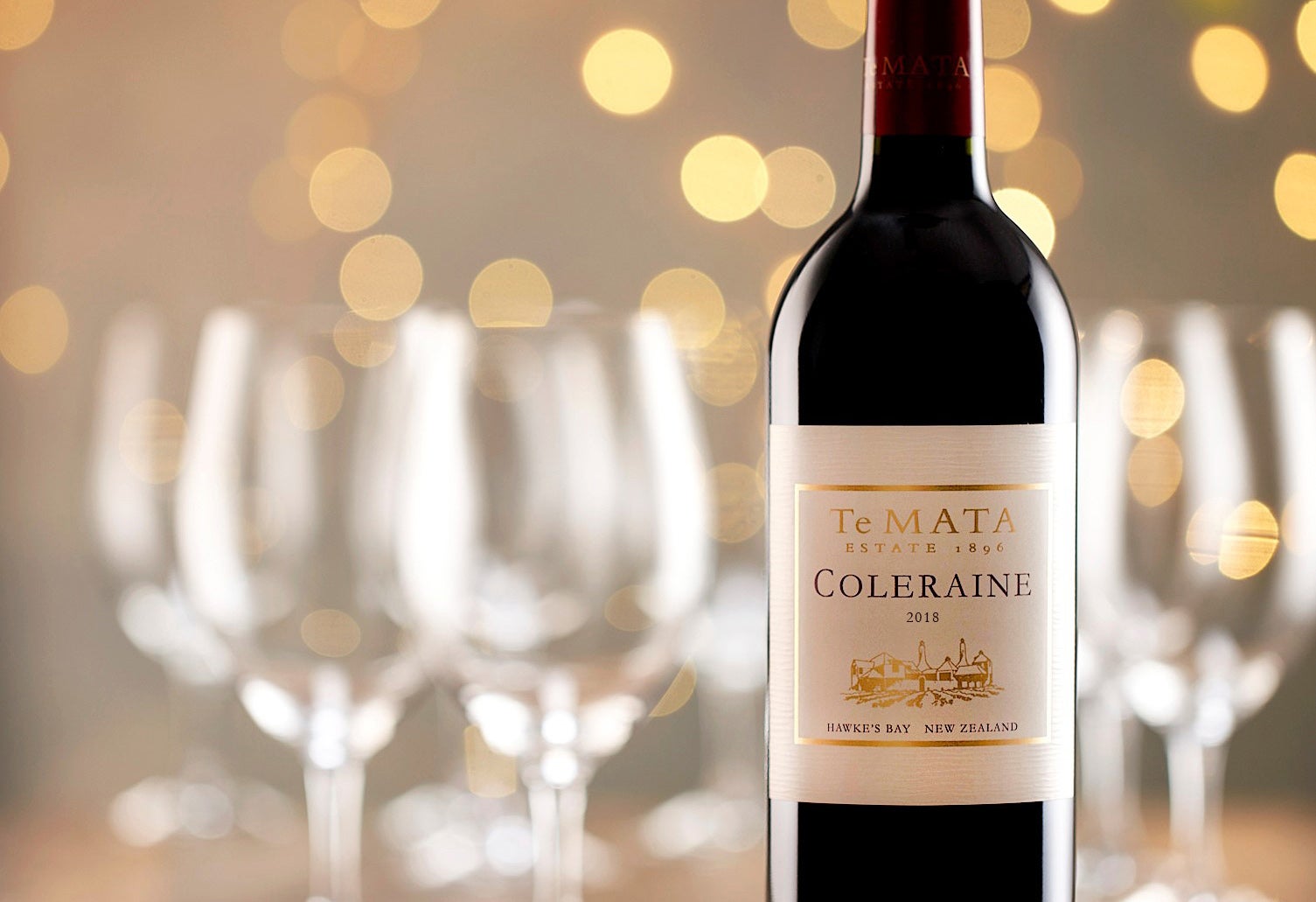 Established in 1896, Te Mata is one of New Zealand's Iconic Wineries - owned by the Buck Family and located in the beautiful Hawke's Bay.
Te Mata well and truly set the benchmark for NZ Cabernet, their flagship Coleraine a cabernet dominant blend. At their well-stocked Cellar Door make sure you try their 2018 Te Mata Estate Coleraine, 2018 Te Mata Estate Elston Chardonnay, and the 2018 Te Mata Estate Bullnose Syrah – all outstanding prestige New Zealand wines.
Ensure you also taste their Estate Wines around the $20 price point that are extremely high-quality examples of NZ wine for the price.
At the Cellar door you'll also experience some of NZ's oldest wines being made. Go behind-the-scenes and see the country's oldest barrel hall - the 'Stained Glass Cellar', visit the Havelock Hills vineyards that form the heart of the estate. These are New Zealand's first legally recognised vineyard sites, officially protected for their heritage value. An exceptional experience!
Address: 349 Te Mata Road, RD 12, Havelock North
Cellar Door Hours: Monday - Saturday 10am - 5pm / Sunday 11am - 4pm / *Booking's essential for tours & private tastings
Stop 5. Ata Rangi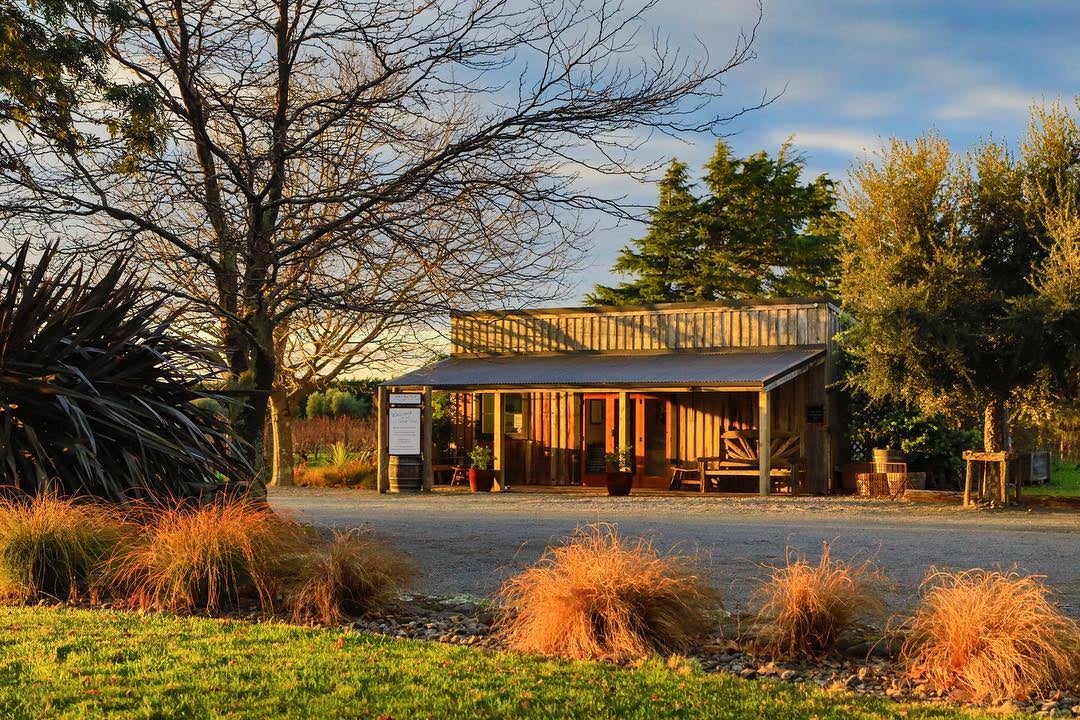 Ata Rangi Winery is in stunning Martinborough, a small village near the bottom of the North Island an hour's drive from Wellington.

Clive Paton founded Ata Rangi Winery in 1980 and soon after in 1987 met and married wife Phyll. They have created a world class, very special NZ winery together over 33 years. All of Ata Rangi's wines are simply outstanding and worth trying. Their uber talented and personable Winemaker Helen Masters was awarded the 2019 NZ Winemaker of the Year, a great accomplishment.
Ata Rangi have created an intimate 45 seated tasting session where you can taste in their original winery at the Cellar Door. The 2017 Ata Rangi Pinot Noir is NZ's number one Pinot Noir in Fine Wine Delivery's opinion and a must try while you are there. Ata Rangi Pinot Noir is in Wine Searchers Top 10 global Pinot Noir searches, testament to its sheer quality and beauty. Bob Campbell MW rates this wine a perfect 5 stars, with Sam Kim and Huon Hooke also rating it near-perfect (98 and 97 respectively). Try their younger vine Crimson Pinot as well and don't miss the opportunity to taste their fabulous Chardonnay… in fact every Ata Rangi wine will impress.
Address: 14 Puruatanga Road, Martinborough
Cellar Door Hours: 7 days a week (minus holidays). Tasting sessions are offered throughout the day 11am & 2pm, bookings required.
Stop 6. Neudorf Vineyards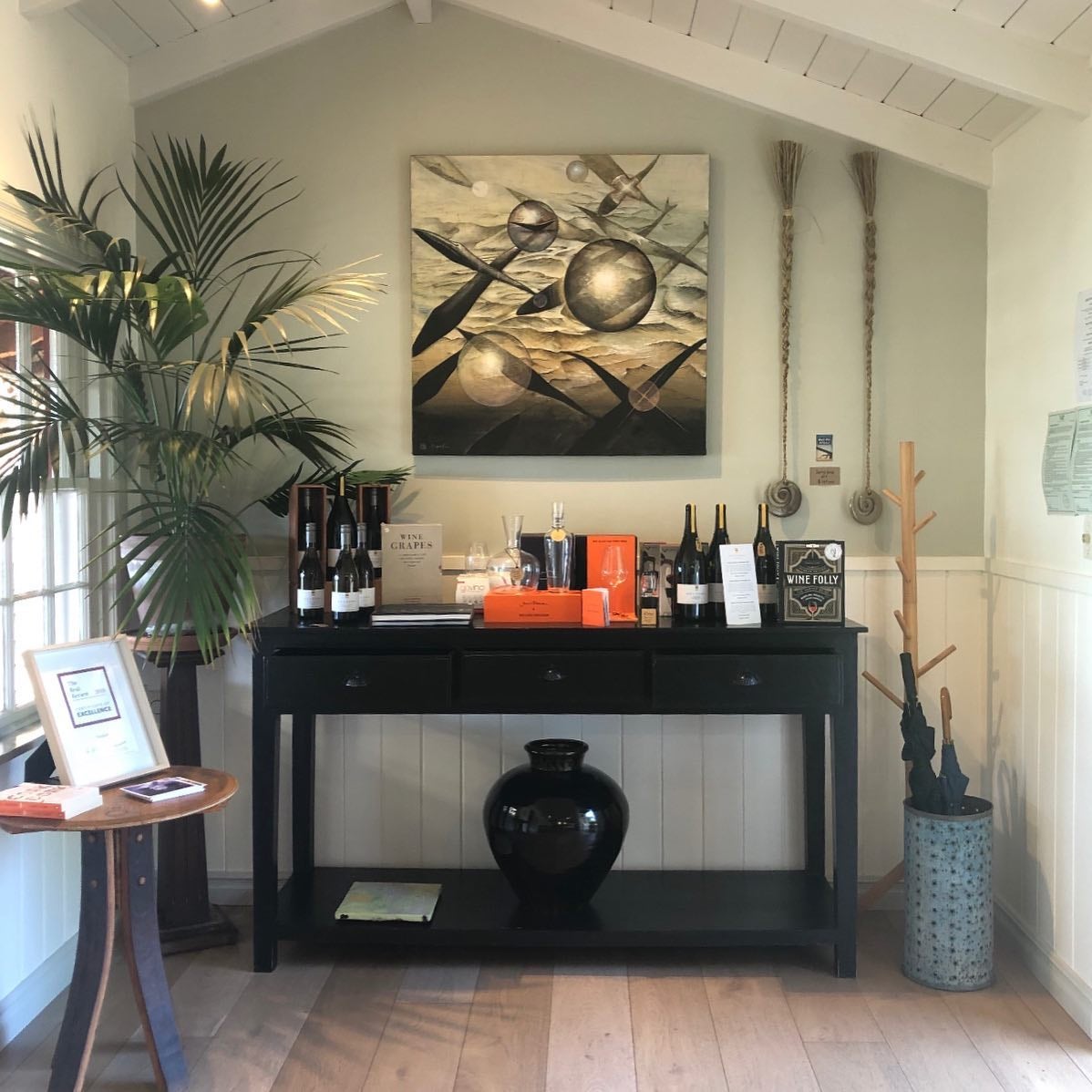 Beautifully situated in sunny Nelson is the stunning Neudorf Winery. Founded in the late 70's, Owners Tim and Judy Finn welcome people to their Cellar Door with big smiles and lots of aroha.
Neudorf make a range of varietal wines including some cracking Pinot Noir but are most famous for their Chardonnay which are World Class. You can't visit Neudorf's Cellar Door without trying their famous 2019 Neudorf Moutere wine, Rosie's Block (named after Tim & Judy's daughter) and Tom's Block (Named after a former neighbour).
Neudorf have a gorgeous baby deli and put on a good spread! The deli is filled with local cheeses, cured meats and a great selection of crackers. You can make your own platter and enjoy It in the garden with a glass or two of Neudorf Chardonnay.
Address: 138 Neudorf Road, RD2, Upper Moutere Nelson,7175
Cellar Door Hours: Open everyday 11am – 5pm. Only able to accommodate groups of up to 4 in the Cellar Door. For larger group bookings call 03 543 264
Stop 7. Dog Point Vineyard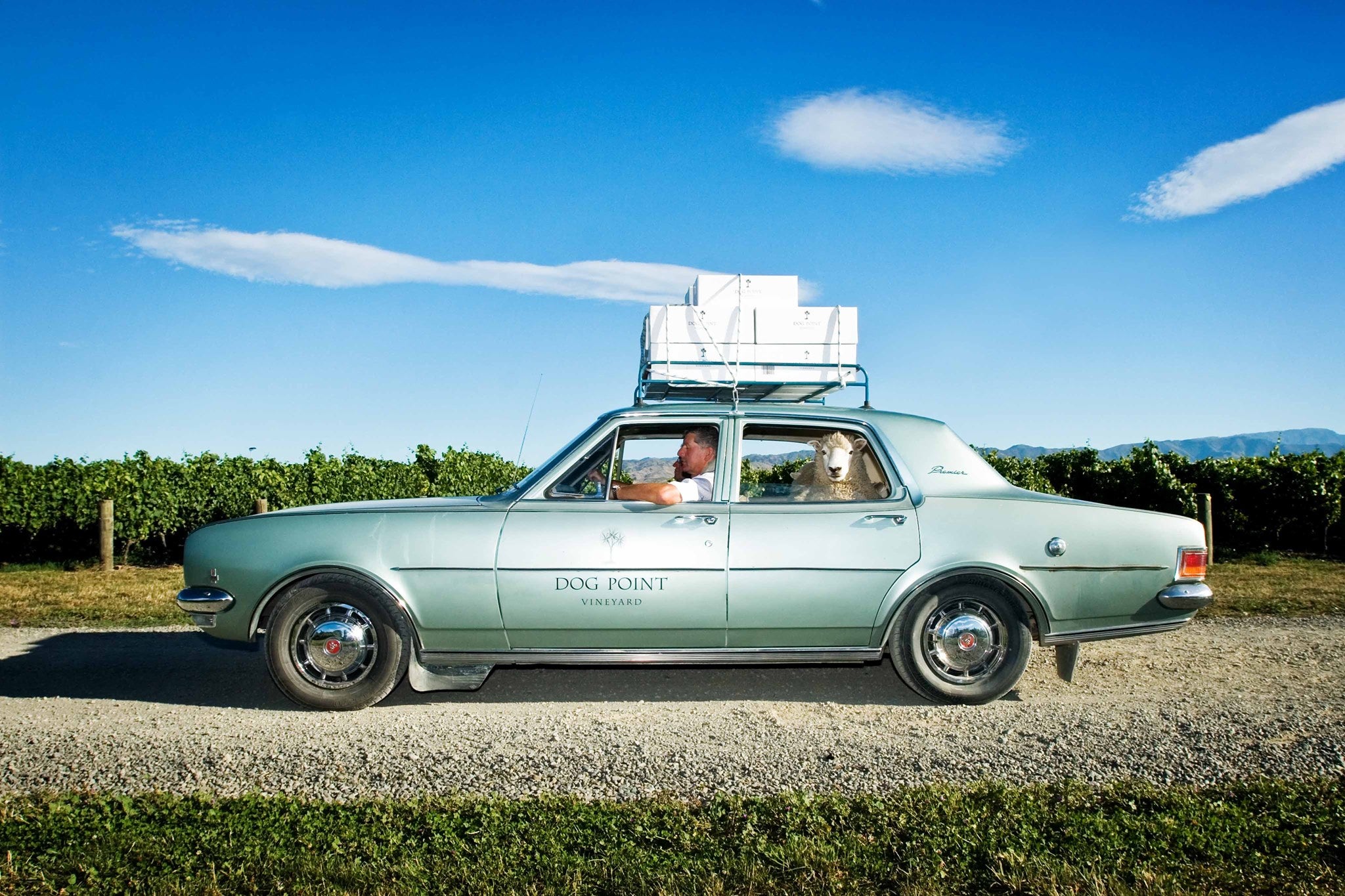 Dog Point Winery is co-owned by Ivan & Margaret Sutherland and James & Wendy Healy. Ivan & James go way back, Ivan used to be the viticulturist for Cloudy Bay for many years and James was the Winemaker. Around 2000 they teamed up, amicably exiting Cloudy Bay, and Dog Point was born.
Dog Point currently operate the largest Organic and Biodynamic vineyard in New Zealand. They are one of the oldest privately established vineyards in Marlborough, their first plantings date back to the late 1970's…some of their vines are over 40 years old!
A must try at the cellar door is the 2013 Dog Point Section 94 a barrel fermented and aged Sauvignon Blanc. This features some of the classic sauvignon fruit characteristics complimented with nutty, fine toast barrel complexities. It's a beautiful food wine and would cellar comfortably 10 years. Dog Point Sauvignon Blanc is one of NZ's most loved premium Savs and globally iconic!
Dog Point Chardonnay 2018 and Dog Point Pinot Noir 2017 are must try's also.
Address: 797 New Renwick Road, Fairhall, Blenheim 7272
Cellar Door Hours: Monday – Friday 11am open for tastings. Book for appointment. Free of charge.
Stop 8. Te Whare Ra Vineyard & Winery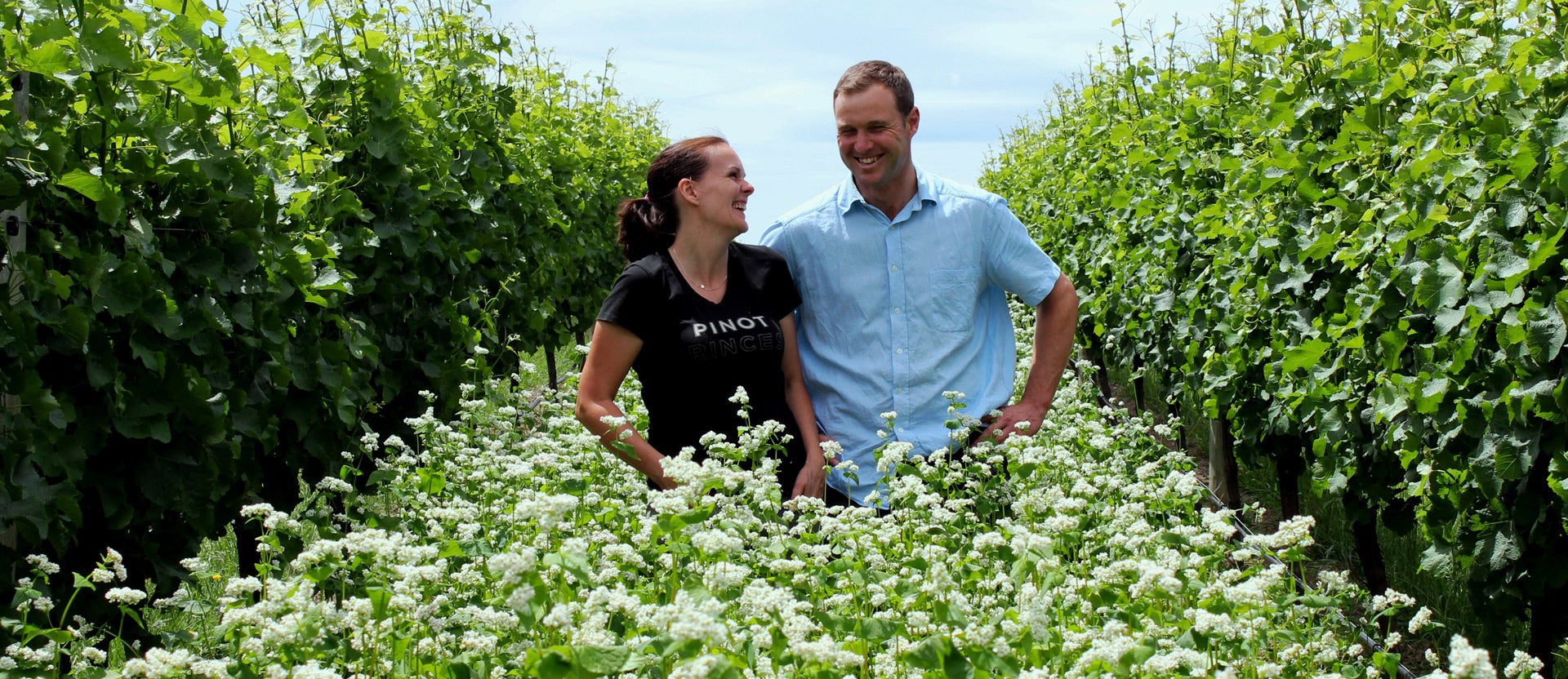 This gorgeous family owned certified Organic and Bio-dynamic vineyard is located in Marlborough, owned by winemakers Anna and Jason Flowerday.
The 11ha vineyard is one of the oldest in Marlborough featuring 40+year-old vines, first planted in 1979. Anna and Jason took over the vineyard in 2003 since winning many awards for their wines – they have made the vineyard what it is today.
Anna Flowerday is one of NZ's leading authorities on Organics. Ask her anything when you're there, she is a wealth of knowledge!
Te Whare Ra are famous for their aromatic wines the 2019 Gewürztraminer, Sauvignon Blanc, Riesling and 2020 Toru (blend of Gewürtz, Pinot Gris and Riesling) otherwise known as a Field Blend. From their recent vintage is the stunning 2020 Rose, a beautiful drop for Summer. All of these are a must try at the Cellar Door!
Address: 56 Anglesea Street, Renwick, Marlborough
Cellar Door Hours: 11am – 4pm Monday to Saturday
Stop 9. Pegasus Bay Winery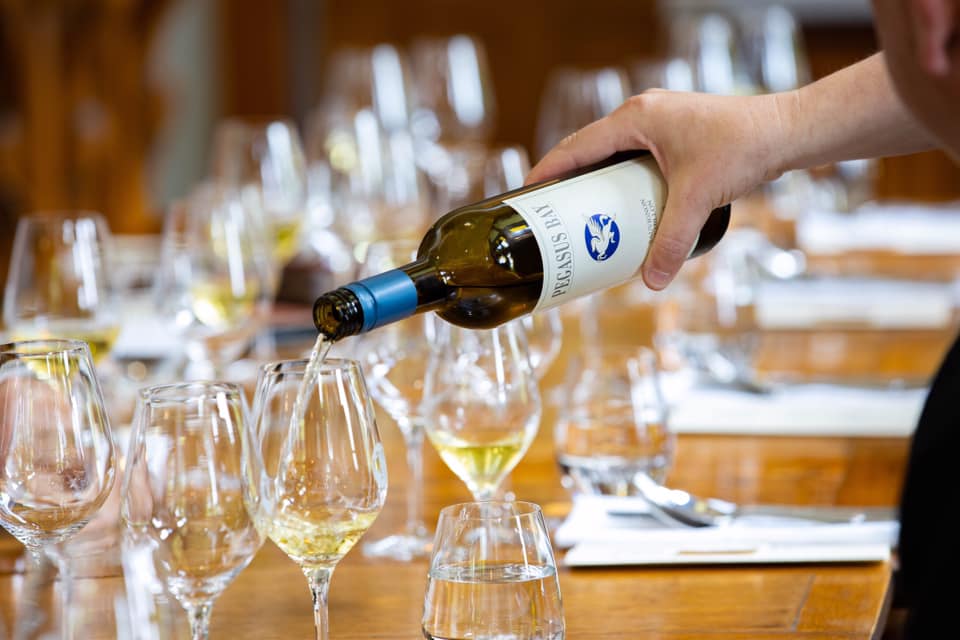 Pegasus Bay Winery is located in Waipara, tucked up under the lee of the Teviotdale Range providing maximum protection from the easterly breezes.
Pegasus Bay is another generational family winery, with the whole family being actively involved. Parents and founders Ivan and Chris have four sons, Matt who is the winemaker at Pegasus Bay, Edward a trained Chef and Marketing Manager/Global Sales Manager at Pegasus Bay, Michael who is the local Sales Manager for Pegasus Bay and their youngest Paul, MBA qualified and Pegasus Bay's General Manager.
The winery was named in the 100 most iconic wine estates worldwide by Matthew Jukes leading UK wine critic, an exceptional accolade and testament to the hard work the family puts in.
The Cellar Door experience is amazing, we recommend tasting their flagship wines the 2016 Pegasus Bay Prima Donna Pinot Noir, 2018 Pegasus Bay Chardonnay and Aria Late Pick Riesling any opportunity to try these wines is a statement NZ wine experience. Every Pegasus Bay wine is outstanding, even their entry level Main Divide wines. Point your finger at any wine that piques your interest at Cellar Door and try it… none will disappoint.
They have a gorgeous art collection on site you can view after your tasting, as well as a beautiful garden to explore.
Address: Stockgrove Rd, Waipara, RD 2 Amberley 7482, North Canterbury
Cellar Door Hours: Open 7 days 10am – 5pm / $10 pp and is refundable with any wine purchase of six bottles or more
Stop 10. Ostler Wine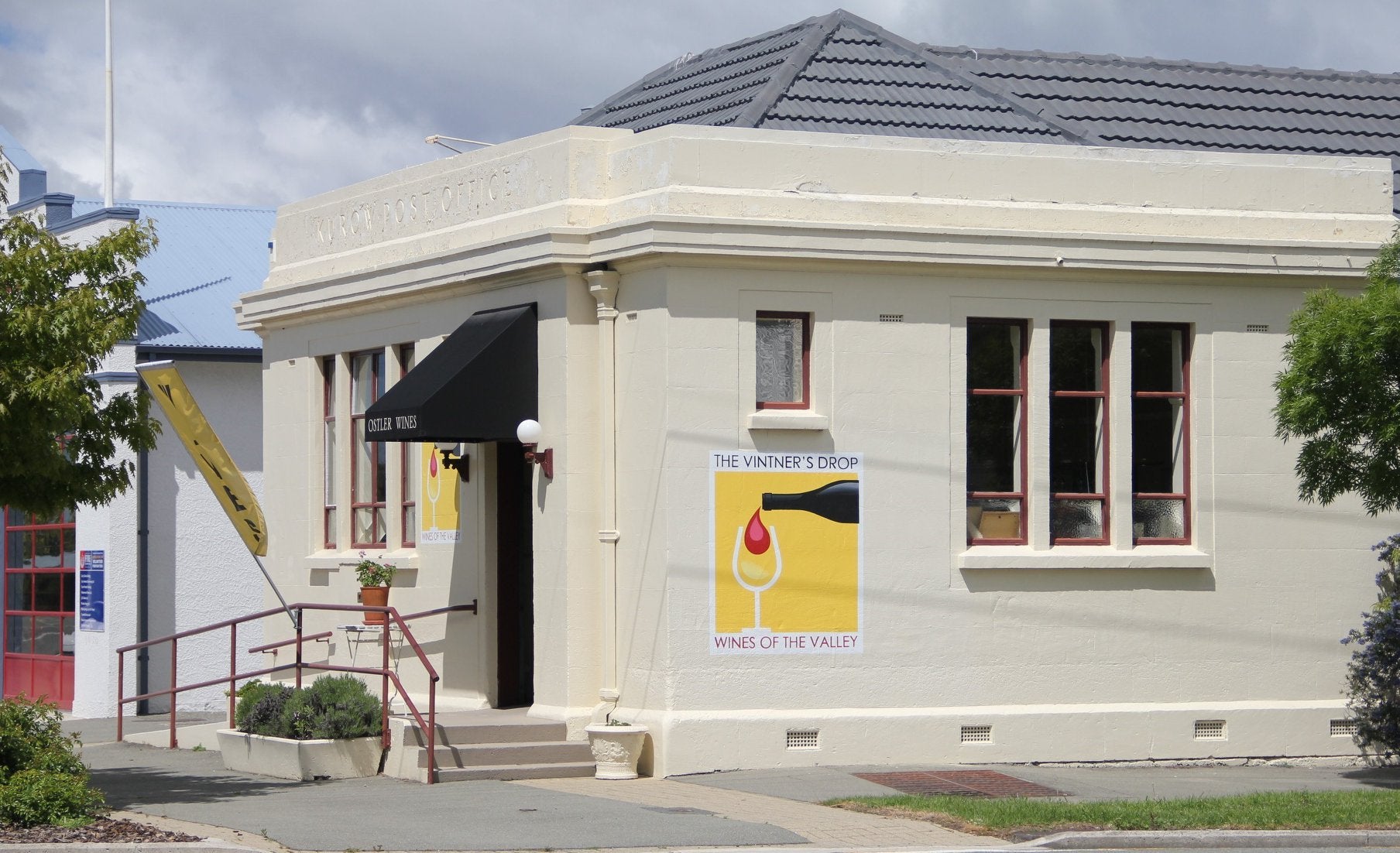 Situated in NZ's newest wine region Waitaki, the Winery was named after Yorkshireman William Ostler who immigrated to New Zealand in 1852 to manage Benmore Station in the lower Waitaki.
It was founded by brothers in law Jim Jerram and Jeff Sinnott who were in search of a unique grape-growing area and stumbled across the limestone country of Waitaki Valley, reminiscent of white Burgundy. At the time there was no commercial wine growing in the region, having discovered a north facing limestone influenced slope on an escarpment overlooking the braided river they began their outstanding winemaking heritage.
Ostler produces beautiful aromatic wines but their ­Ostler Caroline's Pinot Noir is the flagship of the estate. Their current 2018 release is striking, highly awarded Pinot Noir and one of NZ's best kept secrets! Try their aromatic wines which will immediately grab your attention when they land on your palate.
Their Cellar door is on the main street of Kurow, you can enjoy a lovely tasting platter to go with your wine tasting experience.
Address: Ostler Wine, 45 Bledisloe Street, Kurow, 9435
Cellar Door Hours: Sunday to Wednesday 12pm - 4pm / Thursday to Saturday 12pm - 5pm
Stop 11. Rippon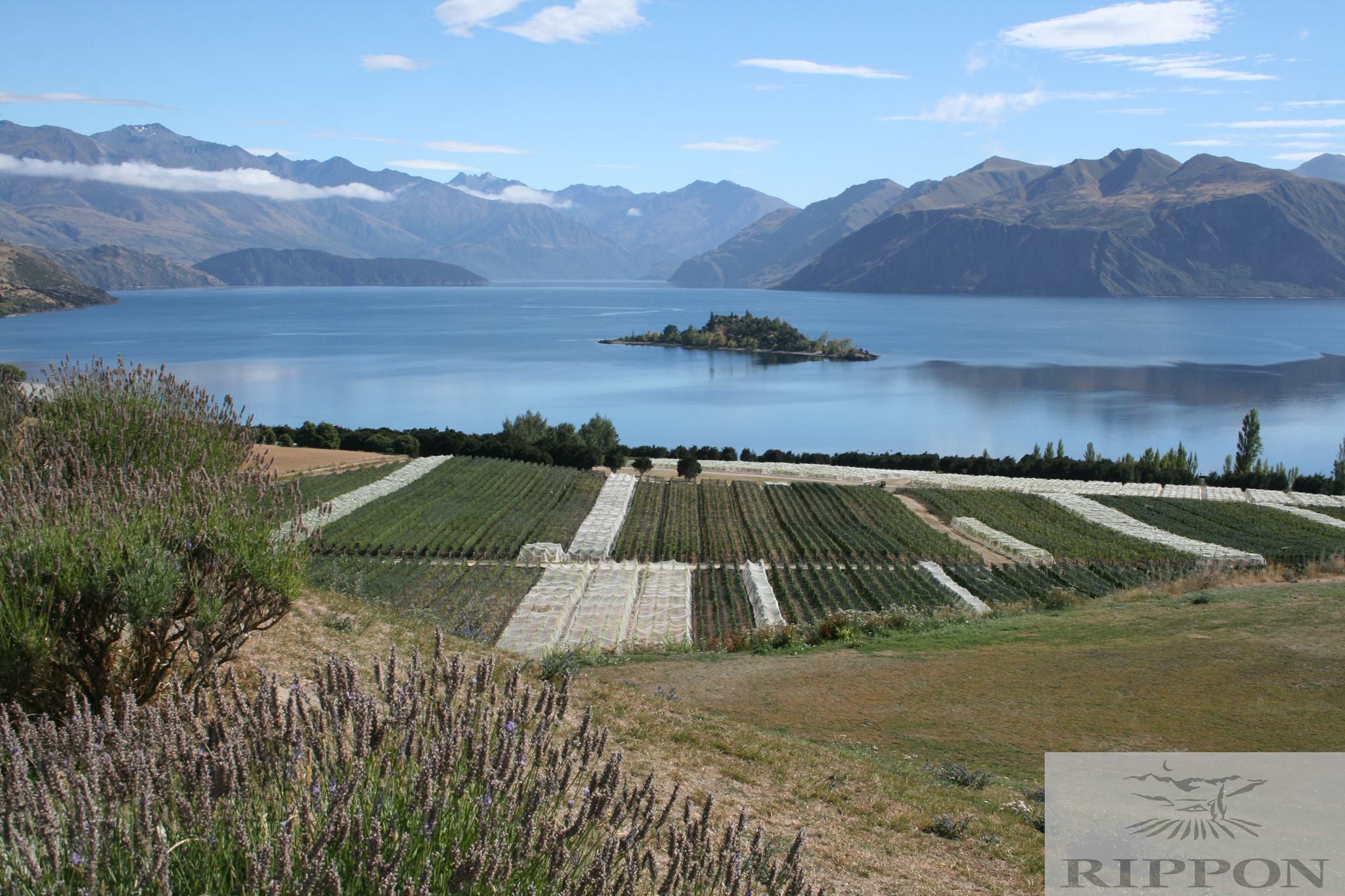 A third-generation kiwi family business, the late Rolfe Mills and wife Lois planted their first block of vines in 1982 on their Wanaka property. Seven years later they released their first commercial vintage in 1989. Their 1990 Pinot Noir to this day is the Pinot Noir that opened the way for Central Otago to become a significant and famous Pinot Noir growing region of the world! Nick Mills is the current family custodian of this Organic and Bio Dynamic Wanaka winery.
Rippon "Rippon' 2010 Pinot Noir is the only NZ Pinot Noir to receive a perfect 100/100 rating by top international critic James Suckling when he tried it from their cellars in 2019. Their Mature Vine and Single Vineyard Pinot Noir a serious challenge to red Burgundy's finest… and fractionally priced by comparison.
Their recently released 2017 Mature Vine Pinot Noir has been rated 99 by James Suckling on release… he is likely to go one better to a perfect 100, if he reviews 2017 again in several years. Rippon also craft outstanding aromatic wines… their Riesling is equally world class to their Pinot Noirs.
Address: 246 Wanaka-Mt Aspiring Rd, Wanaka 9305
Cellar Door Hours: By appointment only, Wednesday – Sunday 1pm-5pm. Free of charge.
Stop 12. Misha's Vineyard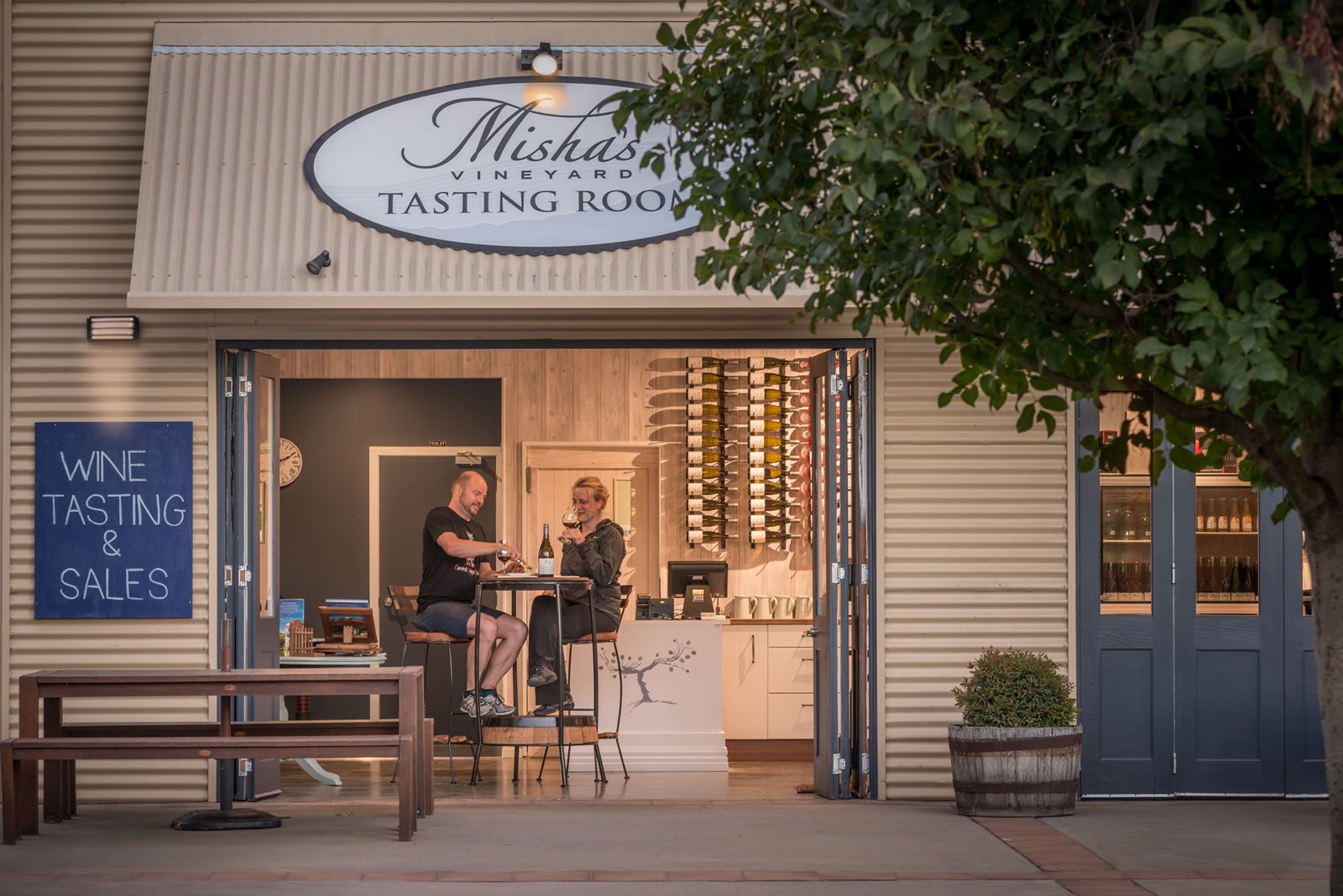 Misha's Vineyard was started by Misha and Andy Wilkinson who had a passion for Pinot Noir and Central Otago. They engaged local viticultural guru Robin Dicey (founding shareholder of Mt Difficulty) and international viticultural guru Dr Richard Smart in search of a special place to grow Pinot Noir. In 2003 they planted their first vines on their Bendigo Station which is a series of steeply planted blocks on the side of Lake Dunstan soaking up the long all-day sun.
Chief winemaker is Olly Masters, one of New Zealand's finest wine palates and winemakers. He was three times world champion Pinot Noir winemaker in his earlier winemaking days at Ata Rangi.
Misha's have a terrific, welcoming cellar door in Cromwell. The 2012 Verismo Pinot Noirr is their flagship Pinot Noir and a must try... but in saying that all their Pinot Noir should be tasted. Also taste their Pinot Gris, Riesling and Gewürtz... all among NZ's finest of their respective varieties and a sell out every vintage!
Address: 182 State Highway 8B Cromwell
Cellar Door Hours: Open daily 10am – 4pm (excl holidays)
If you don't manage to visit these fabulous wineries this Summer, try and get to them whenever you can in 2021.
Otherwise, most of these wines are available online and instore at Fine Wine Delivery. We will happily share tasting notes along with some of the fabulous history with you (plus let you taste a select few!).
Wishing you a wonderful Christmas and Summer ahead.
Cheers,
The team at Fine Wine Delivery