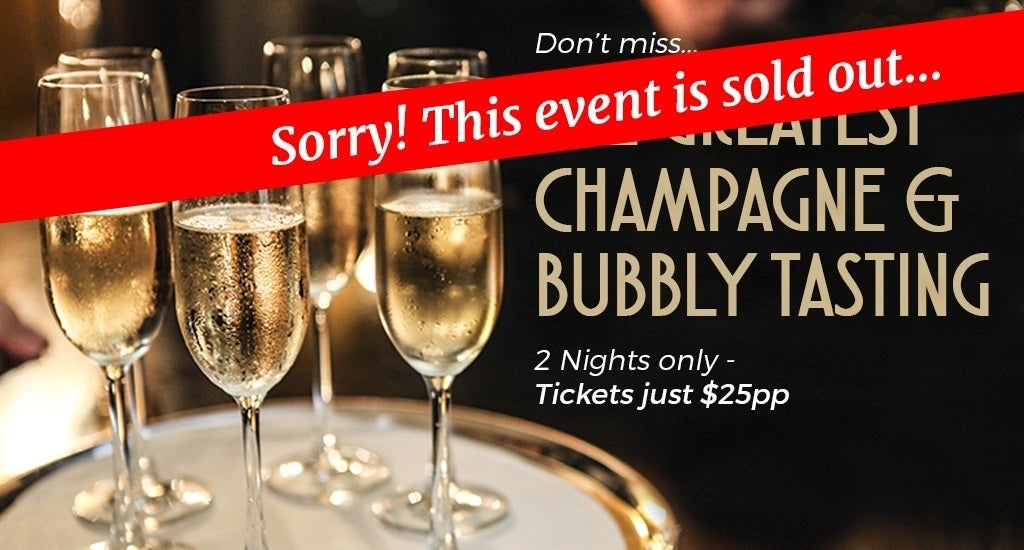 when
Wednesday, 29 November 2017
6.30pm - 8.30pm
where
60 Constellation Dr, Mairangi Bay
Auckland
New Zealand
View map
Annual Champagne & Bubbles Evening
Wednesday, 29 November 2017|Annual Champagne & Bubbles Evening
Every Champagne and Bubbly (under $100) open for tasting…
If it's in our Christmas Buyers Guide, you can taste it!
For two nights only, we're popping the corks on all the Champagnes and Sparklings featured in our brochure – at least 16 Champagnes & 14 bubblies from NZ and around the world… Wines will include legendary Champagnes like Billecart-Salmon Rosé & Brut, Veuve Clicquot Vintage, Bollinger and Louis Roederer, as well as our NZ exclusivities across the Champagne Gardet range and the new Ployez Jacquemart Extra Brut styles. Of course there will be all the best of NZ, including Nautilus, Quartz Reef, Cloudy Bay Pelorus, Daniel Le Brun and many more…
Tickets are strictly limited to 100 people each night – and this event sells out faster than any other on our calendar! Plus there's a free flute to take home at the end of the night… get your group together and get your bookings in fast!
Wednesday 29th November, 6.30 - 8.30pm
60 Constellation Drive, Homezone, North Shore
Thursday 30th November, 6.30 - 8.30pm
42 Lunn Ave, Mt Wellington
$25 per person
RSVP:
0800 346 394 (FINE WINE)
or wine@finewinedelivery.co.nz
2017-11-29 18:30:00
2017-11-29 20:30:00
Pacific/Auckland
Annual Champagne & Bubbles Evening
60 Constellation Dr, Mairangi Bay Auckland New Zealand
Fine Wine Delivery Co
info@finewinedelivery.co.nz