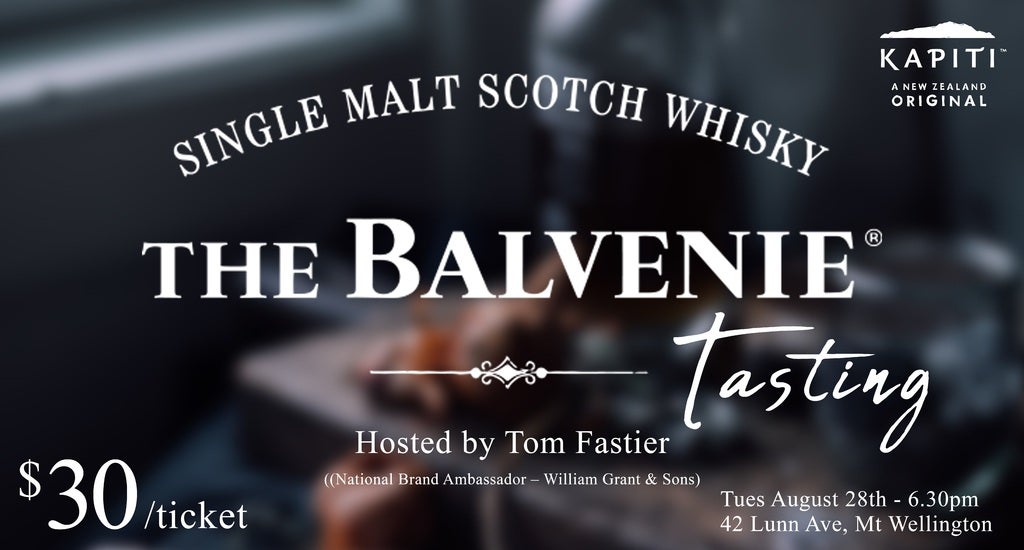 when
Tuesday, 28 August 2018
6.30pm - 9.00pm
where
42 Lunn Ave, Mt Wellington
View map
Cost
$30.00 each (0 tickets available)
Balvenie Tasting with Kapiti Cheese
Tuesday, 28 August 2018|Balvenie Tasting with Kapiti Cheese
Balvenie (which dates back to 1892) is the only distillery in Scotland that still grows its own organic barley, uses traditional floor maltings, keeps both a coppersmith to maintain their copper stills, a team of coopers to maintain and repair their barrels, and has a bottling plant on site.
Their famous Malt Master David Stewart has been highly awarded for his contribution to Scottish Whisky, and is one of the very best in the business. Their incredible range of stunning, smooth, soft Speyside, single malt whiskies are for many whisky aficionados unequalled.
Come join us on a discovery through the delightful range of Balvenie Whiskies, including their 14,17, & 21 year old expressions, as well as a rare, mystery dram not usually available here in NZ. The Whiskies will be matched perfectly with artisanal cheeses from Kapiti.
Come along & see why this centuries old distillery is so special and revered in the world of whisky.
Hosted by Michael Black – Spirits Ambassador FWDCo. & the Balvenie Brand Ambassador Tom Fastier.
2018-08-28 18:30:00
2018-08-28 21:00:00
Pacific/Auckland
Balvenie Tasting with Kapiti Cheese
42 Lunn Ave, Mt Wellington
Fine Wine Delivery Co
info@finewinedelivery.co.nz