Riding for Hospice - Day 19
Up early for our last day, a big day emotionally coupled with our ride to the finish line and our drive back to Queenstown afterwards. We had breakfast at a local café called Adagio and although you might think anyone can cook good bacon and eggs it's all about the quality of ingredients and the eggs were fresh farm and the bacon the best on our epic journey. The owners asked what we were doing in Winton and after sharing our story with them they had no hesitation in making a donation. Back to the hotel we changed into our gear, provisioned our supplements and had one final pre ride photo before setting out in chilly conditions for Bluff.
Down through the main street, right down a side road then onto the cycle trail leading to a sealed back road where we quickly got into our rhythm and with the light wind on our back we were averaging 24km per hour. Around the 25km mark Denise and Rene directed us down a road heading East and away from a sign that said 15km to Invercargill and I must admit to feeling why are we riding away from our destination? Around 2km down the road they had turned the support vehicle around and were headed back to us with the news that they had taken a wrong turn – it was the only time in 19 days they had got the directions wrong and we had headed down a many roads during our epic ride. We turned around and within minutes were hanging a left with 15km to Invercargill (our stop for lunch).
The team went ahead and found a lovely café around 4km from the centre of town where we stopped for lunch before our final ride into Bluff. While ordering our food at the counter Tony's daughter Bridget, her husband Andy, their two children (Teigen and Theo) plus a close friend of theirs Nick (lives in Queenstown) walked into the café and blew Tony away with the surprise. Bridget had planned this with Virginia over the last two weeks and we had to be careful not to let it slip all that time. She had wanted to be with Dad at the end of his emotional journey and son in law Andy (with whom Tony has a great relationship) wanted to ride the last section into Bluff with us as did his close friend Nick. What a fabulous thing to do for Tony.
Back on the bikes and now 5 in number, we headed straight down highway 6 straight through the centre of town and out onto the Bluff highway which was very busy. A huge number of trucks were travelling both ways and in combination with the windy conditions plus their sheer size and speed we were getting buffeted about. Fortunately there is a reasonable sealed margin inside the outer white lines all the way down the highway, which gave us some comfort. 22km long the highway is very flat and open to the prevailing wind, which fortunately today was on our backs and not a freezing southerly, although conditions were still very cool. We stopped 8km from the finish line for a quick 2-minute recovery of our incredibly sore butts (after 1,300+km they were raw). Every one of those final 8km brought us closer to the finish and I could feel the emotions beginning to surface, a bubbling mixture of sadness and elation. We rode through the main street of Bluff and veered right towards Stirling Point (the southern most point) and Virginia yelled out 'stop'. I said why and she pointed to the sign to Stirling Point which said 1.2km which she had mistakenly read as 12km. She had almost hit the wall after 19-days as we all had and when I pointed out that it was not 12, but 1.2km, the relief on her face was palpable. It was neat riding the final 1.2km with the southern ocean on our left, a poignant reminder to our having reached the end of our journey. We finally crested a small hill and descended into the carpark of Stirling Point to be greeted by Rene, Denise, Bridget and the children plus two lovely girls from Hospice Invercargill incredulously also named Renee and Denise.
As soon as we brought the bikes to a halt the tears started to flow, it was an amazing feeling to arrive at the final point after 19-days of a very physical, mentally challenging and emotional journey. We termed it 'Epic' from the start and 'Epic' it proved to be. We had enjoyed so many adventures within one huge 19-day adventure, met so many great people (New Zealander's and tourists) and seen enough beauty to fill a lifetime. It was a journey we never expected to make later in our lifetime and the type of adventure we thought that in our 60's we were too old to have and should have done it in our youth.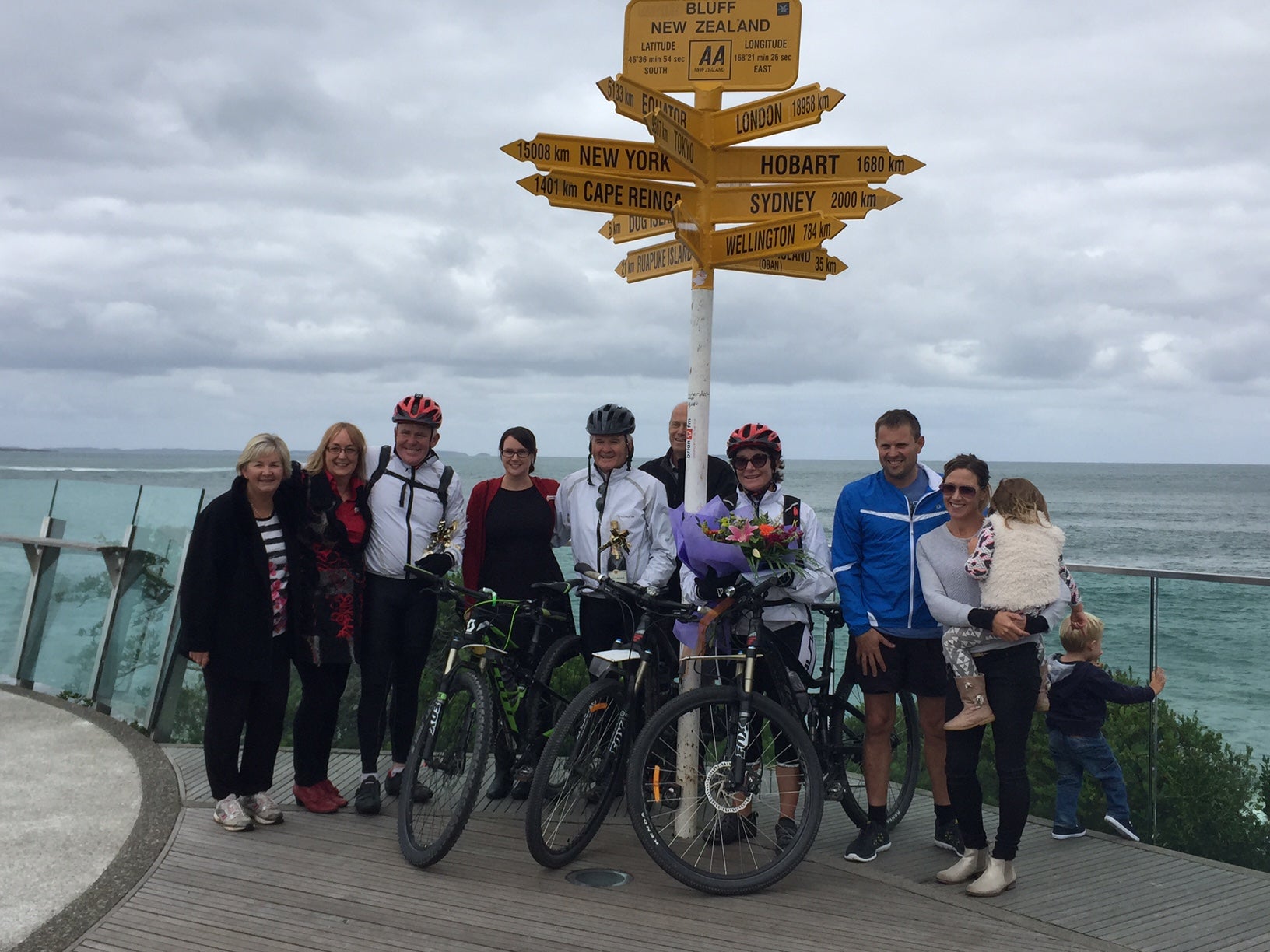 We made it in memory of Marlene and all the great people whose lives are taken too soon in by terminal disease, with our primary objective to raise $250,000 for all 29 Hospices in NZ. We had witnessed first-hand during Marlene's final 3-weeks the amazing level of professional care, love and support that Hospice provide for our loved ones and this opportunity to give back has been immense for all three of us. Lots of photos were taken under the famous signpost at Stirling Point as we celebrated with a glass of Quartz Reef Methode Traditionnelle that our wonderful and invaluable support crew Rene and Denise had thoughtfully organised for our crossing of the finish line. To express their gratitude Renee and Denise (Hospice team) had brought along a gorgeous bouquet of flowers for Virginia and a bottle of Taittinger Champagne each for Tony and I… a beautiful gesture.
Our journey is complete but the job is not done yet! As I complete the final blog of our journey we have raised $81,725 on our ridingforhospice.co.nz Give a Little page. In addition we have circa $40,000 in other donations plus pre sold tickets to the special dinner hosted by the Prime Minister. Further we have around $25,000 worth of auction items to offer at the dinner plus $30,000 worth of wine lots to realise at a public wine auction to be held in the next few weeks. Approximately that is $176,000, still $74,000 short of our goal. I will be meeting with other potential private donors on my return plus we will run the Give a Little page throughout March and continue to raise awareness and hopefully more funds. If any of you have any bright ideas of how we can re invigorate the campaign to get to $250,000 then we would greatly appreciate your input.
All three of us could not have completed our Epic Journey without the generous support from sponsors like Giltrap Group, Avanti Plus, NZME, Benefitz and our own FWD Co. We would also like to acknowledge Philip Reynolds from The Difference Catering who is generously donating his food and professional services for the special dinner hosted by the Prime Minister, to Nick Hern owner of EuroVintage who has supplied Louis Roederer Champagne, the Paton's of Ata Rangi who have supplied the stunning 2008 Pinot Noir from the cellar stocks and the Brajkovich family of Kumeu River for supplying their world class KR Hunting Hill Chardonnay. And of course to all of the many NZ wineries who have generously supplied wine lots no charge for the forthcoming wine auction.
Finally I think our Epic journey can be perfectly summed up in the Hospice catch phrase… 'Living Every Moment', something we should all strive to achieve.
Virginia, Tony and I are driving the support vehicle back to Auckland and will be back on the weekend and look forward to catching up with you all soon after our return.