Explore Italy with Wine and Food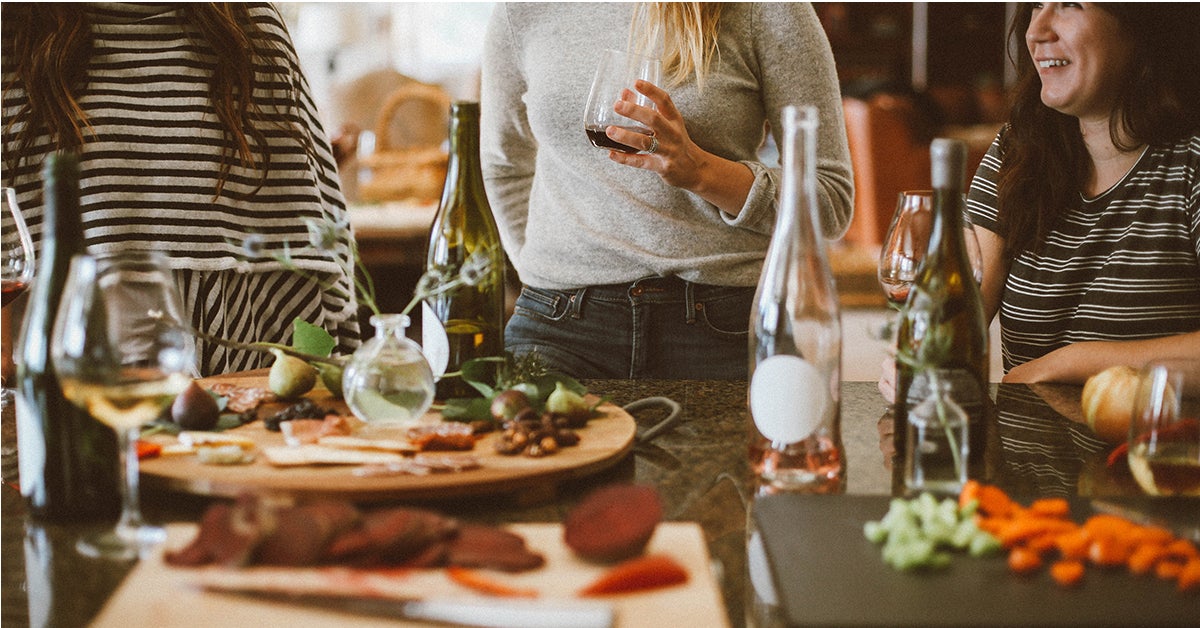 The act of bringing together family and friends for a shared meal is a huge part of the Italian culture. Multi-generational gatherings, passing down recipes through the ages – it's a sure-fire way to preserve an ancient, rich food history.
But there's a deeper lesson in here too. You see Italians believe that it is their generous level of hospitality that defines their food culture. Try saying no to a second helping of Nona's favourite dish, and you'll witness a full-scale argument erupt … empires have fallen over family food feuds!
You can even see this dedication in the sheer breadth of variety in their dishes. Take pasta for example … not just one or two types, but dozens of different examples each with a century's old science behind them, carefully considering the viscosity of the sauce, and matching it to the best shape to ensnare it!
There is a wonderful Italian saying l'appetito vien mangiando, which translates roughly to eating awakens the appetite! This is exactly why there is no such thing as a one-course meal in Italy, as that would simply not be enough hospitality! And because there are several courses and so much variety in their dishes, there is also a plethora of drink options! May is Italian Wine month here at Fine Wine Delivery, so we will stay focused on wine for now!
While France may hold the title for the most complicated and intimidating appellation system, no one would blame you for being overwhelmed by the sheer number of Italian wines.
Home to the world's oldest wine-producing regions, and still the world's largest wine producer today, there are over 500 native grape varieties alone. It would take you decades, trying a new wine each week to work your way through the sheer quantity of Italian wines. Thankfully, they have a far more relaxed culture when it comes to wine appreciation, believing it is only a good wine if you enjoy it! Which of course, is determined as much by the food and company, as the wine itself!
One blog cannot cover all of Italy, so for the sake of our sanity, we'll start our journey through the major regions included in our promotion this month.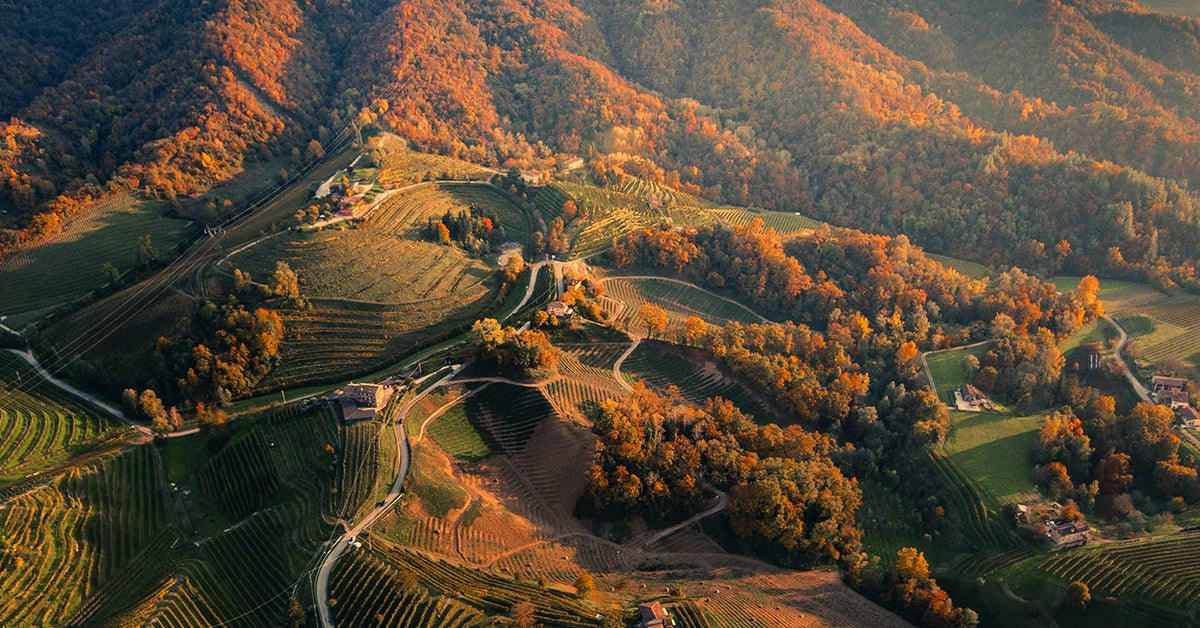 Veneto
An increasingly important wine region situated in the northeast corner of Italy, surrounding the major cities of Verona, Venice, Padova, Vicenza, and Treviso. Smaller geographically than the other major wine-producing regions, although Veneto produces more volume than any of them, thanks in part to their two big hitters Prosecco and Valpolicella. But staying true to the 'variety is the spice of life' philosophy, you'll also find Soave, Pinot Grigio, Merlot blends, and Amarone made here.
Grapes in this region are almost evenly split between Red and White production, with over 60% of these being native Italian varietals. Most common are Corvina, Molinara and Rondinella that create Valpolicella. The white grapes are Garganega for Soave, Pinot Grigio, and Glera for Prosecco.
The cuisine in this region is as diverse as the wine selection however, you will find a lot of seafood – clams, mussels, crab, anchovies, and sardines, through to the large sea bass, bream, and the local black goby used in the regional risotto di go. And vegetables reign supreme with radicchio, white asparagus, and borlotti beans all hailing from this spectacular region.
Pasta is not the staple here with risotto and polenta being the main carbohydrate. You may find a regional Venetian pasta in small amounts called bigoli – thick buckwheat or wholewheat spaghetti.
And of course, for those of us with a sweet tooth – Tiramisu … and as it happens a plethora of dessert treats can be found here!
Piedmont
Over in the opposite Northwest corner is the region of Piedmont, most famous for its prestigious Barolo wines. This distinguished region is home to more DOCG wines than any other, often referred to as the Burgundy of Italy. They also produce wonderful Barbaresco, Barbera d'Asti and Moscato d'Asti. Their most common varietals are Nebbiolo, Barbera, Dolcetto, Asti, Cortese and more recently, Arneis.
Home to the great cities of Turin, Novara, Alessandria, and Asti. As the name suggests, this region sits at the foot of the Western Alps, creating a formidable border with Provence, and providing the region's idyllic climate. Pied, translating to foot and mont meaning mountain.
The red wines of Piedmont all have good acid and tannin structures so match with fattier meats and cheeses. Try the Piedmont specialties of Bruscitt or Gnocchi alla bava.
Nebbiolo is the wild card as it has a very delicate aroma that you don't wish to overpower, so avoid game meats and opt for truffle risotto instead!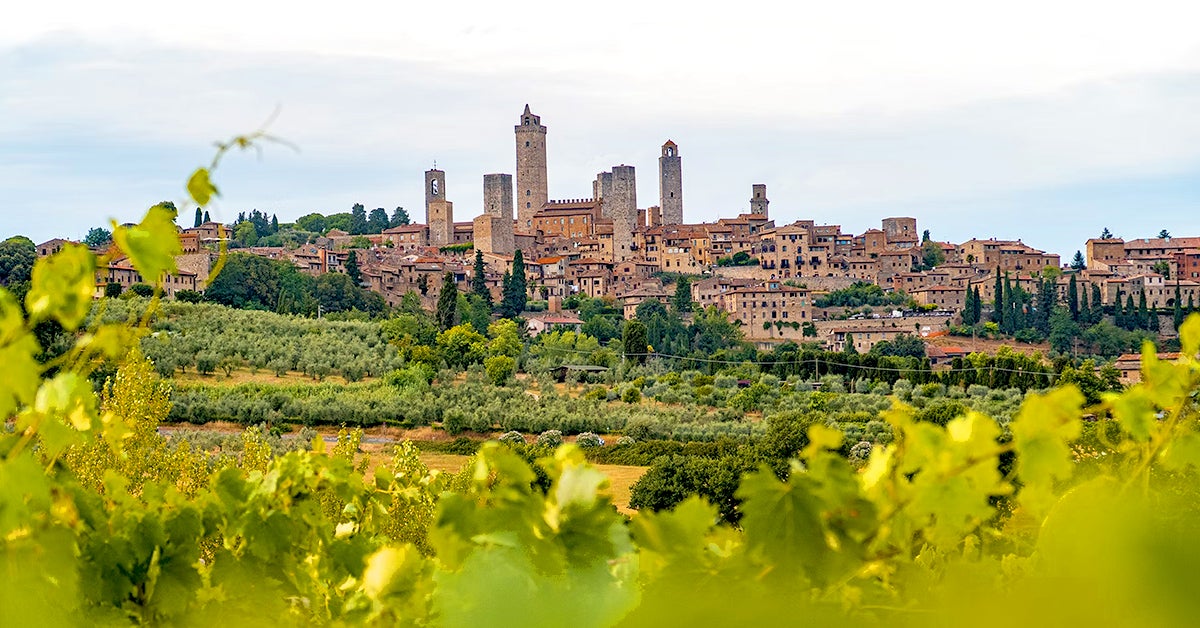 Tuscany
Possibly the most famous wine region of them all. With its beautiful rolling landscape, long driveways lined with Cypress trees, leading up to picturesque medieval castles perched high on a hill enjoying breath-taking views! Centrally located, It's not far from the iconic cities of Florence, Prato, Livorno, Arezzo, Pisa, and of course the quintessential Siena!
Sangiovese is King here, used in Chianti, Brunello di Montalcino and Vino Nobile di Montepulciano. This means over two-thirds of all vines planted are Sangiovese, accounting for about 85% of the wine volume. When the other noble grapes ( Cabernet and Merlot ) were eclipsed by Sangiovese back in the 1970's, a new breed was created using them with the birth of the Super Tuscan, originating in Bolgheri – most notably the premium brands like Sassicaia and Ornellaia.
There have been recent attempts to revive some of the other native red varietals like Canaiolo, Colorino, Ciliegolo and Pugnitello. And with such a huge focus on red wine production, you'll only find a small number of white varietals planted - mostly Trebbiano with the odd planting of Vermentino, Malvasia, or Vernaccia.
Savoury flavours, high acidity, and powdery tannins are the hallmarks of Sangiovese. This makes it an excellent match for richer fatty ingredients like olive oil, tomato sauces, and rich meats. You can't go past Bistecca Alla Fiorentina or Ragu al Chingale!
Abruzzo
Classified as Southern Italy by cultural aspects, the region physically starts in central and extends across to the Adriatic Coastline in the east. Almost half of the region is protected by national parks and reserves, so is more sparsely populated than other regions. Still relatively close to Rome, with its major cities being Pescara, L'Aquila, Montesilvano, and Teramo. Geographically diverse with a unique terroir ideally suited to viticulture, you'll find it all here with rugged mountain ranges and a lengthy Mediterranean coastline.
This ancient region's winemaking history dates to the sixth century BC thanks to the Etruscans. You'll find many older traditions in this region, like their use of the Tendone Trellis system. Similar to the pergola systems found in dwindling numbers nowadays, this region has almost 80% of its vines growing this way. It's also a good indication of mature vine age, with newer vineyards easily identified by their more modern French-styled rows.
Key varietals planted here are Montepulciano, Trebbiano, Sangiovese, and increasingly Pecorino – not the hard cheese, but an indigenous grape varietal, crisp and aromatic with a robust acidity.
The cuisine found here reflects its diverse geography. Mushrooms and truffles are harvested from the hills and forests surrounding its mountain ranges, pastural land farms sheep and mutton as their main meat source, and that expansive coastline offers a bounty of seafood. The trick is that the wines of this region have a good acid structure, so match this with some fat like lamb, bacon, cheese, or cream.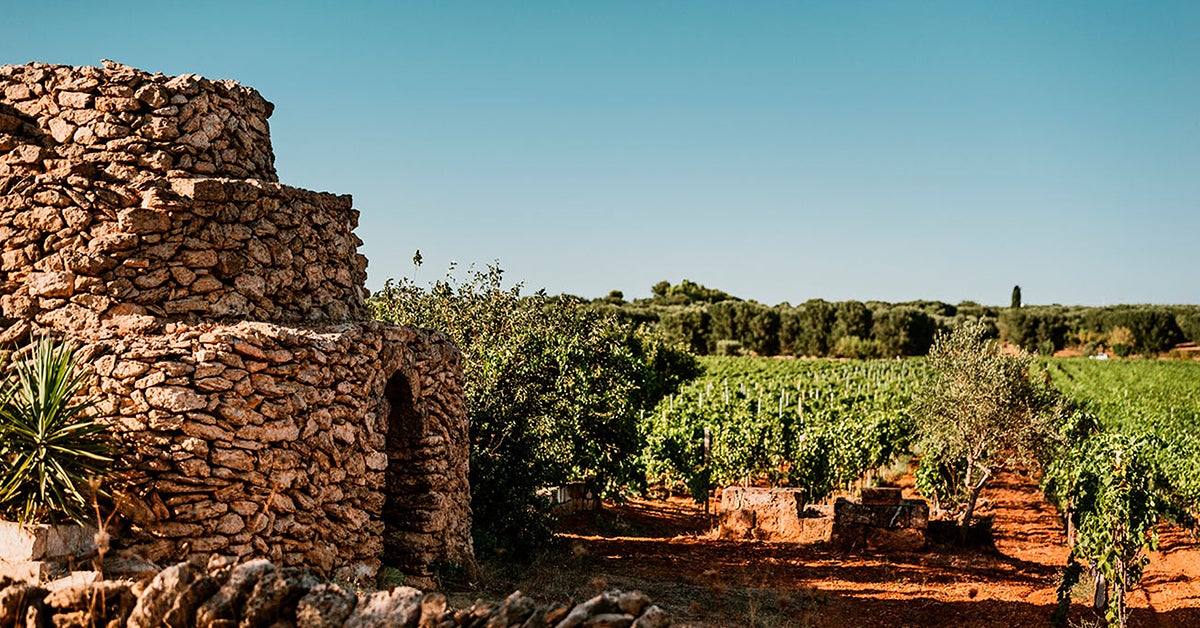 Puglia
Located in the Southern peninsula that forms the heel of Italy's famous boot shape. It is surrounded on three sides by water, giving it the longest coastline of any mainland region. Another stunning part of Italy to visit with its traditional limestone ' trullo' houses, whitewashed hill towns, and gorgeous baroque architecture. A beautifully dry, warm, and fertile area, that also produces around half of Italy's olive oil.
Given its very southern aspect, it is often overlooked by visitors unless you have time to go across from Naples, or are going further south to Sicily. Its largest cities are largely unheard of including the region's capital Bari – a vibrant port and University hub.
Puglia has a well-deserved reputation for producing fruit forward reds that offer some of the best value in Italy. Predominantly made from the Negroamaro and Primitivo grapes, but you will also find an ever-increasing amount of Rose made from Bombino Nero, and a small amount of the local white grape Verdeca.
Puglian food showcases vegetables first, which suits the bright, easy drinking style of their wines. Typical dishes include stuffed aubergine, orecchiete with seasonal greens, and pea and lamb stew.
So now we've looked at the region, the grapes, and the foods … how do we decipher the quality in the bottle?
The Italian Classification System
Introduced back in 1963 and based loosely on the French system, the Italians took the process a step further by not only guaranteeing the region and the production methods, but also the quality of certain wines which are required to pass a Government controlled taste test!
Let's start at the bottom and work our way up. But it's important to note that not all wineries wish to jump through all the hoops at the top end, opting instead for a broader classification regardless of the quality of their wine.
There are four classifications;
VdT Vino da Tavola. This refers to table wine without a geographical indication, grown from grapes found anywhere in Italy. Mostly for domestic consumption as exported wines are usually of a higher quality.
IGT Indicazione Geografica Tipica. Grapes in this category focus on the region as opposed to grape varieties or style, making this the broadest category, but not necessarily a reflection of the wine's quality. Super Tuscan wines for example cannot get a higher classification due to the varietals they use not adhering to the rules of that DOC. Even wineries that choose to adopt more modern styles or winemaking practices, will have to be classified as IGT.
DOC Denominazione di Origine Controllata. This next-level refers to the designation of a controlled origin. With 329 different DOC's, covering areas like Prosecco, Vin Santo, Valpolicella and Montepulciano d'Abruzzo, each with their own set of rules regarding grape varieties, harvest yields, yeasts, and ageing .
DOCG Denominazione di Origine Controllata e Garantita. This classification was introduced later in 1980 in response to criticism saying there were too many DOC's with varying quality levels. So with this as the ultimate in quality, there are just 77 DOCG's, and most are in the areas of Tuscany, Piedmont, and Veneto. With even stricter guidelines extending to grape ripeness, and further production methods, these wines must be submitted to a tasting panel, and if successful are guaranteed by the Government. Wines of this caliber wear a numbered government label around the neck of the bottle – green for white wines and pink for red.
Outside of the structure of this system, there are a few other terms used on labels that are good to know. Riserva refers to wines that have been aged for longer – a minimum of two years. Classico is used for wines that have been produced in the historic centre of that region ie Chianti Classico. And Superiore indicates at least 0.5% higher alcohol level than usual, and limits harvest yields and minimum ageing.

Promotion
And if all of this hasn't whetted your appetite yet, we're adding a sweetener to the deal for Italian Month. Simply buy any bottle of the participating Italian Wines found here and go in the draw to WIN one of three $100 vouchers to dine at these fantastic Auckland Italian Restaurants – Pasta & Cuore, Spago, and Baduzzi.
So shop Italian wines online, gather your favourite friends and family, and start practicing that world-famous hospitality. Saluti!