Four Pillars Distillery, The World's Best Craft Gin.
Award Winning Craft Distillery Four Pillars has taken the Gin world by storm, being named International Gin Producer of the Year two years in a row!
The Back Story
Two gin-loving mates who met during their former lives in the Wine Industry Cam MacKenzie and Stu Gregor, originally toyed with the idea of creating a decent Aussie made tonic brand. They were big fans of the G & T. Gin is often the wine drinker's white spirit of choice due to its similarities like aroma, balance, texture and flavour. In fact, they've taken a whole bunch of lessons from the Wine Community and applied them to their new venture.
They were disappointed by the tonic options on the market at the time but setting up a production facility for a soft drink was simply going to be too expensive, so they settled on making the hard stuff instead!
They crowdfunded the first batch of 420 bottles which sold in under 3 days leaving them with a huge list of backorders and no idea if anyone liked the gin yet! It was a huge gamble … but hey it was their gamble – and one that really paid off!
And so, Four Pillars was born. Cam and Stu wanted some serious planning and business nouse behind their decisions, so they sought the expertise of Creative Business Strategist Matt Jones. Instead of pitching for their business, Matt actually pitched to add him to the business! So, two owners became three owners, and a wonderful amalgam and balance of strengths has taken Four Pillars from zero to hero in just eight years.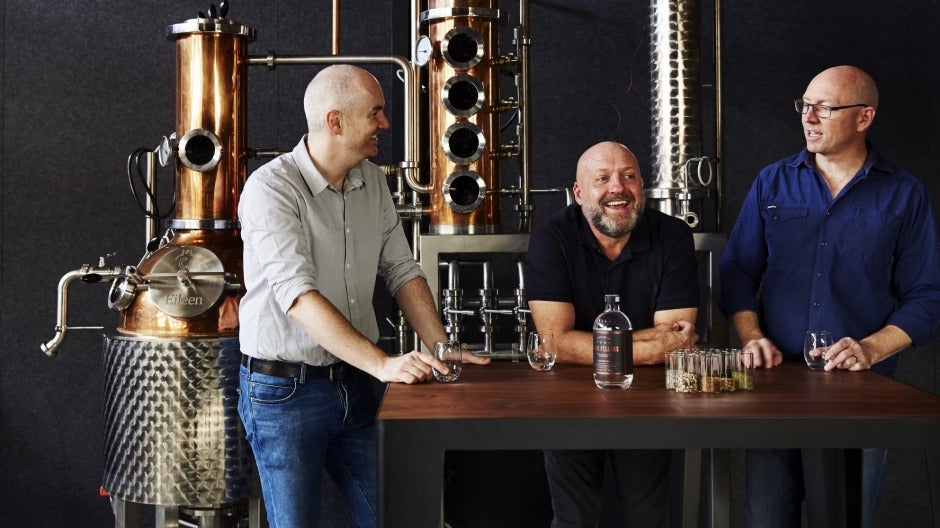 ( Pictured Left to Right – Matt Jones, Stu Gregor and Cam MacKenzie – The Thinker, The Drinker and The Tinker )
The Lessons
Their goal from the outset was always to challenge the norm. They had seen the Ginsurgency that had started in the UK with Craft Distilling and its very innovative approach, and they knew they did not want to create yet another old school London Dry style. They borrowed another wine lesson here too from the local Yarra community who tried to make Burgundy inspired wines for decades to no avail. Once they started to make wines that reflected their own unique Yarra Valley terroir they were able to craft something special and truly world class.
Four Pillars took that lesson onboard and produced something unique from the get-go, using Juniper as their blank canvas but featuring Australian native ingredients. Indigenous botanicals like Lemon Myrtle and Tasmanian Pepperberry leaf. And their biggest point of difference is that they use fresh orange opposed to dried peel, which makes a much brighter profile. And of course, they're local organic oranges sourced from the Yarra Valley too
These lessons all culminated in the birth of the Four Pillars Rare Dry Gin. What started out as 100 botanicals, was whittled down to just 10, with the recipe constantly being tweaked and refined until they were happy. As it turned out – it wasn't just the guys who were happy with the recipe… it won its first of 11 gold medals just four months after launching. It is now about 85% of their gin production as they use so much of it – not just on its own but as the base for their Barrel-Aged, Christmas and Bloody Shiraz Gins.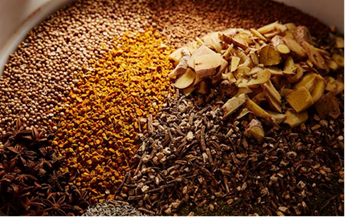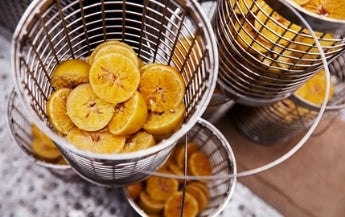 Rare Dry Gin 41.8% abv – The flagship gin at Four Pillars, that won its first gold medal ( in fact a double gold ) just four months after launch! It has gone on to win 11 Gold Medals across the globe since, including a Double Gold at the prestigious San Francisco World Spirits Competition and Gold at the Global Gin Masters – two of the most important Spirits Shows in the world. This is a juniper forward gin, but that is well hidden in the balance of the remaining botanicals. The research for this gin started with 100 botanicals…and they landed on just 10 for their final recipe, and the flagship is the fresh organic oranges they use opposed to dried peel, which totally revolutionizes the flavour profile.
Make the perfect Gin and Tonic by combining with East Imperial Old World Tonic and garnish with a slice of Orange.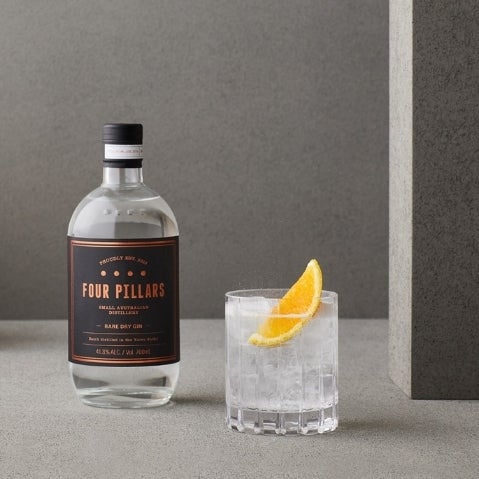 The Home of Four Pillars
The Distillery Door was set up in 2015 in a former Timber Yard in Healesville, and it was their best idea yet giving them a showcase not only for their own product range but also adding to the regional diversity that sits so well alongside the food and drinks tourism already established in the Yarra. It gave them a home where people could taste the components, smell the botanicals, have a sensory tactile experience. It's an ideal opportunity to taste through a range that challenges most gin geeks and their traditional concepts around Gin flavours.
The Distillery Door also gave them room and a guaranteed testing panel for their burgeoning innovation projects. This was what Craft Distilling had become in other markets, and what they were attracted to in the first place. While they knew there would be more failures than successes, they also knew the prize for a success was huge! Cam will admit to you himself, that the less said about the Asparagus Gin the better! And so with time, and when the brilliant ideas take them, they have expanded the range.
Spiced Negroni 43.8% abv – Cam's favourite cocktail long before he became a Gin Maker and the world's first gin created specifically to go in a Negroni. Classic balance of bitter and sweet, crafted in collaboration with award winning World's Top Ten Bartender Jason Williams. Highly aromatic and intensely spicey. This creation has been a huge success globally and now one of the world's most awarded and unique Gins.
For the best Negroni combine 30ml Spiced Negroni Gin with 30ml Campari and 30ml Sweet Red Vermouth. Garnish with a slice of squeezed orange, plenty of ice and mix well.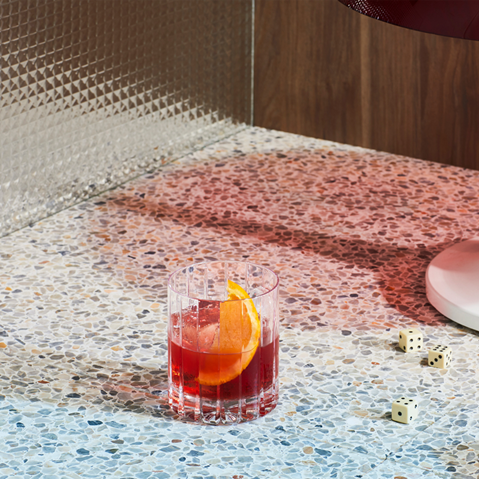 Bloody Shiraz 38% abv – With yet another nod to the local Wine Industry they made the Bloody Shiraz which is based on a Sloe Gin style. Using 250kg of stolen bunches of Shiraz grapes from a mate Rob's winery. Using the original Rare Dry steeped with sweet shiraz grapes. The fruit was soaked and gently pressed to release their lingering perfumed oils. Once again, this gin is all about balance between sweet fruit and savoury juniper and citrus flavours. The team love seeing the mix of joy and confusion on consumers faces when they try this Gin.
Try it in a Bloody Spritz with equal parts Bloody Shiraz and Ruby Grapefruit juice in a champagne flute topped with bubbles.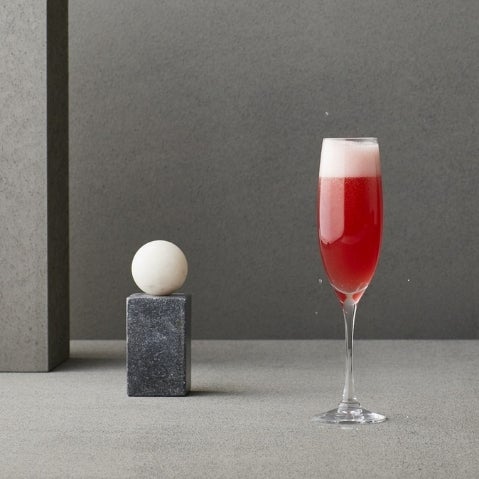 Navy Strength 58.8% abv – Distilled with native finger limes, fresh ginger and earthy Turmeric. This is an overproof Gin distilled to 58.8% abv, powerful and intense made specifically for Cocktails. It's juicy, sweet but very very clean on the palate with its explosive citrus and asian spice.
Enjoy a Ginger Mule by adding 30ml Navy Strength Gin, 15ml Fresh Lime, 2 dashes of bitters and top with Ginger Beer over ice and garnish with lime and a sprig of mint.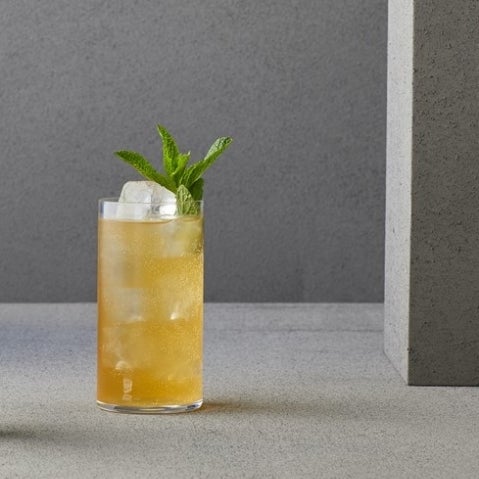 Four Pillars X Kyoto Distillery Changing Seasons Gin 43.8% abv – A Collaboration highlighting the fusion of Australian and Japanese botanicals.
Try it in a Gin and Tonic using East Imperial's Yuzu Tonic and garnish with a slice of honeydew.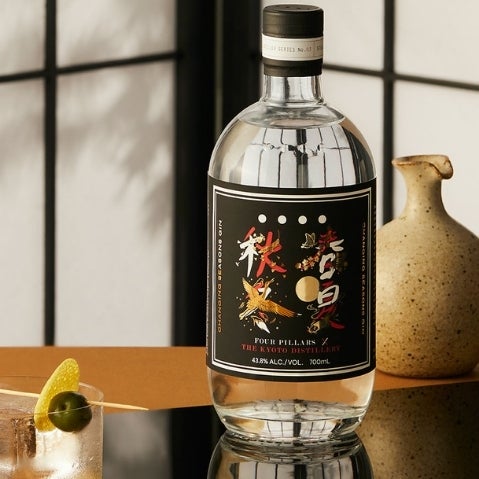 Olive Leaf 43% abv – Looking at savoury botanicals they started experimenting with Olive leaves. Working with a local olive grove owner this is a gin that uses three types of olive oil as well as olive leaf, macadamia, rosemary, bay, fresh lemon, lemon myrtle and fresh grapefruit. It was five years in the making, and well worth the wait!
Create the Spanish styled Gintonic in an ice filled balloon with Fever Tree Mediterranean Tonic and garnish with lemon slices and a sprig of rosemary.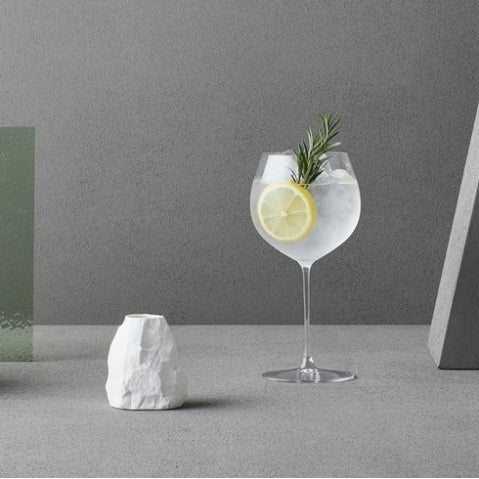 The Collaborations
As demand and production grew, they realized they were amassing biproducts that were still full of flavour and life. Using the never-ending piles of spent botanicals, they worked with local artisan producers to create – chocolate, steamed Christmas puddings, ham glazes, and marmalades…becoming one of Australia's first Full Circle Distilleries.
And anything they can't recycle for edible pursuits goes into feed for some local Rare Breed Black Pigs …yes more food eventually! These pigs then become the platform for their next initiative … Gin Pigs. An evening based around Food and Drinks from the Yarra that collaborate with Four Pillars Distillery. While the main event is the Pork, the evening showcases other collaborative food items too. A wonderful platform for Provenance that seems to be resurging as an important concept for consumers – to know where your food and drink comes from, and to keep it as close to home as possible. No surprise – there's even some Yarra Valley Wines as part of the evening!
It's been a wild crazy ride for the team at Four Pillars, with a lot of hard work and thankfully a lot of hard-earned results. They have doubled their sales year on year since starting in 2013. These days they produce around 600,000 bottles each year and export to over 30 countries all over the globe. They have amassed an impressive tally of awards for their products and created global demand for Australian Gin.
They are passionate about hospitality, Gin, Australia, Victoria and certainly their local Yarra community. And I don't think there's a single person who belongs to any of those groups that wasn't absolutely thrilled to see them awarded International Gin Producer of the Year at the World's biggest Spirits Competition two years running!
If you haven't tried their Gins yet, well what are you waiting for? Make the most of our March Gin Celebrations and buy Four Pillars Gin online with our spectacular pricing. And of course, if you're ever in their neighborhood, go visit the Distillery Door … it's a spectacular and unique experience.
And when you visit, don't forget to ask about the Asparagus Gin!
Shop The Four Pillars Range here - www.finewinedelivery.co.nz/distilleries/four-pillars