Challenging to grow and expensive to make, and yet there is a cult-like obsession with this ancient grape for both winemakers and consumers alike. This month is all about Pinot Noir, so we're going to look at why winemakers persist with such a fickle grape, and why consumers are so drawn to it!
There's a great saying " If Cabernet was created by God, then Pinot Noir was made by the Devil", and certainly the devil is all in the detail with this temperamental grape variety.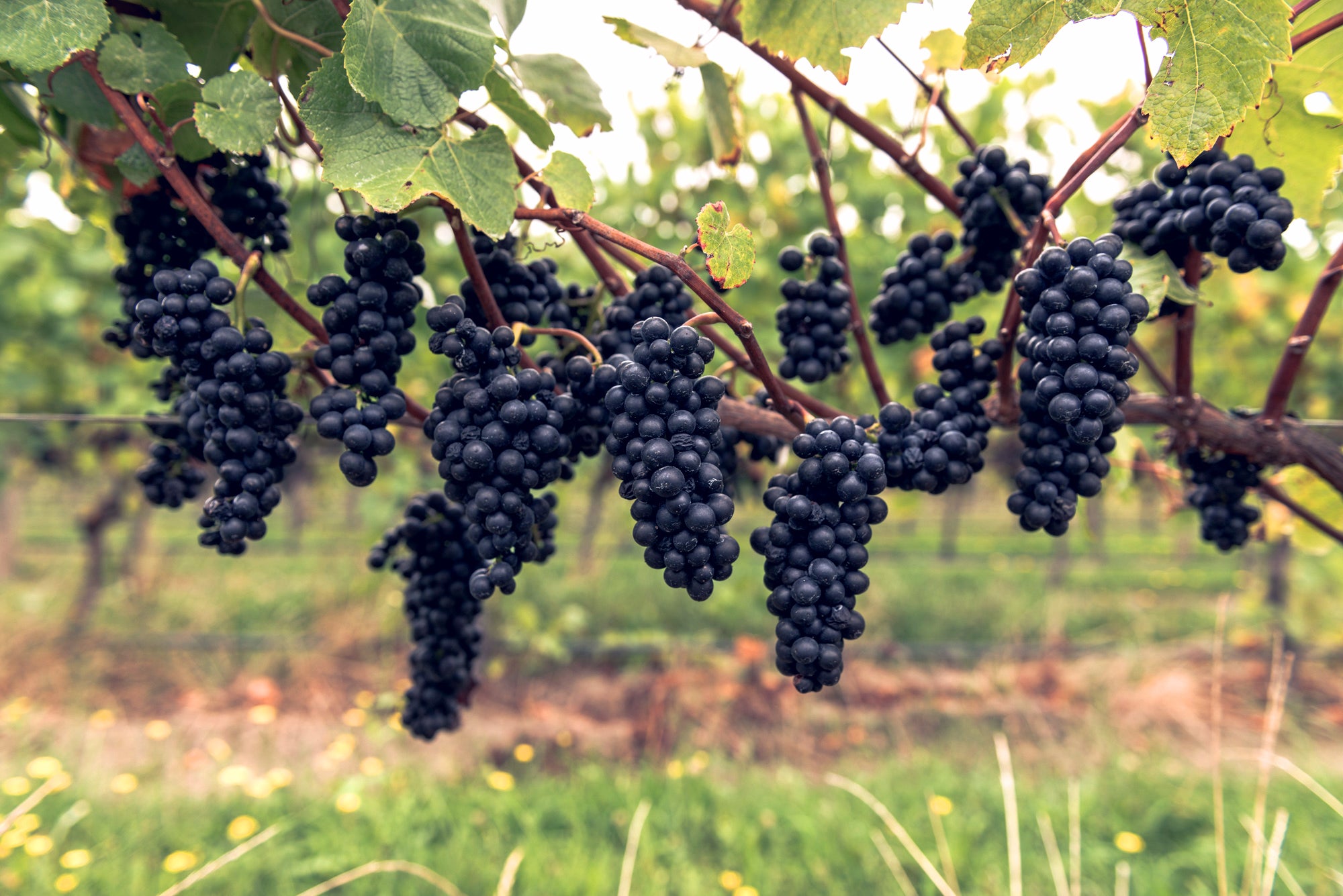 For starters, Pinot is French for pine. This refers to its pinecone shaped bunches – the first issue on the list of genetic flaws! Tightly packed with small berries that are hard to ripen evenly. This bunch formation does not allow for much ventilation making it prone to disease and requiring additional pruning. However, you can't go to town chopping off the whole canopy as its delicately thin skins are easily sunburnt, and susceptible to splitting with wind, heavy rain, frost, or hail!
There's also a lot of goodies in the skin, they're called phenolics – naturally occurring compounds that affect taste, colour, mouthfeel, and eventually … how the wine ages. Thinner skins mean less phenolics and tannin. This is challenging on the winemaking front; however, it may also have a lot to do with consumer appeal, but we'll get to that later!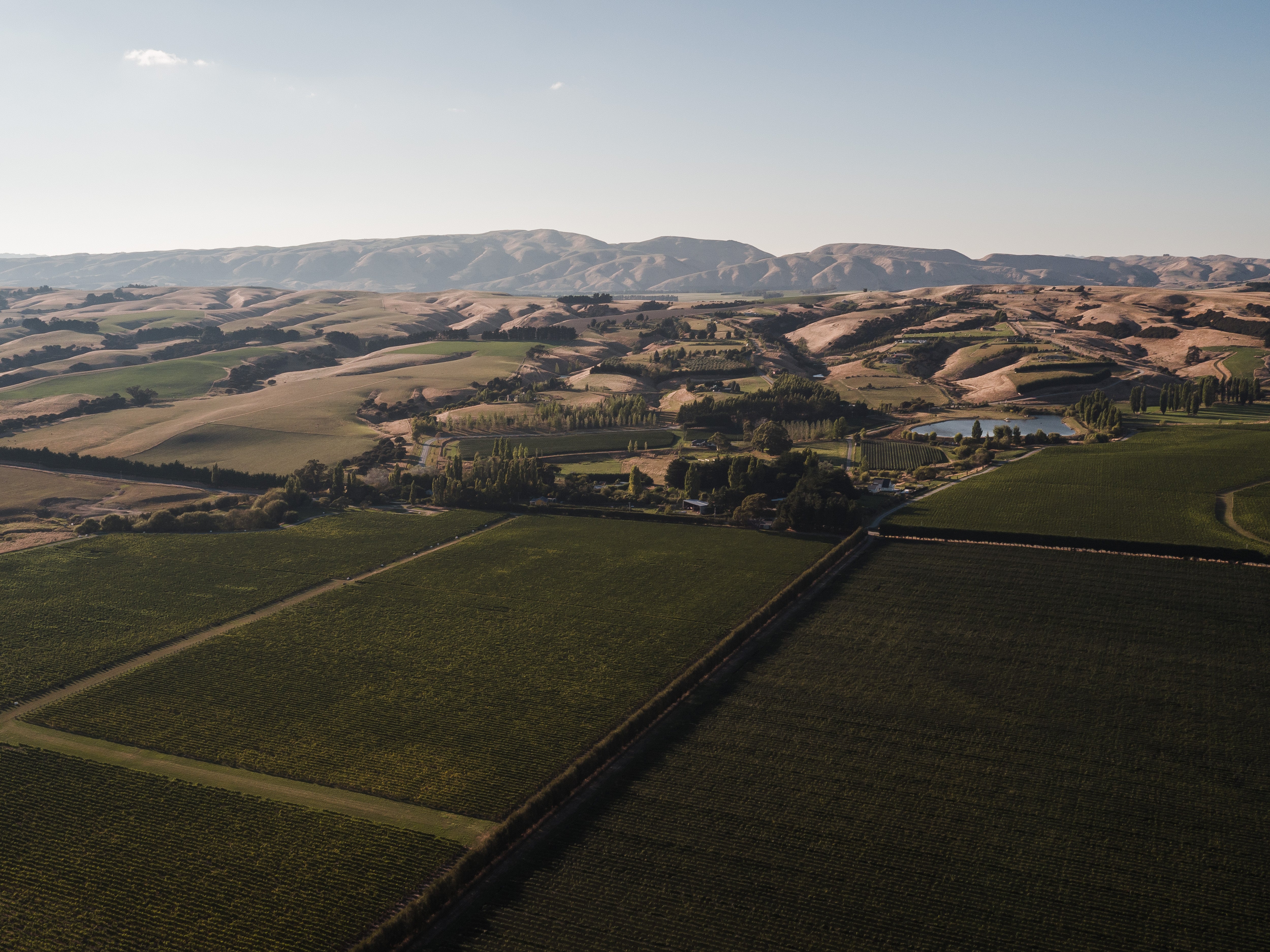 TERROIR
To combat the disease issue, Pinot Noir is best suited to cooler climates with a long, consistent growing season. You will have noticed that here at home our best Pinot regions are lower north island and heading further south. Humidity is not Pinot's friend! It also needs shelter away from extreme weather like wind and frost, so tucked into valleys and next to large bodies of water will help.
Because the grape's natural flavours are more elegant and subdued, you really want to dial up the quality and limit how many grapes the vine produces – its yield. This allows the vine to concentrate its energies into fewer bunches, making better quality grapes. To assist with this, the vines are suited to soils with lower fertility. If the soil is too fertile, the vine will over produce, and the wines will taste thin. But this means either not as much wine … or plant twice the amount of vineyard – costly either way!
So, there's no getting round the fact that Pinot is an expensive grape to grow with lower yields of fruit, and more work in the vineyard with pruning, thinning, spraying etc. And it gets worse … you see it's just as challenging in the winery, often referred to as the 'Heartbreak Wine' … so why do Winemakers love making Pinot?
WINEMAKING
Despite its thin skin and seemingly light to medium body, it has an incredible ability to harbour the most complex flavours. It is a grape that is all about the light and dark, the yin and yang, and despite its rather narrow parameters for successful growing, it is a varietal that speaks so strongly about its terroir that even a tiny change like what type of rock is in your soil, makes a huge difference to the taste! Oh and obviously winemakers love a challenge!
Right from the get-go, those pesky thin skins are presenting the first challenge with their reduced tannin and phenolics. Too little skin contact will result in a thin wine, with no mouthfeel and minimal potential to age. But too much, and you'll smother the elegant nuances Pinot is prized for! So many winemakers will opt for at least a portion of whole bunch fermentation to heighten aroma, texture and tannin.
Fermentation is trickier too with Pinot as there are additional nutrients found in this grape that yeast love! Too much heat will kill off the yeast before it's had time to do its thing, or if it grows too fast then other nutrients get used too and sulphur can be a problem. Ever had a wine that had a stinky sulphur odour? Sadly it's a common fault when things go awry during fermentation.
Another issue during fermentation is how to handle the cap. This refers to the formation of skins that naturally float to the top of the vessel, forming a thick crust or cap as its known. You don't want these to dry out, as you need colour and flavour from those skins. With other wines you can mechanise this process by pumping over the wine, but this is too vigorous for the subtle flavours of Pinot and can result in over extraction of tannin. So hand-plunging the cap regularly, is a safer option but obviously labour intensive once again.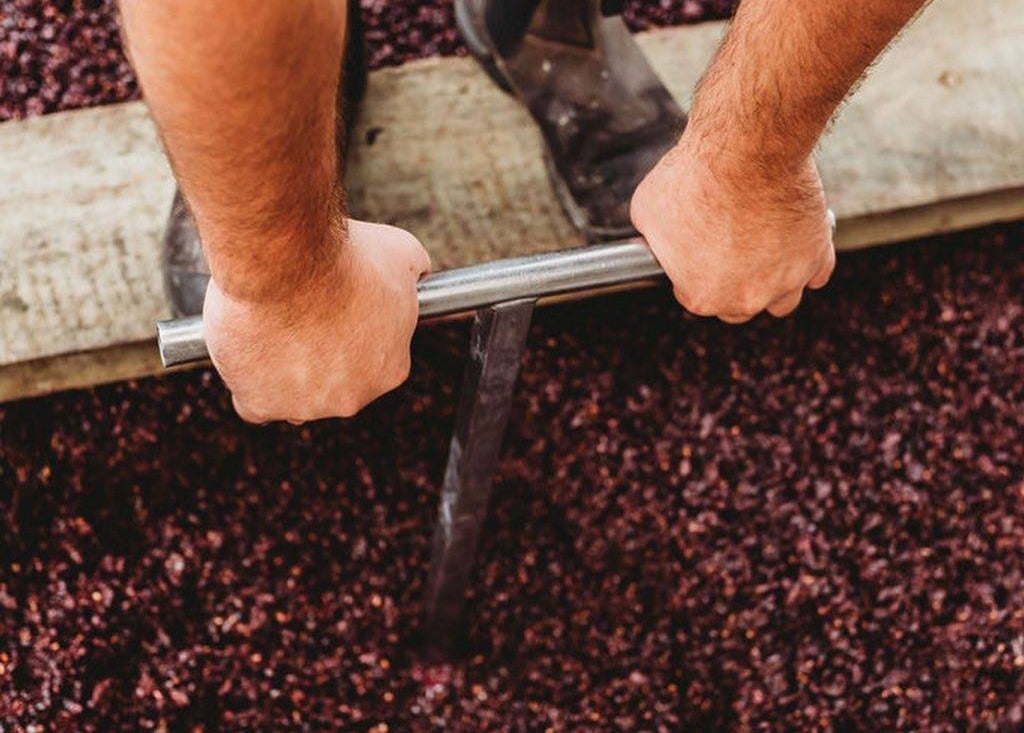 And of course, as we touched on with this grape's genetically thin skin, comes a lack of pigment. You may have noticed a thin looking brownish colour to your Pinot before, and due to its instability it can get worse with age. In Burgundy, the home place of this fickle grape, it is common practise to add in a small amount of Syrah, not only for aesthetics but also to stabilize the colour in the likelihood it will be cellared for some time.
Does this sound like a lot of effort? Well, we did say the devil is in the detail with Pinot!
CONSUMER APPEAL
Pinot Noir is one of the world's most popular red wines, and when you consider it only really grows well in a small amount of cool climate regions, then it's a given that demand cannot be met – pushing up the price too!
But what is so surprising about it's popularity is that it's a light bodied wine … usually the bolder wines appeal to the masses more, like Cabernet or Syrah. But Pinot is the prime example that light in body does not mean light in taste. With its unique ability to develop complex flavours, while retaining an easy drinking style it has carved out a reputation as the anytime wine.
Furthermore, it has high acid, which is super versatile to match with food and aids the digestion along. That high acidity cuts through fat and game flavours, making a great match with duck, pork and chicken. Another heavenly match is mushroom, which highlights the fruity flavours in Pinot.
Fish and red wine is always a tricky marriage, but with its light body and low tannin Pinot can at least go with an oily river fish, like trout or salmon.
Perfect with vegetarian dishes as it goes brilliantly with roasted vegetables, mushroom, and thyme. And the combination of high acidity and aromatics is always a match made in heaven with bread and cheese combinations, including pizza!
The ultimate crowd-pleaser, if you're ordering the wine at a restaurant and trying hopelessly to match to everyone's individual dish, pick a Pinot as it is far more likely to find a match with most of the meals.
Ultimately, it's the intrinsic elements unique to Pinot Noir, its elegant style and complex flavours, that make it so appealing and interesting to drink. That is the reason consumers are seeking out quality Pinot in their droves.
BUYING KIWI-MADE PINOT
And speaking of quality Pinot…. In classic kiwi style, we were a little late to the party when it came to commercial scale plantings of this wine. There were a handful of early adopters in the late 1970's – our Pinot Pioneers, but the bulk of vineyards were planted in the mid 1990's. But we've caught up well, carving out our own place on the world stage with an outstanding reputation for producing serious and age worthy Pinot.
Typical for cooler climates we produce a fruit forward style, but what sets us apart from the pack is our more medium to full body. Intense and expressive, with sufficient structure for long term ageing. Our high levels of UV here, mean the grapes produce a thicker skin naturally to protect themselves. This results in wines with more tannin and therefore more structure, making new challenges to keep the wines in balance!
And the success of our style has given our wine exporters a much needed second string to their wine bow. As big as Marlborough Sauvignon Blanc has been for this country's wine industry, having a red wine offering – especially at the premium end of the market, has opened so many more channels. Add to this our regional and sub-regional diversity, and we can offer a breadth of exciting styles.
Pinot Month is a great opportunity to look at how to navigate those styles, identifying the flavours you prefer, and hearing directly from the winemakers about their regional differences.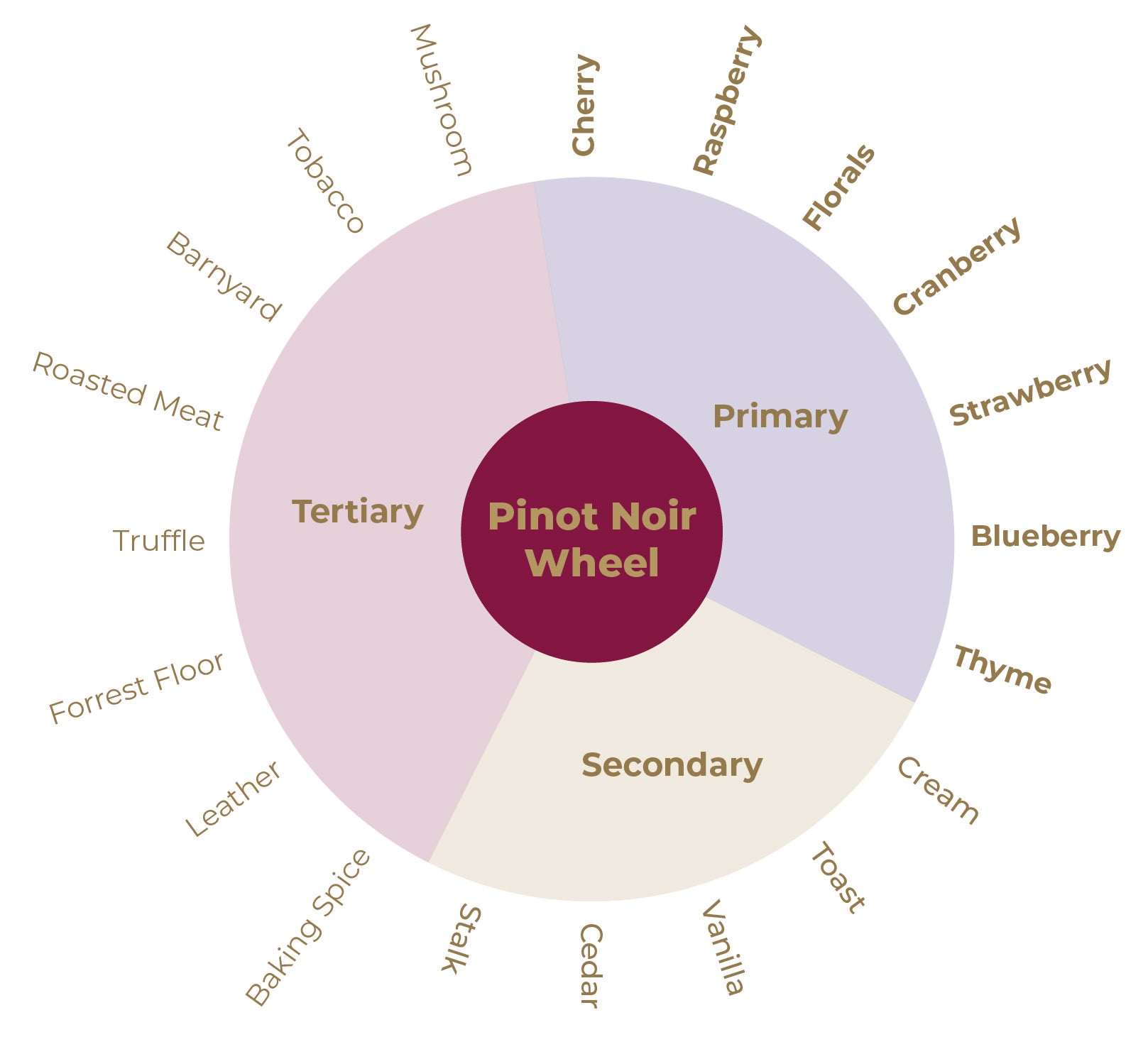 Let's start with a quick guide to the regions;
Dark, savoury and rich. Everything is dialed up with these wines. The aromas are of darker fruits, the palate is richer, fuller and sweeter – almost into plum and chocolate notes, with a tell-tale structure of beautiful long, fine tannins.
Our lightest style in body with red fruit on the nose, with bright raspberry flavours into cherry on the palate. Marlborough produces a freshness from its lower acidity, providing a linear structure. Wines from the Southern Valleys will tend towards a fuller bodied style.
Learn more about making Pinot in Marlborough with our winemaker video here from Dog Point Wines
Highly expressive and aromatic, they produce structural wines with fine tannins and an earthy complexity. The Waimea Plains tend to be a prettier style, while Moutere delivers a weightier experience.
Watch our winemaker video here from Neudorf Wines to learn more about the Nelson Region
Red and Dark berry fruit with generous spice notes. Good structure and acidity, with beautiful earthy, savoury tones.
Learn more about making Pinot in North Canterbury with our winemaker video here from Greystone Wines
The wines of the Gibbston Valley and Wanaka Districts are typically sweet, soft and upfront red fruits like strawberry and raspberry, with spice, fresh herb, and even a minerality. The warmer areas like Bannockburn, Bendigo and Lowburn produce fuller and more tannic wines with cherry and rich dark fruit flavours. If you smell dried thyme in your Pinot, its likely to be from Alexandra!
Watch our winemaker video here from Quartz Reef to learn more about the Central Otago Region
SHOP NEW ZEALAND PINOT NOIR
No other grape tells a story of place quite like Pinot can, and to illustrate this we have hunted high and low to find you a stunning selection of wines that showcase each of these regions.

There's a wonderful array of vintages available. A few from 2018 which are drinking beautifully now with some bottle age on them, and then we hit the golden trifecta of 2019, 2020, and 2021. Three stellar back-to-back vintages, and some of our most highly rated years of the past decade!
TO VIEW OUR SELECTION - BUY PINOT NOIR ONLINE HERE
There's a bottle of Pinot Perfection in here to suit everyone's tastes. So start your journey today, and buy a ticket to our tasting on the 16th to try 28 of these beautiful wines all under the same roof. Tickets are available on this link here.