Join the Ginsurgency Today!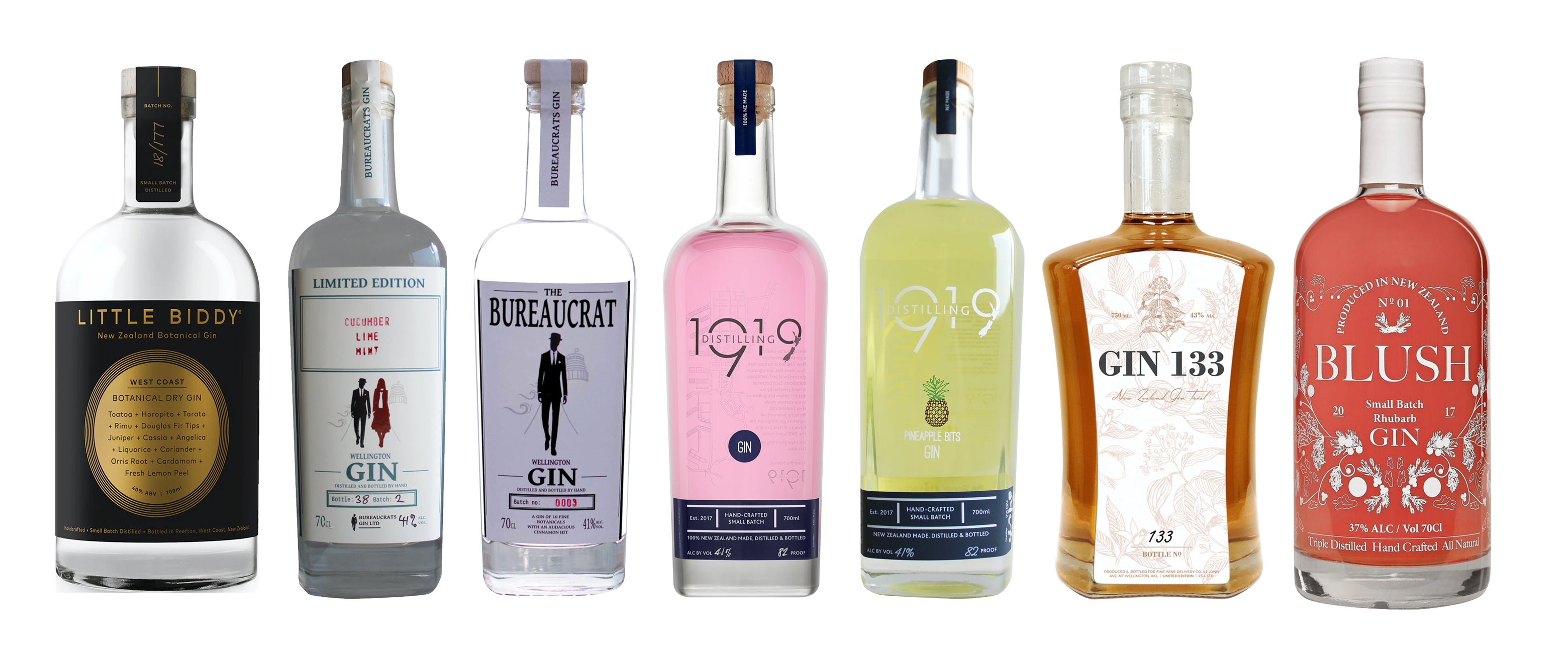 The world is awash in a craft spirits resurgence unlike anything we have seen since pre prohibition times. No category has been as rapidly increasing as Gin, likely to tip the scales of spirits popularity worldwide in the very near future. The days of an old lady drink reputation have been slowly eaten away with time and given a makeover even Oprah or Ellen could not achieve. It's versatility has transformed it from the classic Gordon's and Schweppes combo your Nana drank at Christmas, to a raft of exciting flavours and brands fit for the hippest hipster! Bartenders worldwide have done a fantastic job targeting the early adopters with Gin and of course it has long been the preferred 'other' drink for many in the know, like Winemakers and Distillers of other categories. Such popularity comes down to its diversity and ability to be crafted to suit so many tastes.
Perhaps its multi-faceted flavour combinations originated from the fact that Gin's base spirit does not have to be made from any one specified ingredient. Legally, it can be made by fermenting and distilling almost any agricultural product – grain, grapes, potatoes, carrots, honey, apples…the sky's the limit! Add to that the almost never-ending list of botanicals to infuse your base spirit with, and you have a veritable Sistene Chapel of inspiration!
So, how does one join the ginsurgence and where do you start on this journey? Here at Fine Wine Delivery we have two rules of thumb…. explore the many styles on offer, and invest in premium mixers!
Let us address style first. You can break the category into six of the most popular styles, however it is important to accept that as the category explodes… the lines do get a bit blurry with experimentation!
Genever – the original spirit Gin was borne from, with a light botanical and stylistic footprint. Made specifically from Malt, so a strong cereal character and sweet. Infused with many of the typical botanicals we associate with gin, but not like modern dry gins at all.
London Dry – Our modern yard stick by which we tend to measure all Gin. Always Juniper at the fore, and very dry with a moderate spice. This is why they make such great ingredients in a cocktail, as their bold flavours can stand up to almost any equally strong flavour! Navy Strength should also be mentioned here. London Dry in style once again, but with a higher ABV of 57% or above, perfect in aromatic cocktails like a Negroni.
Western – a term for any Gin that is not Juniper led. This covers citrus, floral, infused or spicy gins. It does not mean that there is no juniper in there – just that it could be a light touch or a secondary character.
Old Tom – Somewhere between London Dry & Genever. These are often distilled from grain to give that robust character like Genever, but with more juniper botanicals like London Dry. These are often barrel aged to soften them, or a little sweeter in style.
Sloe Gin – A lower ABV Gin or Gin Liqueur that has had Sloe Berries macerated post distillation. Known for their extreme tartness, the addition of sloe berries will often be balanced by a little added sweetness.
The second rule we live by is mix well! With so many flavours at our fingertips it's important to remember that your mixer should not be a one trick pony either. With so many styles available, why wouldn't you need options to mix these for optimal taste experience? And equally important, is if you buy a beautiful gin made with premium ingredients, why wouldn't you want your mixer to be made using better ingredients also? That big name brand with a yellow label is a relic of what should be a long-forgotten era when sugar was needed to mask a lack of real quinine and an abundance of preservatives. Brands like Fever-Tree and East Imperial are produced to match the variety of aromatics found in modern day gins, for modern day people who do not wish to consume excesses of additives and sugar!
Aside from the premium natural ingredients, there are some mixing rules to help you match all these weird and truly wonderful flavours.
Fresh & Floral Gins, go with Elderflower Tonics
Citrus & Herbaceous Gins go with Mediterranean Tonics
And Juniper Led Gins go with Aromatic Tonic Waters
If in doubt everything will go with an Indian or Dry Tonic Water, and don't discount using a soda water either! In fact there are some great mixers in these ranges suited to all types of spirits, or to be enjoyed on their own – Smoky, Thai Dry, Spiced Orange Ginger Ales, Grapefruit Soda or Tonic, Lemonade, Cucumber Tonic, Yuzu Tonic, and Ginger Beer…it's a Willy Wonka experience on a whole other level!
There's another point to mention, we won't call it a rule as we sell a lot of international products too but there's a lot of wonderful gin being produced right here in little old New Zealand. Its roots might have originated in Holland and spread to England with the throne, but it seems our No8 fencing wire mentality knows no bounds once again and this time we're taking on the world's best Gins. We're doing our best to shine a spotlight on a few local producers' post lockdown as part of our Celebrate Kiwi Made initiative.
Reefton Distilling Co. is a modern distillery from one of our oldest settlement towns and housed in one of its oldest buildings there. They take their inspiration from the Wild West Coast around them and share this through a range of Gins, Liqueurs, Vodka and a Whisky. This month we're focussed on their Little Biddy Gin 40% abv, named after a local 4-foot, gin toting, pipe smoking, goldminer legend called Little Biddy, who once mined for gold in the same hills. Using native leaves, flowers, and berries from the dense West Coast rainforests, this is a robust and hardworking gin with an aromatic bite – just like Biddy!
Bureaucrats Gin is a Wellington Company formed by two office colleagues with a shared love of Gin and distilling. They both set up small still sin their home laundries and set to work perfecting a small set of interesting gin recipes through trial and error. In 2018 having cracked consistency and quality they set up on a commercial scale, to share those recipes with the rest of us! They boast quite a range but we're focussing on their Traditional London Dry Style with Juniper, Cardamon & Cinnamon and their oh so tasty Cucumber Lime and Mint – simply perfect for a Mojito.
1919 Distilling is named for the year that NZ chose to stand up for their rights and voted against Prohibition – Kiwi right? And what could be more Kiwi than a Pineapple Bits Gin? Pineapple and Cacao…it tastes just like our National treasure! This Auckland based distillery prides itself on quality and makes a range of Gins and Whiskies. This Pineapple Bits is a stroke of genius and quite literally tastes as described! Depending on what tonic you mix it with, you can really taste the Pineapple or the Chocolate flavours, or as the classic kiwi combo itself!
Gin133 is a collaboration we created in partnership with Puhoi Distillery. Made from the finest organic ingredients, with water sourced from a fresh artesian spring 221 metres below Puhoi and distilled to what we believe is the perfect balance at 43% abv. This is small batch distillation at its best with only 133 hand numbered limited-edition bottles created each time. Our original blend features the classics of Macedonian Cinnamon and Juniper up front with background flavours of lemon myrtle, Poor Man's Orange & Feijoa flower.
Our Blue Alchemy is the first NZ Gin to change colour from blue to lilac when added with premium tonics using the Butterfly Pea Flower. This is a subtle botanical blend with nuances of fresh florals and fruit sweetness and is so pretty in the glass. And as with all their products it is produced with zero emissions, using solar power only!
Blush Gin was created by a couple of Kiwi Hospitality characters who thought… what could be more Kiwi than a Small Batch Rhubarb Gin! Triple Distilled, Hand Crafted in Small Batches, it has beautiful natural fruit sweetness, and the Triple Distilling means you can enjoy this on the rocks if you wish. We like it with Yuzu Tonic on a hot day.
So, there you have it…Gins distilled by our people for our people. Search these companies out post lockdown, they are our local gin pioneers and they need our support. And don't forget to experiment with style and with your premium mixers!
We'll drink to that!