Riding for Hospice - Day 12
It was our 12th straight day of riding and we knew it was going to be a tough one, especially given the 50km to our lunch stop at Pleasant Flat was a gradual climb and 7km further on we would have to cross Haast Pass with a summit of 564m. Prior to starting we had one obligation, to have our picture taken with Tracey, the Manager of the Heartland World Heritage Hotel where we had stayed the night. They had graciously and generously given us our accommodation for free in support of our 'Ride for Hospice'.
While we were getting back on our bikes a woman stopped her car, got out and gave Denise a donation. We were oblivious that she had also told Denise to bring us to her business in Haast, 3km down the road for something special. Rene told us that we had to drop into a store in Haast and to follow him. We arrived outside of Haast Heliservices to be greeted by the lady (Sheri Wright) who gave us the donation earlier and who also happened to be part of the business. Sheri said she was so impressed with the epic nature of our ride, which was for such a great cause that she would like to give us a Helicopter ride by way of appreciation for what we were doing… spontaneous and unconditional generosity. Virginia had never been in a helicopter before so it made it even more special. Pilot Scott Rodgers flew us South across relatively flat forest land and farms before making a sweeping right hand turn over the ocean then coming back in across the Haast River prior to returning to base. What a neat start to our day, how dam thoughtful from Sheri and it put us in a good frame of mind to approach the tough ride ahead. We snapped a couple of photos with Sheri and Scott and thanked them profusely before heading down the highway.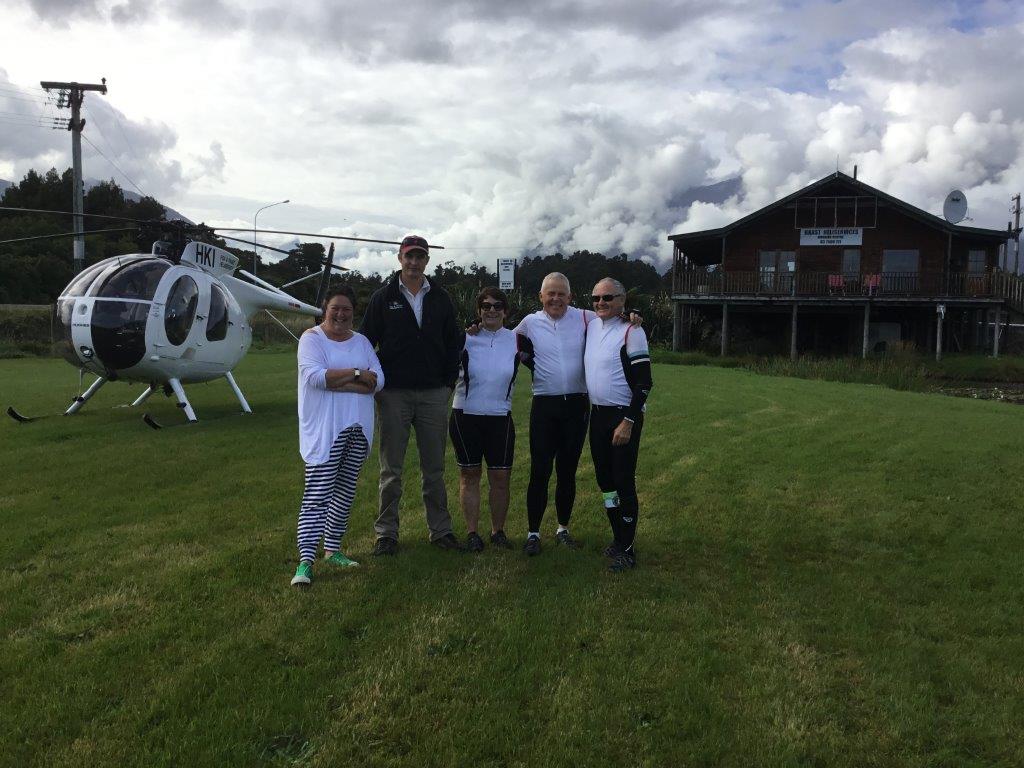 We had planned to begin our ride at 9.00am but by this stage it was 10.30am and we had only gone 3km down the road. We were keen to make up for lost time and rode pretty hard to get to 35km mark in an hour and a half. After a brief refuel we rode onto to the 50km mark at Pleasant Flat to have sandwiches and sweet treats for lunch that Denise and Rene had picked up in Haast. The sand flies were voracious and fortuitously we had our leg and arm warmers on so largely avoided bites. Conversely Denise was getting eaten alive irrespective of the volumes of repellent she applied to herself. Our lunch stop, for those reasons, plus the need to keep moving was confined to only 20 minutes. We also knew that 7km down the highway we would begin our climb over the Haast Pass so were keen put that behind us.
It proved to be a challenging climb, the cycle book said the final 2 kilometres were the toughest but not so! The first 2 kilometres were pretty dam steep and unrelenting, we kept our heads down and rolled over the pedals in high gear going nowhere fast, but with the long goal of riding up it all the way. It was somewhat confusing as the Pass eventually levelled out followed by a couple of kilometres of relatively level riding and we thought we must have gone over the summit. Not quite, all of a sudden we were climbing again but fortunately it was quite short and of moderate steepness… it was music to ones ears to hear Rene just up ahead vigorously pumping his air horn announcing the summit finish line was close. We stopped there for a brief rest and to snap a few photos, and after refuelling our electrolytes we set out on our final 18km run to our accommodation at Makarora.
Riding down the other side of Haast Pass was spectacular and well deserved for our ride up the other side. It was a fast and energy free 4kms of our remaining 18km ride. We were all feeling pretty whacked so appreciated the mainly level ride through the Pass, a stunning valley coursed by the Haast River and surrounded by mountains on both sides. At the summit we had crossed from West Coast into Otago and strangely you could quickly sense the change in the flora and the general landscape… there were certainly less sand flies. By the time we reached our cabin accommodation at Makarora we were buggered and would not have wanted to have gone one yard further. We headed straight to our accommodation for a hot shower and scrub before commencing our much needed R&R to get us in shape for the 75km ride into Wanaka tomorrow where our first day off beckons after 13 straight days of riding.