Riding for Hospice - Day 4
We began the day with a large cooked breakfast at Blue Tea Rooms in Murchison, the owner was delightful and the food perfectly cooked, my sausage extended from one side of the plate to the other (always generous portions in the South Island). After paying the account she graciously handed over a donation to Rene, everywhere we go they are so appreciative of our journey and everyone buys into the need to support for Hospices throughout NZ. She also offered to prepare fresh sandwiches for our lunch, although Tony opted for a good looking steak and mushroom pie.

We set off on the bikes at 9.25am and stopped for our first rest at the 20km mark at 10.40am, so were making good progress. A further 10km down the road we turned right onto a 4 wheel drive track over the Maruia Saddle – 7km ascent, the first kilometre was reasonably steep but rideable and the remaining 6km to the top probably circa 15 degrees of continuous elevation. We met up with Rene and Denise at the top (530 meters elevation) and enjoyed our delicious sandwiches (in Tony's case his pie) with a baked ginger kiss (OK to have a bit of naughty food when you're riding all day every day) and rested for 30-minutes, the bush was both magnificent and serene.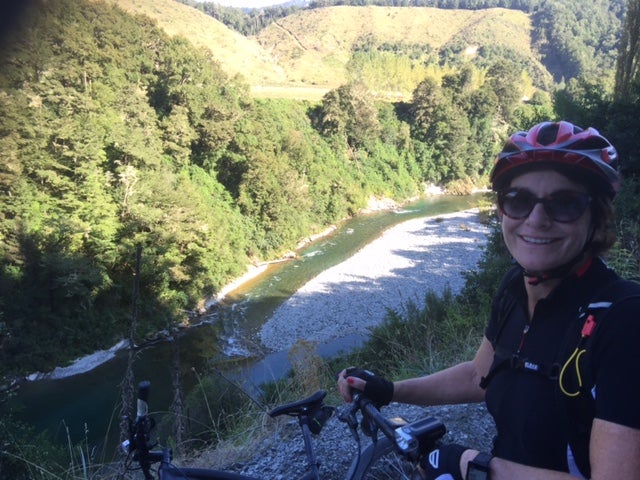 Back on our bike for a rapid 4km descent through the bush before exiting left onto highway 65 and when we stopped for a 5 minute rest 16km down the road we had completed 20km in an hour (great pace for three oldies on mountain bikes). 15 minutes later we turned right over the river onto West Bank road and followed the river for 14km on largely flat gravel surface then re crossed the river and joined up with the highway for a 2km ride into Springs Junction.
Our ride was not quite complete… we turned left towards Lewis Pass for 3km before arriving at our accommodation for the night (Lewis Pass Motel) and quite frankly we were absolutely stuffed, all of us. Although today's ride of 83km was the shortest so far, the accumulation of 4 days riding and the high temperatures were taking their toll. So after a shower and settling in we drove to a local hot springs to elevate our recovery. A 45 minute soak in the hot mineral spas definitely alleviated some of the muscle weariness and pain, hopefully getting us in good shape for our 101km ride tomorrow – 44km to Reefton followed by 57km to Blackball, our accommodation… Blackball Hilton (by name only), most appropriate given it is Virginia's and my 42nd Wedding Anniversary.
Rene and Denise had been shopping earlier in the day and prepared a delicious steak, corn on the cob and fresh salad dinner back at our motel. It was spectacular sitting on our deck enjoying dinner accompanied by Mt Edward Pinot Noir (in Virginia's case a delicious Villa Maria Chardonnay) with a spectacular vista down the valley beneath a stunning setting sun. Great day, huge effort and by now we know we can do this great challenge!