The year was 1969 – Neil Armstrong was taking his first steps on the moon….and Bill Taylor Senior took his first steps, breaking new ground on what was to become his family legacy.
Originally Sydney Hoteliers, their business morphed into Wine Distribution when they partnered with Clare Valley Co-operative to supply their own outlets under the Chateau Clare label. Inspired by the great First Growth Bordeaux houses, the Taylor Family wondered why it was that Australia couldn't produce wines to rival the greats like these?
Like the rest of the New World Wine producing countries, Australia were just cutting their teeth and making pretty average table wine and very sweet fortifieds at the time. But the Taylor Family set about the challenge with gusto, searching for the best land in Australia suitable to give the Bordelais a run for their money.
Despite having deep roots in Sydney, they purchased land in South Australia, Clare Valley to be exact, and right on the banks of the mighty Wakefield River. The year was 1969 – Neil Armstrong was taking his first steps on the moon….and Bill Taylor Senior took his first steps breaking new ground on what was to become his family legacy.
Bill Senior (Big Bill) and his Sons Bill and John, started with plantings of Cabernet Sauvignon and Shiraz, vines gifted from the Wynn Family of Coonawarra, and set about to excavate a dam for water supply. It was then that they discovered the region was formally an old seabed, and recovered fossilized Seahorses in the ancient bedrock from 600 million years before. They adopted this as the family emblem, and have added a seahorse on their label for every generation involved in the business – currently in their third.
The Chateau inspired winery was built in 1973 just in time for the first commercial vintage, and true to their initial inspiration they released a Cabernet Sauvignon and a Hermitage (Shiraz). The Cabernet won the Montgomery Trophy at the Adelaide Wine Show for Best Red Wine of the Show. In fact, the Estate Cabernet took out Gold Medals at every Australian Show that year. They named this run of awards 'The Grand Slam'. Taylors were the first, and it has only been replicated a handful of times since – not bad for your first vintage huh!
Sadly the Australian market was not ready for dry premium red wines of this quality – the average Aussie preferring White and Sweet Wines. And so it broke Bill's heart, that in order to survive they must graft some of his beloved Cabernet vines to White Varietals, that were more commercially saleable at the time.
Doing this awarded them some success, and allowed them room for growth. In the 1980's they were able to purchase more land from an adjacent property which they named 'Promised Land' allowing them capacity to break into the competitive Export Markets of the UK. But it was here that they struck a speed bump with the International trademark held by the Taylor Fladgate family of Portugal. Taylors Ports had been in business significantly longer, so they struck an agreement whereby they would trade as Wakefield Wines in the Northern Hemisphere, and continue as Taylors Wines in the Southern Hemisphere.
Up until this point, Big Bill's sons Bill Jnr and John had been running the company jointly – but it was becoming harder to stick to a single vision within this model. Both men had a view to retirement, and Bill's children were already involved in the business with a keen passion to move the business forward, so Bill bought John's share of the business and the next chapter began.
Growth and acquisition continued into the 90's with adjacent vineyards being purchased, making Taylors Estate the largest continuous vineyard in Australia at the time. It was also around then that the St Andrews block was also purchased. It had been owned by a Scottish Farmer for decades, and sat on the other side of the Wakefield River from the winery. The Taylor Family knew it shared the same beautiful soil as their side of the fence, and had made offers to purchase it a few times before. Sadly their neighbour fell ill and was ready to pass it on to his long time neighbours, who he knew would look after it. It seemed a fitting tribute to name the wine range that comes off this block St Andrews, in his honour. True to form that block makes some of their finest wine.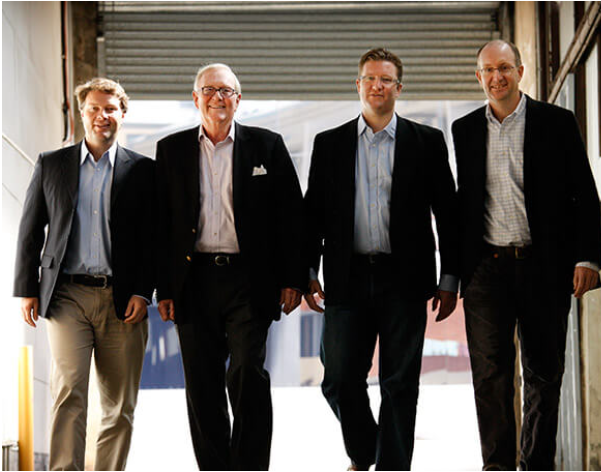 Bill's eldest son Mitchell was appointed Managing Director of the business. He had made his own way in the high flying world of Banking and Stock Broking, but chose to bring his commercial talents back to the family business. Mitchell also showed a great flair for the technical side and would later take time out to complete his Oenology Qualifications. He remains a strong influence within their winemaking Team to this day.The company was set up with a family council at the core, and along with brothers Justin (Sales) and Clinton (Operations) and under the watchful eye of their Father Bill, they all worked together with a single vision in mind. Making quality wines had always been at the core of their business, but now Environmental Responsibility also seemed to be emerging. Being no strangers to innovation already as the first Australian Winery to convert all their wines to screw cap, and very aware of their third generation legacy, they saw that Green would need to be as important as Red or White within their business if they hoped to pass it along to their children.
So a holistic approach was introduced to all facets of their business. Yes the land was at the core of this, with a strong focus on sustainability and biodiversity, but it also extended to reducing waste and pollution, improving energy efficiencies and water conservation, and using more sustainable products for packaging. In 2009 Taylors were accredited with the ISO 14001 Certification for Environmental Management. A lengthy and involved undertaking, which does not necessarily result in any commercial reward – they did it because they believed it was the right thing for their family to do. In 2010 however, it did pay off with a raft of environmental awards received – The Banksia Foundation Leading in Sustainability Award, NAB Agribusiness Environmental and Energy Management Awards, The Drinks Business Magazine Best Green Launch and the Carter Holt Harvey Sustainability Award for Packaging.
In 2019 they celebrated their 50th Anniversary. They marked this auspicious occasion with a rather fitting tribute to the original inspiration their business was borne from – a Cabernet that would rival the greats of Bordeaux and a tribute worthy of the legacy left to them. Bill Taylor Senior's unwavering belief that Australia, and more specifically The Clare, could make a Cabernet that would equal his beloved First Growth Bordeaux Wines. Taylors have an astounding record tally with all their wines, but Cabernet in particular. They have been recognized as one of the World's Top Five Wineries four years running. It may have started with their humble Estate Range, but as the company grew and they launched more tiers to their range….the Cabernet just got better and better! Jaraman, St Andrews, The Visionary, The Pioneer - all just a culmination leading up to the creation of….. The Legacy!
So how do you pay homage to a 50 year winemaking journey?
You create something that reflects experience, patience and a never ending pursuit of perfection. By sneaking away a parcel of exceptional juice from your most awarded vintage ever – 2014. You give it more love than any wine has ever received, including some very special Vicard oak barrels. This renowned French cooperage is a sixth generation business. They supplied fine grained, lightly toasted barrels specifically for this wine. The staves of which were seasoned for 48 months prior to being assembled.There were only 1080 bottles of The Legacy made. The wine is intended to be cellared for up to 20 years. With a price tag of $1000, it is up to five times the price of their previous most expensive release. Hand labelled and numbered, adorned with a rhodium seahorse that will never tarnish and fitted with an anti counterfeiting system which is monitored for opening and linked directly to an app so the winery can see when these wines will live till, and how they will be enjoyed.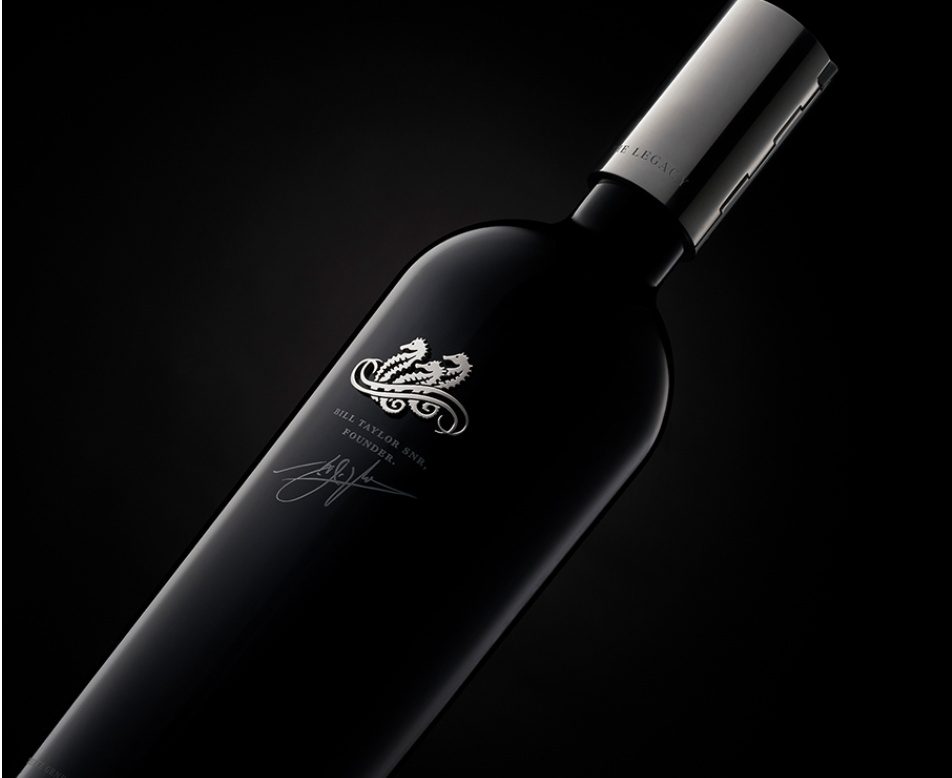 For the release event, Taylors decided to be brave and stick to the original goal Big Bill had. They tasted their Legacy Cabernet alongside a Bordeaux great...1st Growth Chateaux Lafite (valued at $2000 a bottle NZD). They invited Wine Critics and Retailers (including our Jeff) from all around the world to compare these wines side by side. Jeff still talks animatedly about the event a year on. Tasting a wine like Lafite is a moving experience on its own, but when it came down to it, Old World wines display great structure but they take on a lot of secondary fruit characters with age, and its New World opponent still had wonderful structure but with brighter riper fruit characters still at the fore. Many of the critics there agreed, and commented on the longevity they expected to see from this wine… A very brave move and a fitting tribute indeed.
Neil Armstrong landed on the moon in 1969 – a feat we have not been able to repeat as yet. Meanwhile the Taylor Family are still going strong, still following the vision their Grandfather set out for them, still making exceptional wines.
I can't wait to see what's in store for the next fifty years….and how that Legacy Cabernet is tasting then!
Browse our range of Taylors Wines here...