Ata Rangi Tasting Evening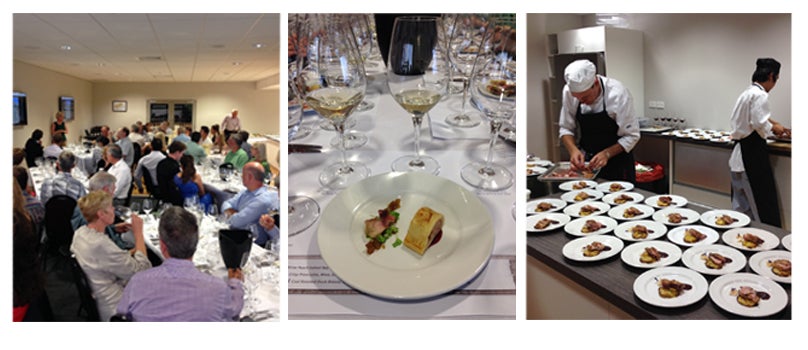 It was our great pleasure to host Ata Rangi winemaker Helen Masters in what was a very rare chance to taste 5 vintages of Ata Rangi Pinot Noir, including the yet-to-be-released 2012. As is customary at Fine Wine Delivery Co, the wines would be paired with the gastronomic musings of Philip Reynolds from The Difference Catering.

Helen is one of the most inclusive and informative presenters one could hope to find – she has a knack of explaining the complex viticultural and winemaking decisions she makes as if they were the most logical things in the world. Guests were very pleased to start the evening with the Ata Rangi Craighall Riesling 2009, a wine they make only around 650 litres of and release when it's finally ready, on this occasion around 4 years from vintage. The dry style took many by surprise but it won its fair share of admirers with its understated style.

The pair of Lismore Pinot Gris 2013 and Craighall Chardonnay 2011 were both lovely, the Craighall clearly in a class apart, as you'd expect from one of NZ's great Chardonnays. It's still too young mind you, and I would urge readers to show restraint for another year or two to experience the best of that wine. Helen was a little nervous at the beginning to see if Philip's 'White Peach baked Apple Pie with Cinnamon Hazelnut Butter, Smoked Fennel Jam Rosehip and Elderflower syrup' would be too sweet for the Chardonnay but Philip judged it beautifully, the result being fruity and savoury but not sweet. It showed off Craighall very nicely.

The main event was of course the 5 Pinot Noirs: 2008-2012. Interestingly enough, opinion was spread across the vintages as to which was the best. 2008 received probably the most votes, perhaps due to its extra age with an almost perfectly even and slight decline of votes through the years 2009 onwards...proving as much as anything that great Pinot Noir, especially Ata Rangi Pinot Noir just gets better and better with age. It doesn't matter so much the vintage – there will be stylistic differences for sure – but that an Ata Rangi with some bottle development will almost always beat one without.

A big thank you to Helen Masters, Ata Rangi and Euro-Vintage – as well as The Difference Catering. The night was a resounding success and we can't wait to do it again soon!