We boarded our coach at 9.00am exiting San Francisco over the iconic Golden Gateway Bridge (such a gorgeous day, the vista back to San Francisco City and the Bay was captivating) on a very comfortable 1 & ½ hour drive to our first visit to Ravenswood Vineyards in Sonoma County in the Napa. Our host Nick Estefan welcomed us as we stepped off the coach, he was delighted to be hosting a group of Kiwi wine lovers as he had spent two weeks in Auckland a couple of years earlier and is a convert to our beautiful country.
Nick walked us through the organically farmed estate vineyards (circa 10-15 acres in total), commenting on the varietal plantings and vineyard practices. At the same time, he regaled us with numerous tales of Ravenswood's founder, Joel Petersen, a larger than life character who had built a 1,000,000 case wine producer from the ground up. 1,000,000 cases and 10-15 acres of estate vines I hear you say? From founding the business on day one in 1976, Joel did not possess the capital commensurate with his lofty vision, so focused on developing strong relationships with the region's best growers to alleviate the burden of capital. He built a very impressive business model, which he on sold to liquor giant Constellation, who post the sale retained Joel's services and such is his influence, he is still at the helm almost 20 years hence. Nick led us from the vineyards to the barrel hall where we sampled 3 wines directly from barrel… 1. Barricia 2015, a red blend, 75% Zinfandel and 25% Petit Syrah – it was surprising how influential the Petit Syrah was in the blend adding lots of spice, pepper and darker fruits to the opulent blend. 2. The estate Zinfandel showing all the typical floral, spice, red/black fruits of the grape with well-considered oak. 3. Teldeschi 2015, a single vineyard Zinfandel with dense colour, deep flavours, juicy mid palate and a finely creamed finish… quite impressive in its mix of power and finesse, great value at US$40/bottle.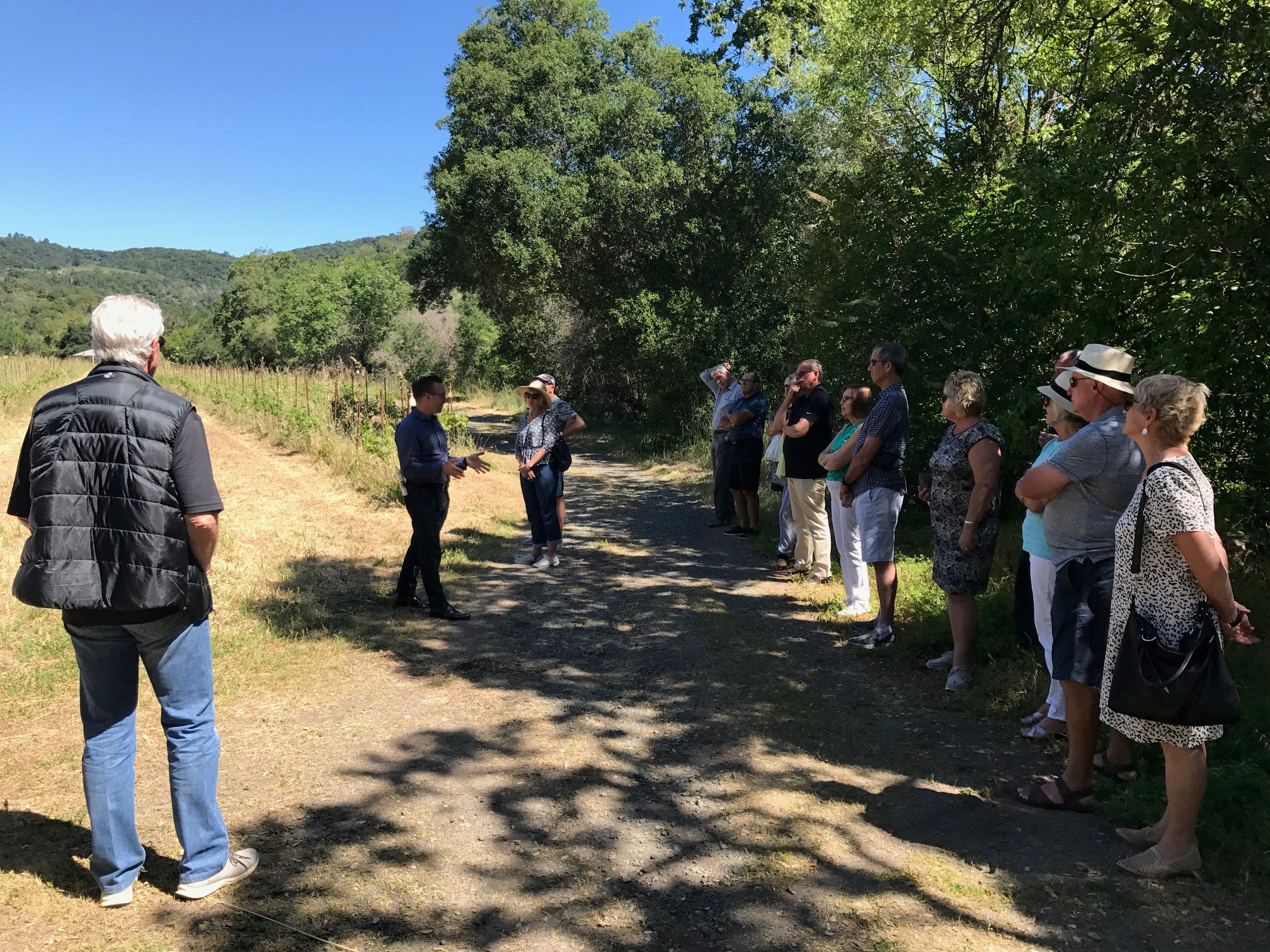 We adjourned to a marquee on the terrace outside the barrel hall for lunch… the food was so fresh, tasty and superbly prepared/cooked (see picture of menu) and accompanied by three lovely wines. 1. A moderately oaked Chardonnay with fresh pineapple/stone fruit flavours, light buttery lees/oak notes and a fresh finish… went perfectly with the entrée. 2. The 2014 Estate Zinfandel, an even fuller and tastier wine that its 2015 brother tasted from barrel. 3. The 2014 Teldeschi single vineyard Zinfandel that was even more impressive than the 2015 also tasted from barrel.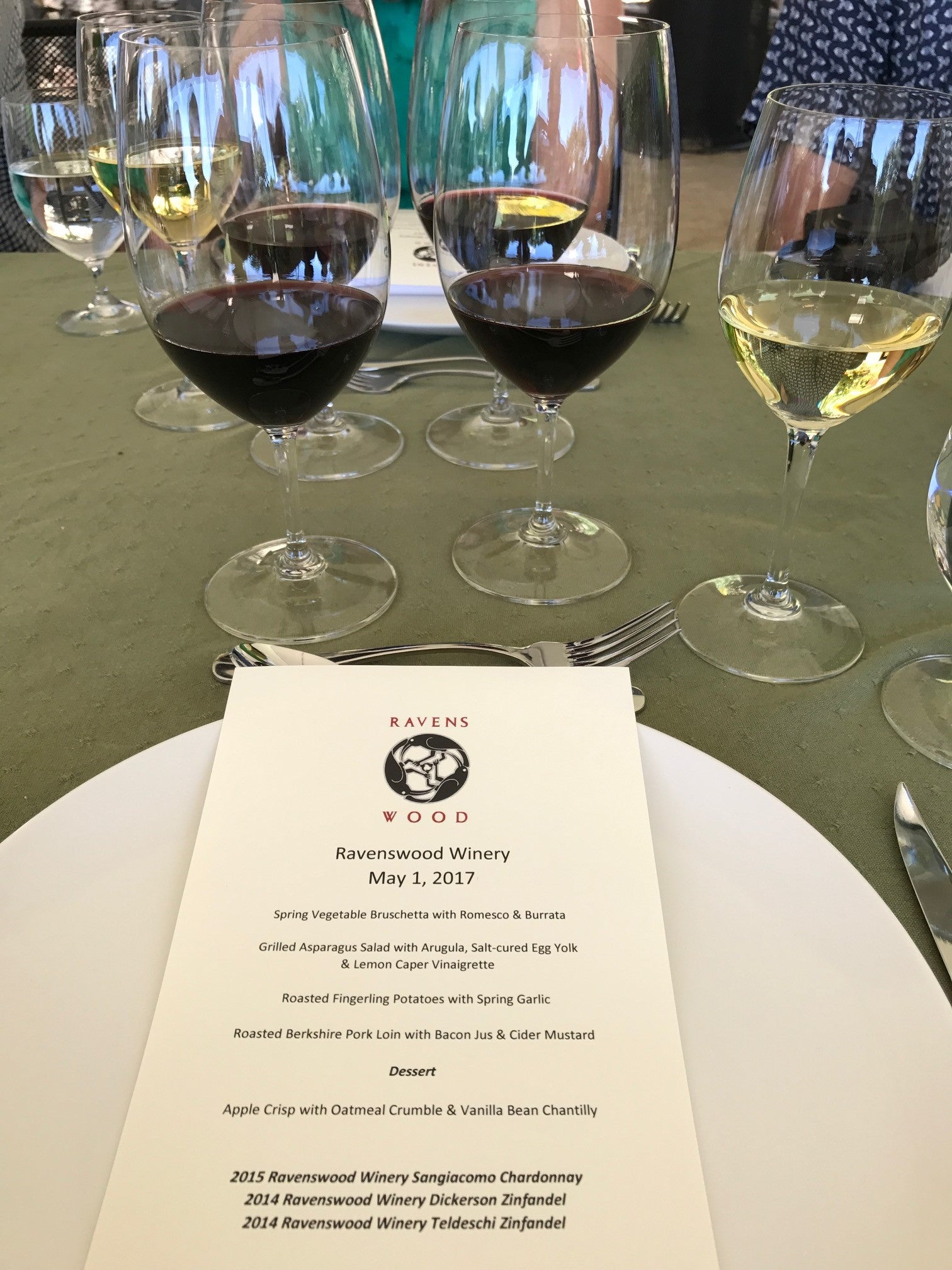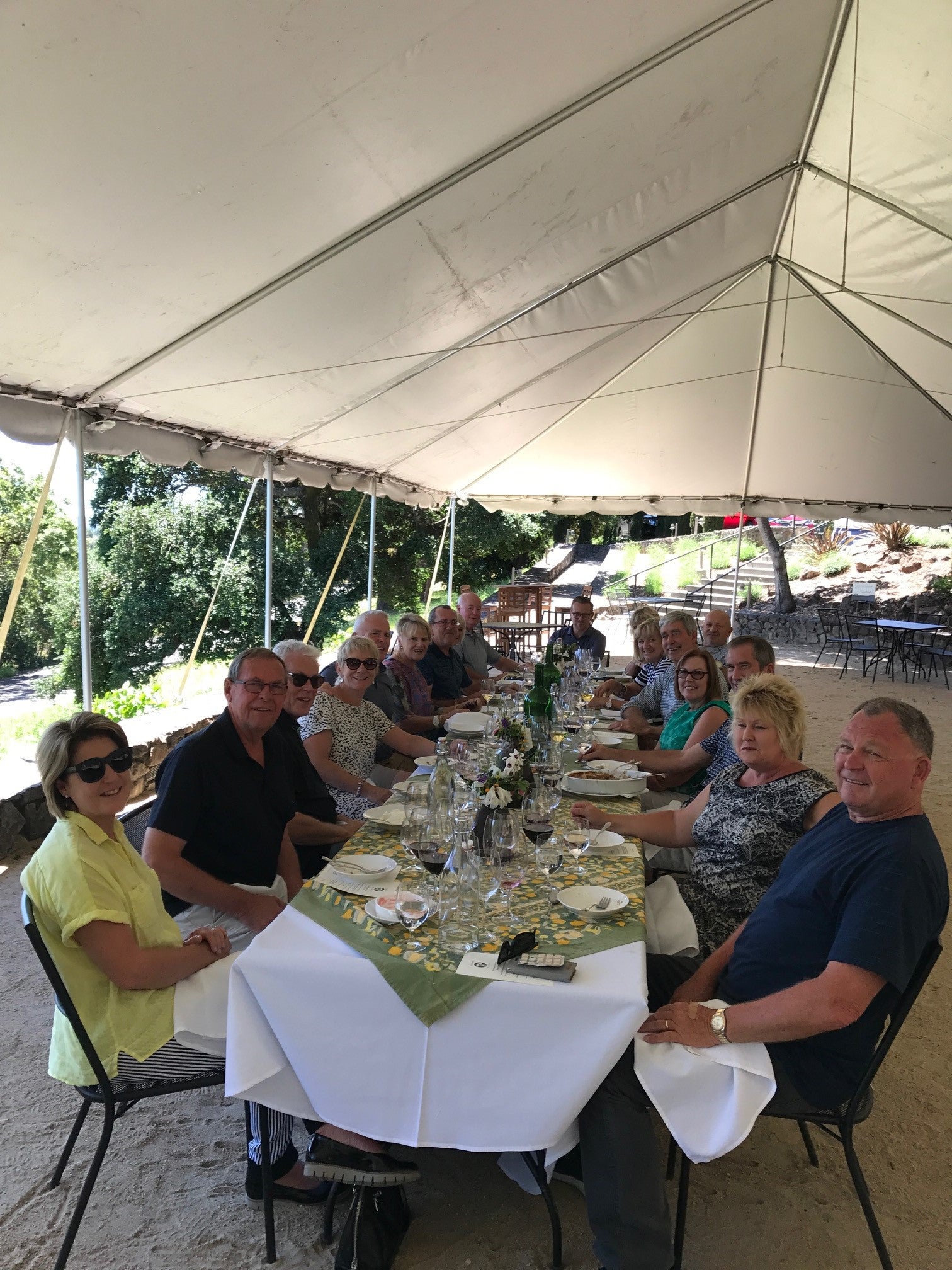 What a magnificent lunch, everything all about freshness, quality and simplicity in a tremendously relaxing environment… great visit, thank you very much to Nick for organizing it, enunciating the wineries philosophy so clearly and being such a convivial host.