Today was the final day of wine visits on tour and we were capping it off in style with appointments at Archery Summit in the morning and Rex Hill in the afternoon.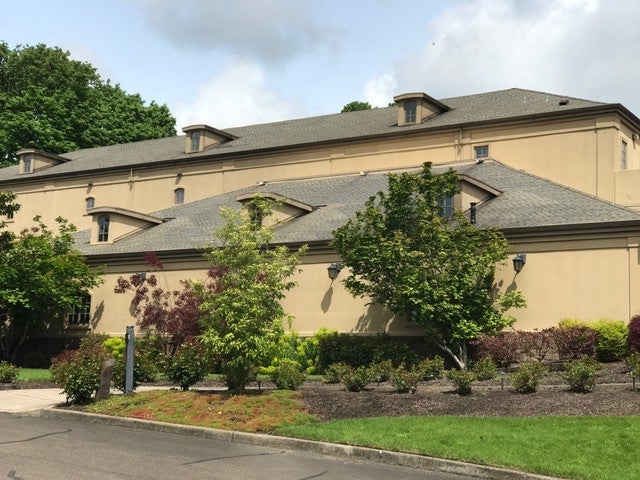 We were met at the doors of Archery Summit at 10.00am by our host Tiffany and after a warm greeting we were ushered straight to the cellars where a glass of their delicious 2013 Arcus Vineyard Dundee Hills Pinot Noir and a couple of platters of tasty charcuterie were ready for us to enjoy. Arcus is a darker fruited wine with rich savoury notes, serious Pinot Noir with early drinking charm.
As we nibbled and savoured our taste of Arcus Vineyard, Tiffany shared a brief history of Archery Summit first planted in 1993 by Gary Andreus, these days it is owned by publicly listed company Crimson Wine Group, who have invested heavily in the vineyards, winery, underground caves (beautifully ambient and capable of maturing 800 barrels of wine) and winemaking plant.
They make 6 individual vineyard Pinot Noirs of which we tasted 4, including the Arcus. Each site has its own unique elevation and clonal selection of vines, which comes through in the diversity of character and structure within each wine. 2015 Archer's Edge vineyard Pinot Noir was perfumed with sweet dark fruit, soft tannin and savoury oak. 2015 Renegade Ridge had rich dark fruits, it was immediately engaging and layered with more fine tannin and fresh acidity, impressive wine. 2015 Red Hills Vineyard had beautifully concentrated fresh fruit with superb tannin/acid balance and savouriness, like all the Pinots… it had a viscosity giving the palate more luxuriousness.
Tiffany had walked us through the winery with a glass of the Arcus Pinot Noir in hand, explaining their plant and processes. We ran into winemaker Chris Mazebank, who later joined us back in the caves during our tasting. He recognised that our group were genuinely appreciative and understanding of wine and he briefly disappeared returning with a wine thief (long glass tube for extracting wine samples from the barrel). Chris treated us to a barrel tasting of two separate components of the 2016 Archer's Edge Pinot Noir. One barrel had sweeter fruit and more savoury notes, the other brighter dark fruit, prominent baking spices, finer structure and elevated viscosity (thicker palate feel/texture, which Chris deliberately achieves during fermentation by stressing the ferment, thereby converting a small portion of the fruit sugar into glycerin as opposed to alcohol), one could easily see that blending the two components would create a more complex and composed Pinot Noir.
Chris hung out with the group in the caves for a while and we chatted with him about FWD Co. and our Californian/Oregon wine tour in more detail. He again disappeared for a few minutes, this time returning from the cellars with a magnum of Archery Summit Red Hills Estate Pinot Noir from the excellent 2008 vintage. Chris generously gifted it to the group to enjoy and I replied that we would open it on Tuesday night at our end of tour dinner.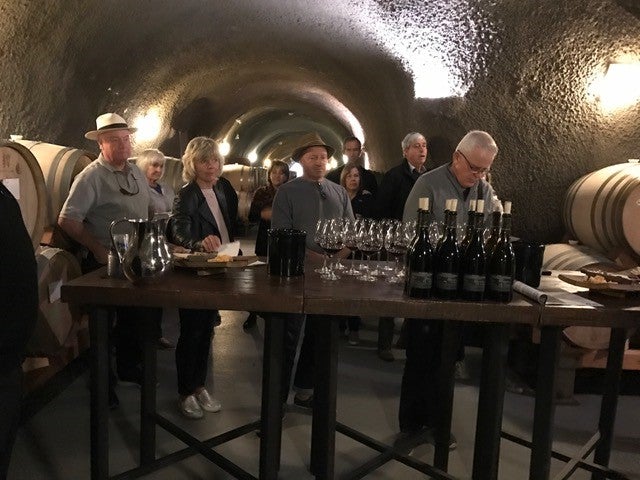 Archery Summit wines are a sellout every year, no surprise given their quality and early charm (not at the expense of cellar potential), much in the vein of Central Otago Pinot Noir. They sell circa 50% of each vintage in bulk to other producers (good wines, just not good enough to wear the Archery Summit label) and produce 12-14,000 cases, of which 1/3rd is sold to wine trade and 2/3rds to their wine club members (a business model employed by the majority of premium Oregon wine producers).
After formally thanking Tiffany and Chris for making our visit so warm, interesting and special, we bade them farewell and boarded our coach for a short drive to the Red Hills Market, where we were to pick up pizzas and salads to take with us to enjoy at Rex Hill winery pre-commencing our tour there.