Day 5 - Stags Leap Cellars
The legendary Stags Leap Cellars were at the top of our to do list, so when our coach swung into their driveway it seemed almost surreal. We arrived 30-minutes late due to a breakdown with our coach (support coach from local company assisted), but our hosts Amanda and Caitlin were unreservedly welcoming. Virginia and I have been to many parts of the globe, but never before America… since we arrived in San Francisco on April 26 then came down to the Napa 4-days ago we have experienced impeccable service and politeness everywhere we have gone, even bumping into someone accidentally in the street always meet with a customary apology.
We were greeted with a glass of a dry white wine and walked over to the edge of the patio overlooking the famous Fay Vineyard, originally established by founder Nathan Fay in 1961, at which time he planted 60 acres of Cabernet Sauvignon (then 1/10th of Napa's Cabernet plantings). In 1964 Warren Winarski came to the Napa keen to be involved in winegrowing, he first went to work and make wines at Robert Mondavi.
He befriended Nathan Fay and in 1969 bought 44-acres of orchard next door to the Fay Vineyard and planted it almost entirely in Cabernet with a little amount of Merlot. Warrens first vintage was 1972 and his 1973 (2nd vintage) went on to claim the Top Cabernet in the famous "Judgement of Paris" (history making blind wine tasting of leading Californian and French Chardonnay and Cabernet wines orchestrated by noted English wine critic Stephen Spurrier) beating a selection of famous Bordeaux Cabernets… including Mouton Rothschild, Haut Brion, Leoville Les Cas and Montrose, along with other top Californian Cabernets. As we moved into the cellar door to hear more about the famous "Judgement of Paris" we were presented with a glass of Fay Vineyard Cabernet Sauvignon from the superb 2014 vintage ($145US - quite Chateau Latour like in its classic Bordeaux Cabernet tastes and fine, firm tannin structure) to enjoy on the next part of our tour.
In 1986 Warren purchased the Fay vineyards from Nathan Fay. After sharing that wonderful history Caitlin took us on a tour of the estate buildings and as we wended our way down the path towards the underground caves we passed a wall of fame called the "Hands of Time", which was covered with handprints of all the people who have influenced Stags Leap Cellars success over the preceding 47-years. I felt a real sense of pride when I saw the handprint of Danny Schuster (legendary Kiwi viticultural consultant and friend who has advised numerous elite world wine owners over several decades) on that wall. I knew Danny had consulted in viticultural matters over the years, but his inclusion on the "Hands of Time" wall marks the importance of Danny's contribution. As we left the wall and headed to the underground cellars we were presented with a glass of SLV 2014 Cabernet ($145US - Stags Leap Vineyard), which was classically Cabernet in character, but with greater opulence (although Cabernet, its opulence made it almost like comparing Right Bank Merlot led Bordeaux to the Left Bank Cabernet led wines) it was richer and softer with soothing tannin.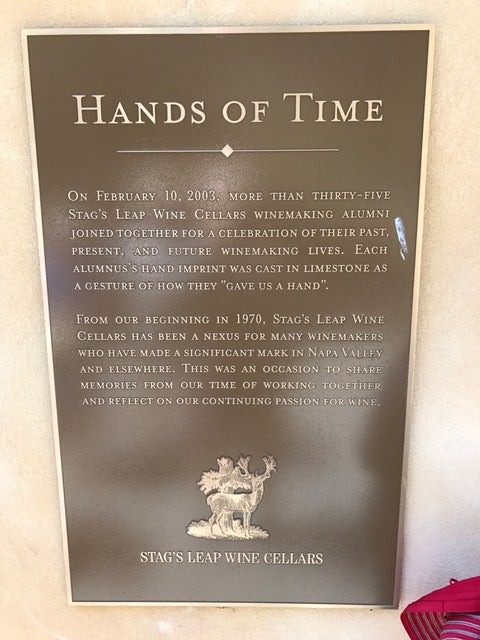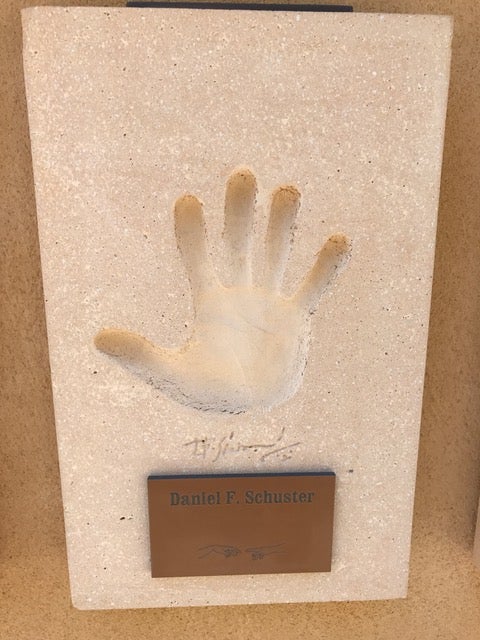 As we entered the 34,500 square feet of caves Caitlin shared with us the story of its 4-year construction (originally timetabled for one year – until they hit basalt rock and had to abandon the drilling machines and resort to using dynamite… 100-tonnes and 4-years later), once inside it was a quite magnificent to traverse several tunnels stretching out like the tentacles of an octopus from a central body. The central oval ceiling was deigned to mirror the universe and the coned upward lights around the walls appear like comets. One of only 50 Foucault pendulums in the world, which is centrally suspended from the ceiling, marks the passing of time and the aging of wine.
We then moved through to an area in which a long dining table had been set up to accommodate our group for a special luncheon, it was impressive and welcoming with the delicious array of meats, cold salads and vegetables already tabled for our enjoyment. We were poured two wines… the Arcadia Chardonnay ($60US - floral, citrus, white peach in a finely creamed palate with classic wet stone and saline mineral notes of white Burgundy) which everyone thoroughly enjoyed. The second wine was the flagship red of Stags Leap… "Cask 23", the best barrels of the Fay and SLV vineyards blended together to create a Cabernet combining the finer, firmer tannins and classical Cabernet characters of the Fay Vineyard with the more opulent, grainy textured palate of the SLV. It was a marriage of two wonderful entities creating an exceptional, meditational Cabernet, which absolutely delivered on its $275US/bottle price tag!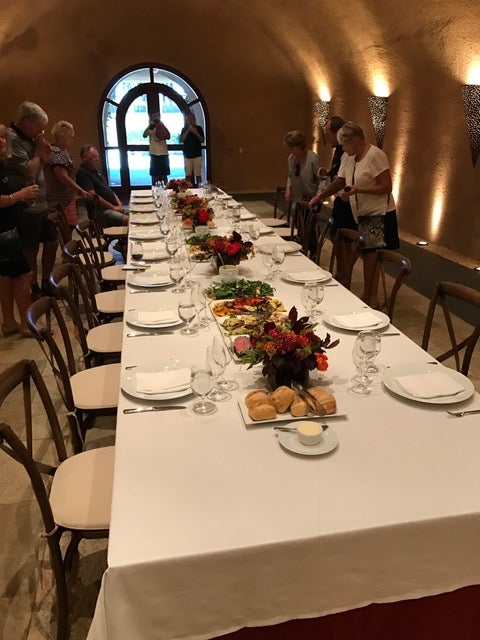 A short time later half of our group boarded the coach back to Napa River Inn (thoroughly recommend the accommodation, service and location), the remainder (including Virginia and I) headed to a golf course 15-minutes away to enjoy a round. It was not of the standard of the Chardonnay course we played a few days earlier, nevertheless it was a nice distraction and the company was great. After a very full day, us golfers headed out to a local burger joint for a bite, nice burgers (change from our more exotic dining) and surprisingly a handful of nice wines on their list… most unexpected!