Today we arrived at the spectacular property of "Opus One" the combined vision and partnership of late wine icons… Baron Phillipe de Rothschild and Robert Mondavi. A coming together of the owners of two of the world's finest wine properties, Chateau Mouton Rothschild of Bordeaux in France and Mondavi wines of the Napa Valley in California… and inspired event emanating from the collective and absolutely like visions of two inspirational men.
Our hostess was Nancy, and although all the group hospitality hosts at Opus One are extremely professional and well trained, Nancy offered so much more given her 20-years working at Mondavi (she and her husband were regular social companions of the Mondavi's, so knew them well) and 4-years at Opus One. Nancy's knowledge of the history of Opus One, from the very first approach by Baron De Phillipe Rothschild to Robert Mondavi in 1970, subsequent agreement in 1978 and commencement of the joint venture in 1979, were valuable insights.
Such were the compatible visions and ideas shared by both men, the final confirmation meeting between them lasted just 1-hour and took place in the bedroom of the hotel that Baron de Phillipe Rothschild was staying at in the Napa at the time. The Baron made the first approach to Mondavi, he had a desire to form a partnership in the Napa, where he believed they made some of the world's greatest Cabernets. This was in the embryonic days of the Napa wine industry when there were just 40 wineries and only 600-acres of Cabernet planted in the valley, highlighting what a true visionary the Baron was.
As Nancy shared the compelling history with our group in a stylish, reception lounge (more like a drawing room), we took it all in with glass of Overture Cabernet to slowly savour (fascinating in that it is a blend of declassified Opus One across several vintages – effectively a non-vintage specific wine), which is only released on very rare occasions. It tasted of maturity (old leather and spice) given the age of some of its blend components… smooth tannin, texturally elegant and very complex. Most wine drinkers anywhere in the world would struggle to get their minds around paying $115US for a non-vintage red, but once tasted, you were captivated by its maturity and complexity.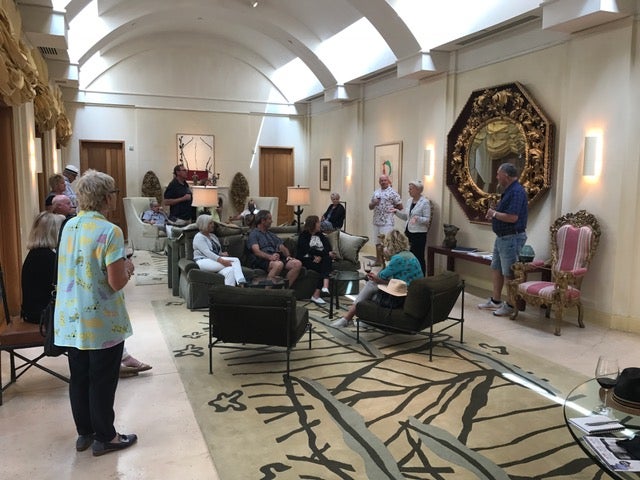 Nancy then ushered us out to the vineyard in front of the winery reception and explained the viticultural philosophies/practices of Opus One (3 sites totaling 170 acres planted to a density of 6,500 vines per hectare like Bordeaux 1st Growths, multi clones, 70% Cabernet Sauvignon – the rest a mix of Merlot, Cabernet Franc and Petit Verdot). We then adjourned to the winery - impeccably clean, upper grape reception floor with a manual sorting table, state of the art destemmer creating precision separation of stems from fruit. This was followed by a second optical sorting table that eliminates dehydrated and shot berries that might have escaped the initial sorting process, which are then dropped into stainless steel trolley tanks and wheeled over the tank lids and gravitationally released into stainless steel tanks below. Here fermentation and maceration takes place under the watchful eye of long time winemaker Michael Silacci and his talented team.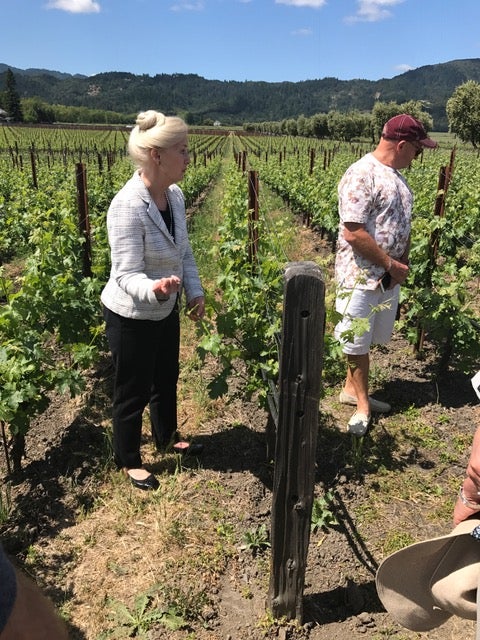 Nancy ushered us into the barrel cellars (typical of 1st Growth Bordeaux wineries they had a 1st and 2nd year cellar hall) shaped in a circle, as the entire complex is circular. Baron Phillipe and Robert Mondavi apparently worked with five separate architects before deciding on the final design, encapsulating the old European and modern American cultures beautifully. We were presented with a glass of 2010 Opus One to take into the barrel hall (more challenging vintage, beautifully handled and made wine, expressing the characteristics of a cooler vintage, whilst preserving fine smooth tannin structure, balanced acidity and graceful texture of a topline Cabernet). Nancy continued espousing the history of Opus One as we mused among the barrels and we took the opportunity for another group photo in this special place.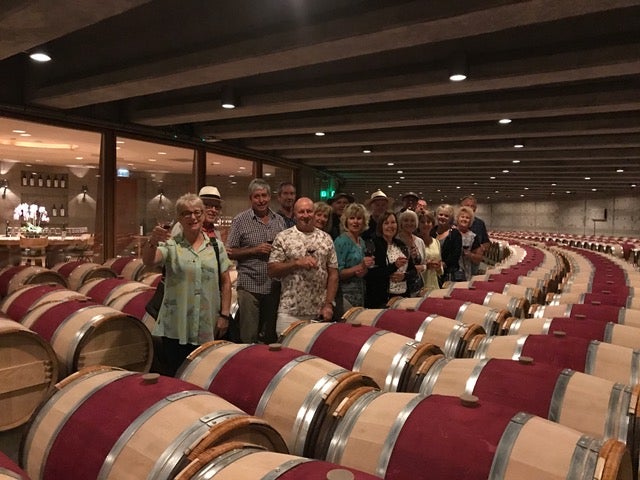 We exited the cellars back into the observatory room where Nancy thanked our group for being so attentive and interesting (they would deal with many groups who visit because it is an iconic place to say you have been to, but would have little appreciation and regard for the special history and the greatness of Opus One wine) and I responded on behalf of the group. We all had enjoyed Nancy's passion, grasp of Opus One's history and professional understanding of the viticulture and viniculture that makes this place so special. Nancy's final act was to present us with a second glass of Opus One (2013, very ripe vintage, fuller, rounder, richer, smoother with great concentration, but not so characterful and structured as the 2010) and with the remainder of the 2010 also in hand, we ascended the stairs to the upper balcony that offers a 360-degree view of the vineyard to slowly savour both wines, whilst appreciating the presence of this great place. Just one visit today, so special and crammed with history… there is no room to absorb any more, just enjoy the moment!