Day Five: Latour, Margaux, Lunch at Le Lion d'Or and Les Vins de Crus
We had to be up early for our 9.30 appointment at Chateau Latour, since they are renowned for being particularly unreceptive to tardiness. While Latour now wait 10+ years to sell their legendary Grand Vin, they certainly wouldn't be waiting for 3 itinerant wine merchants from Nouvelle Zealande.

This meant saying goodbye to La Mission Haut Brion earlier than we wanted, and we all felt the same strange sensation like we were leaving our home. Perhaps it was the warmth of the hospitality or the amazing history within its walls, but we all feel a genuine connection to this historic Chateau. At $1000+ a bottle for the top wines, it could prove an expensive indulgence over the next 2-3 decades.
If I was worried that the weather in the Medoc might pack in earlier in the week, I needn't have been. Pauillac turned on a day for the ages, with barely a cloud in the sky as we passed through security at Chateau Latour. After walking through a courtyard with a lawn that looked like it had been cut by Vidal Sassoon, we were sat on the most incredibly luxurious sofas and invited to watch an introductory video to Chateau Latour. While there were parts of the video that were useful, it was also a touch melodramatic, perhaps more aimed at the Bordeaux neophyte rather than longtime members of the wine trade. It was of course hard to complain, when you stopped to think how many millions of people would do unspeakable things just to be sitting where I was right then.
At the conclusion of the video we were welcomed by our host Wanlin Zhao, an impressive lady of Chinese descent who Jeff and Virginia had met before on one of their previous visits (I know...seriously. Who is 'a regular' at Chateau Latour?) We spent a good deal of time just soaking in the beautiful weather in the vines by the iconic tower (which was actually originally a dovecote - definitely a trivia question for all fellow wine lovers out there). A quick look at the winemaking facility (relatively unremarkable) and we ventured into the immaculate depths of the beast. The barrel halls (pictured) need no further explanation other than a collective gasp, but the real treat was walking down into the cavernous cellars where they now age their wines ready for release. With an annual production of approximately 120,000 bottles of the Grand Vin each year and around a 10-year lead time until they release Latour now (since they exited the en primeur system), their million bottle capacity is perfectly adequate.
I really must pause for a moment. 1,000,000 bottles of Chateau Latour. 40 feet below the ground. Oh, and a collection of large format bottles for every vintage from the entire 20th century. Was that a tear on my cheek? It was too dark to tell.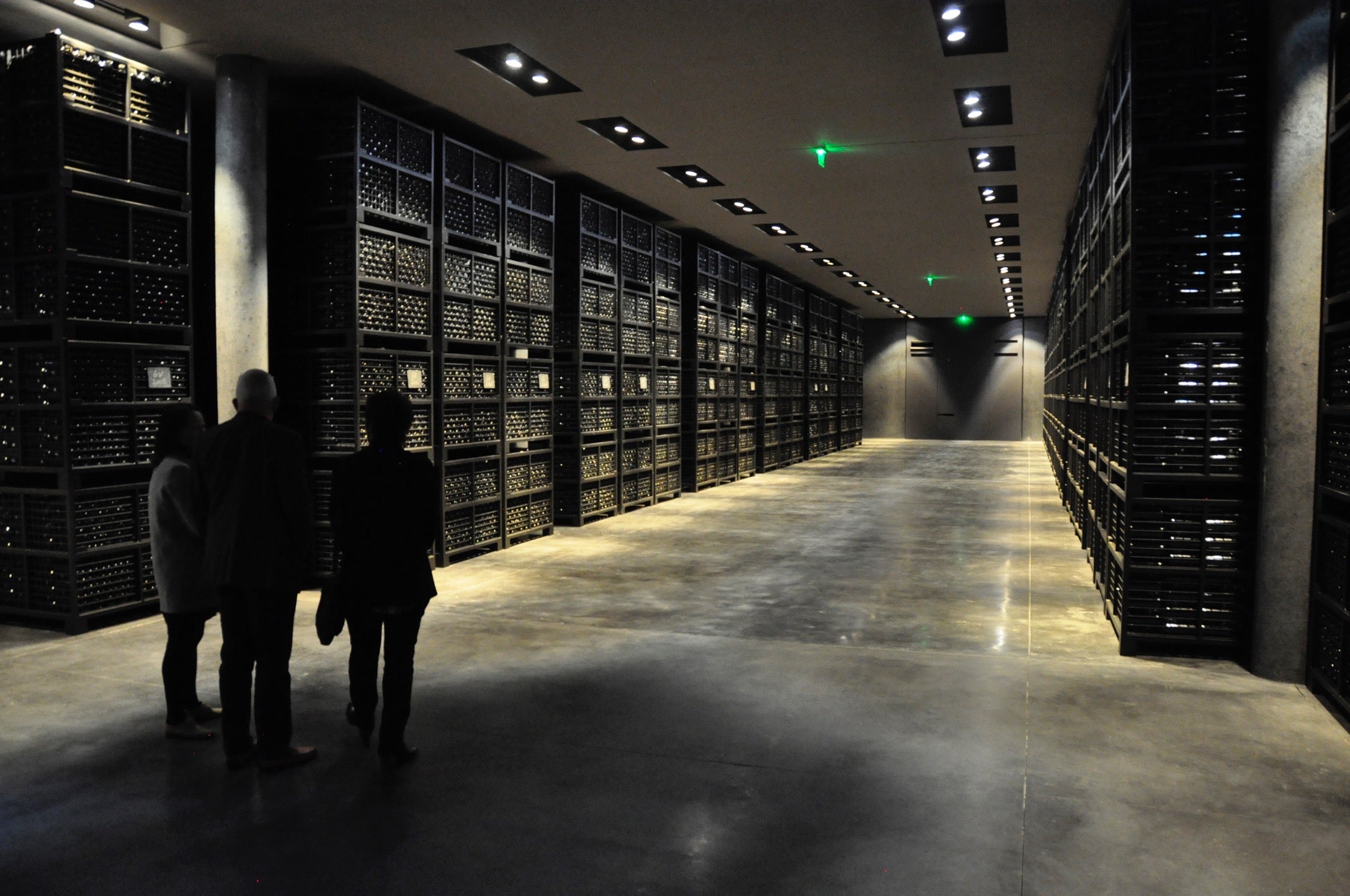 A glass elevator whisked us back up into the light, for the final act in a frenetic hour - a tasting of the Grand Vin. The estate's third wine came first, labelled simply Pauillac 2011 with an image of the iconic tower, followed by Les Forts de Latour 2008 and finally Latour 2004. I have enjoyed the majority of the 2011 vintages I tried and this Pauillac was true to form, showing lovely freshness and character, the Les Forts de Latour was also a masterpiece, beautifully restrained and flavoursome with excellent tannin and richness. When it came to the Grand Vin though, the spittoons went unused. The difference is simply unmistakable, improved by its perfect provenance. I have not tasted a First Growth of such sheer pleasure and harmony. I made the comment that I could not describe the tannins using traditional vocabulary. I then reconsidered and decided they might need to find another name for themselves. Much like the Cheval Blanc the day before, I have found a new reference point for my palate. And to think this is not even considered a great year.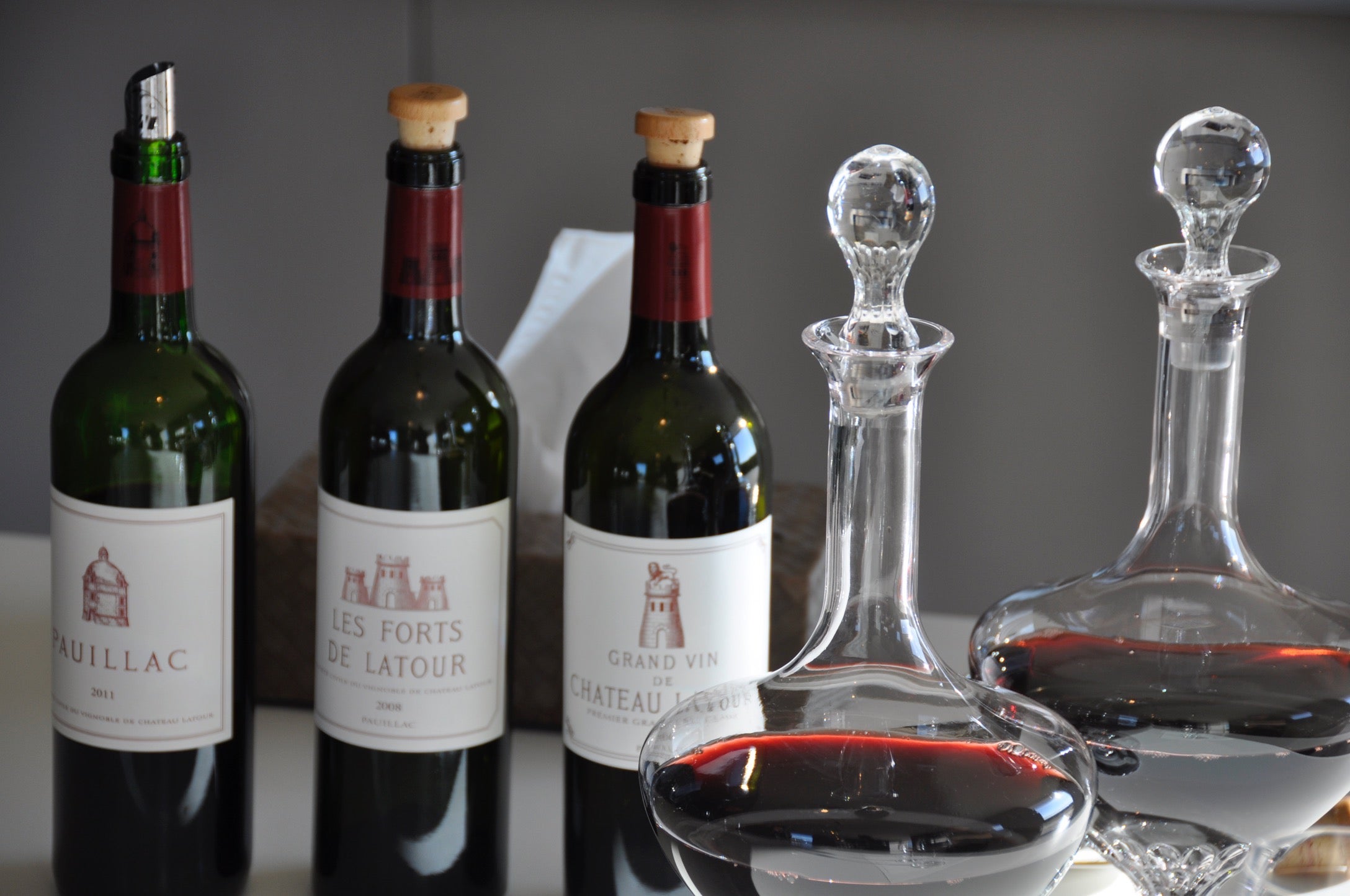 By this time we were running late, so we beat a hasty retreat out to our waiting driver Bruno. We were all quite giddy at what we'd just tasted and it was hardly lessened as we looked at Bruno's GPS which said Chateau Margaux. We seemed to sort of sneak in the side entrance of the property, only seeing the famous tree-lined avenue once on the tour.
Just freshly renovated, Margaux is a stunning property with arguably the most iconic Chateau building in Bordeaux. Neo-classical in style it was built in the early 1800s and if you needed a reminder that times have not always been so high for the 1er Cru Classe, the current owners, the Mentzelopoulos family apparently paid only 10 million Euros for the property in 1977. Even allowing for inflation, that is an absurd bargain by today's standards.
Chateau Margaux are exploring their terroir, quite literally, excavating a massive underground cellar with a very James Bond-like entrance down some spiral stairs on the edge of the vineyard. The barrel hall is suitably impressive as is the first year cellar, both taking architectural cues from the Chateau itself. The underground tasting room looks down into their library cellar where we were treated to a tasting of 2009 Pavillon Rouge du Chateau Margaux (the second wine) and Margaux 2004. I joked that the First Growths must ring each other in the morning to ask what vintage they are serving guests today, but it was certainly very useful to be able to compare two legendary properties from the same vintage. 2004 seems to have developed much better in the bottle than most had thought and its reputation for being an excellent drinking vintage appears justified.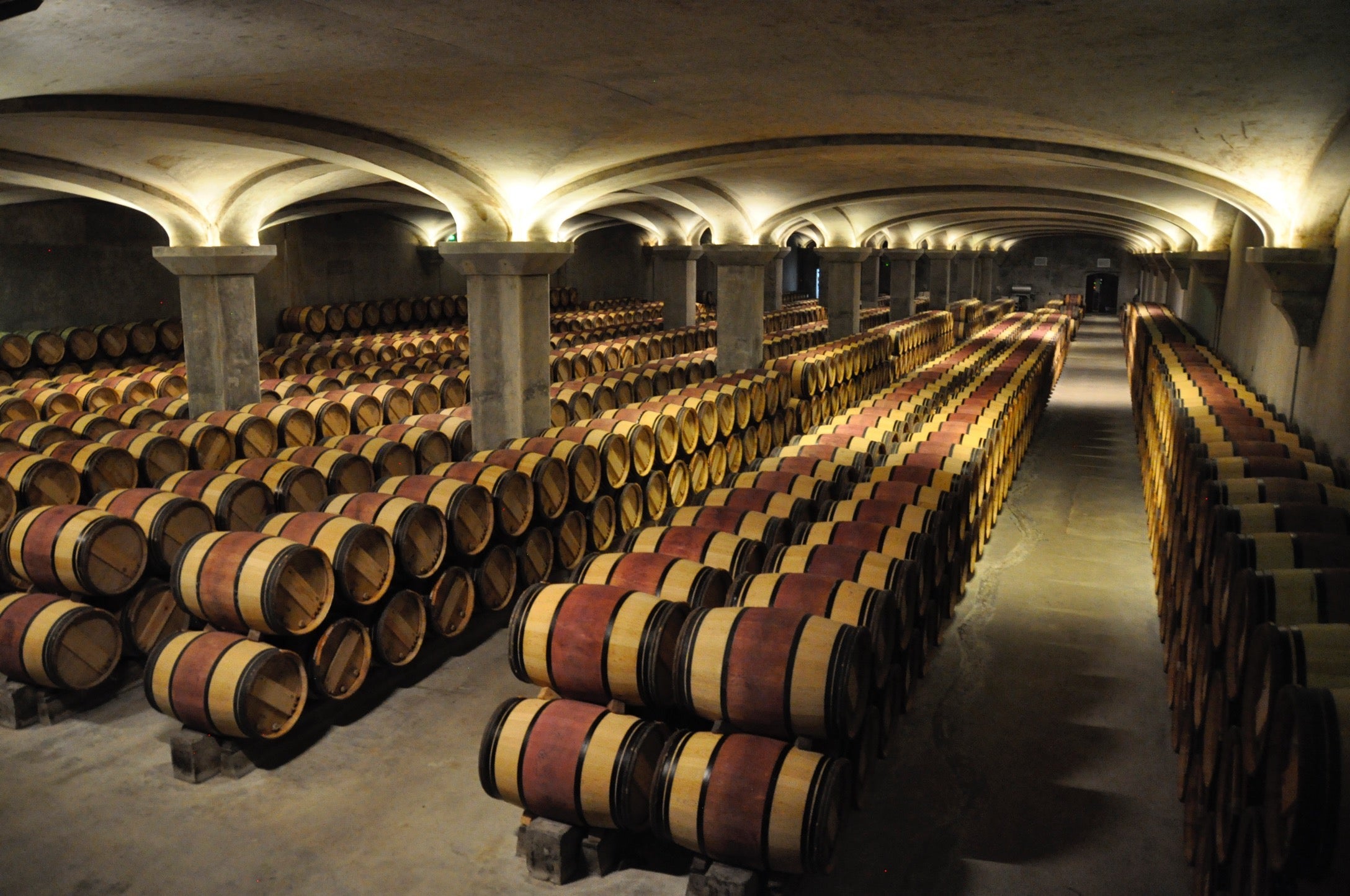 2009 Pavillon was very ripe and powerful, the tannins quite assertive still, while Margaux 2004 was extremely complex and nearing its drinking window, but perhaps still a little clumsy in the interaction between its ample sweet fruit and tannin. In the battle of the titans, Latour gets the nod with room to spare in 2004 in our opinions, its gravelly charms, purity and sheer completeness are unlike anything I had personally tasted before.

Nothing like visiting two first growths to work up an appetite and so we drove just north on the D2 Route des Chateaux to Le Lion d'Or in Arcins, a restaurant you could easily miss but would be well advised not to. Originally recommended by our friend Jacques Lurton several years ago, it has recently changed hands from its old proprietor but the food has not suffered a bit. Carte du Anglais? Non. I was feeling incredibly French by this stage so leapt straight for l'Escargot and Le Pigeon, the snails plump and juicy in a creamy beurre blanc and the pigeon beautifully gamey and rich. Jeff reported the best terrine he'd ever eaten and Virginia's foie gras was equally sublime. A charming wine that we had sold in the past Petit Bocq 2010 from Saint Estephe was well priced on the menu, so we followed our first glass of Champagne Theophile Roederer with a bottle of that. It certainly justified its reputation as one of the great bargain-priced Bordeaux, drinking seamlessly now at 6 years old.
I managed a dessert of a crusty apple pie in a caramel sauce (heaven) and after another bottle of wine, we found the completely full restaurant had emptied out by 2.45 and we were the only ones left. We were soon headed back to Bruges to visit our friend and colleague Theodore Mostermans and Carine Chapon at Les Vin de Crus. With around 30 million euros worth of stock in their new temperature controlled warehouse, there were all the big names there, but we were specifically there to find some well-priced bargains among the exclusivities as negociants. We covered a lot of ground with some beautiful gems in there as well as some very hard and challenging wines... We hope to bring the best of them to you in early 2017.
We met up back at the Hotel Burdigala with Ian and Sophie and then got a booking a the Brasserie La Bordelaise (since Ian and Sophie hadn't been there yet and Jeff still hasn't been there 100 times yet). The food was very reliable as always and we supplemented our bottle of Fleur de Flonblegard 2009 with a Le Clos des Carmes 2012 from Chateau Les Carmes Haut Brion (a vineyard near Haut Brion that set a new record for prime Bordeaux land of 3.8 million euros per hectare when it was sold in 2010). I treated myself to Lampreys la Bordelaise, a local specialty that kept my streak of weird eating alive for the day. Lampreys are kind of like eels but the dish was a success, reminscent of a big mushroomy soup. Definitely an acquired taste but the one at Brasserie la Bordelaise comes recommended.