Day Six: De Pressac, Lard et Bouchon, Figeac and 1981 Leoville Las Cases
Bordeaux was preparing yet another blue sky day for us when our driver Bruno picked us up for our 11am appointment. Jeff was a little slow getting down to reception with the All Blacks' world record attempt still in the balance against Australia. Fortunately for the fulfilment of our 11am appointment, Julian Savea crossed to take the result beyond doubt.
Chateau de Pressac comes highly recommended to us as a property on the rise, and that was glaringly obvious during this memorable visit. The 1955 Saint Emilion Classification, unlike the 1855 one of the Medoc, is a moving target and properties can go up and down based on form (classe is not permanent then....) Rather misleadingly for customers, if you see Saint Emilion Grand Cru on a label it means very little, basically just the equivalent of Bordeaux Superieur. It is certainly no guarantee of quality, and simply means the wines must have a little more alcohol. However, if the wines are rated Saint Emilion Grand Cru Classe (like de Pressac now is ever since 2012), then it means their last 10 vintages have been evaluated by an expert panel for quality and typicity. Above this, are the wines of the Premier Grand Cru Classe (with a split made between Tier A and Tier B - Tier A having just 4 wines currently: Ausone, Cheval Blanc, Pavie and most recently Angelus).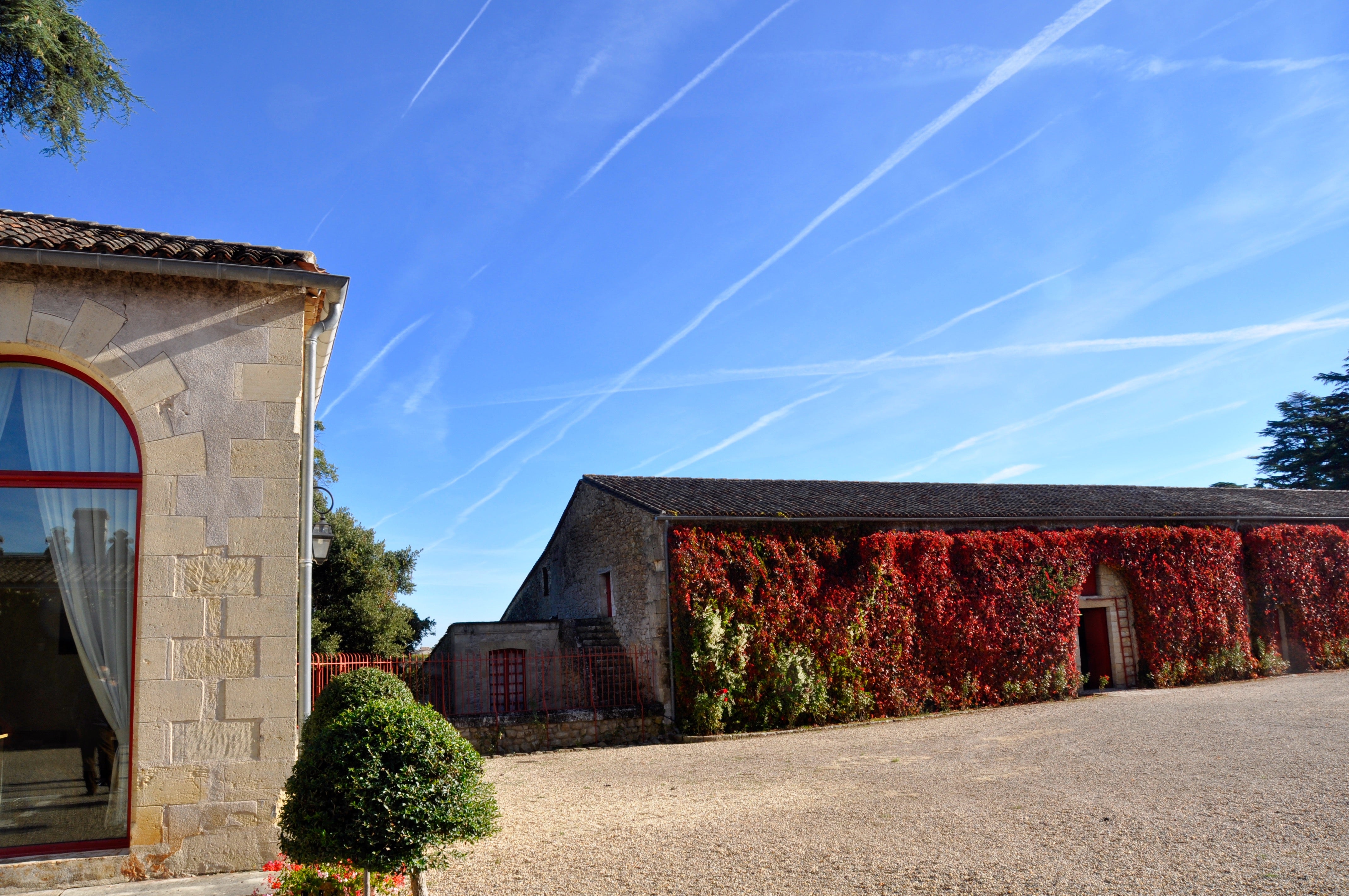 The top wines of this classification are no surprise to anyone, and we have offered most of these legendary labels in recent years. But the prices have become a little silly so we prefer to service our New Zealand market by finding wines on the rise that our customers can benefit from. On a day such as this, and with the spectacular Disney Castle beauty of Chateau de Pressac, such commitment to our customers is nothing short of a pleasure.
We were greeted by Jean-Francois Quenin, who is one of the true gentlemen of the industry. A businessman turned passionate winemaker with a cheeky twinkle in his eye, he bought the chateau in 1997 when it was in a seriously dilapidated state, much like the vineyards. He poured what must have been substantial amounts of money into the enterprise and little by little he has achieved recognition, and now has serious momentum (especially with the 2015 we tasted from barrel... Stunning). As a reward for his dedication, in 2012 Pressac was upgraded to Grand Cru Classe, and he tells us cheerily that he has finally turned a profit in 2015. Tasting a selection of his wines (2007, 2009, 2013 and 2014) his success is richly deserved, and we can't wait to offer customers the wines of Chateau de Pressac in the new year. If you'd previously thought good Bordeaux was out of your price range, you might want to think again!
Going through his winery a few things are apparent. The first is his avoidance of stainless steel tanks in favour of concrete fermentation vats, much like Cheval Blanc and Pontet Canet (though his are more traditionally shaped). The next is Jean-Francois's state of the art sorting machines (which use sugar in the water to identify berries by their density and potential alcohol, the level of which can be controlled by the winemaker). He tells us with a wry smile that he bought this machine in 2013 to replace his optical sorter. After seeing the first grapes come in on the Friday, he bought the machine on Saturday... Such was the variable quality of the grapes! 2013 vintage - as anyone in the region will tell you - was easily the hardest of the 11-14 sequence. He declassified so much of his crop that he ended up with only 8 hectolitres per hectare ('bugger all' in less technical parlance). As a result of this strict selection, his wine was the best 2013 we tasted during our entire stay. Slightly lighter than his best years, but still a wine of harmony and balance... A triumph of ancient and modern techniques working together.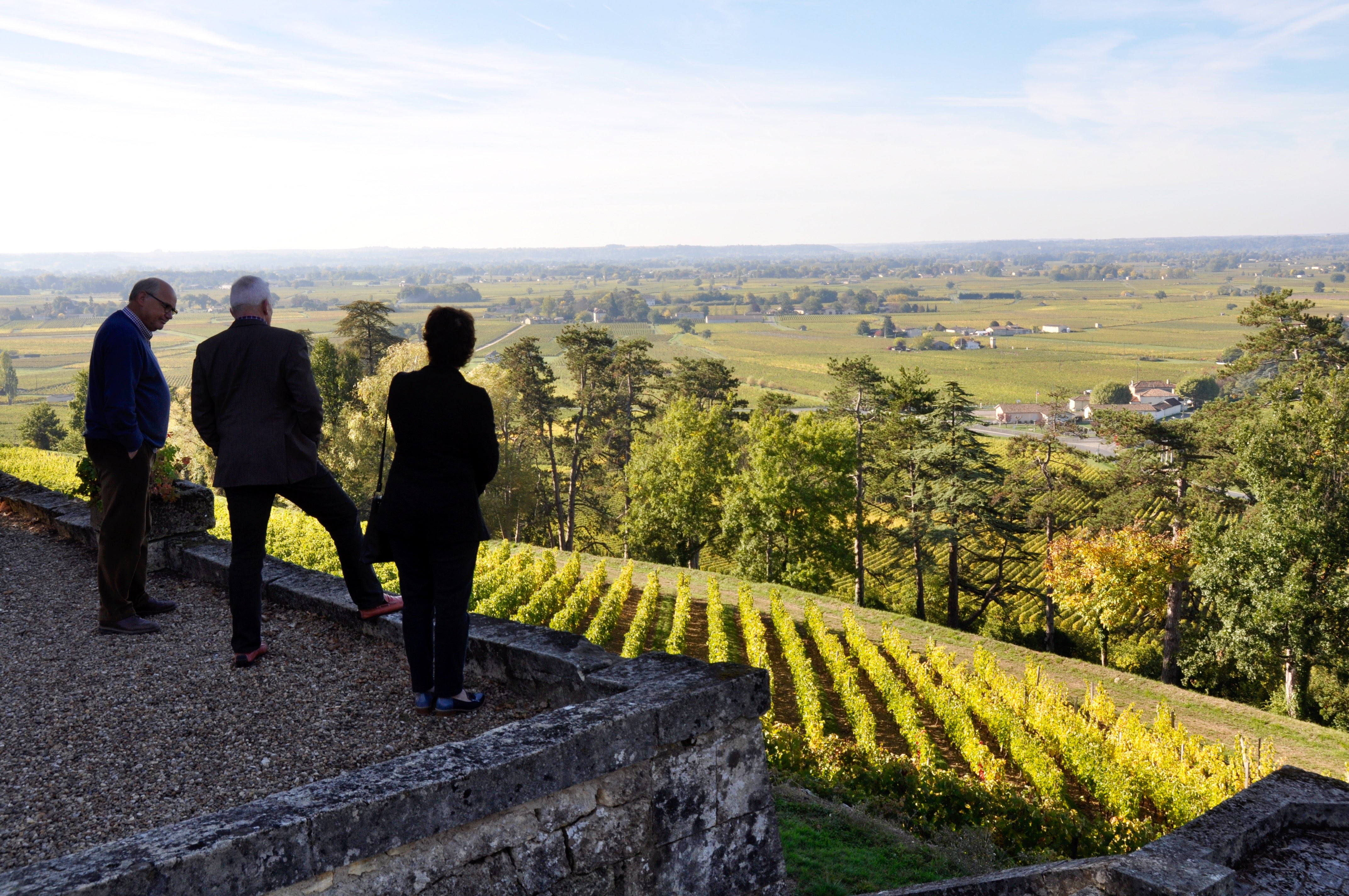 The final things of note were in his oak regime. Jean-Francois has a barrel business elsewhere and since he sells his wines en primeur (ie as unfinished wines in the spring following the harvest) he tells us that the earlier he gets the wines into oak barrels, the better they taste when it's time for the critics and negociants to deliver their all-important verdicts. As such he has a bunch of 2016 wines undergoing fermentation in barrel (pictured under the plastic). He goes on to say that this is not ideal, since they develop better in the long term if he follows the conventional path through tank and only into barrel once they are finished primary fermentation. But it's a concession to the highly influential en primeur system, and it appears to be working since he sold out his entire production of 2015.
Like many Bordelaise, he is very happy with the quality of his harvest in 2016. He has a predominance of Merlot with Cabernet Franc and small amounts of Carmenere and Malbec (aka Pressac, after the original owner of the Chateau who brought the first Malbec to Bordeaux from his home in Cahors). After tasting those 4 vintages and seeing what's going on behind the scenes, I have no hesitation recommending de Pressac as a serious Right Bank value for those wanting to add some Bordeaux to their cellar (though the wines don't need extended cellaring to give a lot of pleasure).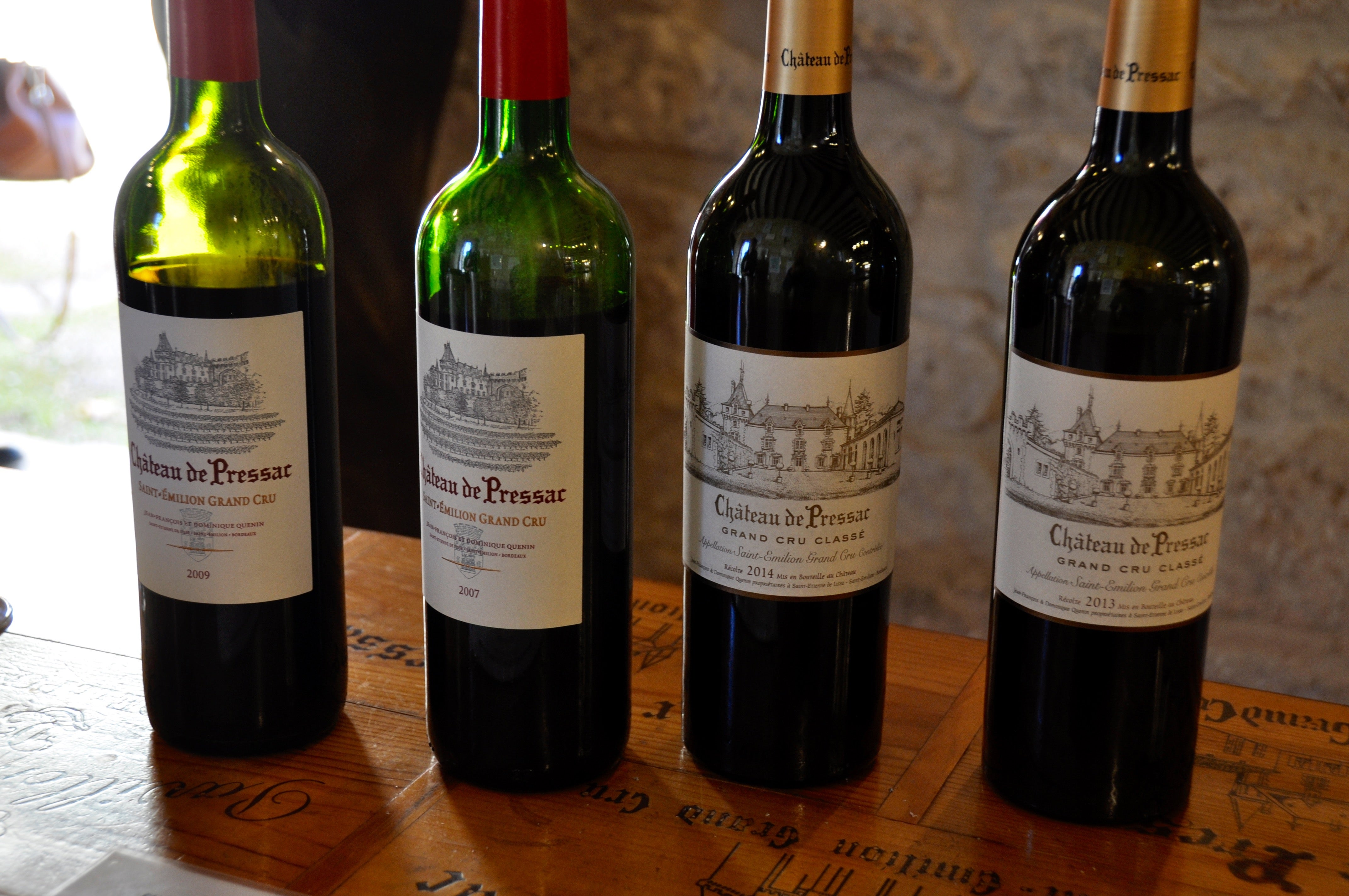 We would have been sad to leave this gorgeous hilltop fortification if it hadn't been for the fact we were having lunch in Saint Emilion, one of the world's most historic and picturesque towns. Our first choice for lunch was unavailable but Bruno recommended a lovely little cave called Lard et Bouchon. A great choice, we had Theophile Roederer Champagne for the second time in as many days and remain impressed, as we were with the food and wine selections (discovered a little gem called Clos de Prince... Will be looking into that with our negociants). A great little restaurant with friendly staff (with better English than our French), we would recommend this next time you're in St Emilion.
At 2.30pm, we rolled into Chateau Figeac, where we were greeted by Frederic Faye, winemaker and managing director at this Premier Grand Cru Classe property. An incredibly ancient estate, dating back to the second century AD, it takes its name from Figeacus, the first Roman owner. At its peak in the late 18th century, the vineyards covered some 200 hectares (enormous by Saint Emilion standards) but subsequent owners sold off parts, accounting for the many neighbouring vineyards with Figeac in the name (Yon-Figeac, La Tour Figeac etc). These days the vineyards are unique for their high percentages of Cabernet Sauvignon, the stony terroir helping the ripening of this variety. Indeed the normal blend of Figeac is roughly 1/3 each of Merlot, Cabernet Franc and Cabernet Sauvignon.
Frederic Faye is what you might call an over-achiever. After he showed us through their cellars (submerged cap during fermentation and extensive gas tests inside barrels to measure the effects of topping up on the wine were a couple of the notable things about Figeac) we started talking about birth year wines and I confessed I hadn't had one from mine - 1981. He cheerfully told me that he was a 1981 baby too... I have to admit it would have ruined my day if he hadn't poured me a glass of 2010 Figeac as consolation.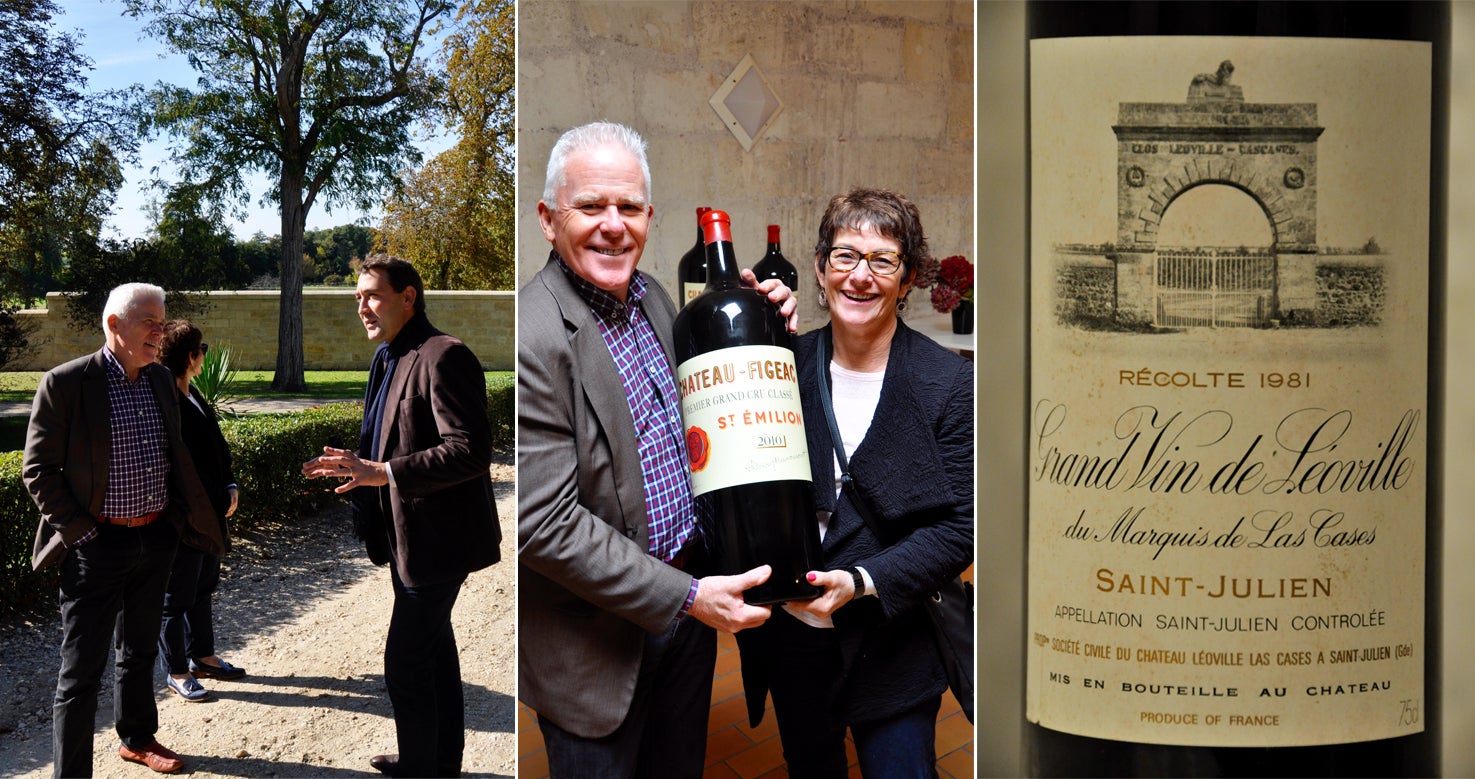 As I mulled over how a 35-year-old could rise to such an exalted position in the world of wine without any nepotism at all (he is not part of the Manoncourt family who own Figeac) - I was able to ponder the majesty of the 2009, 2010 and 2011 vintages. 2010 was certainly the pick (Frederic thinks it will greatly overshadow the excellent 2009) but all wines showed a consistency of style and density of flavour that makes your heart melt. Bravo Frederic, we look forward to your NZ visit next year... There will be many nice bottles waiting for you when you arrive!
Our final stop of the day was at La Dominique and proved to be a bridge too far for Jeff's dodgy belly (he had picked up something that morning that made getting too far away from a bathroom facility a dangerous exercise). We were greatly saddened to have to cut our visit short before it began, since this estate had come very highly recommended also by Les Vin de Crus. Sadly it was not to be, and hopefully they can send us a sample bottle in our next order. We paid a quick visit to Saint Emilion on the way home so I could rectify my birth year failings by picking up a bottle of 1981 Leoville las Cases, a second growth from Saint Julien (after meeting Frederic I was feeling in the mood for self-improvement). We adjourned back to Burdigala to spend our final night in with a couple of bottles of Billecart Salmon Brut, a delicious meal in the hotel restaurant and a bottle of wine where the grapes could (semi) feasibly have been harvested on the very day I was born: September 10, 1981.
The thrill of the occasion was far better than the wine in the bottle, if you're wondering.