For sale... one of the most collectible Cabernets of the World!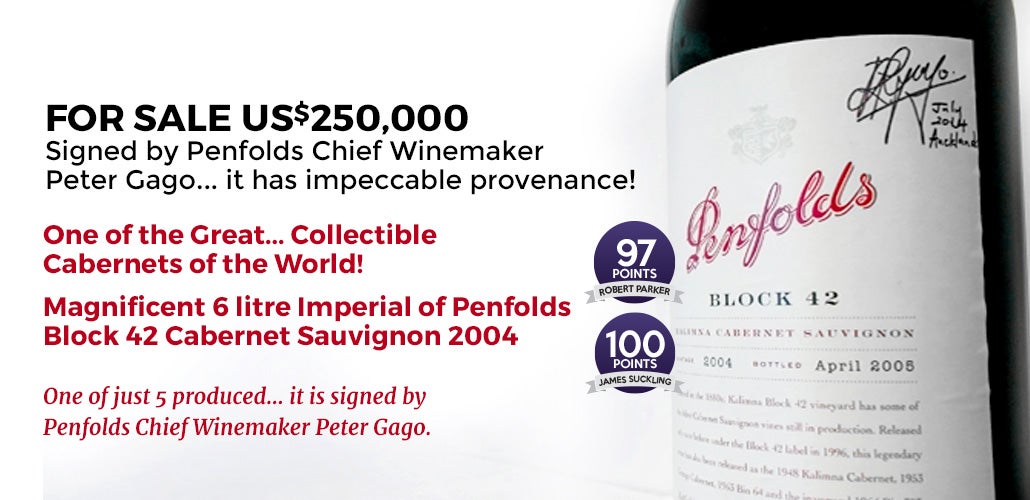 one of the most collectible Cabernets of the World!
In recent years... 12 handcrafted 750ml glass ampoules of Penfolds Block 42 Cabernet 2004 - were sold for US$168,000 per ampoule.
The 'ampoules' have no cork, screwcap, or seal. The wine is contained in a glass prism set in a wooden cabinet and is opened by breaking the end off with a specially designed, tungsten-tipped, sterling silver scribe-snap. Penfolds contracted to send a senior winemaker to the buyer's place to open the ampoule when they're ready to enjoy it,
At US$168,000… Penfolds Block 42 Cabernet is the most expensive 750ml red wine ever sold directly ex winery. The most expensive wine ever, appears to be a 6 litre bottle of Screaming Eagle Cabernet Sauvignon 1992 bought for US$500,000.
This 6 litre Imperial of Penfolds Block 42 - 2004 vintage, was purchased by FWD Co. owner Jeff Poole in 2007, on the personal advice of Penfolds Chief Winemaker Peter Gago. Peter described it as the finest Cabernet Penfolds had ever made… commenting on its stunning complexity and balanced 13% alcohol. It was made from fruit off 100+ year old Cabernet vines still on their original rootstock.
The Imperials provenance is second to none… Jeff purchased the wine on release then flew to Sydney and accompanied the wine back to Auckland, where it was immediately placed in Fine Wine Delivery Co.'s professional temperature/humidity-controlled cellars… remaining there ever since.
Penfolds have previously indicated interest in buying the Imperial back… however, given the global interest in 2004 Block 42 Cabernet, Jeff has decided to list it for sale ex FWD Co. private cellars at US$250,000… and will personally ensure the IMPERIALS safe delivery to the eventual buyer anywhere in the world.
Inquiries to jeff@finewinedelivery.co.nz or Shop now