So how much difference does a mixer make to the overall experience of your drink?


Such a great question, and the short answer is a huge difference & there's a few things to consider as part of this overall topic.
Firstly, the Base Spirit. The range of spirits has exploded in the last few years & we can no longer define the range of flavours within a category as simply as we once did. Gin for example used to be limited to quite a defined London Dry style and therefore matching it with a generic tonic was fine. Now we have Gins distilled not only from grain spirit, but also from grapes or even potatoes! These distillates provide new texture as well as flavour, which can be highlighted or squashed with an inferior mixer.
We also have a broader range of botanicals that provide overall flavour & aroma as well as gins being aged in old wine barrels, which introduces a whole new range of secondary influences. With so much variety, why would you stick to just one type of mixer? Why shouldn't there be a range of mixer flavours that suit different Gins? Gin styles range from floral, herbaceous, sweet or citrusy, and you need a tonic that will pair well with that particular style. And don't forget that many of these gins work well with flavoured tonics, soda water or even ginger beer. The fun of mixing a drink is now the experimentation of flavours!
The other thing to consider with mixers is the sugar content, artificial flavourings & preservatives. Both these elements mask flavour, change the texture of your drink & of course aren't so good for you! We stock two different ranges of mixers that have up to 46% less sugar than your usual commercial options, and do not use any artificial preservatives or flavourings.
And the last point is about proportions really. Considering what you have already read above, you have to remember that the base spirit of this mixed drink is only a quarter of the finished product, and your mixer takes the lion's share with ¾ of the volume. If you have spent a premium on a top quality gin then why not go that extra mile & use a better mixer, and even a different garnish for the ultimate experience?
A lot of these products can also be sipped neat if you really wanted to experience the real flavour, however in these hot summer months you're also looking to be refreshed, and that's where a quality mixer can really add to a drink.
Here's a slice of our Gin offerings paired with our favourite mixer & garnish, but pop in and visit us at our Constellation Drive SuperStore, or view our full range online.
- Malfy Con Limone Gin $64.99 mixed with Fever Tree Mediterranean Tonic $8.99 per 4 pk, and garnished with a slice of lemon & a sprig of Rosemary.
- Sipsmith London Dry Gin $84.99 mixed with East Imperial Yuzu Tonic $9.99 per 4pk, & garnished with a Basil leaf and a wedge of lime.
- G'Vine Nouaison Gin $79.99 mixed with Fever Tree Ginger Beer $8.99 per 4 pk. Serve with loads of ice and a sprig of mint.
- Boodles British London Dry Gin $60.99 mixed with East Imperial Grapefuit Tonic $ 9.99 per 4 pk. Garnish with a Pink Grapefruit slice.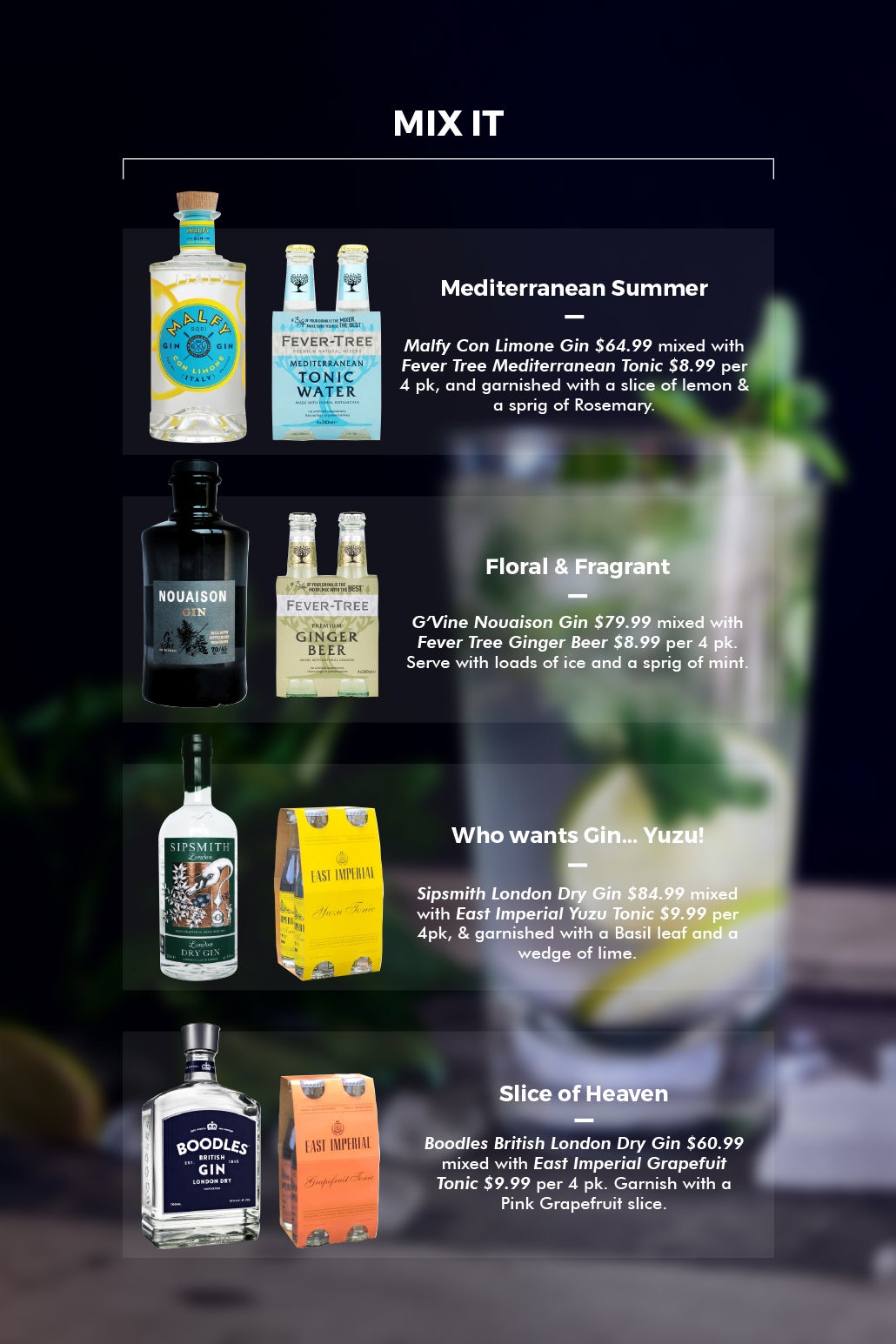 Cheers!
Michael