Spanish Wine Tour - Day 10, Saturday 6 June
Saturday June 6
A short 30-minute ride had us arriving at the gates of our only weekend appointment, a visit to the Lanciego property of modern day winemaking genius "Telmo Rodrigues". The company's philosophy is to use solely native Spanish varieties. From the earliest days of the business they sought out and recovered abandoned or forgotten vineyards. Wines like Dehesa Gago, Basa, Gaba do Xil, Viña 105, Gago, Gazur, Almuvedre, LZ and MR emerged from this work. These are wines that reflect the best terroirs for these varieties and they work in concert with leading grape growers. As a result Compañía de Vinos Telmo Rodriguez have gained huge traction in main international markets.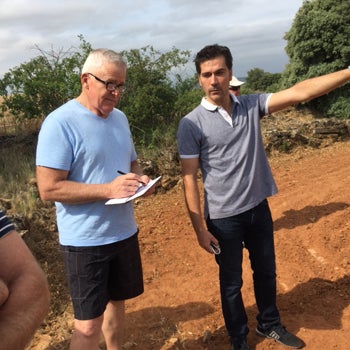 On arriving at Lanciego we were greeted by winemaker Juan Saenz who immediately walked us into the vineyards surrounding the winery to explain the diversity of terroir within their property. The original clos vineyards (specific sites enclosed by stone walls, each with their own soils and mix of varieties) set up by the regions forefathers had been partially abandoned. Since 2007 under the guidance of Telmo, the vineyards have been revitalised with the clos boundaries re-established and the vines re-invigorated or replanted traditionally.
Most of the vineyards contain a mix of predominantly Tempranillo with a sprinkling of Garnacha, Graciano and the white grape Viura. Each clos is harvested separately and made into a field blend encompassing all of the clos grape varieties in keeping with tradition. Juan is fiercely passionate about his terroir, which is managed with organic and select bio-dynamic farming principles (his grandfather worked the vines and passed onto Juan many stories of how the vineyards were farmed in a traditional and natural way). You will find all sorts of flora growing around the boundaries of each clos and on the roof top of the underground cellar buildings. The soils change from one clos to the next from red sandy soils over rock to white soil equivalents.
Now armed with an understanding of the soils and how they influence the various wines they produce, Juan led us into the winery, of which both side of the building are faced with a curtain of barrel staves requiring 600 used barrels to complete. The grapes are delivered in small containers and after hand sorting are then processed directly into the 27-tanks that lay underneath the winey floor and whose wide openings are level with the upper processing floor. We descended one floor into the winery where the concrete fermenting and aging tanks (circa 8,000 to 10,000 litres capacity) are contained in an underground environment so remain naturally cool. Juan prefers concrete tanks as they breathe and do not conduct heat or static electricity like stainless steel.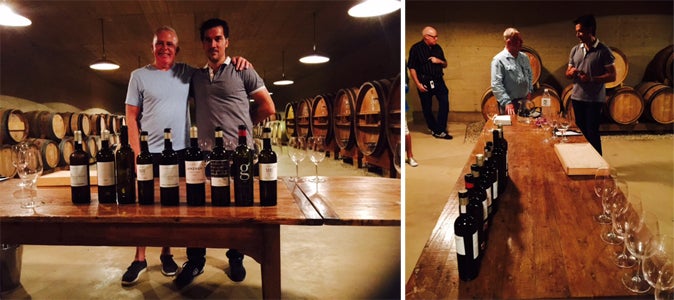 From there we went to the underground cellars to begin a wine tasting. The wines as follows…
LZ 2014 – a field blend tasted from the tank it is 100% tank fermented and aged to create a red with exuberant fruit expression. Plenty of flavour, smooth texture and juicy acidity it will be perfect as a food wine and has superb freshness on the finish.
Sierras de Malaga Mountain Blanco 2012 - 100% Moscatel de Alejandría harvested from old bush vines. Fermented and aged in tank only it has typical flavours of dried muscatels, lychee, apple and sweet herbs with a freshly dry finish, great lunchtime wine retaining good acidity to go with richer salads.
Gazur 2014 – tasted from barrel it is 100% bush vine Tempranillo from Ribera Del Duero tank fermented and aged in a mix of tank and barrel. Red fruits, dried herbs, roasted red peppers, fine powdery tannins and precise acidity… it will be a fine red when it comes to market.
Next we tasted three separate components of the wine Lanzaga from the 2013 vintage that had been maturing in barrel for 21-months and were soon to be blended and bottled.
The Curvilles vineyard component from the red soils showed dark cherry, spices, herbs and savoury elements with firm acid/tannin structure, it was to form the backbone of the final blend.
The Piezanaya component had a warm mid-palate fruit expression with rounded cherry and berry fruits and overall was smoother.
The Castellejo component was very concentrated and full-bodied with strong berry fruits and firm grainy tannin, it would form the main body of the wines flavour.
Juan could sense our group were seriously interested in wine so he was keen to show us a trio of bottled wines to finish the tasting proper…
'G' Gago 2012 – a red from the Toro region (100% Tempranillo and 100% bush vines) it is tank fermented before spending 14 Months in a mix of foudres of 1500 litres and barrels of 225 litres. Excellent volume of flavour dominated by dark cherry fruits and a precise tannin/acid backbone, finishes with a juicy black forest Gateaux like experience.
M2 de Matallana 2010 – a complex blend of 100% bush vine Tempranillo from several sites in Ribera Del Duero aged for 15-18 months in a mix of 3,000 litre oak wooden casks and 100% new French barriques. A plump, rich red with great depth of cherry and plum fruit embraced by finely gripping tannin. A definitive herb and spice complexity permeates the juicy, concentrated finish. A bold and complex red that needs decanting and pairing with a strongly flavoured meat dish or dry cheeses.
The final wine, a sweet treat that Juan wanted to have us finish on…
MR Old Mountain Wine 2010 – this was a sweet late harvest expression of 100% Moscatel de Alejandría from old bush vines that is handpicked then dried on concrete paths in small crates for several days (a bit like the famous Italian Amarone, only nowhere near as long in the drying process). This dries the grapes so there is almost no liquid inside and further concentrates the sugars so the grapes have to be pressed fairly firmly to extract the remaining pulp. It expresses the dried muscatels, lychee, apple and sweet herbs of the Moscatel grape, However apropos late harvesting and drying of the grapes before pressing/fermentation it also has dried fruit and honeyed characters with a fresh limey element to the acidity. Delicious sweet wine ideally suited to cheeses, foie gras and pates.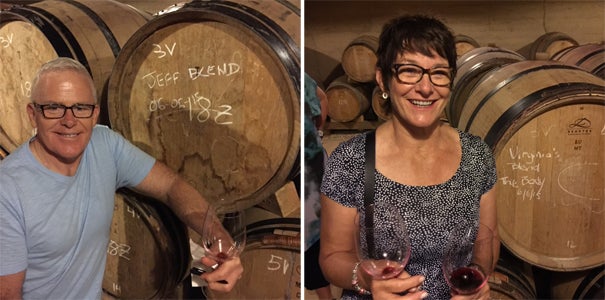 Ross Henderson expressed the gratitude of the group to Juan noting that we understood the messages of the past, present and future and how this special terroir would continue to evolve excellence under the Telmo Rodriguez vineyard and winemaking philosophies.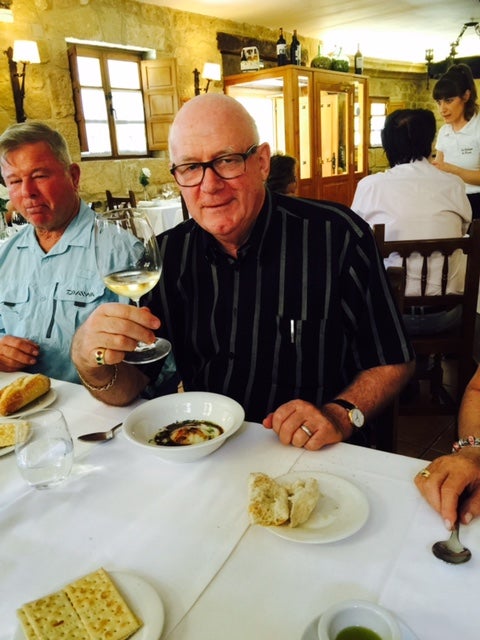 The team all helped with a quick clean up as a mark of our respect and appreciation then said their individual goodbyes before hopping on the coach for our drive to our Restaurante La Bodega de Rivas in the village of Rivas de Tereso. With a rating of 5-Stars from 76 reviews on Trip Advisor we were anticipating a lovely lunch and we were not disappointed. From the moment we walked in the door the service was efficient, warm and polite and after organising a local white and red wine for the meal I had no sooner been seated and the first of 7 courses was served…
Lunch was as follows…
An amuse-bouche of a tasty local soup served warm in small shot glass
Goat cheese terrine from Cameros, smoked salmon and honey vinaigrette
Chistorra pastry rolls, red beans scream and ham and cabbage Sautee
Wild mushrooms, fungi Sautee, egg at low temperature with potato and truffle sauce
Cod piece with crab ratatouille
Boned bull-tail, potato cream and vegetable sautee
Caramelized peach with mascarpone cream
It was a lovely climax to the day's formal activities and all that was required was a 90-minute coach ride to the famous Cathedral city of Burgos for a free night.
Continue on to day 11 here.