Spanish Wine Tour - Day 12, Monday 8 June
Monday June 8
At the very civilised time of 10.00am we boarded our coach for a 45-minute drive to the legendary Ribera Del Duero producer Vega Sicilia to be greeted by Puri Mancebo Lobete who had hosted our group during our 2007 visit. It was immediately noticeable to Virginia and me that the winery buildings had been expanded in those intervening years.
Vega Sicilia are unquestionably Spain's quality and benchmark equivalent to Bordeaux's 1st Growth producers. You could rightly argue they go much further than their Bordeaux peers in that they age Sicilia and Valbuena reds for 10 and 5-years respectively prior to releasing them for sale as opposed to Bordeaux's practice of selling the majority of their wines en-primeur (pay for them when they are only 6-months old and in barrel and not receive them until 2-years later).
Founded in 1869 it has been owned by the Alvarez family since 1982. It is under their stewardship that massive and astute investment from the vineyards to the winery has defined Vega Sicilia as one of the world's greatest producers. 200 hectares of old bush vines surround the property, which is immaculately tended to maximise the character of its 19 different soil plots of terroir planted in a variety of grapes. In all the winery ferment 54 separate parcels of fruit to retain individuality of the terroir before blending them in a considered way prior to going to barrel.

Puri was delighted to see us again and after a quick introduction led us to the most impressive new addition to the winery… a stunning new fermentation hall for the Unico and Valbuena wines. I have been in many of the world's finest estates including all of Bordeaux's 1st Growth producers, but this is the finest grape reception and fermentation hall I have ever seen!
The hand-picked grapes are brought in bins to the building and held overnight in cool rooms at 5 degrees Celsius. The next day they are hand sorted on the ground floor before travelling up a 75 degree conveyer belt to the upper floor. There they undergo a second hand sort then are gravity fed into a special ½ tonne stainless steel grape movers (look like moon buggies and were designed by Vega Sicilia) that for the Sicilia red are manoeuvred over the lid of a specific wooden cuve fermentation tank and deposited therein. The fermentation tanks or cuves are made of French oak and vary in size from 6,000 - 8,000 litres, of which there are 19. One quarter of these cuves are replaced annually so the entire cuve room is renewed on a 4-yearly cycle... a massive investment that few wineries in the world would, or could consider. In the case of Valbuena the wine is handled the same way but fermented in stainless steel tanks.

Post ferment and maceration the finished wines are blended before being transferred to a mix of new 50% French and 50% American oak barrels for 18-months, which are only used for one vintage before being sold and replaced for the next (again a huge investment). The wines are then transferred to 20,000 litre French oak cuves where the Valbuena spends a further 18-months and Sicilia 5-years. Finally the wines are bottled and transferred to a bottle dormitory with a capacity of 1,000,000 bottles (usually does not exceed 750,000 at any one time), which is an affectionate term for a temperature controlled building where the wines are stored in pallet size metal cages until permission for their release when the winemaker deems them ready. The whole journey takes 5-years for Valbuena and 10-years for Sicilia.
Sicilia is only produced in vintages considered good enough, which again shows a dedication to excellence and quality by Vega to their flagship wine that is not mirrored by leading class Growth Bordeaux. Averagely speaking Sicilia achieves 20% and Valbuena 80% of the properties annual production of 250,000 bottles.
When you extrapolate out the combined volume of both wines awaiting release that are being held in oak and bottle at any juncture, it is circa 2.5 million bottles. An astronomical investment by the Alvarez family, which thankfully they can afford to do and still deliver wines of 1st and 2nd Growth quality to the market in a mature and enjoyable condition (will still age for years and possibly decades further depending on vintage and professional storage conditions) at prices that look like a real bargain by comparison to leading Class Growth Bordeaux.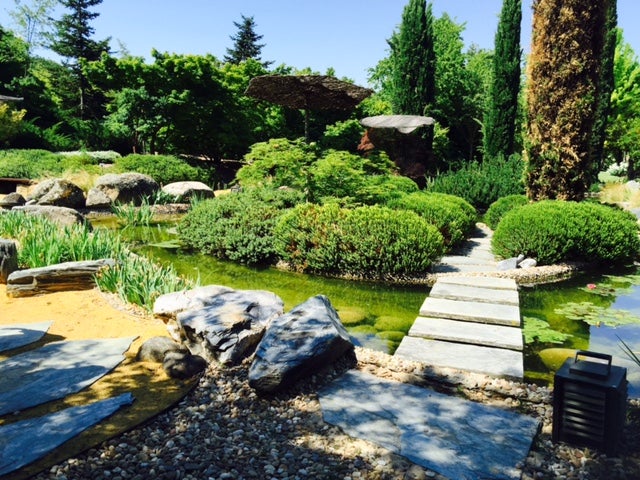 Puri then led us through a Japanese garden to a centrally located and sympathetically designed tasting room (Pablo Alvarez has an affinity with Japanese gardens and design). It was a very peaceful setting in which to sample the 2010 Valbuena, which was the first vintage made in the new fermentation winery. It was also a great vintage so my expectations were high and as it turned out I was not to be disappointed…
Valbuena 2010 – it had slightly mature (far from developed though) colour and from the first sniff its dense and layered aromas told of a special wine. Made from 80% Tempranillo and the other 20% a mix of Merlot and Malbec, 90% of the fruit comes from the hillside vineyards. It's a rich and incredibly smoothly textured red with exceptional volume, fine, robust tannin and succulent acidity. It expresses delicious tastes of cherry, black plum, chocolate, marmite and espresso and finishes freshly with a hint of black olive. Every time you go back to the glass it expressed something different and continued to grow in volume and texture. An amazing red that will likely peak around 2025 and last another 10-20 years in quality storage. A real privilege to taste!
After thanking Puri for our wonderful visit to this legendary property we adjourned to the deck of the tasting room where she took a photograph of a very happy and suitably impressed group. Puri then graciously walked us to our coach where we said our farewells and boarded the coach for a 2-minute drive to Bodegas Arzuaga, a highly respected wine producer, but we were not here for the wines but to eat in their highly regarded restaurant. We enjoyed a glass of their locally made Methode Traditional bubbles before adjourning to a covered in cloistered room overlooking the vineyards to enjoy our lunch as follows…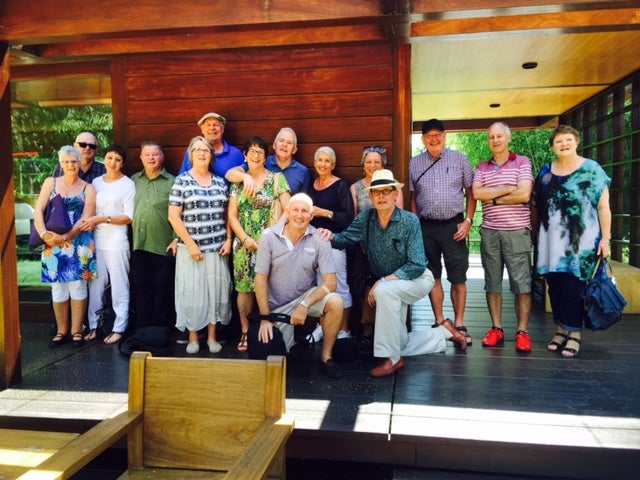 Sardine fillet on toast with a strawberry sauce (not like any sardine I've tasted in NZ and utterly gorgeous)
Local baby broad bean and small pieces of bacon with olive oil and a hint of citrus
Special sorbet of vodka, cava, lemon juice and ice blended into a smooth liquid and served in a Champagne flute
Stew of wild board and potato chips fried in duck fat
Fluffy pastry infused with fresh cream and doused in caramel
Espressos all round
The wines were a delicious Rose, a surprisingly stylish Chardonnay and a Crianza red. These were all very enjoyable wines off the property and all exceptionally well-priced. Our waiter was great, the surroundings perfect and the owner dropped by to say hello. It was a very fitting climax to a great day in Ribera Del Duero and probably my highlight visit so far.