Spanish Wine Tour - Day 13, Tuesday 9 June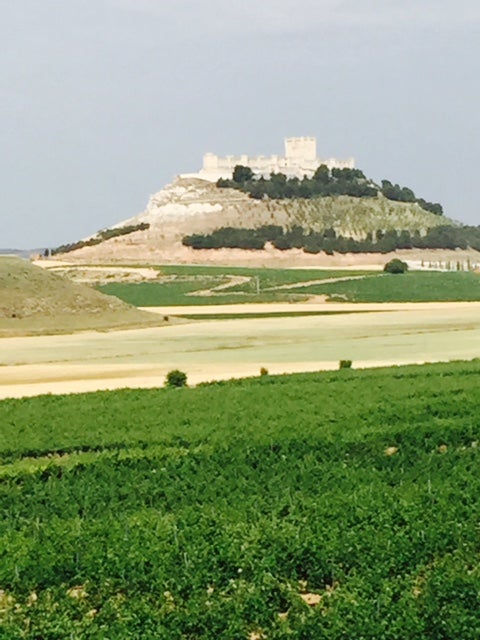 We arrived at the gates of highly regarded Ribera Del Duero producer Pago de Carraovejas for our visit of the day, enroute from Valladolid to Madrid. It is a very impressive property owned by José María Ruiz who in the 1970's was selected to represent Spain at the first Sommelier World Challenge organized by the International Organization of Vine and Wine in Milan. He came an incredible 5th from 80 countries represented, whetting his appetite to explore new ways to marry wine and food for people to enjoy.
In 1982 the Restaurante José María opened its doors in Segovia, transforming the traditional way food and wine were served in hearty Castilian Taverns. He eliminated the traditional pottery pitcher in which wines were served and started serving bottled wine, caring meticulously about the presentation, right temperature, conditions, and serving protocol.
Jose María was aware back in those early times, of the immense potential of the Ribera Del Duero region. He dreamt of creating his own wines with the Denominación de Origen grapes and pairing them with the star dish of the region at his restaurant, "cochinillo" (roasted suckling piglet).
In 1987 José María Ruiz gathered a group of wine loving Segovians to explore the idea of creating a winery in a region to make special reds. Firstly they chose the hillsides of Carraovejas, in Peñafiel as it was historically the hub of the Ribera Del Duero wine making region and had greater potential among Spanish wine making regions. Secondly was its close proximity to Segovia. And thirdly and probably the most important reason, because the elders of the village remembered the hillsides of Carraovejas as the best grape ripening site, later confirmed by numerous studies.
Three kilometres outside Peñafiel – the land enjoys a microclimate created by the sweetening influence of the Duero River, the dominant west winds that keep the vines healthy and the south facing aspect of the softly rolling hillsides, sheltered from the damaging effects of the north wind and devastation from the spring frosts and autumn freezes. The perfect conditions for a thriving vineyard: sun and air.
Their first Ribera Del Duero wine contained 25 % of Cabernet Sauvignon at a time when the Tempranillo grape ruled absolute. They were also pioneers in bringing French oak barrels to the Ribera Del Duero DO and to install drip irrigation in the estate to provide the exact amount of water to the vines to improve the quality of the red grapes grown for Crianza and Reserva reds.
In just 28-years Pago de Carraovejas has become a tour de force; now with a relatively new and stunningly designed/constructed winery built back into the slopes of the property at a cost of circa 45 million euro. These days José Maria's Restaurante in nearby Segovia seats 400 people and is full 7-days per week. He also fulfilled his other vision to farm the "cochinillo" (suckling pigs), it made his Restaurante legendary and remains his signature dish.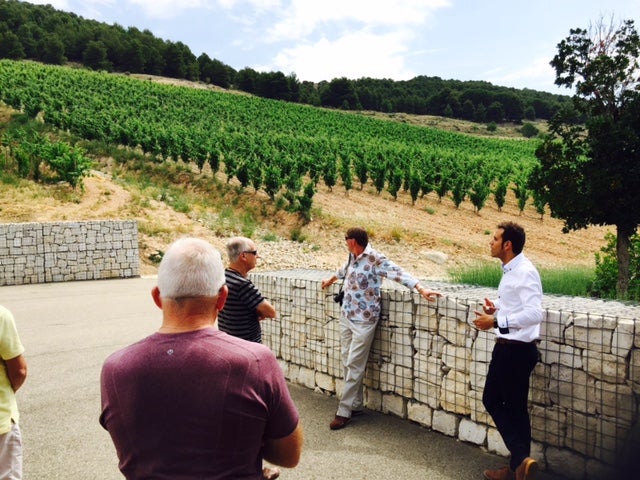 Our host Diego (tall, dark haired, eloquent and charming young Spaniard) took the group on an extensive tour of the winery and he proved very knowledgeable. Throughout the winery all buildings, be they administrative or hospitality they each have a view of the ancient castle (built in the 11th century) set atop if a hill on the other side of the valley. Which is quite good for one's soul and why, I suspect it was designed accordingly.
Building into the hill was also an important factor in creating a 100% gravity fed winery. The hand-picked fruit is received at the top level where it is hand sorted and in the case of the top wines given a second hand sort before being gravity fed to the stainless steel tanks on the level below for fermentation to take place. In the case of the prestige wines they undergo malolactic ferment in large wooden cuves.
The young wines spend 1-year in a mix of new and 2nd and 3rd use French and American oak barrels followed by 2-years in bottle prior to release. The Reserva and Anejón reds, 1-year in 100% new oak and 3-years in bottle. With an annual production of 800,000 bottles the impressive and large barrel hall contains circa 3,000 barrels of wine aging at any one time. The temperature controlled bottle dormitory would contain in excess of 2 million bottles. It is imponderable how so much money can be put into creating a property so impressive and achieve a realistic financial return. However the great achieving Spanish wine families think and plan in generational terms and these days José María's son is the General Manager of Pago de Carraovejas.
Diego had strategically tasted a couple of wines with us at intervals during our winery journey and on completing the tour we retired to the beautiful hospitability and tasting room replete with views of the entire valley to taste 4 more of their premium wines. Pago de Carraovejas also owns wine property North West of Segovia called the 'Ossian Project', which contain a fabulous treasure of 100-200 year old pre-phylloxera Verdejo vines (phylloxera is a vine disease that from 1855 affected most of the world's vines resulting in total replanting on American phylloxera resistant rootstock). These vines escaped the plague as they are planted in very sandy soils that acted as a barrier to the spread of the disease. Verdejo had become very popular with our group but these wines were of another level given their extraordinary old vine heritage. They were as follows…
Ossian Quintaluna 2014 – Made from younger vines in a very fresh style it is wild fermented in 800 litre stainless steel tanks with no wood contact and limited batonnage. Exhibited the delicious varietal flavours but was more fruit forward, fresh and would be a great aperitif style. It was served with a small serving of… white kidney beans cooked with vegetables to make a creamy bean stew.
Ossian 2012 – 100% Verdejo of which 60% is from the 100-200 year old vines and extremely low cropped. It is wild fermented then aged for 9-months in a mix of – 25% new, 35% 2nd use and 40% 3rd use barrels, during which period it undergoes batonnage (French for stirring of the lees) to build additional texture and richness. It had a deeply rich tropical/peach core with delicate citrus notes on the delicious and refreshing finish. Chardonnay like palate weight and richness, with Pinot Gris like structure. It was served with… lamb with a Pedro Ximenez reduction.
Pago de Carraovejas Anejón 2010 – Flagship red off the steep hillside vineyards located behind the winery. 94% Tempranillo, 3% Cabernet Sauvignon and 3% Merlot it is aged in 100% new French oak for 12-months followed by 36-months ageing in bottle. It is a seriously full-bodied red with 15.5% alcohol though you would not necessarily pick that as it carries it nicely. It's densely aromatic and generously flavoured with ripe black berry fruits threaded with chocolate/spice/smoky oak complexities. Fine clinging tannins, grainy texture and perfectly juicy acidity add presence and vitality to a gorgeous red wine, which will likely age two decades but drinks beautifully already at just 5-years. It was served with… "cochinillo" (roasted suckling pig), which is harvested at 7-weeks so the meat is delicate and succulent and the skin beautifully crispy, sensational dish!
Ossian Verdling Dulce 2011 – 100% Verdejo off the old vines harvested early to retain higher natural acidity. It undergoes extended wild yeast fermentation at low temperatures with the ferment arrested at 7 degrees of alcohol to retain residual sweetness. The resulting wine has fresh granny smith apple and white fruit flavours with a moderately lees enhanced texture and a very balanced sweetness. As refreshing as a gin and tonic and free of the heavy Botrytised or late harvest characters of most dessert styles. Accordingly it was much more suited to enjoying with desserts and tasted superb paired with the… chocolate mousse, vanilla ice-cream and stewed peaches on a biscuit base.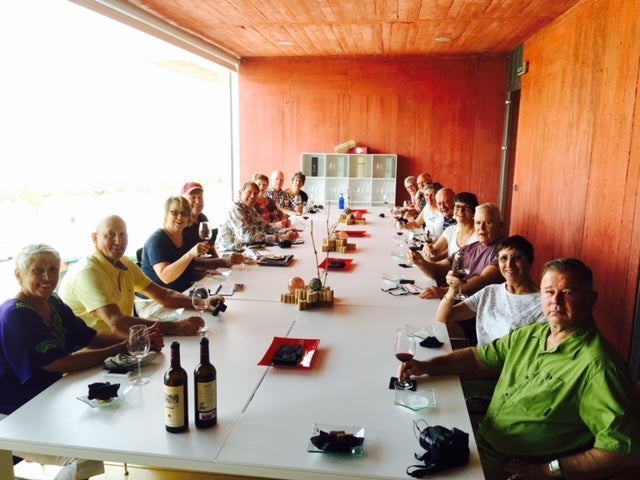 It had been a special visit superbly hosted by Diego. The culture of Pago de Carraovejas is very healthy with the workers all very happy and engaging as we toured the property. It is the result of an amazing vision by one man that began from a dream and has become a reality few people would believe can be achieved by anyone in one lifetime from such modest beginnings.
Diego had prepared a Pago de Carraovejas branded cork, one for each of our group bearing their individual names… a lovely memento. We thanked Diego for our wonderful visit and boarded our coach for the 2-hour drive to Madrid where we had set aside a couple of free days to explore this great Spanish city.