Spanish Wine Tour - Day 15, Friday 11 June
Thursday June 11
The day began with our coach arriving late, which did not matter in the end as Virginia had planned a departure time with room for such challenges. We arrived at the airport and the heavens opened up, so much so you could not see beyond the airport windows. Consequently flights in and out of Madrid airport were delayed pushing our departure time back from midday to past 2pm, meaning we arrived in Jerez (pronounced hereth) just before 4pm, far too late for our planned lunch and just in time for our appointment at Bodegas Lustau.
Before taking us on a tour of the various Bodegas that make up the complex, Frederico first explained some of the impressive history of Lustau, which was founded in 1896 by Mr. José Ruiz-Berdejo. From modest beginnings in Nuestra Señora de la Esperanza, Lustau has had several defining moments in its history…
In the 1940's son in law Emilio Lustau Ortega moved the winery to the old neighbourhood of Santiago, in the historic quarter of Jerez de la Frontera. There, in buildings that formed part of the historic Moorish walls of the city, he slowly began to expand the business, still as a vintner. In 1950, the company began exporting its own wines from Jerez
From the beginning of the 1980s, under the management of Rafael Balao, Lustau became one of the most innovative companies in Jerez with Rafael's ideas of combining tradition and innovation positioning them as a prestigious house.
In 1988 Lustau created their Solera Reserva range from the cellar's original solera stocks along with the Almacenista range of special Sherries produced by small wineries. Lustau took another innovative step introducing a new elegant, dark bottle with sloping shoulders exclusive to the company, distinguishing them from the other Jerez wineries.
In 1990 Emilio Lustau S.A. was acquired by the renowned spirit and liquor producer, Luis Caballero providing much needed capital to acquire the Montegilillo vineyards in Carrascal, and Las Cruces in Chipiona, both located in the area known as Jerez Superior.
In June 2000, Lustau acquired six 19th c. winemaking buildings in the heart of Jerez, covering a total area of 20,000 m2. These buildings were restored and today they are the company's primary winemaking facilities.
Since inception in 1896 Lustau's philosophy has remained the same: the pursuit of the highest quality to offer the widest and finest range of sherry. In recent years, Lustau has been honoured and recognised with several awards; it was named "Best Spanish Producer" in 2011 at the International Wine & Spirit Competition in London. In 2012, it was the winningest winery in Spain and 7th worldwide. Lustau oenologist, Manuel Lozano, has been named Best Fortified Winemaker of the Year six years in a row by the International Wine Challenge of London and has been shortlisted for 2015 as well.
Virginia and I had been here on our Spanish wine tour of 2007 but none of the group of 2015 had been to Sherry country before and probably very few New Zealander's have. Most of us baby boomers think of Sherry as being the cream, sweet and dry flagons that were produced in NZ during the 50's, 60's,70's which we thankfully have long since left behind.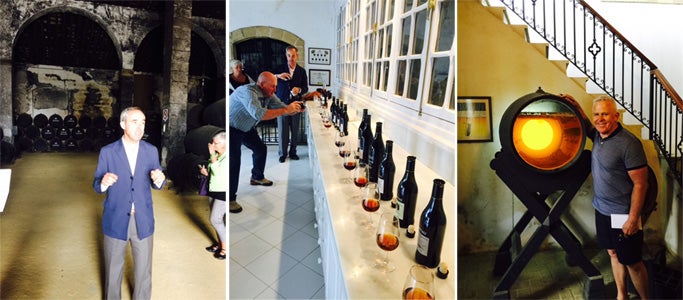 Sherry like single malts and fine spirits is undergoing a renaissance with drinkers gravitating towards quality over quantity. Accordingly quality focused Bodegas like Lustau although down on volumes are up in revenue and with their substantial inventory of aged Sherry are well equipped to take advantage of this global trend.
Frederico was a literal encyclopaedia of knowledge and shared that with great passion as we toured the numerous Bodegas. Sherry is a truly unique beverage that requires a special environment to develop, which is a combination of the design of the buildings with high cathedral like ceilings to trap the hot air. They are also strategically positioned buildings with large doors and windows that can be opened at the right times to control the flow of the cool southerly winds known as Poniente and the warm northerly winds known as Levante.
The regular introduction of water onto the Bodega's sandy soils (known as Albero) help to create the precise humid conditions required for the development of the flor (yeast cover) within the barrels of the white sherries known as Fino and Manzanilla. All dry wines are made from the Palomino grape variety. Fino and Manzanilla are aged in cask under this flor, which is formed by the introduction of a unique yeast that can only develop within a precise alcohol range (above 15 but less than 16.5 degrees) completely sealing the wine and preventing oxidation.
Conversely the brown Sherries (Palo Cortado, Oloroso and Amontillado) are deliberately aged without a flor cover. So are exposed to controlled oxidation resulting in their darker colours, greater structure and more complex array of flavours; they are fortified to more than 16.5 degrees alcohol thereby preventing the development of a flor so they can oxidise as they age.
The sweet Sherries are made in an oxidative process from either the Moscatel de Chipiona grape or legendary Pedro Ximenez grape. Those made from the Moscatel grape are very much like sweeter tasting versions of the typical dry Sherries. The wines from the Pedro Ximenez ( known as PX) are luxurious (Port like) and densely coloured wine with 350-400gms of residual sweetness – they are very viscous and taste of dried muscatels and other dried fruits and the younger wines (under 12-years) have a malt like character. The old PX (20+ years in barrel) develop much more complex flavours of fruitcake and dried fig.
After touring all the Bodegas and understanding the winemaking culture and history, Frederico led us to a private tasting room where he opened 15 Sherries and 3 Brandies for our group to taste. He reminded us of the styles then encouraged us to taste our way through them from dry to sweet and young to old then finish with the Brandies. It was a formidable task for most of our group being their first introduction to Sherry. Some like me tasted the lot, but many did not as they found the size of the tasting too overwhelming, which having tasted thousands of wines per year professionally for 18-years I can truly comprehend. Never the less it was a fine experience that the group really appreciated. Incidentally the Brandies were delicious (3, 10 & 15 year old) and when I had finished my tasting proper and made some notes, I experimented blending some PX Sherry with the 15-year old Brandy. I settled on a 1/3rd Brandy and 2/3rd 30-year old Pedro Ximenez, in which the Brandy spirit gave the PX a delicious punch on the finish.
Frederico had told us a dinner was being arranged but we could not have anticipated the serenity of our dinner setting until we walked out into the semi covered courtyard (roof was a covering of vines over a pergola structure with lighting chandeliers hanging from them) where a stunning table for 18 people (our group plus Frederico and Carlos) had been set. Complete with white table cloth, silverware, beautiful crockery and fine glassware (not to forget the stunning flower arrangements). It was clearly going to be a special dinner and it began with a convivial chat over a Sherry cocktail before we sat to eat. The entire dinner was served with accompanying Sherries from dry to sweet depending on the dish as follows…
Salmorejo – a tomato gazpacho soup with finely diced ham and other interesting bits that was perfectly matched with a Fino Sherry.
Sea bass in Sherry dry sauce with asparagus and boiled potatoes paired with a Palo Cortado dry sherry.
Custard of yolk with vanilla ice cream paired with the sweet 1997 vintage Sherry (vintage Sherries are rare) made from Palomino that was a favourite of the group at our earlier tasting.
Coffee and black chocolate paired with the delicious Brandy Lustau SGR (10-years old).

After the sea bass mains and prior to dessert Frederico and Carlos had unbeknown to the group arranged for a Flamenco guitarist and two female Flamenco singers/dancers to perform for us. When they appeared on the slightly raised steps alongside the dining table the excitement in the group was audible. They performed circa 10 songs, sometimes individually and sometimes as a duo, whatever they were spectacular. Although sung in Spanish you could clearly understand the songs were a roller-coaster of love, sadness, passion and sometimes anger - their performances were appropriately dramatic. At one stage one of the dancers began to wrest a few of us from our chairs to individually to perform a Flamenco dance with her. It was loads of fun and when we fellows were trying to emulate her movements it was quite hilarious to watch, clearly the ladies were much more supple and coordinated.
It had been a fabulous night in the south of Spain and a wonderful introduction to Sherry by two fabulous hosts in Frederico and Carlos and they could not have been more generous and welcoming. Before leaving I very much enjoyed the opportunity to say thank you on behalf of the group, which was such a pleasure given the most amazing occasion we had be afforded. After a chat with Carlos and Frederico it may be possible they will come to Auckland later this year and host a couple of nights for FWD Co. customers and who knows, we may even be able to find accompanying Flamenco performers.
Back on the coach we headed for our Parador Hotel "Atlantico" right on the edge of the ocean in the world's longest continuously habited city (over 3,000 years apparently), Cadiz. Tomorrow we were set to visit the legendary producer Gonzales Byass, which would add greatly to our understanding of Sherry and its delights.