Spanish Wine Tour - Day 16, Friday 12 June
Friday June 12
We departed the hotel at 11.00am so as to give everyone a sleep in given the previous day with its many unexpected hours of transition from Madrid to Jerez had been tiring. We arrived at the impressive Bodegas Gonzales Byass located in the centre of Jerez at midday to meet up with our host Claire Henderson, who is in charge of International Marketing for the company.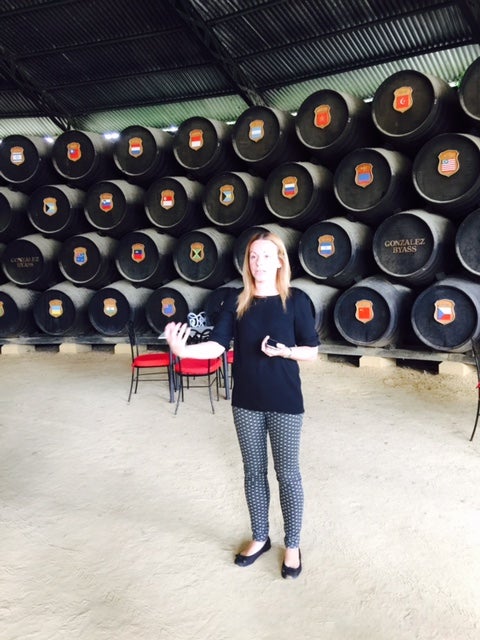 Claire began the tour with a summarised history of Gonzales Byass, one could easily write a book on this wonderful family owned sherry business. So I have done my best to summarise the available history as follows…
Manuel María González Ángel began the business in the mid 1930's with the support of his uncle, José Angel y Vargas. José Angel immediately began to focus on cask quality in an attempt to make perfect Fino (dry white) sherry and thus began the legend of the most famous fino sherry in the world. Many years later, Manuel María González Ángel christened this original solera "Solera del Tío Pepe" after his uncle José (translated Tio Pepe means Uncle Joe). The inscription can still be clearly read on one of the barrels in the criadera today.
Manuel María began exporting a number of casks to the United Kingdom. With growing success, he chose to go into partnership with his agent in England, Robert Blake Byass focusing on marketing the exceptionally pale white fino sherry. González Byass also became famous for "Brandy de Jerez" such as Lepanto in the 1850s. In 1863, the old company was renamed González Byass. The Byass family later retired from the business in 1988 and ever since the winery has remained under the ownership of the direct descendants of Manuel María González.
Today it is in the hands of the 5th generation of the González family. Common to all the family is their passion for wine, love of nature and respect for the environment. Founder Manuel María González Ángel, was the first in Spain to install electric lighting in his winery and the first one to pipe clean running water into its business installations. González also closely collaborated on the very first project for a Spanish railway, and on a large number of groundbreaking industrial facilities in Spain.
The González family are also known for their support of culture, art, science and sport. Pedro Nolasco González de Soto, Marquess of Torresoto, son of Manuel María González Ángel, introduced the game of polo into Spain. He also founded the first tennis association in Spain in 1903, when he set up a tennis court at the winery.
Pedro's son, Manuel María González Gordon, Marquess of Bonanza, was the author of the most important book every written on Sherry, "Jerez, Xerez, Scheris". Almost 80 years on it is still regarded worldwide as the Sherry "bible".
The González family's passion for wine has extended beyond sherry to ownership of Bodegas Beronia, in Ollauri, La Rioja - Cavas Vilarnau, in Sant Sadurní d'Anoia, Barcelona - Finca Constancia, in Otero, Toledo - Finca Moncloa, in Arcos de la Frontera, Cadiz – and Viñas del Vero, in Barbastro, in the Somontano region.
Much of the family and business history has been retained in a remarkable collection including 180,000 letters.
After our introduction Claire took us on a tour through the many Bodegas scattered across the large property. Some reserved for the white sherries, some for the dark sherries, some filled with barrels signed by royalty, politicians (Sir Winston Churchill et al), movie stars, F1 racing drivers, sports stars and legends such as Orson Welles. Another Bodegas contains an impressive collection of large casks individually named and signed by 5-generations of the Spanish Royal Family.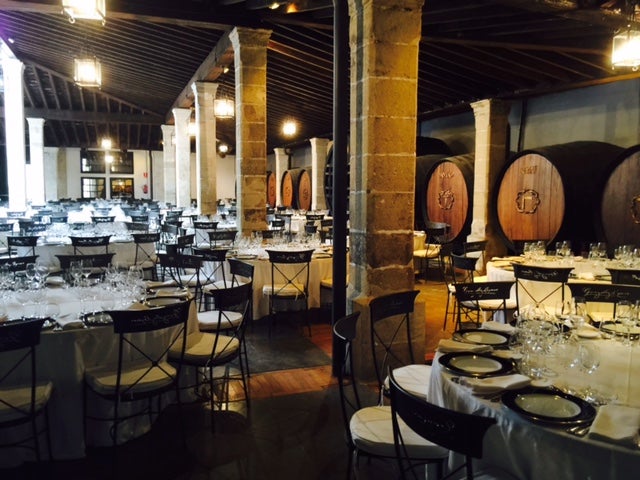 We walked through another beautiful square shaped large Bodegas named "Los Apostles, which is used for functions these days (Gonzales Byass have over 200,000 visitors annually). Claire pointed out 13 extraordinarily large casks that lined one side of the room, the central cask being the largest is named "El Christo" (referring to Jesus). The other 12 casks (6 either side) are named after the 12 apostles with the exception of Judas Iscariot who was replaced by the 13th apostle Mathios (Matthew). The order of the 12 apostle casks is commensurate with that of the famous Leonardo Da Vinci depiction of the "Last Supper".

Additionally we were shown the original Fino sherry solera nurtured in the formative years by José Angel y Vargas. The solera and the legendary fino sherry are both named Tio Pepe in honour of José (Joseph), which translated means (Tio) Uncle (Pepe) Joe.
The group were fascinated with the impressive history and Claire's faultless ability to recall it and share it at will. We arrived at the tasting room set up in a theatre style with a considered selection of 10 Sherries pre poured as follows…
1st flight…
Tio Pepe – a dry Fino style aged under a yeast flor spending an average of 5-years in oak casks.
Viña AB – a dry Amontillado that spends 4-years under a flor yeast as a fino before being moved to the young Amontillado solera to age in barrel a further 6-years and evolve into an oxidative style, brownish in colour with greater structure.
Del Duque – a VORS (very old Reserva sherry) Amontillado that spends its first 4-years aging in oak under a yeast flor as a fino before being moved to a young Amontillado solera for a further 6-years where the flor naturally dies off changing it to an oxidative wine. At 10-years it is shifted to the "Del Duque" solera where it remains for a further 20-years to attain its status and quality as a VORS Amontillado.
2nd flight…
Alfonso – a dry Oloroso that is aged as an oxidative style from the start and spends an average 8-years in casks.
Apóstoles VORS – 87% Palomino and 13% Pedro Ximenez (PX) the Palomino is fermented to 12% and the ferment for the PX stops at around 7%. Both are then fortified to 18% alcohol resulting in oxidative sherry components. This is a VORS so after both components age separately for circa 12-years they are blended together for an additional 18-years of aging in barrel. I like the Palo Cortado style for its contrasting structure and elegance combined with 50gms of residual, a level of sweetness that is not detectable on the palate, and this VORS is the ultimate expression.
Solera 1847 – 75% Palomino and 25% Pedro Ximenez fermented to 12% and fortified to 18% this is more of a traditional cream style (hence higher component of PX) with 128gms of residual sweetness, which although tastes like a sweeter sherry it is still difficult to detect 128gms.
Matusalem VORS - 75% Palomino and 25% Pedro Ximenez separately fermented to 12% then fortified to 18%, this is a VORS in the traditional cream style. The two components are aged separately for 15-years and then blended together and aged for an additional 15-years to become a VORS (DO requirement for VORS is a minimum 30-years of aging).

3rd Flight…
Néctar – 100% Pedro Ximenez, the ferment naturally stops at 7% alcohol and is fortified to 15% before being aged in the solera system to an average age of 9-years. 370gms residual, this is a luxurious sweet sherry with lots of dried fruit flavours dominated by muscatels, figs and dates. It can be poured over ice cream, enjoyed with a chocolate inspired dessert or enjoyed by itself.
Noé VORS – 100% Pedro Ximenez, the ferment naturally stops at 7% alcohol and is fortified to 15% before entering the Noé solera system to achieve an average age of 30-years. 400gms residual, this PX has very fine and complex flavours in the aged fruitcake spectrum. Lots of complexity and finesse despite its high residual sweetness, the ultimate in a luxury sherry and with its higher acidity can be enjoyed with fruits, also chocolate inspired creations but is a meditational experience by itself.

It was a superb tasting presented in a very structured but relaxed manner by Claire. Coupled with what we had learned the previous day at Lustau our group starting to grasp the world of sherry developing knowledge of the grapes, process, styles and appropriate food matches. I suspect understanding sherry is the key to more consumers enjoying its many and varied delights.
Claire then hosted our group for lunch at a delightful Tapas restaurant located just off the edge of the town square in Jerez. Given Gonzales Byass is located almost in the centre of the town, it was a pleasant 5-minute walk to lunch. We left the ordering of the Tapas dishes up to Claire and the food that followed was delicious. I particularly enjoyed the famous red tuna served carpaccio (marinated and served raw), which was so delicate and cleanly flavoured. We drank only chilled Tio Pepe Fino throughout the lunch (served in a white wine glass), everyone enjoyed its compatibility with the various Tapas dishes and it's refreshing saltiness.
After lunch we walked back though the square with Claire to board our coach on the other side. We invited Claire on board and Andrew Wilson took charge of the coach microphone and delivered a thoughtful, humorous and warm thank you to her on the group's behalf. In approximately 3-hours of our visit we had struck up a real friendship and respect for Claire and were sad to say goodbye.