Spanish Wine Tour- Day 17, Saturday 13 June
Saturday June 13
We checked out of our seaside accommodation at the beautiful Parador 'Atlantico' Hotel in Cadiz (stunning location and our only regret was not having more time to explore it – we'll come back for sure). 50-minutes later we arrived on time in the town of Sanlúcar for our appointment at Bodegas Hidalgo - La Gitana. Sanlúcar was buzzing with people as Saturday was the busiest day of the town markets. And the weather was gloriously fine and warm so everyone was out and about.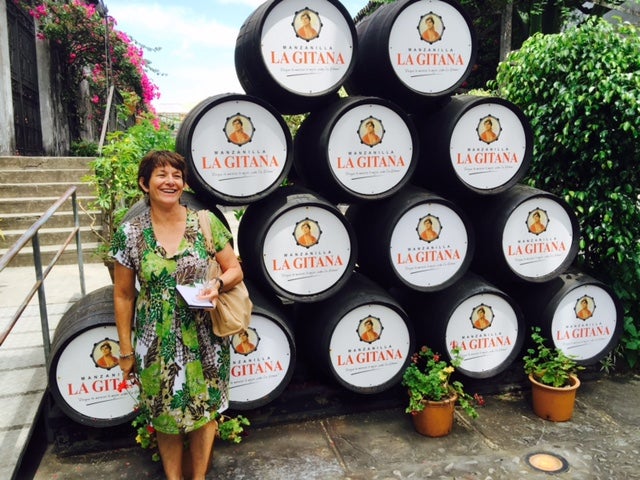 Bodegas HIDALGO - LA GITANA was founded in 1792 by Don Jose Pantaleón Hidalgo and since then the company has passed from father to son over 5 generations. Javier Hidalgo is a direct descendant of the founder and the current family caretaker of the region's leading producer of the famous Manzanilla Sherry. They use only grapes from their own vineyards located in Balbaina and Miraflores, widely considered the best of the region.
A few minutes later we were greeted by Javier. As with all visits I quickly get alongside our host/s and give them a quick heads up on who we are, what FWD Co does in the NZ wine market, plus share with them the itinerary of our wine visits in Spain. They have many visiting groups and it is incredibly refreshing for our host/s to receive a group that are much more genuinely interested in the complete story of the property, owners, its history, winegrowing/production and of course tasting the wines.
Javier quickly discerned from the nature of the questions our group asked from the outset, that we were genuinely interested in all things related to Bodegas Hidalgo – La Gitana. So he grabbed his venencia and entered the Bodegas to begin the visit.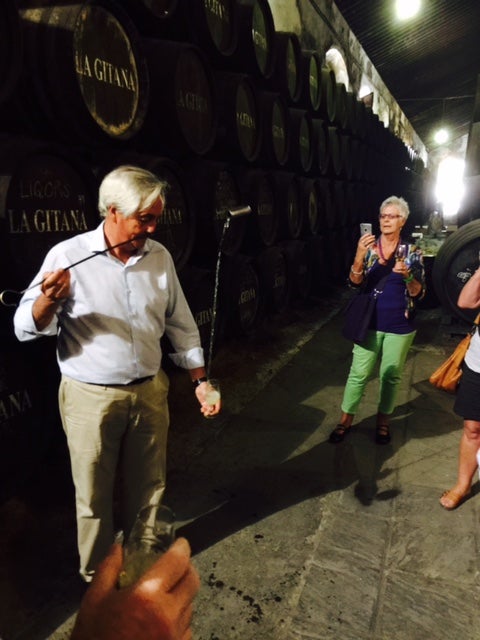 The venencia is a cylindrical cup (usually stainless steel) on the bottom of a long flexible shaft (used to be made from the whisker of a whale many years ago but these days is usually made from PVC), which is used to extract sherry samples from the barrels for tasting. The practice dates back to ancient Greek times but the instrument was modified and introduced to the Sherry region circa 200-years ago.
The venenciador is the actual practitioner of the instrument and although a scarcely practised art these days, there are still a few in the region and they are fascinating to watch, as it is done with tremendous flair and skill. Javier has a very traditional venencia made from a fine bamboo shaft. He is very competent with it, though would confess himself to not having the level of flair and skill of a practising venenciador.
The first barrel Javier took us to was located in the Manzanilla solera. Manzanilla can only be named so if it comes from the Sanlúcar district. Made similarly to the Fino its main difference is the finer salty freshness, which is derived from the unique humidity achieved in the Bodegas. Sanlúcar's close proximity to the left bank of the Guadalquivir River and the Atlantic Ocean, results in a unique pattern of warm winds that permeate the Bodegas encouraging the precise evolution of the flor for the Manzanilla to develop.
The majority of the barrels in the 14 criadera in the solera systems at HIDALGO - LA GITANA are over 200-years old and like most of the sherry houses they use 600-litre American oak barrels, which are proven to deliver the ideal porosity and character for the Sherries to evolve. The barrels last indefinitely and are generally repaired when leaks occur. If a new barrel is introduced to the Bodegas it is first used for the aging of a white wine then left to season for 2-3 years before being introduced. This prevents the extraction of stronger oak tannins/flavours, which inhibit the natural delicate expression of the dry Sherries in particular.
We moved from there to taste the richer Pastrana Manzanilla (7-11 years old) from a solera that had been started 300-years ago, which although precisely dry, had a delicious viscosity (thick creaminess) to the palate with delicate smells and tastes of lanolin, seaweed, shellfish and sea salt.
Again Javier took us to the older barrels of Amontillado solera system – this is an oxidative wine that begins its life as a Manzanilla aging under a flor and in later years is evolved into an oxidative style. It expresses the dark flavours, texture and structure of the oxidative brown Sherries in combination with the fragrance of a Manzanilla... stunning Sherry!
Next to the Oloroso solera (again older barrels) which is a 100% oxidative Sherry style. It has delicious tastes of caramel, mixed nuts and creamy dates with a see salt like freshness on the dry finish.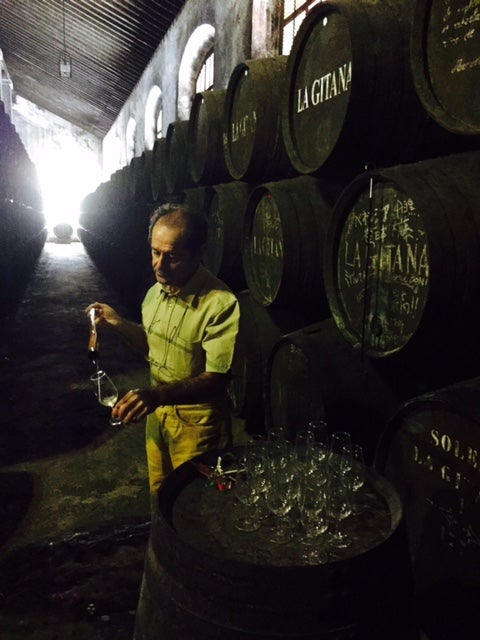 Javier continued to treat us like visiting royalty, next indulging us in a Palo Cortado Sherry from a barrel that has been untouched for 50-years but is much older than that. He often uses wine from this barrel to support his principal charity, which is funding a Spanish wide program to regenerate numbers of the Imperial Eagle (similar to the American Eagle) that were perilously close to extinction several years ago (down to 50 pairs) and via this charitable program have grown to 500 pairs but there is still much to do to ensure they survive and grow as a species.
It was at this juncture we were unexpectedly joined by Javier's wife, Paula (pronounced Pow-la in Spanish). She was such a bubbly personality. A schoolteacher by profession Paula was incredibly extroverted in a warm and delightful way, she remained with us for the last two barrel tastings then joined us for our lunch.
Palo Cortado was a style I was becoming very enamoured with. This wine expressed the sensuousness of a seriously aged Sherry with a complex mix of nutty, rancio (aged) and fragrant aromas with a full bodied palate that was warmly flavoured and rich but perfectly contrasted with a delicious salty freshness on the finish.
Finally to the older barrels of Pedro Ximenez, the most luxurious and sweetest Sherry appropriately saved for last. Made from the Pedro Ximenez grape (a white variety) it develops its deep dark amber colour from the very late harvesting of the grapes in combination with many years (in this case over 50-years) in barrel developing as an oxidative style. This was without doubt the finest PX we had been treated to from our three visits, it had more to do with its 50+ years of barrel aging as opposed to the 30-years at Gonzales Byass and 20-years (from memory) at Lustau. The luxurious palate had evolved from the classic younger barrel aged styles where dried fruit characters dominate a la dried muscatels; into that of a richly aged fruitcake with all its incredible flavour complexities. Although utterly rich (at least 400gms residual sweetness) it had rounder, finer flavours with fresher natural acidity… mind blowing PX!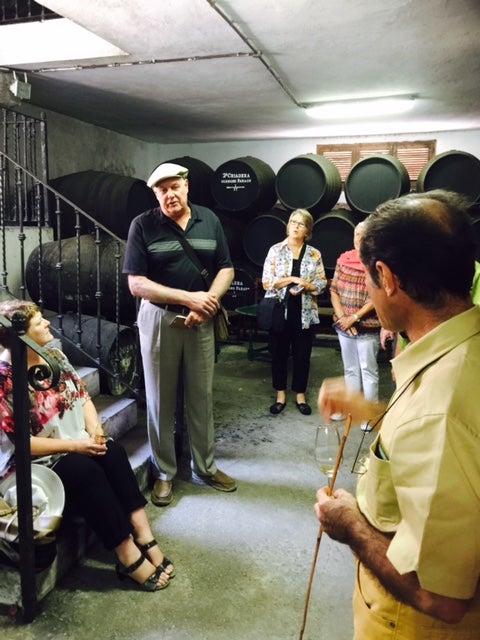 We then boarded the coach for a 5-minute journey to the legendary Casa Bigote sea food restaurant, where we had lunched with our tour group in 2007 and we still retained fabulous memories of that experience. From Barcelona, up north to San Sebastian and all the way down to the Sherry region in the deepest south; every time we spoke of our impending lunch at Casa Bigote, everyone knew of the restaurant (including our host Javier Hidalgo) and had huge regard for it. Accordingly we expected it to again be a fabulous sea food experience and we were not to be disappointed.
It is located right on the banks of the Guadalquivir River and you can see out to the edge of the Atlantic Ocean. Our table was right by the double doors that opened to the balcony. Virginia and I sat either side Javier so we could get to know him more personally and Paula sat opposite Ruth Spooner as they were getting along famously. Javier had organised 3-wines to be enjoyed with the lunch as follows…
La Gitana Manzanilla Sherry paired with two dishes…
Fresh langoustines (Atlantic prawns)
Red Tuna steak with red peppers, olive oil and a tomato salsa
La Gitana Manzanilla Pastrana Sherry paired with two dishes…
Cod croquettes
Whole half of Sea Bream oven baked with marinated garlic and potatoes roasted in olive oil
La Gitana Pedro Ximenez Sherry poured over the top of…
Raison infused ice-cream
Javier additionally ordered a delightfully fresh and light white wine called La Gitana White Blanco 2014 – made from the grape varieties of Sauvignon Blanc, Palomino and Moscatel. Nicely textured, it finished very pure and dry. This was for those preferring a table wine to Sherry, although the volume of La Gitana Sherry consumed at lunch outweighed that of the table wine, even though the Blanco was a delicious white wine. It spoke volumes for the drinkability and compatibility of dry Sherry when served with a wide variety of sea food.
The dishes were every bit as delicious as I remembered them from our 2007 visit with stunningly fresh ingredients and equally as perfectly cooked. If you go to Sherry country in Spain's Deep South, even if you choose to stay in Jerez or Cadiz you must visit Sanlúcar (circa 50-mintes drive), taste its Sherries and dine at the greatest sea food restaurant I've been to in my life, Casa Bigote! For any Aussies reading this blog/story of our visit to Spain (Virginia and I lived in Brisbane for 10-years and were regular visitors to both the north and south coasts and loved the sea food), the fresh langoustines (Atlantic prawns) caught the same day, cooked for 60-seconds in boiling sea water and immediately placed in cold water are the best I've ever experienced in terms of taste and texture!
It was time to board our coach for a 1-hour drive to Seville (pronounced Sevee-ya) for the final two days of our Spanish tour. Javier and Paula walked with us to the coach. We said our farewells and swapped business cards and I secured from Javier a commitment (an obligation as they call it in Spain) to bring Paula with him and come and visit us in Auckland, where we can repay his wonderful hospitality and grow our friendship.
Our Hotel Casa 1800 was located in the heart of the old city in Seville… it was the absolute of locations for our group (for anyone wanting to be in the heart of the historic quarter and enjoy all of its amazing buildings and wonderful Tapas bars) and they all hit the streets immediately post our arrival and check in. Virginia and I did some sightseeing then found our way to the restaurant, for which we had earlier booked online (well recommended by Trip Advisor) to hold our end of tour dinner. We were glad we did so as although the food was of a high standard it was not of a quality we wanted for our dinner finale. And the décor was very modern, we could have been anywhere in the world except Spain, which again was not right for such a special dinner. We graciously cancelled our reservation (nice people – I won't name the restaurant as under normal circumstances it would be excellent dining and you would enjoy a meal there) and set about finding a new restaurant. We reviewed the Top 50 restaurants in Seville including two Michelin star establishments. We also conferred with the staff of our hotel and the consistent recommendation via all sources was… the Restaurante AZ-ZAIT.