Spanish Wine Tour - Day 3 Saturday 30th May
Saturday May 30
Today we were leaving Barcelona and heading west to Zaragoza just over 3-hours coach ride away. Enroute we had a 1.00pm visit scheduled to the legendary Cava producer 'Codorniu'. Due to our visit falling middle of the lunching time in Spain we could not find a restaurant to accommodate us so in advance Virginia had planned a Kiwi style picnic and two days previous had equipped us with paper plates, plastic knives and forks, 3 inexpensive cutting knives, a table cloth cooler bags and a number of other things required to host a group picnic for 16-people. So all that was left to do was skedaddle to the Barcelona markets on La Rambla (amazing markets, like Melbourne markets at another level) to buy the ingredients. Top quality Iberico Jamon (Spanish ham), several cheeses, fruits, almonds, fresh dates, lettuce, avocado, tomato and water. Enroute back to the hotel we picked up fresh baguettes, mini chocolate infused croissants and a few slices of apple turnover. As you can see we were well equipped for a gourmet picnic, the final ingredient, a few bottles of Les Brugueres 2014 Priorat Vi Blanc (Garnacha Blanco) along with some Contino Reserva Rioja 2009, now we were ready for an exceptional picnic Kiwi style!

Although definitely anticipating the excitement of our Spanish wine tour that lay ahead, it was with some sadness that we departed our beautiful hotel (Hotel El Palace) and the gorgeous city of Barcelona at 11.30am and headed east for Cava country and our visit to the truly amazing and historic property of Codorníu. We arrived early so spent some time strolling the stunning upper gardens taking photos and immersing ourselves in this magnificent property. It's difficult to imagine how grand and spectacular it is until you go there and it looked absolutely glorious on a crystal clear Spanish summers day.
Our host Daniel welcomed us and ushered us into the small theatre for a 20-minute film on the history of Codorniu narrated by the current owner… Maria del Mar Raventos. The film is a brief resume of the 464-years of family ownership and history of Codorniu. There's way too much to tell in this blog, if you wish to know more and view spectacular pictures of the estate then log onto www.codorniu.com/en/ I applaud this style of introduction to a wine producer with 18-generations of family ownership, much has been achieved in that time and as they say… a picture paints a thousand words, which prepares you in advance of the tour proper so you can quickly link all the pieces of the puzzle as you tour the property.

The dramatic architecture was inspired by renowned Catalán architect Josep Puig i Cadafalch and more recently the new cellars by an architect involved with the Goudi designed La Sagrida Familia Cathedral. Probably the two most influential family members post founder Jaume Codorníu's inauguration of the company in 1551, were Miquel Raventós who married Anna, the last of the Codorníu family line in 1659, Josep Raventós who produced Cava for the first time in Spain using the "Traditional Method" in 1872 and Manuel Raventós who courageously built the 6km of underground cellars and the impressive grape reception and fermentation facilities above ground between 1895-1915. In 1976, the Codorníu cellars at Sant Sadurní d'Anoia were declared "a National Monument of Historical and Artistic Interest"[2] by King Juan Carlos I, as a key example of Catalan modernism.
The tour was a fascinating insight into the vast and wondrous history of the Codorníu and Raventós families who have stood the test of time in creating this marvelous business and estate with all its amazing architecture. When you see the dimension and 6km length of the underground cellars 7-floors underground you ponder on the enormity of the excavation process, getting the rubble above ground and the millions of bricks it must have taken to line the caves.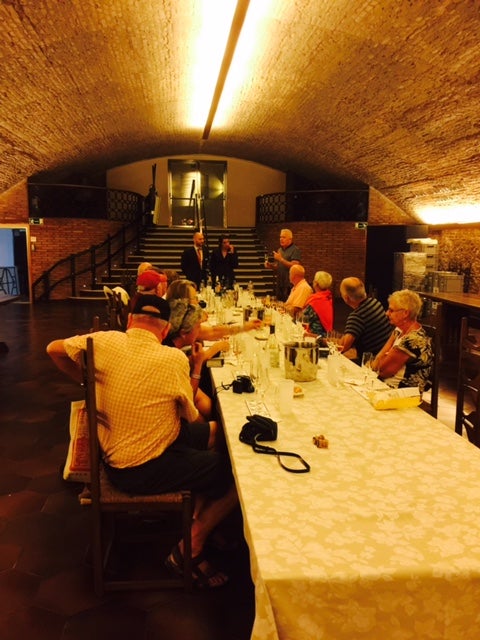 Back above ground we were directed to the tasting hall where Daniel was joined by Mireia Altimira to take our group through a line-up of Codorníu Cava's as follows…
Codorníu Extra – traditional varieties of Macabeu Xarel-lo Parellada aged on lees 9-months
Codorníu Rosado Extra - traditional varieties of Macabeu Xarel-lo Parellada aged on lees 9-months with limited skin contact to create a Rose style
Codorníu 1872 Cuveé – a tribute to the ages (1872) when traditional winemaking made up for the lack of technology with ingenious solutions. The fermentation temperature of the musts was strictly controlled using a system known as "capas" (layers). Fresh must was added to must undergoing fermentation to lower the temperature. The resulting changes in temperature improve the texture of the cava.
Gran Codorníu Pinot Noir Chardonnay – the traditional Champagne grape varieties are used with 70% Pinot Noir subjected to limited skin contact to create a Rose style that spends 15-months on lees and results in a creamy, quite Champagne like palate
Gran Codorníu Chardonnay Macabeu Xarel-lo – 50% Chardonnay with the remainder split relatively evenly between the traditional varieties of Macabeu and Xarel-lo. It delivers Chardonnay fullness and elegance with the citrus lift and stone fruit richness of the Xarel-lo and Macabeu respectively.
We bade Daniel and Mireia farewell and exited through the cellar door where most of the group including ourselves could not resist purchasing one or two bottles from the delicious range of Codorniu Cava's. Back on the coach our drivers Juan and Antonio drove 25-minutes to a roadhouse and a large park like area with numerous tables where the group rolled up their sleeves and duly laid out two tables… one encompassing the delicious array of foods we had bought for the picnic, the other a drinks table for our wines and water. It was a great interlude, superb tasty food as we lifestyle driven Kiwis love, washed down by two fabulous Spanish wines and LOL's.
After a quick clean-up we were back on the coach and headed for Zaragoza (just over two hours' drive) arriving at our hotel at 8.30pm. A quick freshen and we met in the lobby and set out on a 10-minute walk to our nearby restaurant (turned out to be a 20-minute walk when I led the group down the wrong road) La Lobera De Martina, a famous local restaurant that opened its doors in 1969 and was famed for its magnificent Ox T-Bones and Tenderloins, Northern Tuna and legendary Spanish Omelette. The underground dining area we were seated in had brick tunnel like construction dating back to the Roman occupation.
We ordered a set menu and were quite unprepared for the generosity of the portions and the actual number of dishes relentlessly delivered to our table. It reminded me of our 2001 and 2008 Italian tours where we were frequently showered with volumes of food that were impossible to devour. The Louis Roederer Champagne was so inexpensive we could not resist it and that was followed by a dry Albariño and two reds… Pago de Carraovejas Crianza from Ribera Del Duero and Vega Sicilia Pintia from Toro, both delicious, round and generously flavoured. I was thinking we are really on Spanish time now as we began the walk home from the restaurant close to midnight.
Continue on to day 4 here.