Spanish Wine Tour - Day 5, Monday 1 June
Monday June 1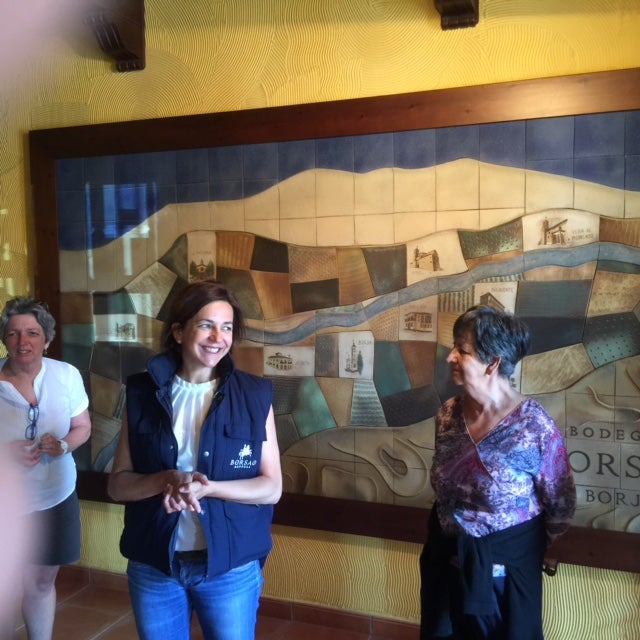 Zaragoza to Borsao is just 1-hours coach ride so we arrived at the doors of Bodegas Borsao in the Campo de Borja Denominación de Origen at 9am. We were greeted by our hostess Maria Sancho Alberto and after a brief explanation of the Borsao company structure, which includes the wineries of Pozuelo and Tabuenca, we set off on a tour of the winery facilities.
I have toured hundreds of winery facilities over the years and it's just interesting to see how differently producers construct their grape reception, winery production, bottling and barrel halls, all with the same purpose but tailored to their productions and philosophies. What strikes you about Borsao is the spotless cleanliness of the Bodega (winery), you could literally eat off the floor and everything is absolutely in place. Borsao has a philosophy that you ensure your space is tidy before you begin the day's work, you keep it that way while you work and you leave it that way at day's end. The company manages 2,430 hectares of vines belonging to 700 wine growers, which consist of… 64% Garnacha, 11% Syrah (increasing plantings of Syrah as it is flourishing in the Campo de Borja Denominación de Origen), 9% Cabernet Sauvignon, 8% Tempranillo, 6% Merlot plus a sprinkling of Cariñena and Macabeo. Pozuelo is 350m above sea level with limey soils intermingled with gravel, Borja is at 450m and has very sandy soils with round stones, and Tabuenca is at 750m with a mix of red clay and red slates… so each region within the Denominación de Origen has its unique terroir.
Rainfall is circa 350-400ml annually and combined with 200-days of North-West "Cierzo" wind the climate is dry so zero sprays are required to control bugs in the vineyard. It is a continental climate with Atlantic influence so the day-night temperatures can vary by 20 degrees.

Armed with all of this knowledge of terroir and having toured the winery facilities and witnessed their practices/winemaking philosophies first hand, we adjourned to the tasting room to try the wines, five in all…
1.Borsao Tinto Clasico 2014 – 85% Garnacha, 10% Tempranillo, 5% Cabernet Sauvignon. Fruit from 15-year old vines off the more chalky soils it is made and matured in stainless steel tanks. Firstly in separate vineyard batches then brought together for final blending prior to bottling. This is a huge favourite of thousands of FWD Co. red wine lovers who appreciate its generosity and purity of flavours and its velvety tannin and finely creamed texture. It's a forward drinking style with quality fruit complexities giving it way more interest than your normal sub $15 red.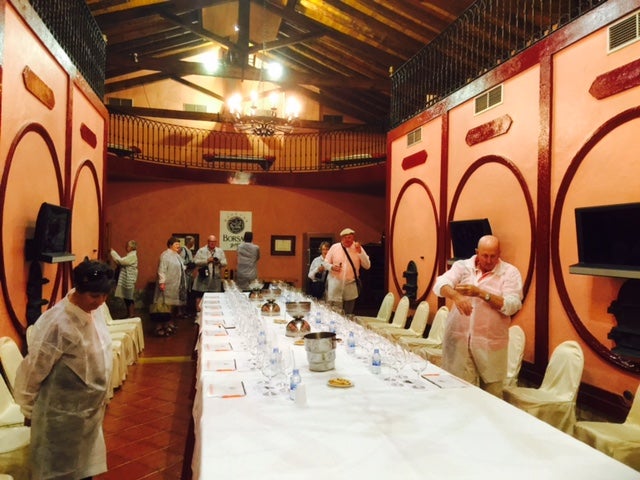 2.Borsao Vina Borgia 2014 – 100% Garnacha fruit from 15-year old vines off the sandy, stony soils of Borja soils it is also made and matured in stainless steel with 15-days of maceration on skins giving it plenty of bright colour, pure concentrated flavours and smooth tannins. Again it is a forward drinking style but comes with superior weight, complexity and sheer purity of flavour… much more to offer than the vast majority of cheap Southern Hemisphere reds to the medium bodied drinker.
3.Borsao Monte Oton 2014 – 100% Garnacha fruit from 25-year old vines off the clay/limestone soils of Pozuelo. Made in the same way as the Vina Borgia, the difference being the fuller expression of flavours from older vine fruit and the contrasting terroir, which results in a more complex and generous expression but still eminently delicious from the day it's released.
4.Borsao Tinto Seleccion 2014 – 85% Garnacha, 10% Tempranillo, 5% Cabernet Sauvignon from 25-year old vines on the Pozuelo terroir. Made similarly to the Borsao Tinto Clasico its principal differences are, the inclusion of Tempranillo and Cabernet Sauvignon in the final blend and the greater balance and fruit complexity emanating from the 25-year old vines. All of these first 4-wines were excellent but this Seleccion had more flavour, structure and intrigue for me.
5.Borsao Tres Picos (three peaks) Garnacha 2014 – 100% Garnacha from 35-60 year old vines off the 750m Tabuenca red clay/red slate terroir is macerated on skins for 25-days and spends 7-months in a mix of French/American oak barriques. Robert Parker declared the 2013 Tres Picos "Best of 2014. Greatest Value Wine". This is a very modest production (circa 1,000 dozen), which is allocated globally and is remarkable value somewhere around NZ$25-$30. The oak has added more structure, complexity and mouth feel to what is a very concentrated (1-tonne crop per acre) wine with plenty of harmonious intrigue that you'd expect from 35-60 year old vine fruit. It drinks nicely on release but will cellar 7-10 years with ease and is generously under-priced!
After the tasting I spoke on behalf of the group to express our thanks to Maria and Manuel for hosting us so warmly and generously at Bodegas Borsao. They must rate as one of the greatest value red wine producers in the world and their spotless practices and winemaking are expressed in the scintillatingly pure fruit expressions in each of their wines. As much as Vega Sicilia are the 1st Growth quality producer of Spain, Borsao are the rock star producer of totally affordable wines for the everyday pleasure of all red wine lovers. Borsao are like Villa Maria, their wines are not only consistently good, they possess character often lacking in similarly priced wines.
Back on our coach we headed north (2-hour drive) to the winemaking region of Navarra for our much anticipated visit to the glamour producer of the area, Chivite, where we were also contemplating a planned Michelin lunch.
Bodegas Julian Chivite
Having visited here on our 2007 Spanish Wine Tour Virginia and I knew what lay in store for our group; a complete contrast in winemaking styles and price points, Chivite are the Rolls Royce producer of Navarra and have hosted the King of Spain and other global dignitaries and rock stars with regularity over the years. Their eco-friendly winery located on their Señorío de Arínzano vineyard was designed by the prestigious architect Rafael Moneo, winner of the Pritzker Prize, who is also responsible for the new wing of the Prado Museum, Los Angeles Cathedral and the Stockholm Museum of Modern Art.


Our group were greeted and hosted by Public Relations Manager Frederico de Salas, who from the first moment won the affections of our group with his Spanish charm, warm persona and constantly humorous analogies. As we toured the estates buildings (old and new) he gave us great insight into the cultural philosophies of 11th generation owner Julian Chivite as expressed throughout the design of the buildings and facilities.
The winery was designed and built to encapsulate Chivite's philosophy to become one with the land and to be constructed with eco-friendly materials. From grape reception to the barrel the process is gravity managed seeking the gentlest of processes on the handling of the grapes through to the finished wine.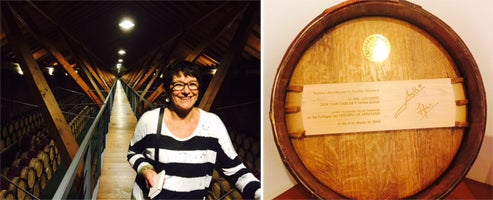 The barrel hall (capacity 3,000 barriques) is absolutely incredible. When walking the 100 metre plus of the footbridge that spans the entire length of the hall, you walk among a vast number of supporting timber beams on both sides that extend upwards on a 60 degree angle to the roof line. They were designed to replicate a feeling of walking in the forest, such was the fastidious attention to detail of architect Rafael Moneo. It was almost unfathomable how much money must have been soaked up in the construction of this amazing winery and surrounding buildings, which were more like a tribute to things other than wine and the architect's ego gone wild. I imagine the budget for the build was superseded many times and that owner Julian Chivite was likely subject to the architect's whims and wrote the cheques accordingly. Never the less it is truly impressive, it is absolutely harmonious within its surrounding 1,000 hectares of estate and will stand the test of time.
Frederico then led us to the beautiful tasting and dining room where we first indulged in a 6-wine tasting of the estates most prestigious wines followed by a 4-course Michelin lunch. The tasting consisted of the following wines...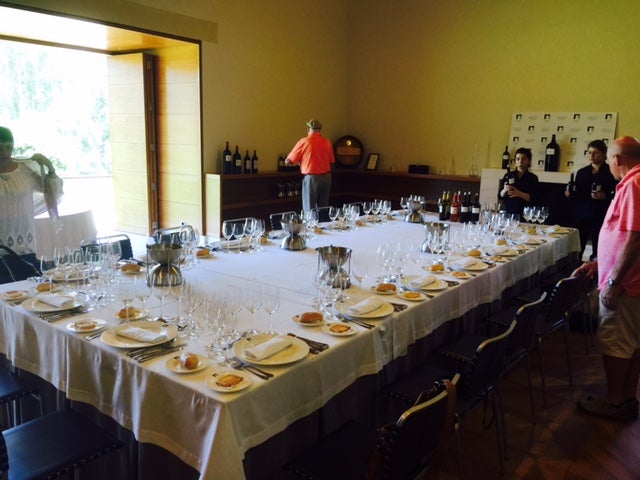 Chivite Colección 125 Blanco 2012 – 100%
with regular stirring. It is a world class Chardonnay and if I were to liken it to white Burgundy in style it would be Corton-Charlemagne. A mix of precision and richness with fine acidity and slate like minerality. Premier and maybe even Grand Cru in quality.Chardonnay aged 11-months in best French oak and aged on lees
Chivite Colección 125 Rosado 2012 – 100% Tempranillo given 11-hours of skin contact before stainless steel ferment and subsequent ageing in older barrels on lees for 12-months with regular batonnage. This is beautifully dry Rose with superb texture, subtly layered complexities and excellent length. One taste and I would happily pay the 30 euros to enjoy it as a special occasion Rose.
Chivite Colección 125 Vendimia Tardía 2010 – 100% Moscatel de grano menudo grapes, berry selected with workers picking several times over each bunch many for days to attain precise cover of botrytis. It's fermented and aged 5-months in French barriques giving the luscious floral/aromatic and spicy fruit structure and mouthfeel. Although it has oodles of botrytis richness and complexity it retains a bright acidity that repeatedly draws you back to the glass for another taste.
This trio were followed by three reds from the Señorío de Arínzano estate referred to as Pago wines. The Pago classification is Spain's highest category for winemaking and is awarded only to estates that exhaustively demonstrate over a very long period of time excellence in expression of their climate and terroir. You would liken it to 1ster Cru Classification in France. Arínzano is the first estate in Northern Spain to receive Pago classification.
The wines as follows…
Señorío de Arínzano La Casona 2008 – A blend of 75% Tempranillo and 25% Merlot aged for 14-months in a mix of 40% new and 60% second use French oak barriques. A full-bodied red with plenty of dark fruits and savoury, meaty complexities with well integrated spicy oak. Beginning to drink well but will live through 15-20 years with ease.
Señorío de Arínzano Gran Vina 2000 - A blend of 35% Tempranillo, 38% Merlot and 27% Cabernet Sauvignon aged for 14-months in a mix of 60% new and 40% second use French oak barriques. Powerful red with cassis and liquorice to the fore followed by savoury meaty Merlot influence and elements of underbrush and herbs from the Cabernet. The 60% new oak is well subsumed by the concentrated fruit. Drinking near its best but should hold 5-years with ease.
Señorío de Arínzano Gran Vina 2002 - A blend of 52% Tempranillo, 32% Merlot and 16% Cabernet Sauvignon aged for 14-months in a mix of 60% new and 40% second use French oak barriques. Again reflects the power of this vineyard and the strong cassis, liquorice terroir driven flavours consistent to all three estate reds. It has more powerful grainy tannins and texture than the 2000. It tastes like it is way off its peak yet and should drink past the 20-year mark with ease.
Frederico deliberately began the tasting with the Arínzano reds before going back to try the Chivite Colección Rosado, Chardonnay and Vendimia Tardía. Whilst not the order one would normally taste them in, once you came to the end and reverted back to the reds they were aromatically and flavour wise quite different, so quite an interesting change from convention.

The lunch menu and accompanying wine list as follows…
Starters – Crystal peppers from Pontigo with D.O. Aragon olive oil, Foie Gras, blueberry marmalade and raison toast, an amazing combination and beautifully matched by the Chivite Colección 125 Vendimia Tardía 2010
First course – Pochas… local white beans in a broth with Chimichurri pickles – perfectly matched by the Chivite Colección 125 Chardonnay 2012
Second course – Wagyu beef with a ragout glaze, which was amply flavoured to tame the powerful palate of the Señorío de Arínzano Gran Vina 2002, without any compromising of its complex tastes.
Dessert – Caramelised French toast with cinnamon ice cream – we reverted to the Chivite Colección 125 Vendimia Tardía 2010 and it was equally at home in this pairing as it proved with the Foie Gras starter.
Totally replete with espresso for some and a bit more of their favourite wine for others, Roger Spooner spoke with feeling and humour as he thanked Frederico on behalf of the group for his perfect hosting, the impressive wines and the fabulous lunch.
Then it was back on the coach for a two drive to our home for the next two nights, San Sebastian on the northern coastline of Spain. Our accommodation… Hotel de Londres sits on the promenade of the harbour facing directly out to sea and all of our rooms offered a 180 degree vista.
Shaped like a saucer with a 20% opening to the ocean, the harbour of San Sebastian has a pleasantly cluttered collection of grand buildings that front its entire circumference but the hills on both sides remain covered in trees making for a spectacular and memorable vista. Virginia and I were still trying to fully digest our superb luncheon so we elected to nibble on a small plate of Iberico Jamon, cheeses, tomato and avocado whilst enjoying a couple of glasses of Codorniu Anna Brut Cava. All this while standing on our balcony watching the locals and tourists enjoy the promenade and just taking in the unforgettable vista.
Continue on to day 6 here.