Spanish Wine Tour - Day 7, Wednesday 3 June
Wednesday June 3
Our coach left San Sebastian at 9.30am and with non-stop double lane highway stretching to and beyond La Rioja, we arrived at the doors of the famous Rioja producer, Marques de Riscal just before midday. The signature 5-star hotel bearing the same name and located on the winery property is visible from almost a kilometre away, designed by legendary architect Frank Gehry, designer of the Guggenheim Museum (see picture of hotel below), it is truly spectacular… more about that later.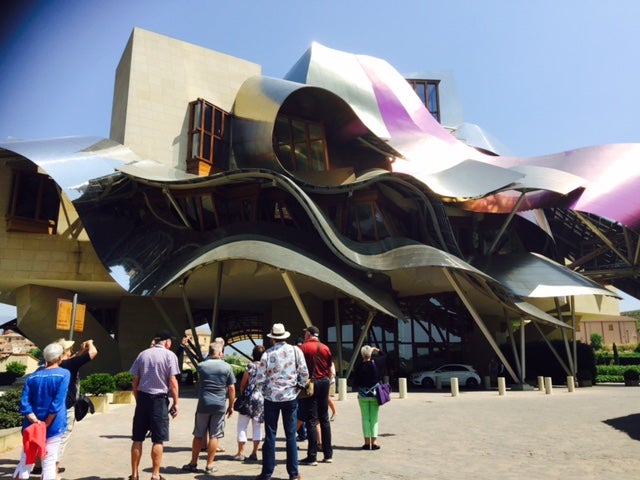 Welcomed by our charming host Carlos, he had the cleanest and most highly polished shoes ever, which intrigued the group resulting in some immediate light hearted banter getting us off to a great start. Our first stop was the theatre for a 10-minute film showcasing the history of the Bodegas, which was founded in Elciego (Álava) in 1858 by Guillermo Hurtado de Amézaga.
Just 5-years later in 1862 the awards began to roll in for their wines and in 1892 Marqués de Riscal was the first non-French wine to win the diploma of honour of the Bordeaux Exhibition. 1986 saw the first release of the first signature wine… Baron de Chirel and in 1995 the winery introduced the first grape sorting table in La Rioja.

Outside of the founding of this great Rioja winery in 1858, the most significant development since was the construction of the amazing Frank Gehry designed hotel on the property opening its doors the 1st of September 2006 and celebrated its official Grand Opening Event in October 2006, with a special visit of the King of Spain, Don Juan Carlos.
Our tour was comprehensive and took in visits to the old and new barrel complexes, the production for the trio of single vineyard wines, the bottling hall and the huge temperature controlled bottle storage for the trio of single vineyard wines, the bottling hall and the huge temperature controlled bottle storage rooms housing circa 3.6 million bottles of wine undergoing additional bottle ageing.
After completing our tour we adjourned to the tasting room to try two wines…

Marqués de Riscal Rueda 2014 – a dry white wine made from the native Verdejo grape variety. Very tropical flavours it is made in a fruit driven style and has quality aromatics, but has more fruit dimension than many aromatic wines and a balanced acidity that makes it a very repeatable glass of wine.

Marqués de Riscal Reserva 2011 – we were first to try this 2011 Reserva, which is normally circa 5-years old prior to release (2-years in oak and 2-3 years maturation in bottle). The 2010 is coming to an end this 2011 is due for export release shortly so they were keen for us to review it. It is clearly a ripe vintage (not overripe) with a mix of mainly black fruits and a some red cherry infused with liquorice, toasty oak, cinnamon, black pepper and savoury balsamic like complexity. It is set to be a long lived wine and although 5-years old on release should age well beyond the 10-year mark. Right now, match with fatty red meats and game dishes and decant prior to serving.
Interesting to note at this juncture that prestigious USA wine magazine Wine Enthusiast rated Marqués de Riscal… Best European Winery in 2013. It had been a great 2-hours with Carlos and in thanking him on the group's behalf he was equally effusive in praising our group for their attentiveness and relaxed attitude. Given Carlos hosts several groups per day it is clearly a treat for him when he comes into contact with a party of genuine wine lovers who are both interested and respectful of the property and its hosts.
We bade him farewell then walked up the hill (still on the winery property) to the hotel to be greeted by Ollaia and taken by lift to the 2nd floor of the hotel to the restaurant for our special lunch. The restaurant opened in 1986 and in 2004 Francis Paniego was the first Riojan chef to receive a Michelin star with his outstanding Basque-Riojan cuisine.
The menu was as equally impressive as the cuisine proved to be and I have detailed that below. We enjoyed two more wines of the estate with lunch…

Marqués de Riscal Sauvignon Blanc 2014 – very much in the Hawkes Bay Sauvignon flavour spectrum with loads of ripe tropical fruits but perfectly contrasted with a concise acidity that made it ideal with a range of cuisine and left freshness on the finish.
Arienzo D.O. Ca. Rioja 2012 – made from a high level selection of red grapes, 90% Tempranillo, 5% Graciano and 5% Mazuelo. Aged in French oak for 18-months with a further 2-years in bottle it is a Crianza (earlier drinking premium Rioja red) classification perfectly suited to the lunchtime environment and the accompanying dishes. Lots of berry fruits with spice/vanillin oak and grainy milk chocolate infused tannins. Not sure of its NZ retail price but believe it's circa mid $20's and if I'm correct, is outstanding value.
Lunch menu…
Starters…
Vine shaped sticks made from parmigiana sitting in a bowl with dry ice
Foie Gras and red wine caviar
Chicken and Mushroom croquettes
Tapas…
Carpaccio of shrimp on tartare of tomato
Lobster and quinoa salad
Rich creamy vegetables of mushroom and noodles
Mains…
Roasted hake on a pillow of potato with a light aroma of vanilla
Lamb glazed with a touch of ginger
Dessert…
Warm goats cheese with apple and honey ice cream
Lunch had extended through to 5pm so it was around 5.30pm when we arrived at out hotel in Logrono. Due in the lobby at 7.45pm to go out for dinner you can imagine how lacking in enthusiasm we were after less than 3-hours earlier having just completed a Michelin lunch of many courses. However we were up for it and set out on foot for a 10-minute walk to a local seafood restaurant that Virginia had discovered on Trip Advisor. One could be forgiven for being sceptical about dining at a seafood restaurant in the heartland of Spain so far from all coasts (not normally advisable), but armed with Trip Advisor's 4.5 Star independent reviews we were prepared to chance our arm.
Owner Havier was an Englishman with a Northern accent who had lived in Spain for 40+years. He was married to a Spanish girl (strangely spoke little English given she was married to an Englishman) and clearly although still retaining his English accent, was much more Spanish. The restaurant was very simple and looked more like a local fish & chip shop. But as the evening progressed and the array of fresh sea food dishes were served, we became very comfortable with Trip Advisors 4.5 Star rating.

Havier is Spain's largest Northern sea food buyer outside of supermarkets… he has a 35,000 litre salt water pool and brings a container of fresh sea food up from Southern Spain weekly, to fill the pool and serve it fresh to meet the needs of his Logrono and Burgos restaurants. After Virginia made our reservation several weeks ago Havier had logged onto our finewinedelivery.co.nz site and after viewing it was a bit concerned that his limited and inexpensive wine list would not be well received by us. He welcomed me to taste a selection of wines and I made a choice of a dry Albariño and a Reserva Rioja, both very drinkable, medium bodied wines that were ideal for enjoying with the myriad of sea food dishes that ensued.
Havier was a most engaging host and there's something about eating with your hands that makes the night so relaxing and fun. Having consumed 2 Michelin meals in the last 24-hours, our bodies welcomed such naturally prepared, fresh foods and we were guaranteed not to go to bed with an uncomfortable fill stomach despite having eaten a sizable dinner… a truly earthy local experience that we'd highly recommend.
Continue on to day 8 here.