Spanish Wine Tour - Day 8, Thursday 4 June
Thursday June 4
Our Logrono hotel was well located so we did not have to board the coach until 9.30am for our 10.00am appointment with Alberto Saldón Maté, of the 5th generation family owned Rioja wine producer, Sierra Cantabria. Arriving at the door of their Senorio San Vincente property we immediately followed Alberto a few minutes up the road to view the Sierra Cantabria Bodegas and cellars that have been under construction for 8-years and may take another 10-years to complete. 8-10-12-14 years yet, whatever, it will be completed when the family can do so and without placing undue pressure on the future of the business that was founded in 1869.

The winery buildings are structurally complete as are the 2km of underground cellars with an impressive stud height circa 15-feet. When looking at the size of this project it is difficult to comprehend that one man and his son in control of a few pieces of machinery with only 4 other workers at their beckon, have contrived this place of beauty from the earth in just eight years. The stone is mined from the cellars in blocks so it was able to be used in the building of the winery reception and production buildings above ground.
Grandfather, visionary and 3rd generation family member Guillermo Eguren is now 82-years old and still rides his bicycle 25km from home to Sierra Cantabria to work. He hopes to see the completion of Sierra Cantabria, but if death comes sooner, he is more concerned about playing his role in growing the business for future generations of the family.
The Eguren family have spent 5 generations acquiring and planting vineyards, they understand the vineyards are key to the quality and personality of their wines, the buildings come later. Under the current stewardship of Marcos and Miguel Eguren the family properties have grown to six in number, each selected for their unique terroir and the winemaking is tailored to allow the individual vineyard expressions to prevail.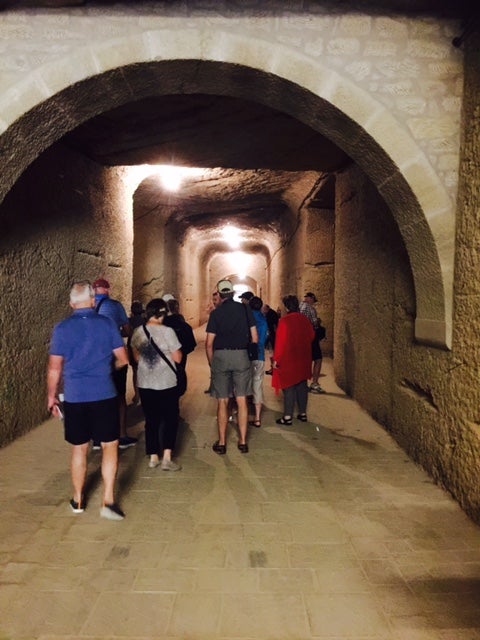 Alberto then directed our group back to the cellars of Senorio San Vincente, which from the road (located in the heart of the village) give you little indication of the cellars that sit beneath the towns streets. Once also a production facility these days it has three purposes…
1.As a museum for showcasing the ancient tools variously used on the land and in the winery
2.A 3 year cellar for the storage of Senorio San Vincente reds while they age for market
3.A cellar for the families private wine collection including Bordeaux and Burgundy wines from exceptional vintages that they both enjoy and use to benchmark their Rioja wines and determine their progress
After touring the cellars Alberto directed us to a private room (he refers to as the family's dining room or living room) for a tasting and lunch. By now our group were totally connected and understanding of the Eguren family vision and were very much anticipating trying the wines. We formally tasted 4 wines before lunch as follows…
Sierra Cantabria Gran Reserva 2005 – 98% Tempranillo with a tiny 2% Graciano crafted from hand-picked fruit from their Sonsierra vineyards. Barrel aged for 24-months in 25% new oak and 75% in 2-4 year old barrels, the wine was aged an additional 2-years in bottle. 2005 was a special vintage and it shows in the depth and complexity of the wine, which has great harmony as well. The aromas while savoury dominant still have subtle floral and fruit notes with a mix of dried herb complexity and liquorice permeating the smooth, juicy palate. In a perfect place and will hold for a few years yet.
Sierra Cantabria Reserva Única 2011 – 97% Tempranillo with 3% Graciano this is a very limited production red aged 24-months in 60% new French oak and 40% 2-4 year old American oak. Packaged in a Burgundy bottle (not sure if that is intentional), it is a more elegant style with subtle array of aromas from cinnamon, rosemary, floral notes, liquorice and red fruits that transform into a palate with contrasting fine tannin and juicy acidity wrapped around a body of fresh fruits and subtle oak and savoury spice complexities. As I alluded to it has a bit of Burgundy elegance and intrigue.
Sierra Cantabria Colección Privada 2012 – 100% Tempranillo grapes from the proprietary vineyards of Senorio San Vicente de la Sonsierra planted in 1957-1959. The fruit yields are extremely low and after ferment and maceration they are aged for 16-months in new oak barriques (50% French – 50% American), which belies the finesse of the wine that has beautifully subsumed the oak. Wild thyme, roses, musk, floral notes, liquorice, berries and more; it's a very complex and beguiling red.
Sierra Cantabria Organza 2013 – the showcase white wine of the house that is made from 50% Viura, 30% Malvasia and 20% Garnacha Blanca from very modest fruit yields. Incredibly (given its rather subdued oak expression on the palate) it is aged for 9-months in new French oak. On the nose and in the palate it has great fruit expression with smells and tastes of guava, granny smith apple, pear, pineapple and a veritable expression of a garden of mixed herbs subtly parading in the back ground. The texture of Chardonnay with the medium level of fresh acidity of Pinot Gris, it is a white wine of substance and elegance ideally suited to fatty white meat, poultry and sea food dishes.
At this stage the lunch was served with the first course a mix of…
Cured loin of ham, fresh tomatoes, white asparagus and local anchovies (very unlike and superior to what we get served in NZ).
This was accompanied by a Sierra Cantabria Rosada 2014…
crafted from 50% Tempranillo, 25% Viura and 25% red Garnacha, with limited skin contact to the Garnacha to add colour, tannin and subtle red wine flavour. Very perfumed and concentrated with a slightly grippy mouth feel (great food wine as it proved with the mix of starters) and a complex array of cherry, savoury, liquorice, rosemary, wild berry and subtle caramel tastes.
The next course was…
White beans served in a soup that were so delicate they melted in your mouth.
Alberto unveiled the Sierra Cantabria Colección Privada 2007 (superb vintage) to enjoy with this dish and it showed many similarities to the 2012, showcasing the unique terroir from where the grapes emanated. Rich, dense and beguiling on the nose the palate was deeply layered and smoothly textured. Again with those classic herb/liquorice tastes of the region/terroir the complex fruit and oak characters were well entwined and the evolution from opulence to freshness quite Bordeaux like.
The mains…
Baby lamb (weighed only 7kg when harvested) roasted that was incredibly flavoursome and tender served with a fresh salad, so simple yet so fabulous and memorable!
Alberto saved the best for last (as you do) serving the amazing single vineyard… Amancio (named after Amancio Eguren, founder of the family wine business) a 2006, crafted with hand-picked fruit from double density planted vineyards planted 575m above sea level. The vines are 25-30 years old and clearly yielding wines of great character and balance. The final fruit selection is rigorous as this is one of the 4 flagship single vineyard wines the Eguren family produce. Fermented and aged in 100 % new French oak Bordelaise barrels, during the 8-day fermentation the juiced/must is foot trodden twice daily and post ferment given a further 15-days of maceration on skins to extract a balanced mix of tannin/colour/flavour extract. 2006 was not a great vintage but the wine was superb, reflecting the no compromise approach to the making of this special red. A magnificent mix of power, flavour, structure, finesse and freshness, thank you Alberto and Marcos for this treat.
The dessert… was a welcome mix of fresh fruits after the exotic medley of desserts we had been served in our Michelin ding experiences of the previous 48-hours. Water melon, pineapple, Kiwifruit, cherry, rock melon etc.
I invited Lynn Henderson to express the gratitude of the group and she did so with eloquence, substance, humour, thoughtful analogies and compassion. Alberto was suitably impressed and very gracious in his response, I noticed a couple of slightly teary eyes in the room, and appropriately so. Our group fare welled Alberto like a friend of the ages and it felt that way, what a fine young man who passionately carries the torch for this remarkable, committed and patient winemaking family who seem poised to grow into a generational equivalent of the great Italian winemaking families of Antinori and Frescobaldi that have each spanned more than a millennium.
Tomorrow we had a second appointment with the Eguren family to visit and tastes the wines of their famed Vinedos de Paganos property and after today we were even more excited at the prospect.
Continue on to day 9 here.