Te Mata 2019 Wine Release. A Fairytale Vintage
Te Mata Estate are releasing their highly anticipated 2019 wines – Coleraine, Awatea, Bullnose, Alma and Elston. Winemakers and critics are calling it a fairytale vintage, with their perfect 100 point flagship wine Te Mata Coleraine, dubbed Beauty and the Beast! A wine that exudes depth and power, with an exquisite perfume, and spellbinding enchantment.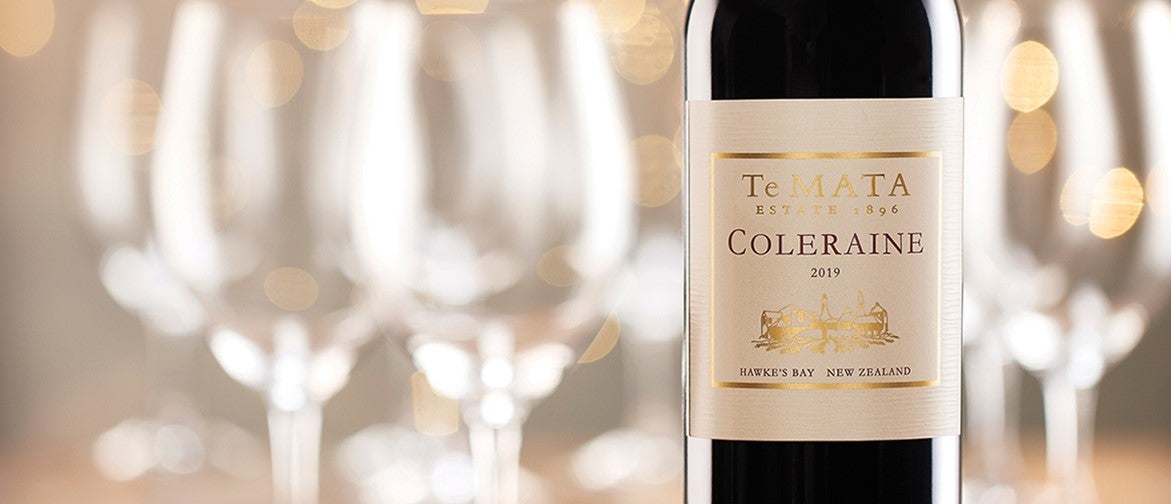 The first day of March is an auspicious day for a wine lover, when we all wait with bated breath to hear, and for those lucky enough, to taste just how good the current vintage release from Te Mata Estate will be.
New Zealand's pre-eminent Hawke's Bay Bordeaux Blend Coleraine, the top tier of this release, is a legendary wine with a cult like following both domestically and globally. A wine by its very design that stacks up against the world's finest, both in style and quality. The main difference being its rather affordable price tag versus similar wines from Grand Cru Bordeaux producers. And it is because of this that people who love wine, people who cellar wine, and people who invest in wine follow this hotly anticipated release.
And for those of us that just like to drink the stuff, it means the rest of the Te Mata range will reflect the same quality, and it serves as an indicator that other premium red wines from that vintage and region should be worth a look too.
But of course, we already have a fair idea about the vintage, as Coleraine is usually one of the last premium red wines to be released, which is why we are so excited about 2019 as we know it was a good vintage.
But with Coleraine a good vintage combined with skillful winemaking and almost forty years of experience in crafting this complex wine, will produce spectacular results … and the votes are in people!
5 STARS & 100 POINTS FROM SAM KIM – WINE ORBIT
"Destined for a long life, this majestic offering shows cassis, dark plum, hint of tobacco, cedar and floral aromas on the nose. The palate is packed with rich fruit intensity combined with layers of silky texture and complex flavours, wonderfully supported by perfectly pitched chalky tannins, making it sturdy and structured with a seemingly endless finish. Flawless and spellbinding. At its best 2029 to 2049"
97 POINTS CAMERON DOUGLAS - MASTER SOMMELIER
"Complex and very sophisticated with a calm yet mysterious package of aromas: elegance and finesse, aromas of dark olive and barrel spices. Very harmonious already, but lots of youth and palate tension. Big tannins, ripe tannins and acidity to match. Delicious, young, vibrant…Best from 2028 through 2040"
97 POINTS GARY WALSH - THE WINE FRONT
" Cherry, ripe raspberry, dried roses and tobacco, cocoa and baking spices, a wee bit of menthol. It's medium-bodied, taut and tightly strung with mineral feeling cranberry acidity, sheets of slate-like tannin, superb waft of mouth-perfume, and a firm finish of impeccable length. A whole lot of what you might call discreet structure this year, and feels particularly long-term. Oh Coleraine, you've done it again!"
BOB CAMPBELL - MASTER OF WINE
"An iconic brand meets a terrific vintage. The result is a must have wine for collectors and investors. This is elegance on a grand scale and one of the best vintages I've tasted. Still youthful and quite closed ( it was bottled on the day I tasted it ) but with plushness and power"
98 POINTS JEFF POOLE – FINE WINE DELIVERY
"Intensely aromatic, displaying awesome power, structure and concentration while retaining elegance. Pristine fruit floods the palate, closely followed by a burly entourage of structural tannins, the fruit is still very primary but undeniably luxurious and filled with undeniable potential. Possibly more forward than a classic Coleraine, but with all the bones, flesh and sinew to reward patient cellaring over 10 to 25 years."
If the scores alone haven't convinced you, keep reading and we'll walk you through what makes Te Mata Coleraine so special…
History
Te Mata Estate is the oldest of our continuously operated Wineries and produces our most sought after premium red wine… Coleraine. Dedicated to the Coleraine vineyard that surrounds the home of Te Mata's founders John and Wendy Buck.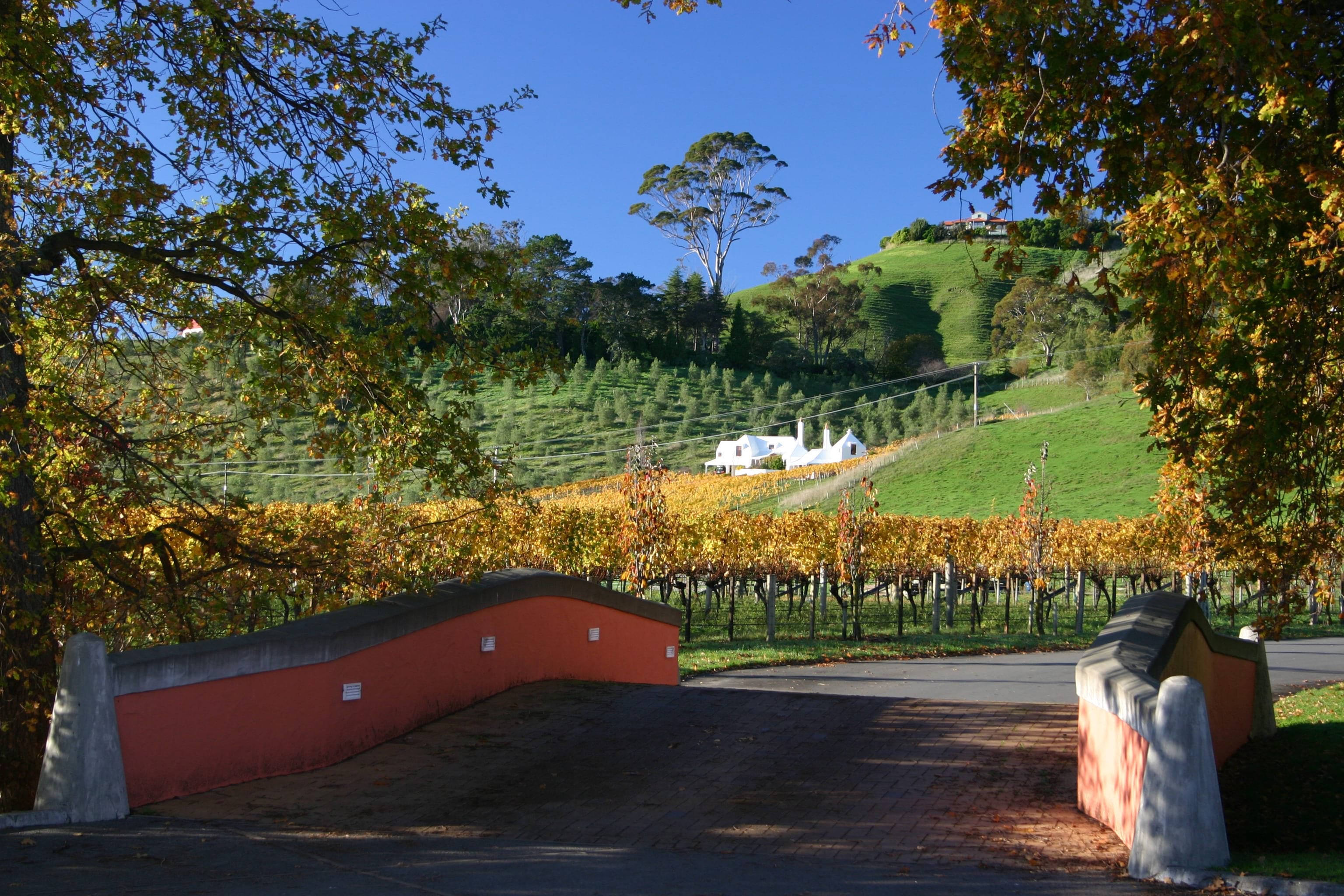 ( Pictured - The Buck Family home Coleraine and surrounding vineyard, across the road from the winery )
John's late grandfather was born in Coleraine in Northern Ireland, and the name is a dedication that carried through to their family home and onto the flagship wine that has become one of New Zealand's most famous exports.
First produced in 1982, it was originally a single vineyard wine that took fruit solely from their home block until 1989 when global demand sky rocketed. It is now an assemblage of the finest wines produced from distinct plots within their Havelock Hills vineyards – some plantings of which date back as far as 1892.
It was John Buck's tireless belief in the quality of Hawke's Bay Reds that inspired him to produce NZ's Grand Cru equivalent. He wanted to craft the very best representation that would compete with the likes of Bordeaux's legendary top tier producers.
Te Mata Coleraine is a classic Bordeaux blend that uses Cabernet Sauvignon, Merlot and Cabernet Franc. It is a traditional assemblage of finished wines made using very traditional methods, with the finest of resources, aged to perfection and suited to cellaring for twenty plus years. This is an old world, traditional ethos and not the only one you will see at Te Mata Estate.
Also more akin to European winemaking ventures is their structure for grape growing and winemaking, where the whole process is designed to achieve top quality for their crowning jewel - Coleraine. Think of their business as a triangle and the tip of that triangle is Coleraine … everything else flows down from there. All the fruit is grown with the intention of being Coleraine – anything that isn't good enough for Coleraine will trickle down to Awatea. The French would call this declassification.
And if it's not good enough for Awatea….then the Estate Cabernets/Merlot will get that fruit. And anything that's not good enough to bear the Te Mata brand is sold off. And if it's not a good vintage, then there simply won't be a Te Mata Coleraine made that year!
In fact Te Mata only use around 50% of what they grow. Fruit will be sold off, sometimes pressings & even finished wine will be used by other brands. It is a very French model, used by the top Bordeaux and Burgundy Estates for centuries. You as the consumer can rest assured that anything carrying the Te Mata Estate brand is of the utmost quality, because boy do they have high standards!
2019 – A Fairytale Vintage
The mere mention of a vintage report makes most people's eyes glaze over - so we'll keep this bit brief. What the boring old data tells us however, is why the experts are all so excited about this vintage, and how it has produced such an exciting Coleraine release. Temperature and Rainfall are crucial to a vintage's success … or its demise, and both these elements really played ball in 2019, helping to create a fairytale vintage!
Rainfall is critical early on. The vines need rain to promote growth and establish a healthy canopy for soil and fruit protection, and they also need it to help set the fruit. After that, you need enough to provide moisture in the soil, but too much rainfall on the canopy and fruit, brings a greater risk of disease and uneven size of grapes. Ideally you want dry conditions that put the vines under a little stress at the end, this maximizes colour, flavour and tannin in red varieties.
Rainfall was near perfect for the 2019 vintage. The small amounts we did get at unwanted times, were always accompanied by a prevailing wind or high temperatures, to dry things out before there was any risk of disease.
As for temperature, well if you cast your mind back to your summer holidays that year, things started to heat up early, and it seemed to go on till Easter! This made for an earlier budbreak as well as earlier flowering in November. When December hit the temperatures were already around 25 degrees most days – with a few closer to 30 already. January saw at least ten days around 30 degrees and the nights stayed warmer too. This put the year ending in January, 90 degree days ahead of average!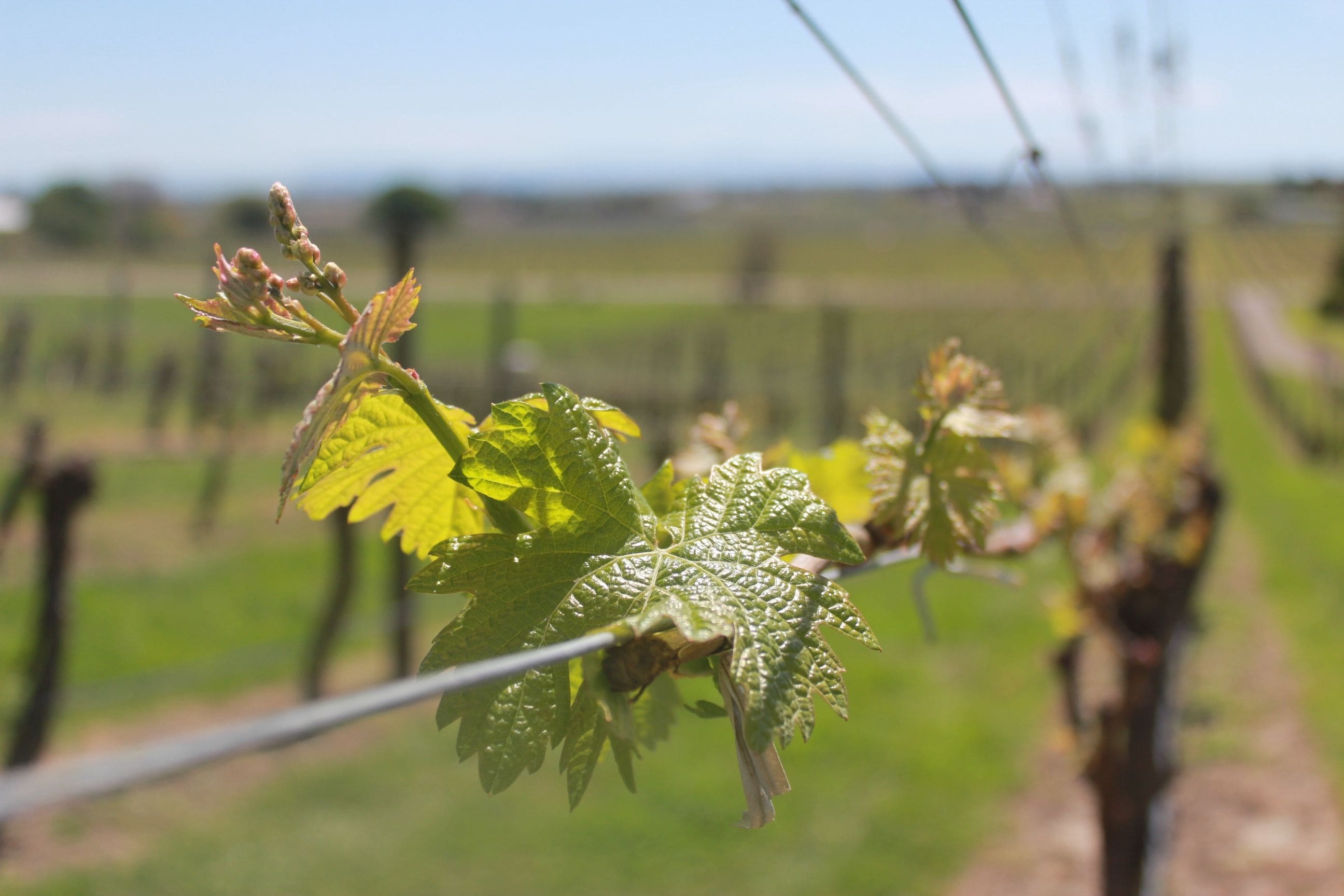 ( Pictured - Bud Burst in the Coleraine Vineyard )
Veraison ( colour change ) was early too with most blocks under way early in February ( led by Syrah which is usually much later ). And the warm dry conditions continued into Autumn. The whites were picked starting on March 14th and the Reds began on the 25th, with everything hand harvested by April 14th. The dry settled conditions meant they could pick in a more leisurely enjoyable fashion than most years, quality checking fruit as it was taken off the vines. It was textbook stuff really, and we all know how fickle Mother Nature can be, so to get a year that did just about everything right is certainly what fairytales are made of!

2019 was a VERY good Vintage for Te Mata, only time will tell if it is amongst their best!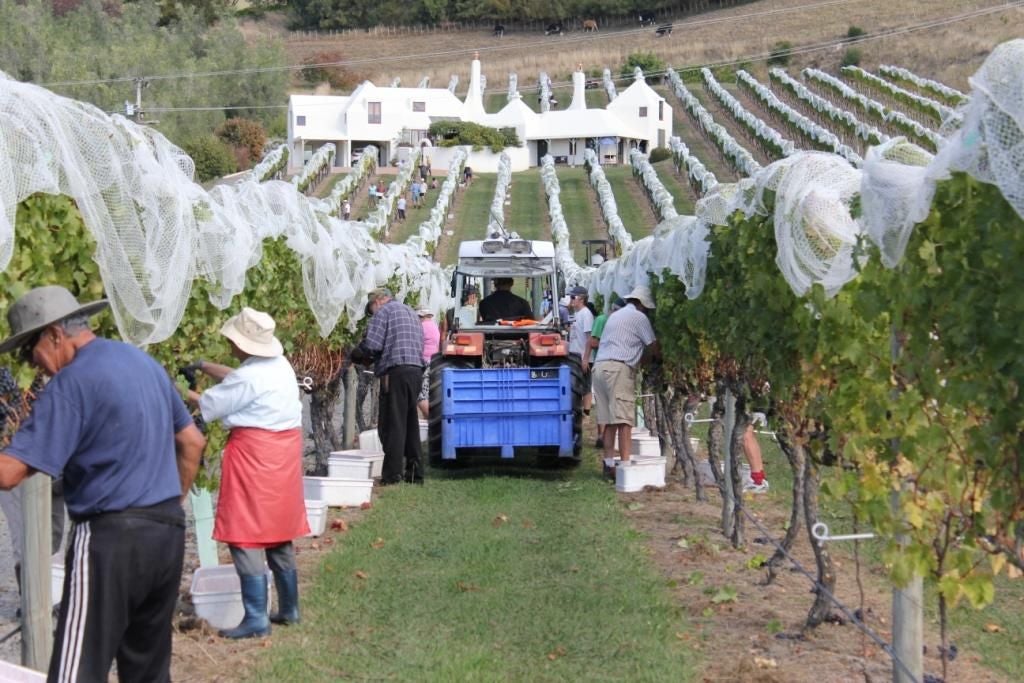 ( Pictured - Hand picking from the Coleraine vineyard )
Coleraine Winemaking
And the love and careful eye for detail continues, as each parcel of grapes is de-stemmed by hand with yet another pass of watchful eyes to do that all important final quality control check.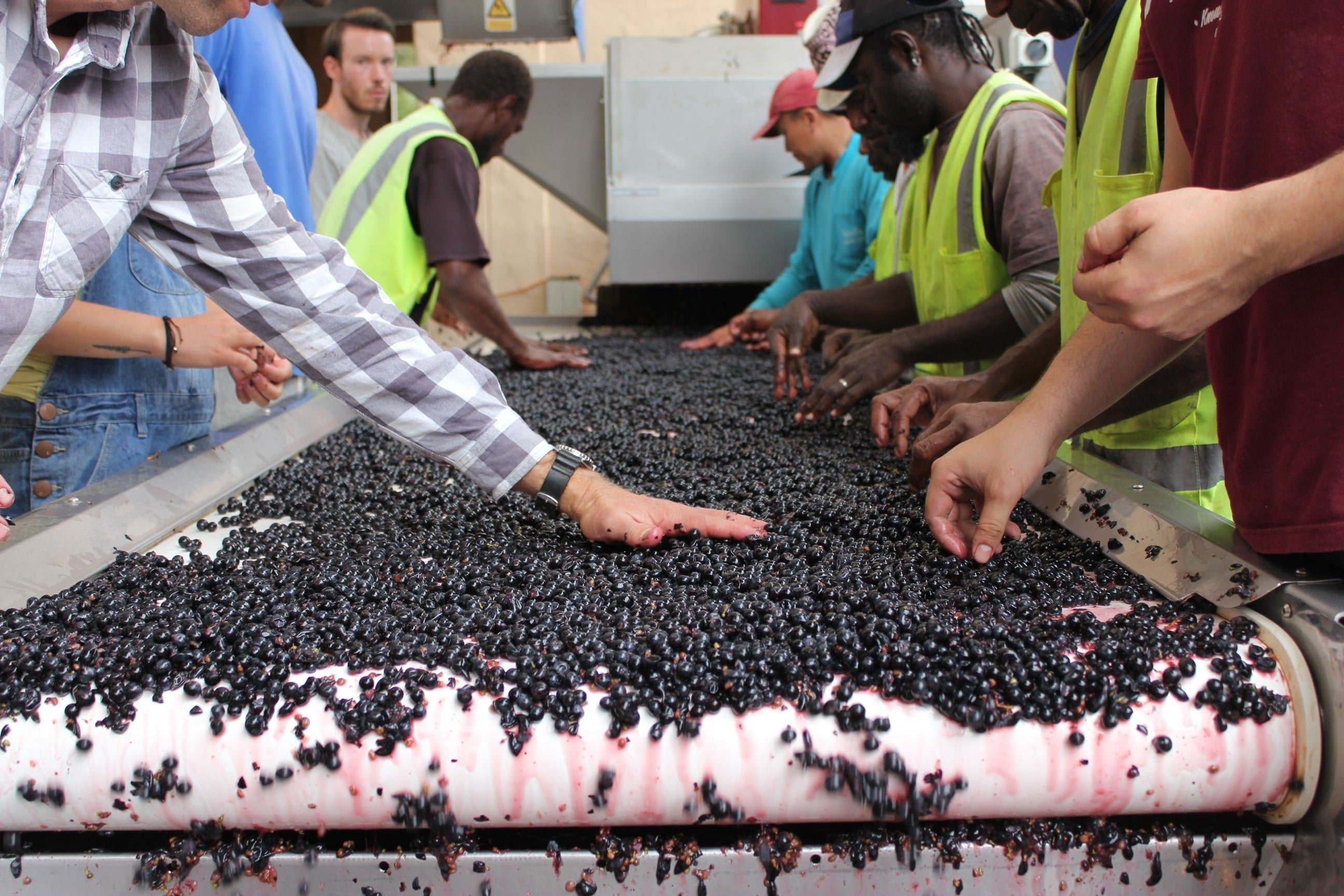 ( Pictured - de-stemming by hand at Te Mata Estate )
A traditional warm plunged fermentation starts the process off. Plunging helps to regulate the temperature during fermentation and it keeps the skins moving - extracting the essential phenolics from the grapes that build layers of taste, colour and mouthfeel in the wine.
Once the initial fermentation is complete, the wines are then run off to predominately new French Oak Barrels. At Te Mata Estate this is achieved by using nature's 'Gentle Annie' gravity, opposed to pumping wine by force. Allowing gravity to move by nature is proven to preserve fragrance and colour – and the fragrance of this 2019 Coleraine is a standout! The wine stayed in barrel for 16 months, with regular topping and racking during that time. Topping is literally a top up of reserve wine they allow for in initial production that replaces any evaporation and prevents oxidation. Barrels are far from air tight, and up to 5% of wine will disappear known as the "Angel's Share".
And racking is a filter and funnel system, moving wine from one barrel to another and it's done for two purposes. Firstly as a soft filter to remove particles of grape skin and yeast etc, but not at the start of the process before they have a chance to impart some useful characters to that wine. And then again once secondary fermentation is complete, to further clarify, and shape the wine.
And this is where science meets art, where winemakers will show their skill, use their years of experience to extract every nuance that befits that vintage and that varietal.
Winemakers who know their fruit, understand the impact of vine age and terroir, will create all the secondary characters in a wine. Here they will tame the beast of tannin, manipulate structure and establish ageability. It's a true labour of love and one of the most influential steps in the total winemaking process, that takes great fruit and crafts it into spectacular wine…like Te Mata Coleraine 2019.
The final blend ( assemblage ) is 59% Cabernet, 37% Merlot and 4% Cabernet Franc.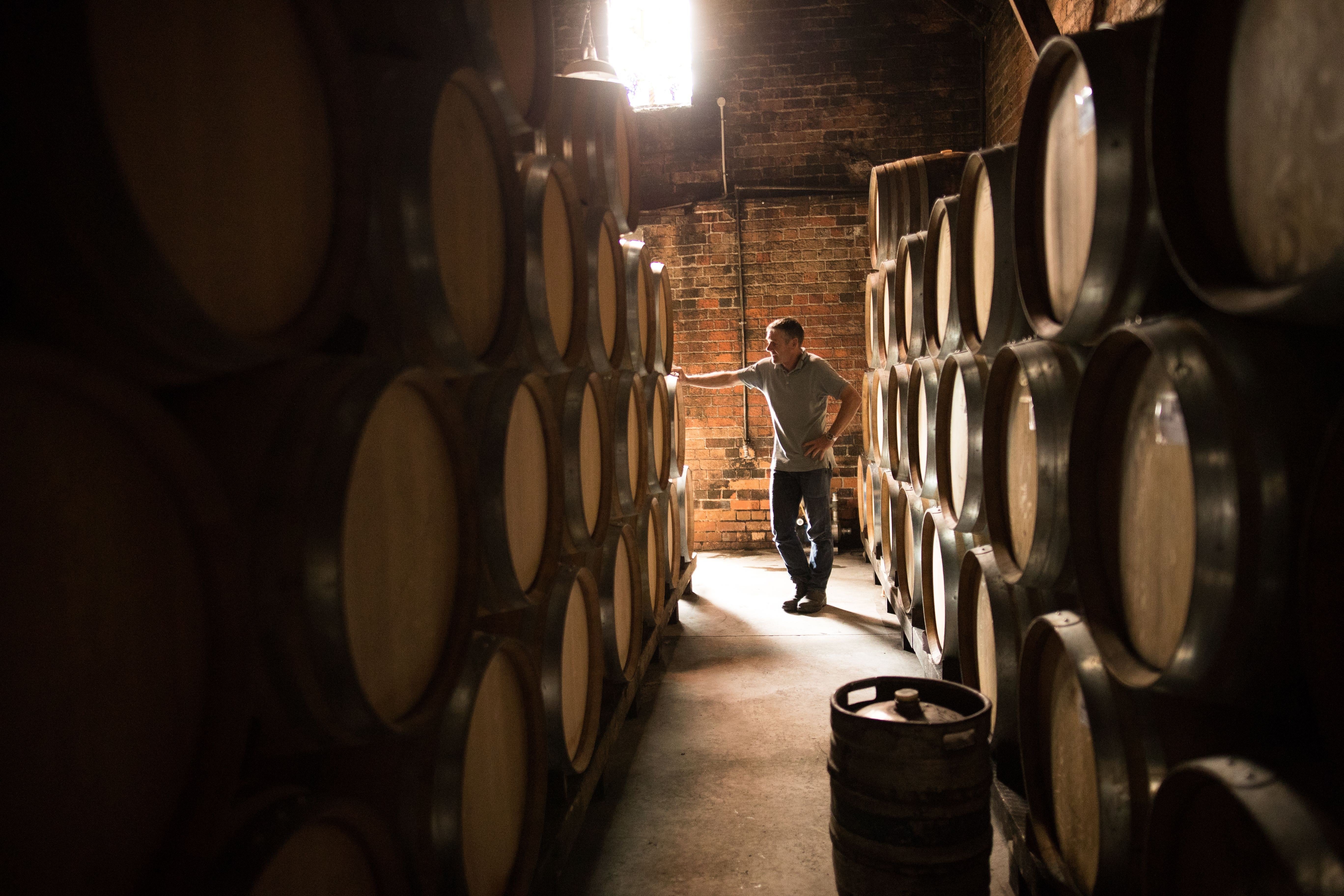 ( Pictured - Winemaker Phil Brodie giving his barrel babies a few encouraging words )
The Te Mata Estate Range
And while we have been focusing on the sensational Coleraine release we cannot pass by the other 2019 releases – Awatea, Bullnose Syrah, Alma Pinot Noir, Elston Chardonnay, Zara Viognier and Cape Crest Sauvignon Blanc – all outstanding wines from the Fairytale Vintage and all top New Zealand examples.
Large Format Coleraine
There are large format bottles of 2019 Coleraine available too – 1.5 litre Magnum, 3L Jeroboam, 6L Methuselah, 9L Salamanzar and 12L Balthazar in very small quantities. These bigger bottles always cellar well due to their liquid wine to oxygen ratio and of course, their limited availability will return a good investment if well stored.
We will publish our best in market pricing with a pre-order special for two weeks on Tuesday the 23rd of February – so keep an eye on the website. Orders will be dispatched once the wines arrive to us from the winery on March 3rd.
Showcase Tasting Including Three Back Vintages from the Te Mata Cellars
And if you're as excited as we are about tasting these treasures, then be sure to purchase a ticket to the Te Mata Showcase Tasting presented by CEO and Family Member Nick Buck. Click below to purchase tickets to taste through the range of Te Mata Wines including Coleraine 2019 and 2007 from their cellar, Bullnose Syrah 2019 and 2014, Awatea 2019 and 2006, Alma Pinot Noir 2019, Elston Chardonnay 2019, & Cape Crest Sauvignon Blanc 2019.
Shop all Te Mata Wines Online at Fine Wine Delivery Here