We all know a Juicy Tart!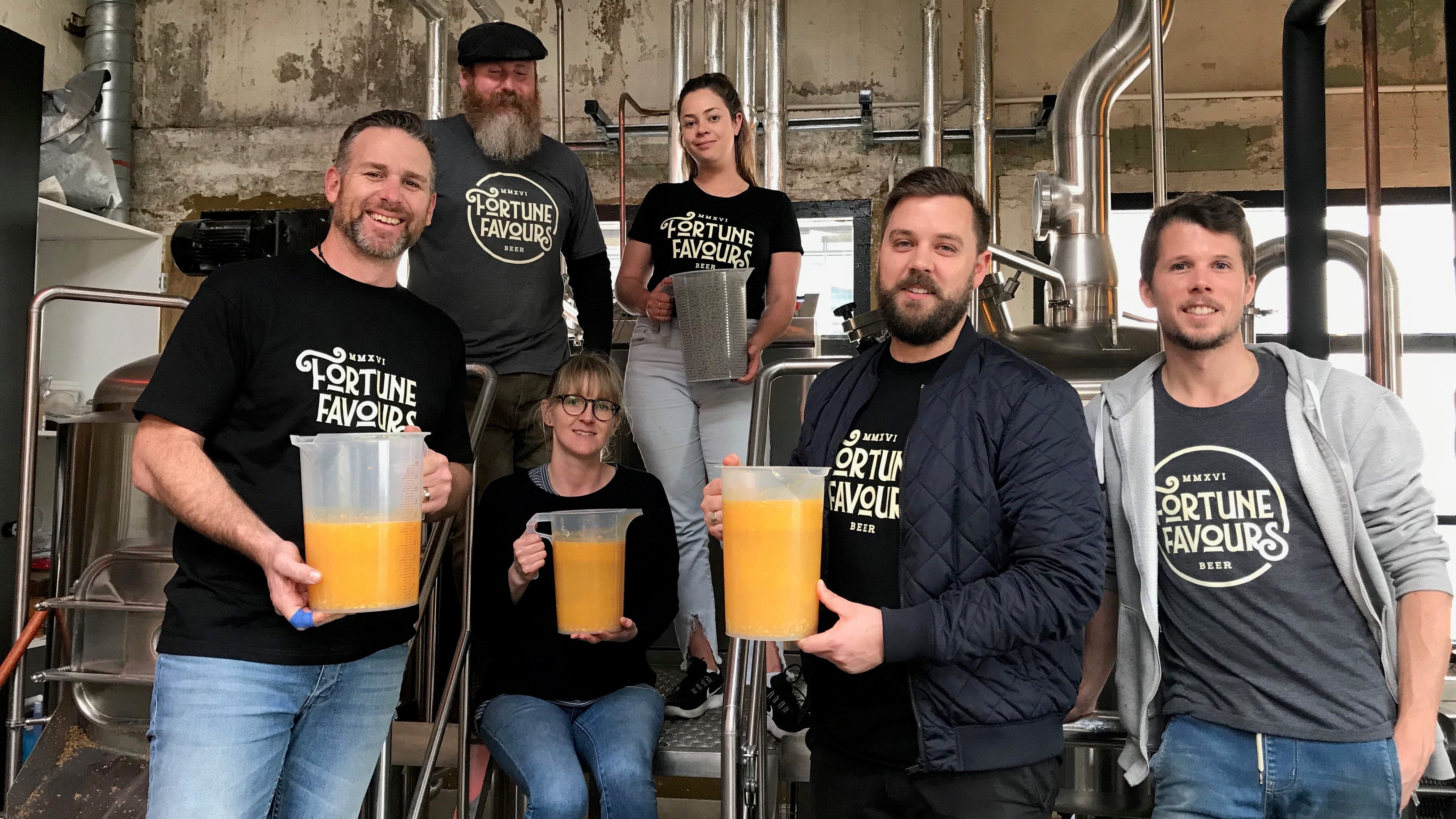 When it comes to beer, everyone knows fresh is best. Most likely, some of your fondest beer memories are with a fresh, cold pint straight from the tap to hand. When Richard (GM) and I were thinking about how we could bring fresher, tastier beer to our customers, and with some home brewing experience ourselves, we thought – why not make our own beer on site?
We set out with a mission to make a brew that we and our customers would like to drink, but also didn't want to make "just another IPA". We were first inspired by Ballast Point's Grapefruit Sculpin, a beer we both love, which has great malt presence and flavour with the grapefruit addition making it a bit more exciting and interesting. Being grapefruit season here in NZ, we bought ourselves some ruby grapefruit and set out to make a juicy, zesty New Zealand hopped Grapefruit IPA. We brewed a few 20L batches on our Grainfather Brewing System here at FWD Co., and after a few hiccups along the way crafted a recipe that we were happy with.
As most of you will know, 20L is by no means a large amount of beer, and so our next step was to scale up our recipe. We thought about who our ideal collab brewery would be, and given we were already heading down to Wellington for Beervana, Fortune Favours was the obvious choice. We have a great relationship with Fortune Favours, first trying their beers at Beervana a few years back resulting in us harassing them to get their stock packaged and up to Auckland where we became the first retailer in Auckland to stock their beer. We've always loved their beers, which are incredibly well made, balanced and interesting without being wacky just for the sake of it.
We took the red eye down to Wellington on the Wednesday before Beervana and headed straight to the Fortune Favours brewery to start our brew day. Many hours were spent peeling, zesting and squeezing over 200 grapefruit, lifting grain, adding hops and the dreaded clean up, and let's not forget a few cheeky brews consumed during the brewing breaks.
Having scaled up our recipe to brew a larger commercial batch, with the experience of Head Brewer Dale, we knew the result was going to be amazing.Dale was previously brewing Black Dog's seasonal releases, which won a stream of awards at the Brewers Guild Awards before Owner Shannon convinced him to resign from his day job as secretary of the Society of Beer Advocates. Working with Dale was amazing, he was softly spoken but with a wealth of knowledge and helped to make our recipe its best possible version.
Brewing on a 1000L brewery kit rather than our 20L Grainfather certainly has its differences. Funnily enough, we found commercial brewing a much easier process than home brewing, despite all the cleaning and physical work! There's a lot less that can go wrong – we no longer had the stresses of an hour spent trying to fit the plastic ring around the bottom of the grain basket (olive oil works a treat) or having to patch your wort chiller with Sellotape (and end up just putting towels on the ground and letting it leak). Although the Grainfather is an amazing system, there's a lot of room for human error and with Fortune Favours shiny brew kit and Dale showing us the ropes we were away laughing.By the end of the day we had a zesty, fruity IPA in tank bubbling along that we are extremely happy with.
We are stoked to be finally releasing our brew, Juicy Tart IPA, to the wider public on the 21st September at the Uptown Freehouse in Auckland. Not only can you come along to try our Juicy Tart, but you can also grab yourself a burger and pint deal for just $20 by clicking on the banner below, and if you lie it, Juicy Tart will be on tap at both stores…… but only while stocks last!