I had been looking forward to this Eisele vineyard visit ever since we touched base with Hospitality Manger Sonia Guerlou some months ago. Virginia and I first met Sonia on our winery group visit to Chateau Latour in 2013. Sonia held a similar position with famous Bordeaux 1st Growth producer then, and at the time advised us that Chateau Latour owner François Pinault had purchased a Californian estate called Araujo wines and that she had accepted a role there. Why was I so excited? Because of all the five 1st Growths, Chateau Latour that has been my personal favourite (these things are a matter of style and opinion of course), so I was convinced in my mind (despite having experienced few Californian wines), that a producer of such amazing Cabernet… would only purchase an estate in California if the potential to make wine of similar quality was real.
Sonia greeted Virginia and I like old friends at the doors of the estate and after quickly engaging herself with our group, she walked us down to the vineyards to explain their bio-dynamic philosophy/management and complexity of the vineyards. Sonia also shared the history of the estate, which was initially planted in 1880 with Zinfandel and Riesling has been continuously under vine since then, but the first Cabernet was planted in 1971. The vineyards were under the ownership and known as Eisele from 1969-1990, then under the ownership of Araujo 1990-2013. Surprisingly, during much of the Eisele ownership, the fruit was sold off to revered producers a la Ridge, Robert Mondavi and Insignia (winemaker Joseph Phelps), who no doubt reveled in being able to secure contract fruit of such quality.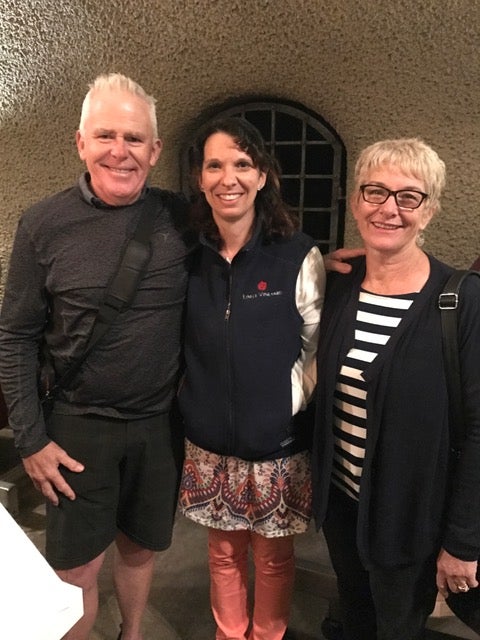 The Palisades Mountains to the north and cool westerly breezes from the Chalk Hill Gap provide a perfect buffer to the hot days – achieving greater balance from the well-drained cobbly soils that produce a low yielding crop of exceptionally concentrated fruit. Mostly planted in Cabernet Sauvignon, the vines average 20-years age (replanted under the ownership of Araujo) and are really beginning to excel. François Pinault is a smart businessman (not letting ego get in his way) and clearly, his team did their homework in deciding to purchase this special property.
Sonia then led our group into the 700ft on caves excavated during the Araujo ownership, nothing is more seductive to wine lovers than underground caves! They had set up a formal tasting in true Latour style, but prior to that our group wandered through the caves to explore the treasures (back to 1991 vintage, 750ml, 1500ml, 3000ml and 6000ml bottles), none of these for sale, all to provide a library of tasting stock to refer to in the coming decades. Understanding the philosophy of Latour, this library will increase significantly over time (only owned the estate for 4-years) and cater for future aged releases.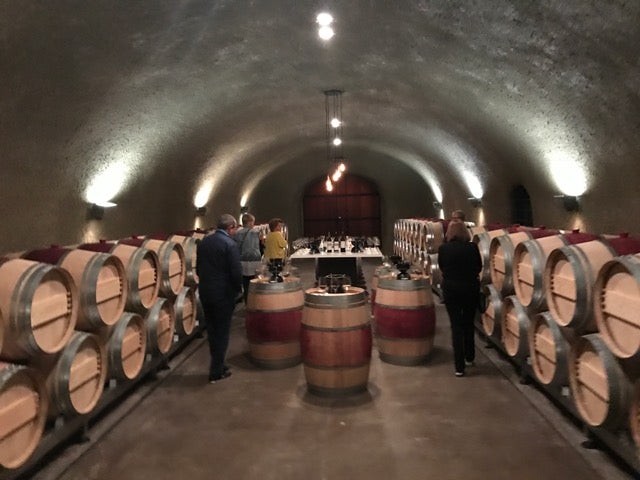 We adjourned to the tasting area in the caves to savour 3 of the estates 4 wines…
Altagracia Cabernet Sauvignon 2014
The second wine of the estate (81% Cabernet Sauvignon – 13% Cabernet Franc – 6% Petit Verdot – from the younger estate vines, it's aged in French oak, 80% new, 20% seasoned and is just a 2500 case make). Fragrant, dark fruited with fine pencil shaving notes of quality Bordeaux. The black fruits are perfectly ripe with integrated spicy oak (80% new yet perfectly subsumed) and savoury, dried herb and earthy notes, what an impressive 2nd wine of the estate.
Eisele Vineyard Cabernet Sauvignon 2014
The finest expression of the estate (a whopping 98% Cabernet Sauvignon with just 2% Petit Verdot, it's aged in 100% new French oak). Beautifully fragrant, brambly and complex aromatically, much like its Latour cousin. I was intrigued and somewhat surprised to know it was crafted with 98% Cabernet Sauvignon (being the aristocrat of red wine grapes, very structured and often slightly hollow in the mid palate – why other red wine varieties are often blended in to add flesh to the skeleton so to speak), so was taken back with the richness of the mid palate. This is classic Cabernet, much in the Left Bank Bordeaux style of Latour and it was truly impressive. Served in the coolness of the caves its expression of fruit was subdued, but allowed the structural elements of the wine to be put under the microscope and they were simply perfect! This will age for decades, a new star in the world wine scene that will eventually become unaffordable given its quality and cap in volumes.
Eisele Vineyard Sauvignon Blanc 2015
Made from 76% Sauvignon Blanc Musqué (described as a mutated, more aromatic clone of the variety) and 24% Sauvignon Blanc, it has fragrant yellow tropical fruits, gooseberry and wild herb aromas. It is aged 1/3rd in barrel (just 10% new), 1/3rd in concrete egg and 1/3rd in stainless steel, all components on lees for 12-months. The flavours are layered with a moderately rich core, finely creamed texture and a deliciously crisp finish. Much like a top, restrained barrel fermented style, with a fruit profile somewhere between Bordeaux and Marlborough, very classy wine, of which only 800 case are made.
The tasting fulfilled my expectations, it had been a minimalistic, but impressive visit.
After saying farewell and thankyou to Sonia, we headed back to Healdsburg for a light lunch (seafood focused with nice wines in a casual environment), after which I sat down to pen my story. We were eating in at the Chalk Board Restaurant tonight and scheduled for an early rise to get to the airport at Santa Rosa, flying to Portland (Oregon) for the next leg of our fabulous tour.