Pyramid Valley: Searching for 'Somewhereness' – in the Middle of Nowhere

This trip had been a long time coming.

After many years of tasting, drinking and selling Pyramid Valley's wines, it was high time I went and saw for myself what is so special about this Canterbury piece of limestone that Mike and Claudia Weersing spent so many years scouring the earth for. Why Matt Kramer, the famous Burgundy expert from Wine Spectator said about their first vintage: "If New Zealand has created a finer Pinot Noir than these two single-vineyard wines from Pyramid Valley Vineyards, I haven't tasted it. They are among the finest out-of-Burgundy experiences I've ever had."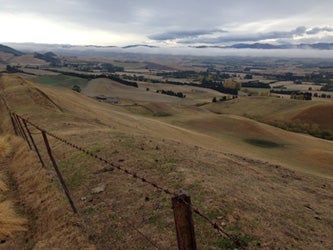 Of course I would have to pack a couple of nice bottles of wine to keep the Canterbury cold away.
I jumped on the early flight out of Auckland and picked up a thoroughly scratched rental car to transport me and distributor Daniel Kemp to lunch at Madame Kwong's (155 Blenheim Road, Riccarton). We represented the only clean fingernails at Pyramid Valley vineyard team's End of Vintage lunch (some would say it was typical of me to turn up for the meal after all the hard work had been done). It was a delicious yum char meal with good hearty portions and some of the most beautifully fluffy BBQ Pork Buns I've ever had the pleasure of trying to choke myself on. I wolfed them down with some incredibly youthful and supple 2005 Pyramid Valley Cowley Pinot Noir, as well as some gorgeous bottles of their 2014 Kerner Pinot Blanc. As Daniel Kemp's guest, he even kindly allowed me to divest myself of the car keys for the long drive out to Pyramid so I could indulge with the enthusiasm befitting a Monday lunchtime.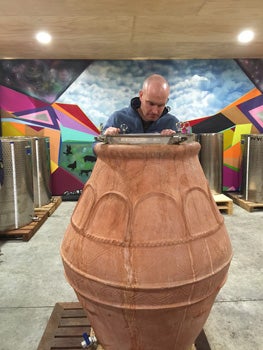 It's around an hour and a quarter's drive out to Pyramid Valley Road, north of Christchurch and then inland off SH7 between Waikari and Hawarden. You can see why they call it a farm the moment you drive in through the pines – save from a couple of wine barrels at the front gates, there's no real sign this is anything different than the sheep farms all around it. We were shown to the cosy little guest cottage with its open fire and then given a rather steep foot tour of the vineyards. One thing that stood out is that yet again, one of the great wine producers in NZ defied conventional wisdom when planting their vineyards. Due to Pyramid Valley's marginal climate, everyone insisted they'd never be able to ripen the grapes without planting on North facing slopes… Mike Weersing didn't totally ignore it, he planted his Angel Flower Pinot Noir block facing North, but then proceeded to plant the other 3 blocks facing East. For mine, it's these East facing blocks that make my favourite wines off the Home Block, proving yet again that the worst vice is advice.
It's no secret the Pyramid Valley vineyards are all about limestone and calcareous clay, in varying combinations. And those soil combinations are reflected by the weeds that grow in each, giving rise to the names of the four Home wines (Dandelion/Dents de Lion/'Lion's Tooth'; Fumaria officinalis/'Earth Smoke' etc) Rather than talk too much about this, it's much easier to see it in the pictures of the soil pits from each vineyard and much more generally from the photos taken from the razorback ridge behind the vineyard.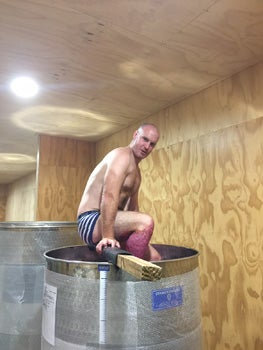 Mike and Claudia Weersing also make what they call the Growers Collection, a way to supplement their tinyHome production with vineyards managed to their strict specifications. We soon found ourselves de-stemming Pinot Noir and Chardonnay with a glass of their new Marlborough Growers Chardonnay 2014 in hand (not released yet). Dragging bunches of grapes by their stems across chicken wire is a fun and oddly therapeutic job, especially when you know what wonderful wine these grapes will one day become. If you've been to most larger scale Pinot Noir wineries in New Zealand, you will have seen their pneumatic presses they slide round on a rail above the tanks for punching down the cap. Smaller scale wineries will just put boards over top of open top fermenters and punch down manually with a plunger. Pyramid take things to a whole new level here – hand plunging is a very literal term – you quite literally just lean into the tank, open your palm out flat and push down gently on the cap. More vigorous punch downs require you to get into your undies (pictured…sorry) and plunge with your feet. It was this very task that was interrupted when we were called for dinner at Mike and Claudia's house, so after a quick hose down I grabbed a bottle of chilled Dry River Chardonnay 2013 and headed for the dinner table.
We were there to dine on swine – free range pig; born, raised and killed within 100 metres of the dinner table. Claudia had done wonders making Italian style pork meatballs and pasta, which we matched with their magical Pyramid Valley Home Block Earth Smoke Pinot Noir 2009 and its north facing counterpart, the Angel Flower 2009. It was one of those magical food and wine moments that don't come along often – a truly authentic emotional experience with great wine from great people, matched in their own home with great food. It's the reason I'm in the wine industry – and something that if I were given a week to live, I would try to repeat 7 times.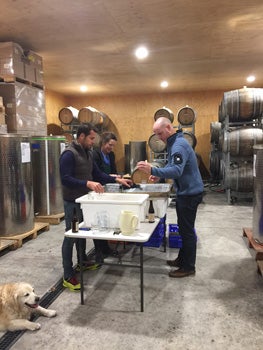 Several bottles and some unlikely stories later, night got the better of us and we headed back to our cosy cottage for open fire and a blissful slumber.
Morning marked my first decent sleep in for weeks, and the weather had very considerately settled into a gentle drizzle. Fortunately, the Weersings have easily the greatest collection of wine books I have ever seen, so I was able to pass most of the morning reading about Burgundy with a cup of Rooibos tea at hand. Lunch was a wonderful Mexican creation using mostly homegrown vegetables that was rather disconcertingly served with only one glass of wine (there were some who had to work in the afternoon), but just as well since our own afternoon was quite an active one.
With any number of free range dogs in tow, my companions and I set for the assault on the ridge behind the Home Vineyard. Heart-stopping exertion was rewarded with eye-watering vistas all the way across to the West Coast and all down the Pyramid Valley across the Canterbury Plains. To the East we could see the back of Bell Hill, the other new cult vineyard in the region, while to the South we could see the Pyramid Valley Moa Swamp, a significant archaeological site (see pictures), which was also our next port of call.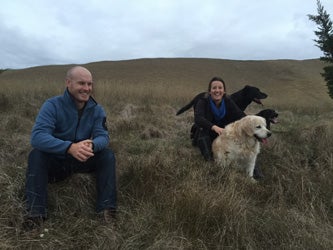 The swamp is not open to the public (except by appointment) and sits on a large working sheep farm run by the same family who have owned the land for 90 years, since before the hundreds of Moa bones were discovered in 1938. It's thought the first Moa wandered into the swamp around 4,500 years ago, becoming stuck and eventually becoming lunch for the largest eagle ever to take flight, the Haast's. It's unknown how many skeletons are in there, and the family now allow only one dig every 25 years. But the area is significant for archaeologists – the data collected on the last dig has produced no fewer than five PhD doctoral dissertations.
This really was a rare treat – to visit an area of historic significance…and they didn't even mind too much that we were from Auckland (probably because we've been letting them win the rugby for so long now). As you can see from the photos, the swamp is all but dried up, and we were able to walk across it. The farmer even told me he has fed out hay from his 5-ton tractor on it, so it's pretty stable. But even so, you can feel the wet peat bog underneath your feet, with its low levels of oxygen and alkali limestone deposits that preserve the Moa bones so well.
A nice side benefit of the Moa trip was that it also provided dinner in the form of home-killed lamb, slaughtered that very day. The bigger cuts needed to hang for longer but we were able to appropriate some fresh juicy chops to pair with the new release 2012 Home Pinot Noirs we'd been promised that evening.
The wines, as predicted, were majestic – Earth Smoke was again my favourite but we're told Lisa Perrotti-Brown MW marginally preferred Angel Flower on an earlier visit for Robert Parker's Wine Advocate (93+ and 94+ respectively).

The night started with Champagne, went via Pyramid Valley and then finished in Burgundy (as many things do in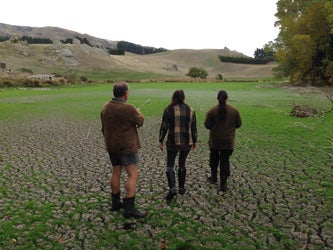 the Weersing household). The Taupenot Merme Grand Cru Corton Rognet 2009 I brought along from Fine Wine Delivery Co was a masterpiece with plenty of life left in it yet – best enjoyed from 2019 onwards, while Mike Weersing's cellar provided a 1er Cru Lavaux Saint-Jacques 1999 (I forget the producer) which was a stern and fairly structured take that was much enjoyed by many in the room (though not especially by this drinker).
Sadly the volumes made of the Home Pinot Noirs in 2012 were miniscule, only a little over 100 dozen of the Earth Smoke. So allocations will be tiny, and will likely be restricted to those customers who bought from us last year. I hope to be able to squirrel away a few bottles for myself though, since the 2012 Home Wines are as finer Pinot Noirs as I have ever tried from New Zealand.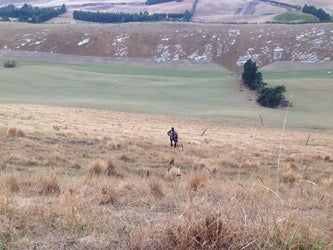 With a bumper 2015 vintage in the tanks now from vines that are a few years more mature, we can't wait to see what transcendent quality is eventually bottled (the Angel Flower Pinot has had my feet in it, so I'll definitely be buying a case!) My only advice to customers is this – get on the Pyramid Valley band wagon immediately – the wines have gone from being brilliant, but occasionally experimental, to being consistent, individual and unquestionably world class (as the massive reviews from Wine Spectator and Robert Parker's Wine Advocate attest). They appear to be at a tipping point in terms of supply/demand, which will see them become very difficult to come by in this country (unless you have an existing relationship with a retailer).

The following morning I had yet another delicious feed of free range eggs from the hen house before reluctantly saying my goodbyes and heading for the bourgeois reality of the big smoke. I want to say a big thank you to Caine, Brittany, Struan, Tom, Mike and Claudia at Pyramid Valley, as well as to Daniel Kemp at Kemp Rare Wines for organising my visit. I can't wait to be back in the South Island with a few more days to spare…Pyramid Valley is good for the soul. In the meantime I'll have to make do with drinking the wines!
Anto Coates