2019 Trinity Hill Lost Garden Syrah
Stunning CLEARANCE Trinity Hill crafted Hawkes Bay Syrah from the fabulous 2019 vintage – Lost Garden was crafted for the hospitality sector where Covid has decimated sales... forcing the Clearance of this luscious $25.00 Double 5 Star Syrah at a stunning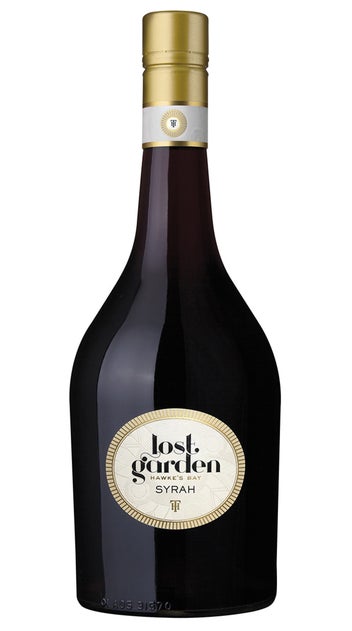 Sale
$15.99
1
1
2
3
4
5
6
7
8
9
10
11
12
13
14
15
16
17
18
19
20
21
22
23
24
25
26
27
28
29
30
31
32
33
34
35
36
37
38
39
40
41
42
43
44
45
46
47
48
| Store | Stock Level |
| --- | --- |
| Lunn Ave - Click & Collect | High |
| Constellation Drive Superstore | High |
Same day Click & Collect on orders placed before 3pm. Please wait for your email notification that your order is ready before coming into store.


Further Information
| | |
| --- | --- |
| Brand | Trinity Hill |
| Region | Hawkes Bay |
| Varietal | Syrah |
| Size | 750ml |
| Alcohol % | 12.5% |
| Vintage | 2019 |
| Country | New Zealand |
Description
Stunning CLEARANCE Trinity Hill crafted Hawkes Bay Syrah from the fabulous 2019 vintage – Lost Garden was crafted for the hospitality sector where Covid has decimated sales... forcing the Clearance of this luscious $25.00 Double 5 Star Syrah @ a stunning $15.99.
Tasting note... Trinity Hill has changed ownership and the new owners have lofty ambitions for this iconic Hawkes Bay producer. They already have the vineyard resource and winemaking talent... the cash investment they bring to Trinity Hill will take an already fine winery to next level. Lost Garden was made for fine restaurants and the sophisticated Millennial market. It's beautifully presented in an elegant, wide-bodied bottle that looks great on any table. Covid's devastating impact on the hospitality business sector is behind the CLEARANCE of this delicious double 5 Star Hawkes Bay Syrah. Lost Garden is made from Trinity Hill's premium Estate fruit off the superb 2019 vintage. It's captivating aromas and colour... luscious black fruits and spices... silky tannins and juicy acidity... culminate in a fresh, totally more-ish finish. You can magic up many meals and moments with this double 5 Star Premium Lost Garden Syrah by Trinity Hill... especially at our exclusive NZ CLEARANCE price of $15.99.

Smells
Enticing aromas of perfectly ripe blackberries, boysenberries and raspberries, laced with liquorice, black pepper and vanilla.
Tastes
Mouth filling and bursting with luscious black and red berries infused with spices and fine cedary oak. The delicious flavours are encompassed by silky tannins further buoyed by juicy acidity... all propelling this decadent Syrah to a totally more-ish climax. You won't be able to resist returning to the glass. Enjoy with a wide range of meat, vegetable, pizza and pasta dishes... and save a glass or two for afterwards.
We taste, rate & guarantee every wine we sell.
A stunner. Smooth with great depth - berries, along with peppry notes.

18th November 2021 | Rosemary
Surprising. Surprising quality for the price, a lovely drop.

18th November 2021 | Charles Small
I so enjoyed this wine I have recently purchased my 4th dozen since the offer first appeared in my inbox. Such a smooth drinking , pleasant glass of red for my end of day quaff. Amazing to find this in my price range ! Thank you Fine Wine Delivery !

18th November 2021 | CAROLYN WITHEROW
Good wine for this price range and of course it comes out of Trinity Hills so gotta be good

18th November 2021 | Ian Jacobs
A luscious smooth Syrah made for easy drinking and a bargain at this price, to be recommended

17th November 2021 | Warren Hendry
Great buy! Wish all sub $16 wine tasted like this

17th November 2021 | Andrew J
A cracking wine at a cracking price.

17th November 2021 | Kenneth Addison
This well priced Syrah has slid very easily into my "go to" category. Well priced, moorish, and so easy to enjoy. Then the Lost Garden rose is a ripper. Not a chardonnay drinker normally but the LG chardonnay is pretty good drop as well. All in all a pretty good family to invite for dinner.

17th November 2021 | Phil Hereford
Nice notes of pepper & spices - very good value. Went very well with Beef Tenderloin cooked on my kamado!

17th November 2021 | Kerry Hart
An excellent value, quality New Zealand red. It has a'French' style with body, but not too heavy. Easy to drink with red meats, or as a sneaky glass on its own.

17th November 2021 | Alistair Wood
An ideal partner for that summer barbeque

17th November 2021 | Trevor Taylor
This is one great deal for a well crafted wine, soft without being bland, very much what I expect of a HB Syrah.

17th November 2021 | Mike Norriss
Lost Garden not only comes in a quirky cool bottle it is delicious value for money, ideal for 'that' Sunday long lunch with a bbq or roast take your pick it works!

16th November 2021 | Tim Harris
Super soft to the palate , subtle flavours , smooth after taste . would be great buying even at $25.99

16th November 2021 | Dennis Farmiloe
Lovely wine, easy drinking style and a genuine bargain at that price point.

16th November 2021 | Chris Bougen
Delicious, such a steal at that price!

16th November 2021 | Kristy Judson
Stunningly smooth Syrah with mellow rich berry flavors. Drinking it tonight with my Italian meatballs and it is a beautiful medley.

16th November 2021 | Kathy Hartnoll
Fantastically intense and spicy Syrah. I'll definitely be picking up some more.

16th November 2021 | Doug
We loved this delicious wine, beautifully balanced with a warming pepper kick and flavours of cherry and Black Doris plum. Had it with a spicy pizza and it complimented it perfectly. Will definitely be back for more!

16th November 2021 | Jack Mabire
Soft silky Syrah in a cool bottle. Will buy again

16th November 2021 | Tony Grimshaw
Hard to believe this gutsy little Syrah was under $16. We have ordered more.

16th November 2021 | Tom Priest
Wow what else can I say. It is a steal at the price and I have a very healthy supply of the Syrah and their fabulous Rose. Cheers Ron

16th November 2021 | Ron Ouwerkerk
Trinity Hill Syrah ticks all the boxes Amazing value for money Could have a bit more grunt but that Aussie Shiraz This is very smooth HB Syrah

16th November 2021 | Grahame
Excellent value for money and very nice drinking now.

16th November 2021 | Richard McLean
Great value and an easy drinking wine

16th November 2021 | Alan Wills
Outstanding value for the Quality You really can taste the Sunshine!

16th November 2021 | Kevin Glover
Well worth the price. Highly recommended. Bottle doesn't fit on the wine rack though (not a reason not to buy though...).

16th November 2021 | glenn rechtschaffen
This is a very easy drinking wine, good color and smooth flavors, even my Wife who is not a Syran fan enjoys it.

16th November 2021 | Graeme Bell
** Absolutely Stunning Syrah ** Bold - Smooth - Delicious - Moreish - Very Moreish ... Thank You Fine Wine - Superb Product Superb Service Chris

16th November 2021 | Christine F Field
Great buying

16th November 2021 | Lee Hales
Another fine offering from Trinity Hill. The 2019 Lost Garden is a true Hawkes Bay masterpiece displaying all the characteristics of this varietal but at an outstanding price of only $16. One would normally choose to cellar a 2019 Syrah but the Lost Garden is absolutely drinkable now. Thanks Fine Wine for another unbelievable wine at a stunning price.

16th November 2021 | Tak Tothill
If you like the mallalactic style of Sirrah, you'll love this as I do. This is up there with the best.

16th November 2021 | Rod Overend
One the most full bodied Syrah i have tasted for a long time .Better after opened for a day

16th November 2021 | Warren Smart
Full bodied, lovely bottle, excellent gift

16th November 2021 | J Thomas
Very easy drinking and at $15.99 a bottle a great weekday wine. So good infact we purchased another 6!

16th November 2021 | Sally Phillips
Lovely, easy drinking Syrah that is great to have as a crowd pleaser. Definitely on the lighter side of the Syrah spectrum but well worth especially at a sale price.

16th November 2021 | Ben L
A bargain price ! This is a lovely drop, it benefits from an hour or two in the decanter. Do yourself a favour and grab a case today.

16th November 2021 | Andy Kean
A soft and mellow wine but still plenty of flavor

16th November 2021 | Pat Prestney
Floral nose ,rich red berries, hints of spice and Vanilla, medium tannins adding depth .

16th November 2021 | Dennis Church
Wonderful rounded taste of deliciousness. It really does make you take notice of the different elements that make up this wine. Great price; possibly only the one good thing about covid!

16th November 2021 | Margaret Gee
Nice, very smooth, will be buying more!

16th November 2021 | Chris
Really easy drinking Syrah and great value at this price point. Abundance of berries with hints of spice and pepper.

16th November 2021 | Lawrence Tai
Excellent Syrah and fantastic bargain Has brought me back from Aussi shiraz to local vinter.

16th November 2021 | Hamish
A wine that needs to breath before drinking (as to be expected). An excellent example of Syrah with strong flavours. Well worth it at the amazing price!

16th November 2021 | Bill Hollins
Great little wine, easy to drink and great value.

16th November 2021 | Scott Campbell
Absolutely delicious! Buy this for drinking in next 1-2 years and buy the bigger brother reserve label for the longer term...

16th November 2021 | Greg McMaster
What a delicious wine. It's hard to resist opening a second bottle. Excellent value for money.

16th November 2021 | Sarah
I'm just getting into reds this year and really enjoy Trinity Hill's Full Monty so thought I'd try this and I'm glad I did! It is nice and smooth and easy to drink. My parents ended up buying 6 bottles after I shared a bottle with them.

16th November 2021 | Karen McDougall
Subtle flavours with just the right amount of pepper. Not just a night time tipple - light enough to enjoy with a Summer afternoon or evening meal.

16th November 2021 | Doug Bain
When I saw the price initially I thought I would give it a try and order 6 bottles. After trying the first glass I placed another order. The wine is smooth and elegant and the presentation of the bottle is superb. An absolute bargain at $15.99 I think Ill get some more before its all gone'.

16th November 2021 | Allen Bertelsen
Spot on description by the panel. Quite enjoyed this bottle. Just bought another one of these to give to a friend for their enjoyment.

16th November 2021 | R C
Great value , and wine so good I would happily continue to purchase at regular price.

16th November 2021 | Brett Marsdon
Delicious rich Syrah ready to drink now from the amazing 2019 vintage in the Hawkes Bay.

16th November 2021 | David Chadwick
Really enjoyed this wine! Nice vibrant Syrah with lots of delicious dark berry flavours.

16th November 2021 | Rob
Smooth, but with a classic syrah kick to it. Great with a leg of lamb or with a classic cheeseboard. Thoroughly enjoyed it.

16th November 2021 | Kay
Beautiful rich flavors of dark berry fruits. Amazing dark/deep red coloring, pleasant on the nose and easy on the palate. At $15.99 represents great value for money!

16th November 2021 | Andy Thackwray
Smooth, velvety and with buckets of flavour.

16th November 2021 | Geoff Bennett
Most probably the best value red in years. Quality outstanding. You can't go wrong with this wine.

16th November 2021 | Wayne Madden
Stunningly rich with potential to develop further. Got six to drink in the short term and another six have been laid down for the future.

16th November 2021 | John Gibson
A great quaffing wine for the summer BBQ. Much better that the price suggests.

16th November 2021 | Keith Mackenzie
smooth, beautiful Syrah, and a nice bottle for the table too.

16th November 2021 | Don Lyon